OLL's December Birthday: John Milton (December 9, 1608 – November 8, 1674)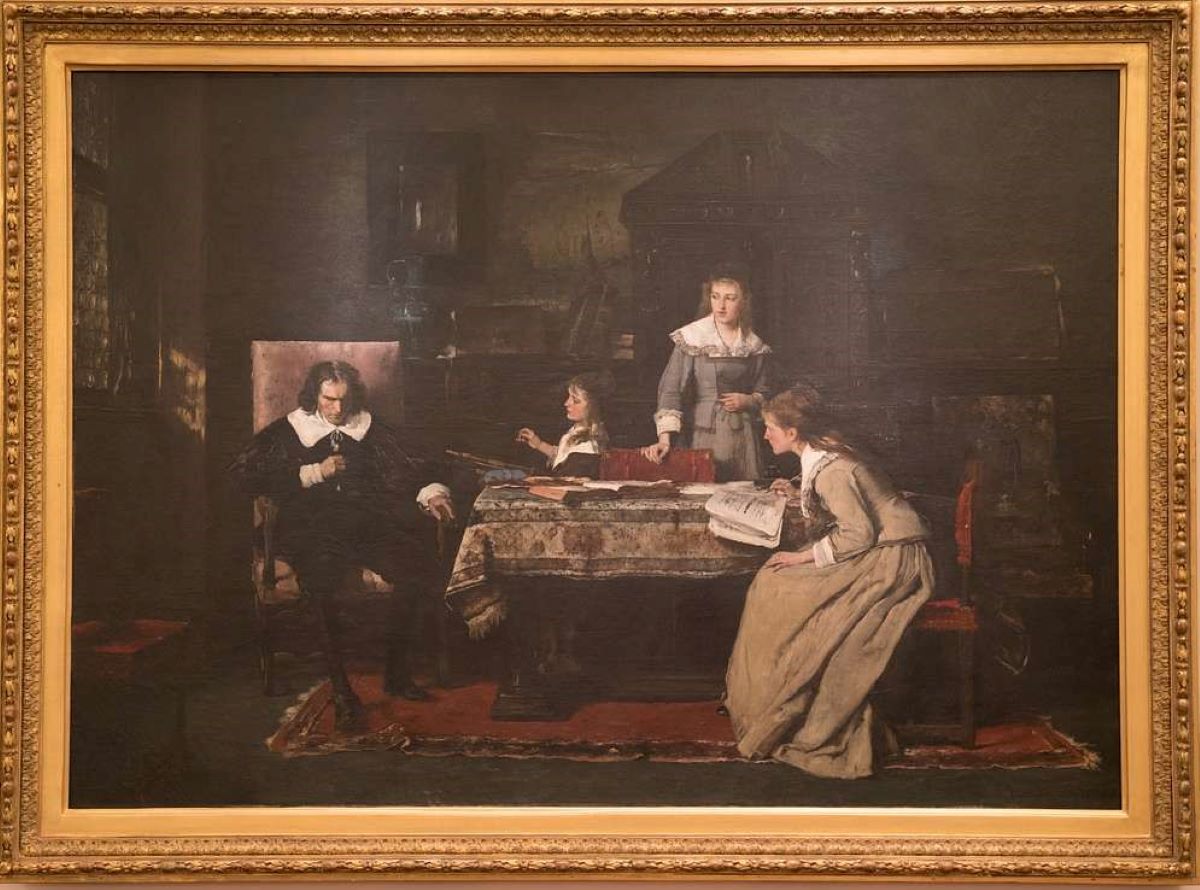 December's OLL Birthday essay is in honor of the poet, statesman, and political philosopher
John Milton
, considered by many to be the most important author in the English language.  His deeply idiosyncratic personal, political, and artistic sensibilities mirrored the turbulent and revolutionary times in which he lived.
John Milton was born, the second of three children, in London to John Milton and Sarah Jeffrey.  John Milton, Sr. was a well-to-do notary, but also a musician and composer, and saw to it that his son received an excellent education from various tutors and, later, at Cambridge.  He mastered several languages:  not only the classical languages Greek, Latin, and Hebrew, but also Italian, Spanish, French, and Dutch.  While he was raised in the Church of England, he seems to have been strongly influenced from a young age by one of his tutors, Thomas Young, a Scottish Presbyterian, with whom he kept in contact for many years.  Young's influence may have led to Milton's own gradual repudiation of Anglicanism and his increasingly radical protestant views.  


Milton graduated from Cambridge in 1632 and for the next several years, supported mostly by his father's generosity, continued to study languages, history and theology.  Though he wrote poetry from a young age, it was during this period that his work as a poet began to be recognized.  His poems "L'Allegro," and "Il Penseroso," reflections on different personality types, were both probably written in 1631 (though not published until 1645). He also wrote a masque called "Comus" (first performed in 1634, published in 1638), and the poem "Lycidas" (1638).  


In 1638 he embarked on a 15 month tour of France, Switzerland and Italy, where seems to have been very popular with the artistic and religious community.  While visiting Florence he arranged to meet the aged astronomer Galileo, living at the time under house arrest. (While we know nothing about their meeting, it is worth noting that Galileo is the only contemporary mentioned by Milton in his later masterpiece Paradise Lost).  


He returned to England from his travels in Europe in 1639, amidst the growing tensions and political and religious turmoil that was about to plunge England into
civil war.
Between 1640 and 1641 he published several tracts condemning the Church of England for being too similar to Roman Catholicism, especially in its hierarchical administration.  This stance aligned him with the Presbyterians.  His arguments against hierarchy also brought him firmly into the Parliamentary camp against the Royalists.  He quickly put his considerable skills as a writer in the service of the Puritans and Parliament.  
Around the same time, in 1642, he married the 17 year old Mary Powell.  The newlyweds had a very tough start.  Mary did not like her husband's austere personal style, and he found her intellectually shallow and objected to her royalist sympathies.  She left Milton, returning to her parents, soon after their wedding.  These events were probably the impetus for one of Milton's most controversial works,
The Doctrine and Discipline of Divorce
(1644), which argued for the permissibility of divorce on grounds other than adultery.  The tract created considerable commotion, challenging as it did existing laws and the position of the clergy.  It also happened to coincide with Parliament's passage of laws upholding its
right of censorship and the licensing of the press
.  These developments prompted Milton to write one of his most famous and important works, defending free expression and attacking censorship,
Areopagitica
(1644).  
Mary returned to her husband in 1645, and bore him a son and three daughters (with whom he had a difficult relationship), but died in childbirth in 1652.  He remarried in 1656 to Katherine Woodcock, who died in 1658 shortly after the birth of a daughter, who also died.  


In the meantime, the English Civil war had broken out in 1642, finally ending in 1649 with the execution of Charles I in 1649 and the establishment of the Commonwealth of England.  Having been a fervent supporter of the Parliamentarians, Milton was appointed Secretary of Foreign Tongues, a kind of foreign minister, in charge of the Commonwealth's communication with other countries.  Between 1649 and 1654 he published several other important pamphlets and tracts, arguing for republicanism against monarchy (and defending the regicide of King Charles).  In these works, he developed his earlier ideas about the importance of the free exercise of a Christian conscience.  He came to the conclusion that the Presbyterians could be just as tyrannical as the Anglicans, and so he distanced himself from them as well, eventually becoming independent of any of the existing churches.  Similarly, he argued for increased freedoms for the citizens of the Commonwealth and its transformation into a federal republic.


Milton's prominence in the political structures of the Commonwealth and the importance of his writings was not, unfortunately, paralleled by good fortune in his personal life.  Mary's death in 1652 coincided with the onset of blindness, following years of declining eyesight, possibly resulting from glaucoma. He subsequently had to rely completely on secretaries (among them his daughters and the poet Andrew Marvell) to copy down his dictated works.


Blindness and the death of his wife were only the beginning of his problems.  Oliver Cromwell, the Lord Protector of the Commonwealth died in 1658, and the political and religious turbulence that characterized his rule only intensified.  As the Commonwealth disintegrated,
Milton argued vehemently with his fellow Englishmen to continue their republican experiment and not return to authoritarian monarchy
.  One of the most famous of these works was
The Readie and Easie Way to Establish a Free Commonwealth.
It presents a kind of summary of Milton's thinking about, and arguments for, a republic based on individual freedom of conscience and religion, as well as the right to political participation in the work of government.  All of his arguments were to no avail.  The monarchy, with Charles II as king, was reestablished in 1660. A warrant was issued for Milton's arrest and his published works were burnt.  He was captured, fined and imprisoned, but was quickly released after influential friends (including Marvell) and his younger brother Christopher who was an influential Royalist, intervened.  Shortly after his release from prison, he married for a third and final time in 1663 to Elizabeth Minshull (age 24) with whom he lived for the rest of his life.  They settled in London and seemed to have a happy marriage.
Yet, Milton's public career was over and his dreams of a pious, republic England were shattered.  Blind and stripped of his fortune, he returned to his writing.  It was under these circumstances that he composed his masterpiece,
Paradise Lost
, published in 1667.  Telling the story of the creation of the world and Adam and Eve's expulsion from Eden, it is regarded by many as the greatest epic poem in any modern language.  Though not particularly popular upon publication, it earned Milton a modest income in royalties.  A sequel,
Paradise Regained
was published in 1671.  
Milton died on November 8, 1674
and was buried in the church of St. Giles-without-Cripplegate, London.  Although Milton was in many ways an enigmatic man, whose loyalties and positions evolved and changed throughout his life, he was also a creative genius and consistent champion of the idea of individual freedom.