Alexander Schmid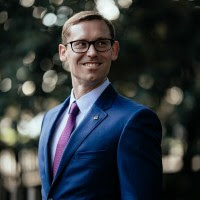 b. ????
Nationality: American
Historical Period: The 20th Century and Beyond
Alexander Schmid is a late-stage doctoral student in the Comparative Literature Program and Political Science Department at Louisiana State University. In the last year, Schmid has accepted a fellowship to the American Institute of Economic Research during Fall 2021, where he developed a paper entitled "Usury, Dante, and the Birth of Capitalism: or Would Dante Send One to Hell for Making Money?" Schmid received a Phi Kappa Phi Research Grant to present his paper at the Dante Society of America Biennial New College Conference, and he was selected to present his research again at the EBHS's annual conference, and at Harvard University's Institute of World Literature in Mainz, Germany Summer 2022, for which he received full tuition funding. This year, he has two academic publications forthcoming in the Dickinson College Commentaries series and the Journal of Contextual Economics.