Alexis de Tocqueville, Democracy in America: Historical-Critical Edition, vol. 2 [1835]
Purchase now from Liberty Fund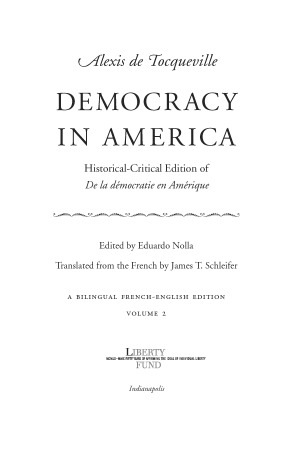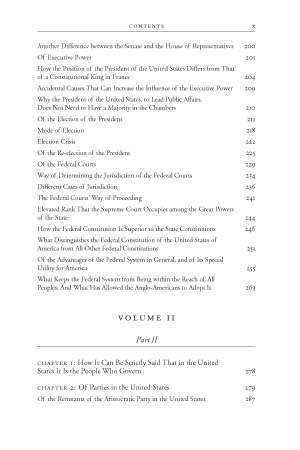 Available in the following formats:
LF Printer PDF
5.59 MB
This text-based PDF was prepared by the typesetters of the LF book.
EBook PDF
1.39 MB
This text-based PDF or EBook was created from the HTML version of this book and is part of the Portable Library of Liberty.
HTML
1.32 MB
This version has been converted from the original text. Every effort has been taken to translate the unique features of the printed book into the HTML medium.
Simplified HTML
1.32 MB
This is a simplifed HTML format, intended for screen readers and other limited-function browsers.
About this Title:
A new 4 volume edition of Tocqueville's classic text De la Démocratie en Amérique. The original was published in two large volumes, the first in 1835, the second in 1840. The first volume focused primarily on political society; the second, on civil society. The online version of Liberty Fund's edition contains only the English translation of the French critical edition. Vol. 2 contains Part II.
Copyright information:
This bilingual edition of Tocqueville's work contains a new English translation of the French critical edition published in 1990. The copyright to the French version is held by J. Vrin and it is not available online. The copyright to the English translation, the translator's note, and index is held by Liberty Fund.
Fair use statement:
This material is put online to further the educational goals of Liberty Fund, Inc. Unless otherwise stated in the Copyright Information section above, this material may be used freely for educational and academic purposes. It may not be used in any way for profit.
Table of Contents:
Edition: current; Page:

[

i

]
DEMOCRACY IN AMERICA (1835), volume II
Edition: current; Page:

[

277

]
PART II
Until now, I have examined the institutions, I have surveyed the written laws, I have depicted the current forms of political society in the United States.
But above all institutions and beyond all forms resides a sovereign power, that of the people, which destroys or modifies institutions and forms as it pleases.
I have yet to make known by what paths this power, which dominates the laws, proceeds; what its instincts, its passions are; what secret motivating forces push, slow or direct it in its irresistible march; what effects its omnipotence produces, and what future is reserved for it.
Edition: current; Page:

[

278

]
Edition: current; Page:

[

279

]
Edition: current; Page:

[

289

]
Edition: current; Page:

[

302

]
Edition: current; Page:

[

313

]
Edition: current; Page:

[

375

]
Edition: current; Page:

[

402

]
Edition: current; Page:

[

427

]
Edition: current; Page:

[

451

]
Edition: current; Page:

[

515

]
Edition: current; Page:

[

649

]
Edition: current; Page:

[

657

]
Edition: current; Page:

[

658

]