The Federalist (Gideon ed.)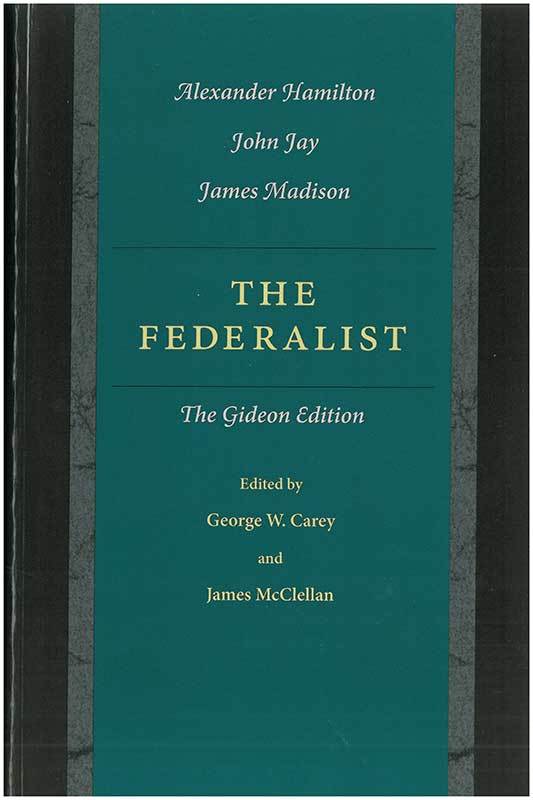 The Federalist, by Alexander Hamilton, James Madison, and John Jay, constitutes a text central to the American political tradition. Published in newspapers in 1787 and 1788 to explain and promote ratification of the proposed Constitution for the United States, which up to then were bound by the Articles of Confederation, The Federalist remains today of singular importance to students of liberty around the world. The new Liberty Fund edition presents the text of the Gideon edition of The Federalist, published in 1818, which includes the preface to the text by Jacob Gideon as well as the responses and corrections prepared by Madison to the McLean edition of 1810. The McLean edition had presented the The Federalist texts as corrected by Hamilton and Jay but not reviewed by Madison. The Liberty Fund The Federalist also includes a new introduction, a Reader's Guide outlining - section by section - the arguments of The Federalist, a glossary, and ten appendixes, including the Declaration of Independence, the Articles of Confederation, the Virginia Resolution Proposing the Annapolis Convention, and other key documents leading up to the transmission of the Constitution to the governors of the several states. Finally, the Constitution of the United States and Amendments is given, with marginal cross-references to the pertinent passages in The Federalist that address, argue for, or comment upon the specific term, phrase, section, or article of the Constitution.
The Federalist (The Gideon Edition), Edited with an Introduction, Reader's Guide, Constitutional Cross-reference, Index, and Glossary by George W. Carey and James McClellan (Indianapolis: Liberty Fund, 2001).
Copyright:
The copyright to this edition, in both print and electronic forms, is held by Liberty Fund, Inc.
Formats:
| Format | Description | Size |
| --- | --- | --- |
| EBook PDF | This text-based PDF or EBook was created from the HTML version of this book and is part of the Portable Library of Liberty. | 1.42 MB |
| HTML | This version has been converted from the original text. Every effort has been taken to translate the unique features of the printed book into the HTML medium. | 1.76 MB |
| LF Printer PDF | This text-based PDF was prepared by the typesetters of the LF book. | 2.83 MB |
Table of Contents