Bruno Leoni, Freedom and the Law (LF ed.) [1961]
Purchase now from Liberty Fund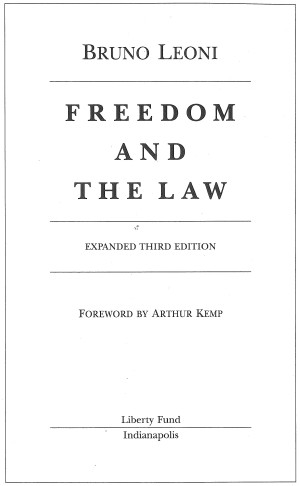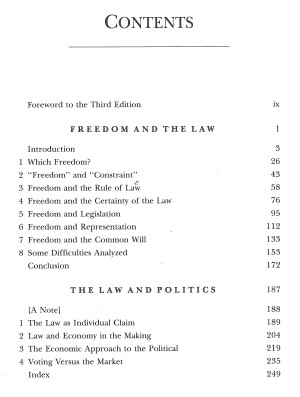 Available in the following formats:
MARC Record
2 KB
MAchine-Readable Cataloging record.
EBook PDF
715 KB
This text-based PDF or EBook was created from the HTML version of this book and is part of the Portable Library of Liberty.
HTML
684 KB
This version has been converted from the original text. Every effort has been taken to translate the unique features of the printed book into the HTML medium.
Simplified HTML
684 KB
This is a simplifed HTML format, intended for screen readers and other limited-function browsers.
About this Title:
The greatest obstacle to rule of law in our time, contends the author of this thought-provoking work, is the problem of overlegislation. In modern democratic societies, legislative bodies are increasingly usurping functions that were and should be exercised by individuals or groups rather than government. The result is an unwieldy surfeit of laws and regulations that by their sheer volume stifle individual freedom.
Copyright information:
This work is copyrighted by the Institute for Humane Studies, George Mason University, Fairfax, Virginia, and is put online with their permission.
Fair use statement:
This material is put online to further the educational goals of Liberty Fund, Inc. Unless otherwise stated in the Copyright Information section above, this material may be used freely for educational and academic purposes. It may not be used in any way for profit.
Table of Contents:
Edition: current; Page:

[

i

]
FREEDOM AND THE LAW
Edition: current; Page:

[

3

]
Edition: current; Page:

[

26

]
Edition: current; Page:

[

43

]
Edition: current; Page:

[

58

]
Edition: current; Page:

[

76

]
Edition: current; Page:

[

95

]
Edition: current; Page:

[

112

]
Edition: current; Page:

[

133

]
Edition: current; Page:

[

153

]
Edition: current; Page:

[

172

]
Edition: current; Page:

[

187

]
THE LAW AND POLITICS
Edition: current; Page:

[

188

]
Edition: current; Page:

[

189

]
Edition: current; Page:

[

204

]
Edition: current; Page:

[

219

]
Edition: current; Page:

[

235

]
Edition: current; Page:

[

249

]