Benjamin Franklin, The Works of Benjamin Franklin, Vol. VII Letters and Misc. Writings 1775-1779 [1904]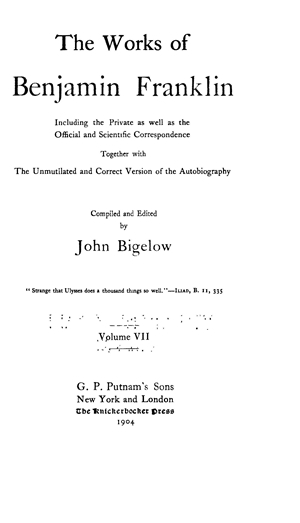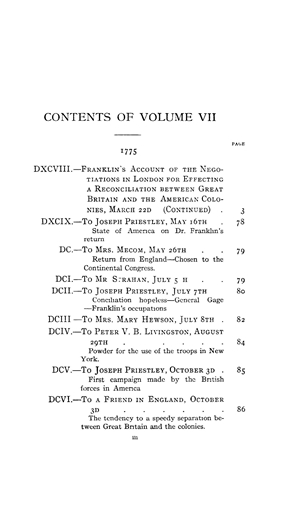 Available in the following formats:
Facsimile PDF
18.8 MB
This is a facsimile or image-based PDF made from scans of the original book.
ePub
444 KB
ePub standard file for your iPad or any e-reader compatible with that format
HTML
1.08 MB
This version has been converted from the original text. Every effort has been taken to translate the unique features of the printed book into the HTML medium.
Simplified HTML
1.08 MB
This is a simplifed HTML format, intended for screen readers and other limited-function browsers.
About this Title:
Volume 7 of a 12 volume collection of Franklin's works. Vol. 7 contains letters and miscellaneous writings from 1775 to 1779 when he was the first United States Postmaster General (July, 1775 – November, 1776) and then United States Minister to France (September, 1778 – May, 1785).
Copyright information:
The text is in the public domain.
Fair use statement:
This material is put online to further the educational goals of Liberty Fund, Inc. Unless otherwise stated in the Copyright Information section above, this material may be used freely for educational and academic purposes. It may not be used in any way for profit.
Table of Contents:
Edition: current; Page:

[

a

]
The Works of Benjamin Franklin, Volume VII
CORRESPONDENCE AND MISCELLANEOUS WRITINGS
Edition: current; Page:

[

2

]
Edition: current; Page:

[

3

]
Edition: current; Page:

[

78

]
Edition: current; Page:

[

79

]
Edition: current; Page:

[

85

]
Edition: current; Page:

[

86

]
Edition: current; Page:

[

113

]
Edition: current; Page:

[

114

]
Edition: current; Page:

[

122

]
Edition: current; Page:

[

125

]
Edition: current; Page:

[

159

]
Edition: current; Page:

[

168

]
Edition: current; Page:

[

170

]
Edition: current; Page:

[

172

]
Edition: current; Page:

[

176

]
Edition: current; Page:

[

181

]
Edition: current; Page:

[

191

]
Edition: current; Page:

[

202

]
Edition: current; Page:

[

207

]
Edition: current; Page:

[

210

]
Edition: current; Page:

[

223

]
Edition: current; Page:

[

224

]
Edition: current; Page:

[

235

]
Edition: current; Page:

[

238

]
Edition: current; Page:

[

244

]
Edition: current; Page:

[

245

]
Edition: current; Page:

[

248

]
Edition: current; Page:

[

255

]
Edition: current; Page:

[

257

]
Edition: current; Page:

[

260

]
Edition: current; Page:

[

266

]
Edition: current; Page:

[

268

]
Edition: current; Page:

[

271

]
Edition: current; Page:

[

277

]
Edition: current; Page:

[

285

]
Edition: current; Page:

[

290

]
Edition: current; Page:

[

292

]
Edition: current; Page:

[

302

]
Edition: current; Page:

[

303

]
Edition: current; Page:

[

304

]
Edition: current; Page:

[

305

]
Edition: current; Page:

[

322

]
Edition: current; Page:

[

332

]
Edition: current; Page:

[

333

]
Edition: current; Page:

[

338

]
Edition: current; Page:

[

347

]
Edition: current; Page:

[

350

]
Edition: current; Page:

[

366

]
Edition: current; Page:

[

369

]
Edition: current; Page:

[

379

]
Edition: current; Page:

[

387

]
Edition: current; Page:

[

389

]
Edition: current; Page:

[

395

]
Edition: current; Page:

[

401

]
Edition: current; Page:

[

404

]
Edition: current; Page:

[

414

]
Edition: current; Page:

[

416

]
Edition: current; Page:

[

419

]
Edition: current; Page:

[

423

]
Edition: current; Page:

[

428

]
Edition: current; Page:

[

430

]
Edition: current; Page:

[

435

]
Edition: current; Page:

[

436

]
Edition: current; Page:

[

437

]
Edition: current; Page:

[

445

]
Edition: current; Page:

[

447

]