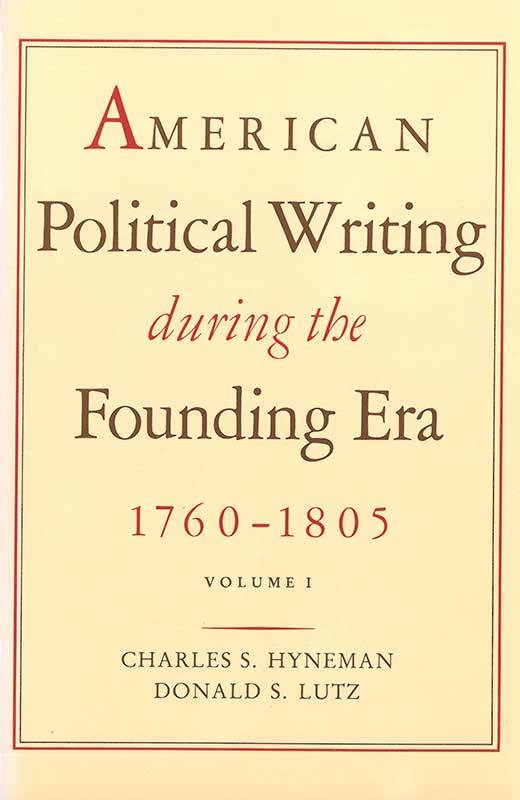 American Political Writing During the Founding Era: 1760-1805, 2 vols.
These volumes provide a selection of seventy-six essays, pamphlets, speeches, and letters to newspapers written between 1760 and 1805 by American political and religious leaders. Many are obscure pieces that were previously available only in larger research libraries. But all illuminate the founding of the American republic and are essential reading for students and teachers of American political thought. The second volume includes an annotated bibliography of five hundred additional items for future reference. The subjects covered in this rich assortment of primary material range from constitutionalism, representation, and republicanism to freedom of the press, religious liberty, and slavery. Among the more noteworthy items reprinted, all in their entirety, are Stephen Hopkins, "The Rights of the Colonies Examined" (1764); Richard Bland, "An Inquiry into the Rights of the British Colonies" (1766); John Adams, "Thoughts on Government" (1776); Theophilus Parsons, "The Essex Result" (1778); James Madison, "Memorial and Remonstrance Against Religious Assessments" (1785); James Kent, "An Introductory Lecture to a Course of Law Lectures" (1794); Noah Webster, "An Oration on the Anniversary of the Declaration of Independence" (1802); and James Wilson, "On Municipal Law" (1804).
American Political Writing During the Founding Era: 1760-1805, ed. Charles S. Hyneman and Donald Lutz (Indianapolis: Liberty Fund, 1983). 2 vols.
Copyright:
The copyright to this edition, in both print and electronic forms, is held by Liberty Fund, Inc.