To Secure the Blessings of Liberty: Selected Writings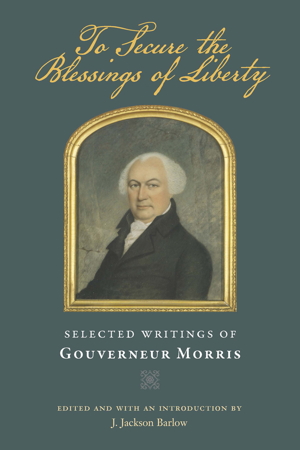 A single-volume collection of Gouverneur Morris's writings. Morris served as Deputy Superintendent of Finance during the American Revolution, in which capacity he devised the system of decimal coinage. He was a prominent member of the Constitutional Convention, where he spoke more frequently than any other member and, as a member of the Committee on Style and Arrangement, put the Constitution in its present form and authored its Preamble. As a private citizen in Paris, and later Minister to France (1789–94), Morris was a firsthand witness of the French Revolution. On his return to the U.S., he served as a U.S. Senator, was a prime mover in the creation of the Erie Canal, and took a leading role as a critic of the Jefferson and Madison administrations. Providing his unique perspective, this is a wonderful and accessible single source that illuminates the political and economic thought of Gouverneur Morris.
To Secure the Blessings of Liberty: Selected Writings of Gouverneur Morris. Edited and with an Introduction by J. Jackson Barlow (Indianapolis: Liberty Fund, 2012).
Copyright:
The copyright to this edition, in both print and electronic forms, is held by Liberty Fund, Inc.
Formats:
| Format | Description | Size |
| --- | --- | --- |
| HTML | This version has been converted from the original text. Every effort has been taken to translate the unique features of the printed book into the HTML medium. | 1.91 MB |
| LF Printer PDF | This text-based PDF was prepared by the typesetters of the LF book. | 3.84 MB |
Table of Contents