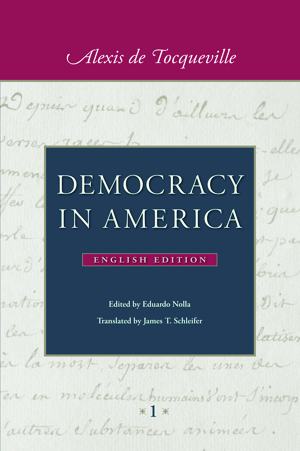 Democracy in America. English Edition. 2 vols.
A two volume English only version of Liberty Fund's 4 volume bi-lingual critical edition. In 1831, Alexis de Tocqueville and his friend Gustave de Beaumont visited the United States. From Tocqueville's copious notes of what he had seen and heard came the classic text De la Démocratie en Amérique, published in two large volumes, the first in 1835, the second in 1840. The first volume focused primarily on political society; the second, on civil society.
Democracy in America. English Edition. Edited by Eduardo Nolla. Translated from the French by James T. Schleifer. (Indianapolis: Liberty Fund, 2012). 2 vols.
Copyright:
The copyright to this edition, in both print and electronic forms, is held by Liberty Fund, Inc.