Gouverneur Morris, To Secure the Blessings of Liberty: Selected Writings of Gouverneur Morris [2012]
Purchase now from Liberty Fund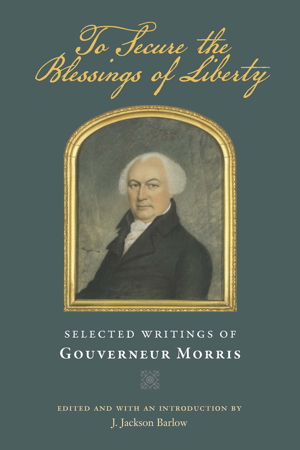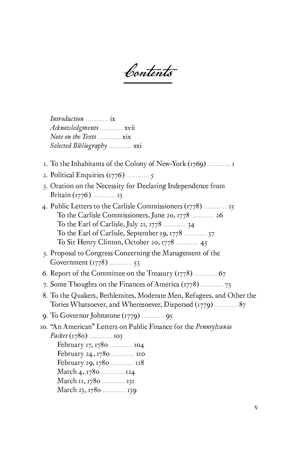 Available in the following formats:
LF Printer PDF
3.84 MB
This text-based PDF was prepared by the typesetters of the LF book.
HTML
1.94 MB
This version has been converted from the original text. Every effort has been taken to translate the unique features of the printed book into the HTML medium.
Simplified HTML
1.94 MB
This is a simplifed HTML format, intended for screen readers and other limited-function browsers.
About this Title:
A single-volume collection of Gouverneur Morris's writings. Morris served as Deputy Superintendent of Finance during the American Revolution, in which capacity he devised the system of decimal coinage. He was a prominent member of the Constitutional Convention, where he spoke more frequently than any other member and, as a member of the Committee on Style and Arrangement, put the Constitution in its present form and authored its Preamble. As a private citizen in Paris, and later Minister to France (1789–94), Morris was a firsthand witness of the French Revolution. On his return to the U.S., he served as a U.S. Senator, was a prime mover in the creation of the Erie Canal, and took a leading role as a critic of the Jefferson and Madison administrations. Providing his unique perspective, this is a wonderful and accessible single source that illuminates the political and economic thought of Gouverneur Morris.
Copyright information:
The copyright to this edition, in both print and electronic forms, is held by Liberty Fund, Inc.
Fair use statement:
This material is put online to further the educational goals of Liberty Fund, Inc. Unless otherwise stated in the Copyright Information section above, this material may be used freely for educational and academic purposes. It may not be used in any way for profit.
Table of Contents:
Edition: current; Page:

[

i

]
To Secure the Blessings of Liberty
Selected Writings of Gouverneur Morris
Edition: current; Page:

[

xxiv

]
Edition: current; Page:

[

1

]
Edition: current; Page:

[

5

]
Edition: current; Page:

[

12

]
Edition: current; Page:

[

13

]
Edition: current; Page:

[

25

]
Edition: current; Page:

[

52

]
Edition: current; Page:

[

53

]
Edition: current; Page:

[

66

]
Edition: current; Page:

[

67

]
Edition: current; Page:

[

73

]
Edition: current; Page:

[

86

]
Edition: current; Page:

[

87

]
Edition: current; Page:

[

95

]
Edition: current; Page:

[

103

]
Edition: current; Page:

[

164

]
Edition: current; Page:

[

165

]
Edition: current; Page:

[

171

]
Edition: current; Page:

[

176

]
Edition: current; Page:

[

177

]
Edition: current; Page:

[

183

]
Edition: current; Page:

[

206

]
Edition: current; Page:

[

207

]
Edition: current; Page:

[

223

]
Edition: current; Page:

[

231

]
Edition: current; Page:

[

239

]
Edition: current; Page:

[

251

]
Edition: current; Page:

[

269

]
Edition: current; Page:

[

285

]
Edition: current; Page:

[

292

]
Edition: current; Page:

[

293

]
Edition: current; Page:

[

302

]
Edition: current; Page:

[

303

]
Edition: current; Page:

[

333

]