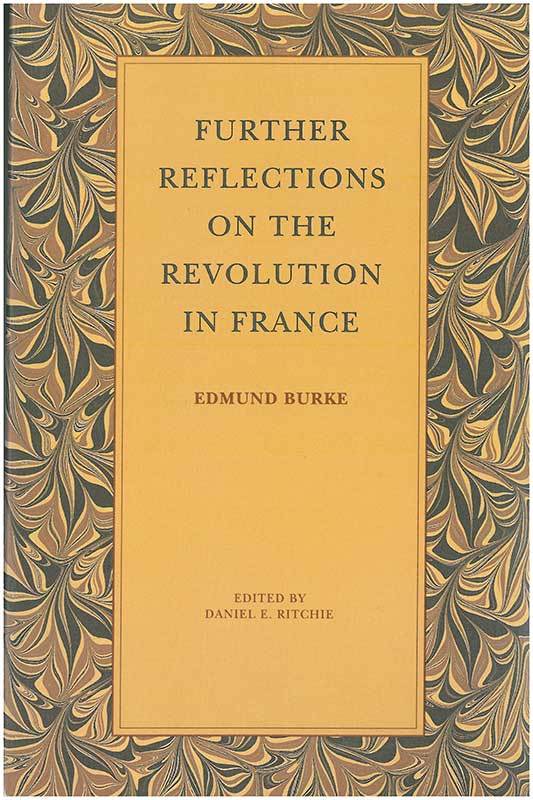 Further Reflections on the French Revolution
Burke continued arguing about the French Revolution throughout the 1790s in a series of letters and pamphlets, the most significant being "An Appeal from the New to the Old Whigs".
Further Reflections on the Revolution in France, ed. Daniel E. Ritchie (Indianapolis: Liberty Fund 1992).
Copyright:
The copyright to this edition, in both print and electronic forms, is held by Liberty Fund, Inc.
Formats:

| Format | Description | Size |
| --- | --- | --- |
| Facsimile PDF | This is a facsimile or image-based PDF made from scans of the original book. | 19.5 MB |
| HTML | This version has been converted from the original text. Every effort has been taken to translate the unique features of the printed book into the HTML medium. | 839 KB |
Edition: current; Page:

[

i

]
Edition: current; Page:

[

344

]
The typeface used for this book is ITC New Baskerville, which was created for the International Typeface Corporation and is based on the types of English type founder and printer John Baskerville (1706–1775). Baskerville is the quintessential "transitional" face: it retains the bracketed and obliqued serifs of "old-style" faces such as Caslon and Garamond, but in its increased lowercase height, lighter color, and enhanced contrast between thick and thin strokes, it presages "modern" faces.
This book is printed on paper that is acid-free and meets the requirements of the American National Standard for Permanence of Paper for Printed Library Materials, Z39.48, 1992. archival
Editorial services by Harkavy Publishing Service, New York, New York
Book design by Binns & Lubin/Martin Lubin, New York, New York
Typesetting by Alexander Typesetting, Inc., Indianapolis, Indiana
Index by Scholars Editorial Services, Inc., Madison, Wisconsin
Printed and bound by Worzalla Publishing Company, Stevens Point, Wisconsin