The Collected Works of James M. Buchanan, vol. 7 (The Limits of Liberty)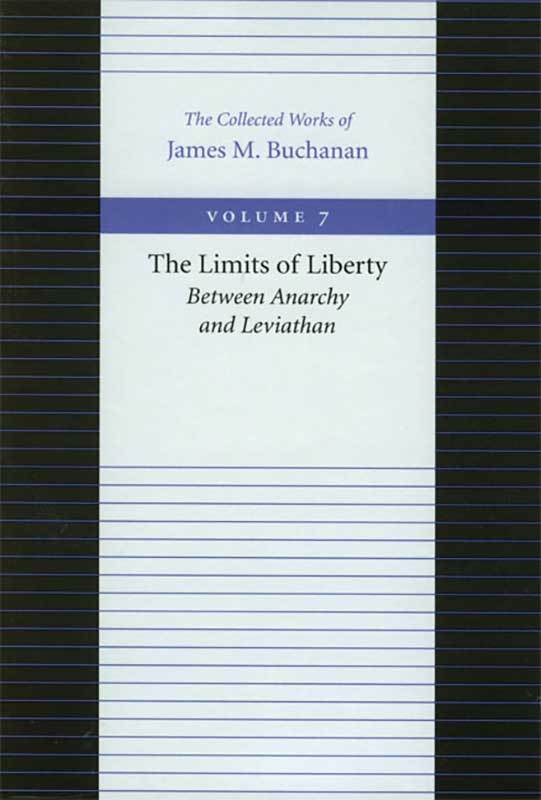 Vol. 7 of The Collected Works. Published originally in 1975, The Limits of Liberty made James Buchanan's name more widely known than ever before among political philosophers and theorists and established Buchanan, along with John Rawls and Robert Nozick, as one of the three new contractarians, standing on the shoulders of Hobbes, Locke, and Kant. Buchanan frames the central idea most cogently in the opening of his preface: "Precepts for living together are not going to be handed down from on high. Men must use their own intelligence in imposing order on chaos, intelligence not in scientific problem-solving but in the more difficult sense of finding and maintaining agreement among themselves. Anarchy is ideal for ideal men; passionate men must be reasonable. Like so many men have done before me, I examine the bases for a society of men and women who want to be free but who recognize the inherent limits that social interdependence places on them."
Another copy of this book can be found in HTML format at our sister website Econlib.
Read the Liberty Classic on this title from Econlib.
The Collected Works of James M. Buchanan, Foreword by Harmut Kliemt, 20 vols. (Indianapolis: Liberty Fund, 1999-2002). Vol. 7 The Limits of Liberty: Between Anarchy and Leviathan.
Copyright:
Foreword © 2000 Liberty Fund, Inc. The Limits of Liberty, by James Buchanan and Gordon Tullock © 1975 by The University of Chicago.
Formats:
| Format | Description | Size |
| --- | --- | --- |
| HTML | This version has been converted from the original text. Every effort has been taken to translate the unique features of the printed book into the HTML medium. | 700 KB |
| LF Printer PDF | This text-based PDF was prepared by the typesetters of the LF book. | 1.02 MB |
Table of Contents