The Pacificus-Helvidius Debates of 1793-1794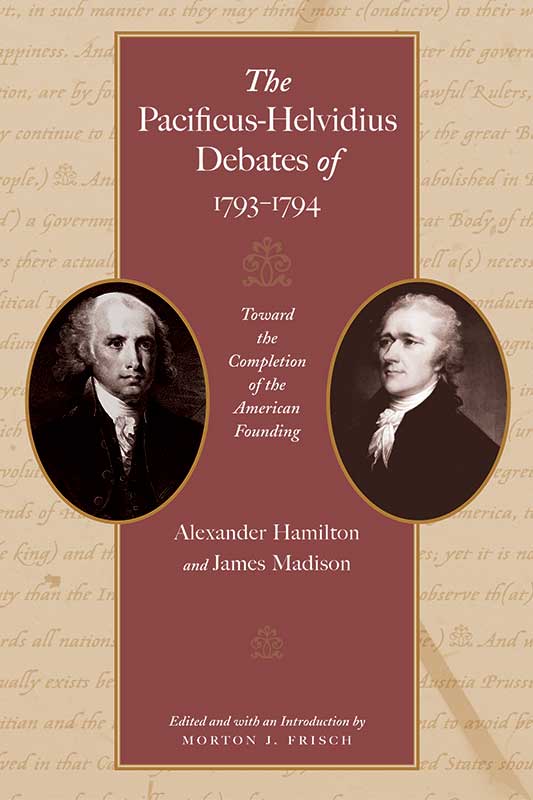 The Pacificus–Helvidius Debates of 1793–1794 matched Hamilton and Madison in the first chapter of an enduring discussion about the proper roles of the executive and legislative branches in the conduct of American foreign policy. Ignited by President Washington's Neutrality Proclamation of 1793, the debate addressed whether Washington had the authority to declare America neutral, despite an early alliance treaty with France. Hamilton argued that Washington's actions were constitutional and that friction between the two branches was an unavoidable, but not harmful, consequence of the separation of powers. Madison countered that Washington's proclamation would introduce "new principles and new constructions" into the Constitution. While the Pacificus-Helvidius debates did not resolve this ongoing constitutional controversy, they did define the grounds upon which this question was to be examined, to this very day.
The Pacificus-Helvidius Debates of 1793-1794: Toward the Completion of the American Founding, edited with and Introduction by Morton J. Frisch (Indianapolis: Liberty Fund, 2007).
Copyright:
Material by Washington and Madison is published by permission from The Papers of Alexander Hamilton (Columbia University Press) and by Jefferson and Madison from The Papers of James Madison (University Press of Virginia).
Formats:
| Format | Description | Size |
| --- | --- | --- |
| HTML | This version has been converted from the original text. Every effort has been taken to translate the unique features of the printed book into the HTML medium. | 323 KB |
| LF Printer PDF | This text-based PDF was prepared by the typesetters of the LF book. | 751 KB |
Table of Contents