The Screwtape Letters: From the Liberty Fund Rare Book Room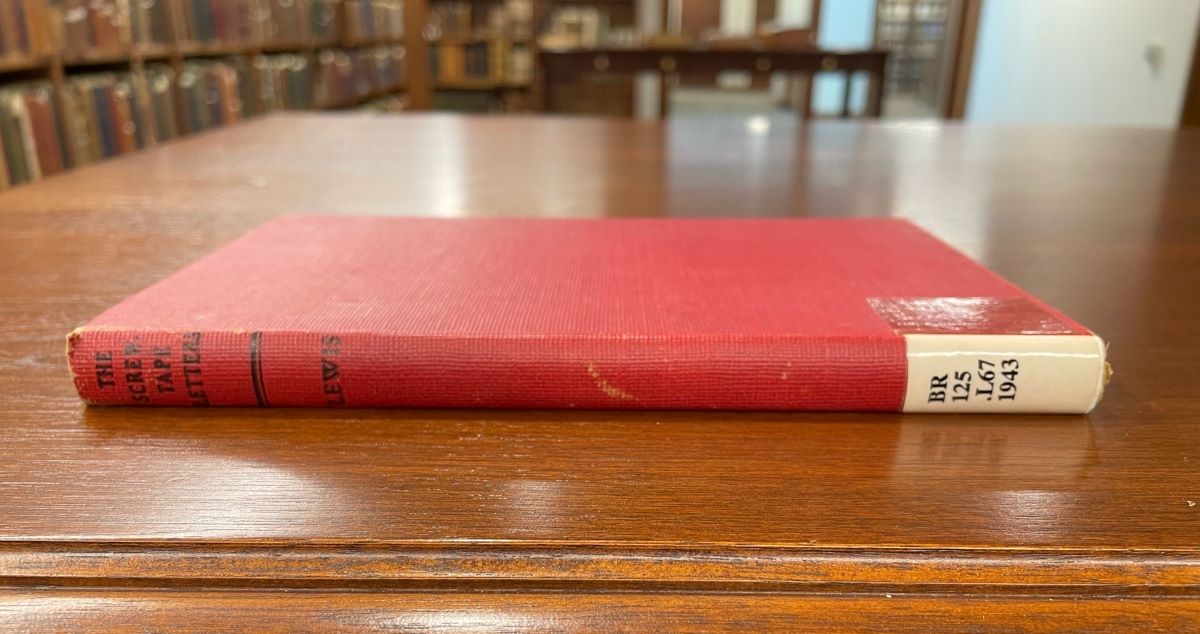 I will confess that I decided to take a look at Pierre Goodrich's 1948 copy of
The Screwtape Letters
by C.S. Lewis because it's a book I love, and not because this edition is a particularly compelling example of the bookbinder's art. The letters between the senior demon Screwtape and  his nephew Wormwood are funny, sardonic, thoughtful, and compelling. Though I'm not a Christian, I was captivated by their insights and literary charms as a teenager, and remain so today. Sc
rewtape
seemed like a good antidote to a week of car repairs and other frustrations. I wasn't wrong.
Goodrich's copy of Screwtape contains all the things I remembered. Who can forget glorious lines like, "She's the sort of woman who lives for others - you can tell the others by their hunted expression" or Lewis's chilling assessment of the Age of Bureaucracy?
I live in the Managerial Age, in a world of "Admin." The greatest evil is not now done in those sordid "dens of crime" that Dickens loved to paint. It is not done even in concentration camps and labour camps. In those we see its final result. But it is conceived and ordered (moved, seconded, carried, and minuted) in clean, carpeted, warmed and well-lighted offices, by quiet men with white collars and cut fingernails and smooth-shaven cheeks who do not need to raise their voices. Hence, naturally enough, my symbol for Hell is something like the bureaucracy of a police state or the office of a thoroughly nasty business concern.
Lewis's text is self-recommending.
But Goodrich's copy contained two particularly fun things that I wanted to share. The first is a clipping of a brief interview with C.S Lewis from
Time Magazine
in 1958. Titled "Faith and Outer Space," the article covers some of Lewis's thinking about questions of Christianity and the possibility of alien life. Do aliens exist? It would be "absurd arrogance" to assume that we are the only species favored with sapience. Would alien species be "fallen" like humanity? Would they need salvation? Lewis is less certain, but is clear that it would be folly to force a kind of salvation meant for humans onto another species. It's a fascinating article and one can see why it caught Goodrich's interest.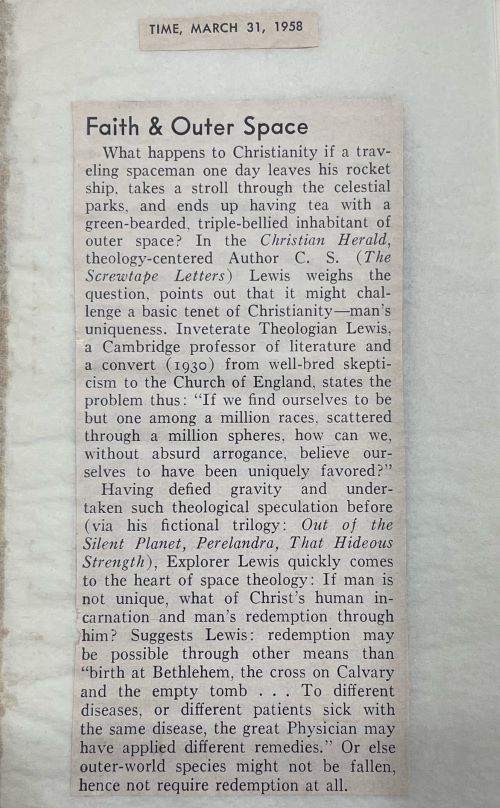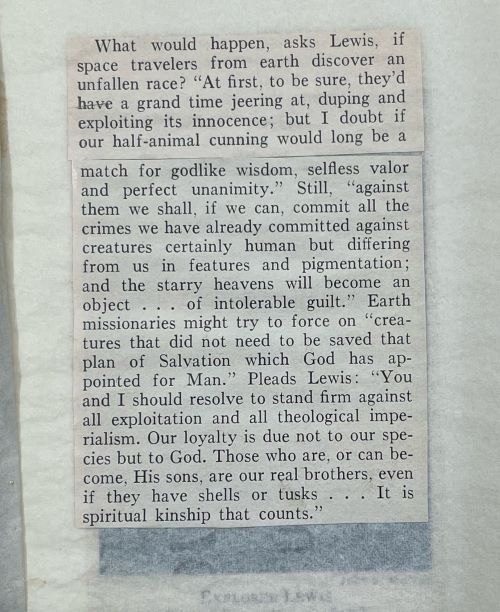 While
Screwtape
is not as heavily annotated as many of Goodrich's books, I was pleased to find one particular bit of marginalia. For years worth of dinner speeches, I have told Liberty Fund conference attendees that one of my favorite things about Goodrich's library is that he brings his books into conversation with each other. You can pick up a book off his shelves, check the margins, and find him making connections between the text he is reading and nearly anything else on the shelves. A perfect example of one such moment appears below, when Goodrich reads a passage from Lewis's work of Christian theology and connects it to the Bhagavad Gita and ideas of non-attachment.
Finding and enabling those connections, and encouraging those conversations is what Liberty Fund is for, and specifically, what I've hoped this blog would be able to do. Dr. Johnson described metaphysical poetry as a style where "the most heterogeneous ideas are yoked by violence together" and condemned it. I have always found that yoking to be invigorating and intellectually inspiring. And it's fun to see it inscribed in Goodrich's books and to get a glimpse of his mind at work.