An Enquiry into the Origin of Honour: From the Liberty Fund Rare Book Room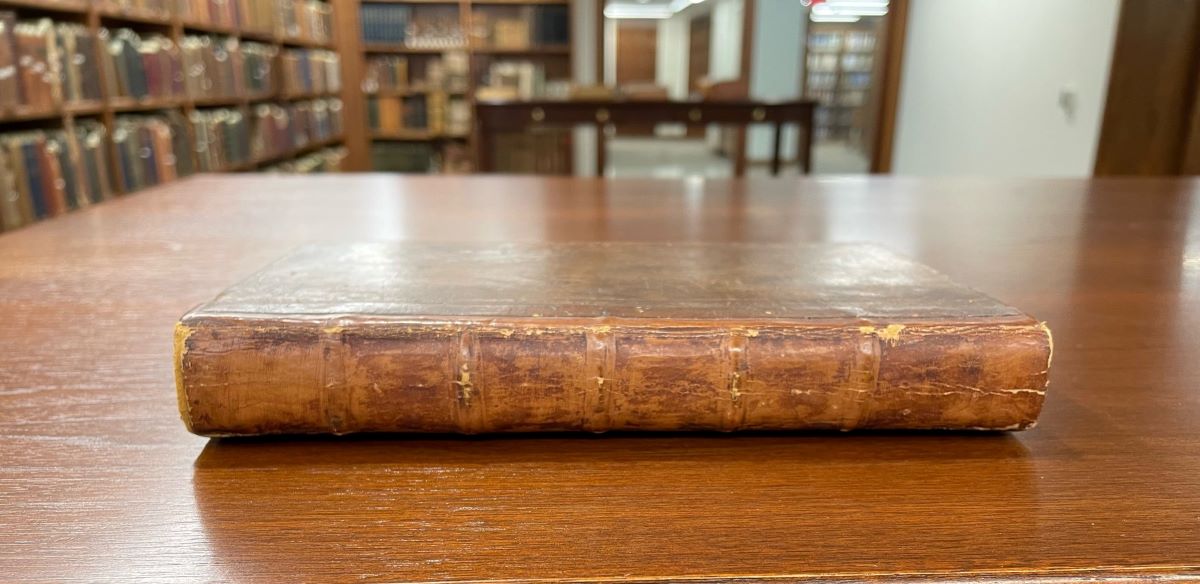 We've certainly highlighted more extravagantly produced books from our rare book collection. I'm a sucker for marbled endpapers, gold stamping, raised detailing, and glorious illustrations. It would be easy to pass by this volume, from the Hamburger collection, without taking it off the shelf to consider it.
But sometimes clichés are clichés because they insist on remaining true and useful. We should never judge a book by its cover. Because inside this fairly uninspired brown leather binding is a first edition of Mandeville's
An Enquiry into the Origin of Honour, and the Usefulness of Christianity in War.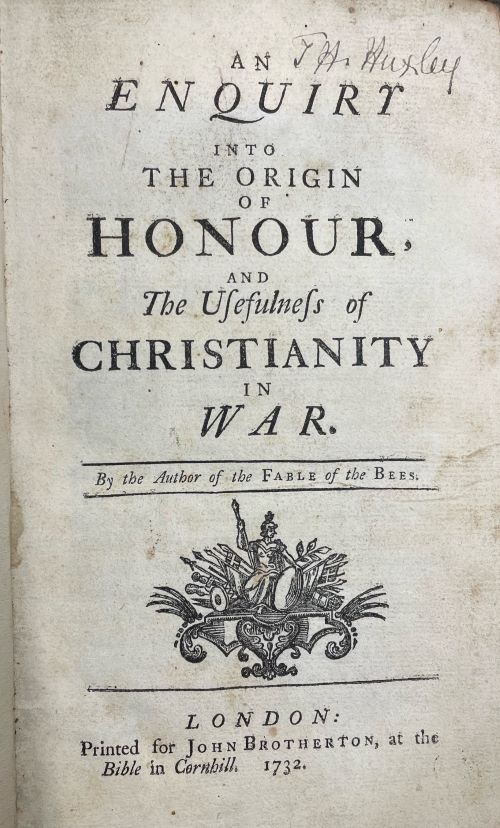 Mandeville's work, which takes the form of four dialogues considers questions such as the definition of honor; the usefulness of fear; the definition of female honor (perhaps of particular interest to Mandeville, who also wrote a defense of prostitution); whether good Christians make good soldiers; and why no armies can exist without religion.
I recently ran a VRG on Shakespeare's first tetralogy, and I begin to wonder, now, if Mandeville knew Falstaff's great speech on honor from
Henry IV, Part One
, and what he made of it, if he did.
Well, 'tis no matter; honour pricks me on. Yea, but how if honour prick me off when I come on? how then? Can honour set to a leg? no: or an arm? no: or take away the grief of a wound? no. Honour hath no skill in surgery, then? no. What is honour? a word. What is in that word honour? what is that honour? air. A trim reckoning! Who hath it? he that died o' Wednesday. Doth he feel it? no. Doth he hear it? no. 'Tis insensible, then. Yea, to the dead. But will it not live with the living? no. Why? detraction will not suffer it. Therefore I'll none of it. Honour is a mere scutcheon: and so ends my catechism. (5.1. 129-140)