Virginia Woolf in the Modern Art Museum: Marginalia of One's Own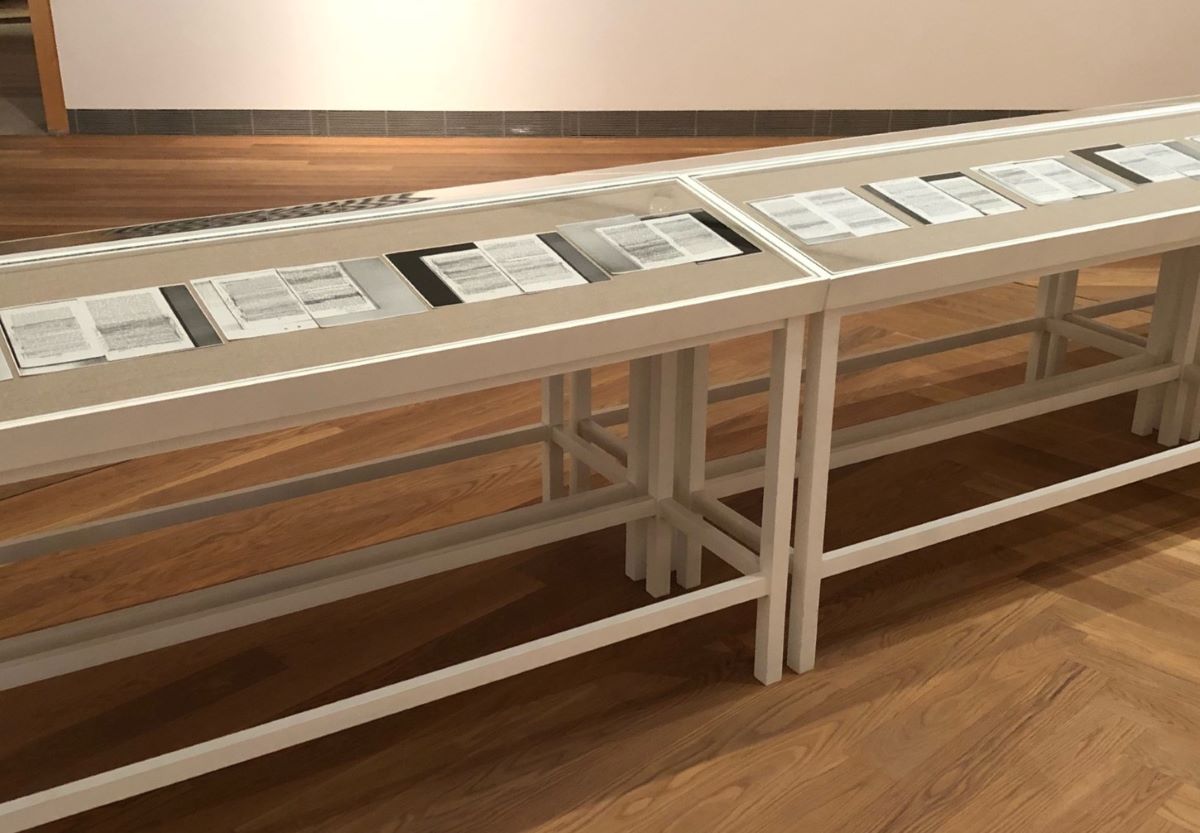 I recently had a chance to spend a morning at the
Moderna Museet
, Stockholm's museum of modern art. Though I admit to a preference for Medieval and Renaissance art, Stockholm seems to bring out the modernist in me, and I wanted to explore.
I was delighted to find, in a large exhibit room dedicated to modernist art by women, a 2006 work of art by the Swedish artist Kajsa Dahlberg titled "
Ett eget rum / Tusen bibliotek
" (A Room of One's Own / A Thousand Libraries). 
To create "Ett eget rum" Dahlberg examined every Swedish language copy of Virginia Woolf's classic essay,
"A Room of One's Own
" available in Swedish libraries. She then recorded every underlining and every marginal comment made by anyone who had made notes in these texts over the years. She compiled a composite edition--a palimpsest of reader reactions and interactions that collects the history of Swedish readers and Woolf's essay since its first Swedish translation in 1958. 
Sadly, my non-existent Swedish didn't allow me to explore the marginal comments, as I expect they make fascinating reading. But seeing generations of notes and commentary layered on top of each other as Dahlberg has done prompted me to think of my own books, which often have layers of notes and comments from different iterations of my own readings over the years. (My first year college self had a distressing penchant for taking notes in purple pen,) 
I also remembered Billy Collins's wonderful poem "Marginalia" from his collection
Picnic, Lightning
.
In it, Collins celebrates the quotidian beauty and humor of encountering other people's marginalia in library texts, and honors the community of readers created thereby--for today and for the future.
We have all seized the white perimeter as our own
and reached for a pen if only to show
we did not just laze in an armchair turning pages;
we pressed a thought into the wayside,
planted an impression along the verge.

Even Irish monks in their cold scriptoria
jotted along the borders of the Gospels
brief asides about the pains of copying,
a bird singing near their window,
or the sunlight that illuminated their page–
anonymous men catching a ride into the future
on a vessel more lasting than themselves.
And I thought, as well, of the OLL, and its collection of readers from around the world, all exploring familiar and unfamiliar texts in solitude, but somehow, also, together. We have been very busy behind the scenes lately working to improve the experience of reading texts at the OLL, and we hope that the new features we are unveiling soon will help to support and sustain our own community of readers, as Dahlberg's art has done for Swedish readers of Woolf. With that in mind, I invite you to join Janet Bufton in the Reading Room this week for three posts on reading A Room of One's Own.