The Odyssey: From the Liberty Fund Rare Book Room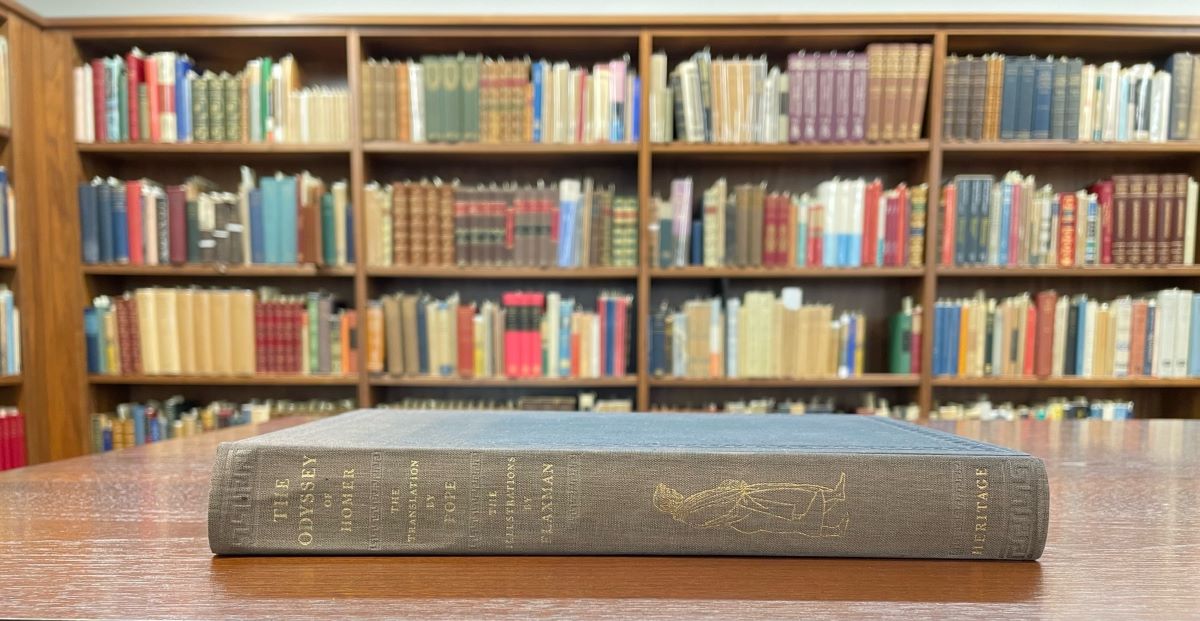 One of Pierre Goodrich's long time hobbies was making reading lists of recommended reading for a well-rounded, well-educated person. He made (at least) one while planning Liberty Fund. He made one for undergraduates at Wabash College. He made one for the
Goodrich Seminar Room
and had it carved into stone on the walls. I believe that Homer appears on every one of these lists.
It is no surprise, then, to find a copy of Homer's
The Odyssey
in Goodrich's library (or to find it accompanied by a matching copy of
The Illiad
.) From the Heritage Press, this edition uses Pope's translation, and is decorated with Flaxman's illustrations.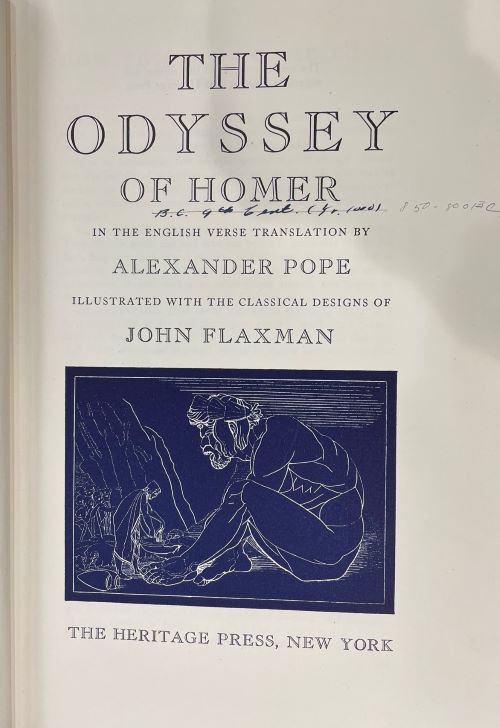 A close look at the title page will indicate that Goodrich gave some time and attention to noting, and then making more specific, the estimated composition date of
The Odyssey.
(Today, he would have to update it again, as it is generally thought to be a 7th or 8th century text rather than a 9th century one.) The care taken with the date over successive interactions with the text makes me think that Goodrich might have been working on one of his chronologically ordered reading lists while looking at the volume.
He is equally careful with a tricky matter about the translation. Though Goodrich famously disliked introductions and interpretive apparatus, preferring to encounter the text on its own, he clearly read the introduction to the Heritage edition and noted their comment that, "Pope's translation was the production  not of one man, but of a poetry factory." The introduction also names Pope's fellow translators, William Broome and Elijah Fenton, and carefully notes which poet was responsible for which book of the poem. Goodrich has just as carefully transferred this information to the table of contents, presumably to have these details close at hand while reading.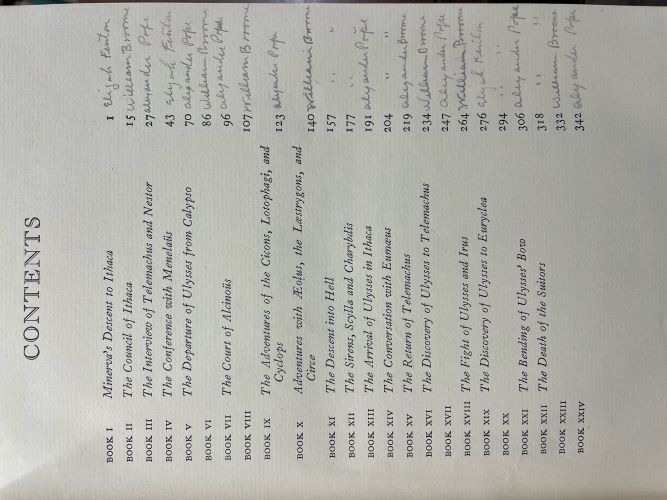 The text of the poem is not, alas, heavily annotated, so I can't say if Goodrich noted distinct differences among the three translators. But he certainly seems to be aware that such distinctions could exist and would, inevitably, change how the poem is understood. How appropriate for a poem that spends so much time thinking about the importance of story telling and the question of who is doing the telling!