Samuel von Pufendorf, Two Books of the Elements of Universal Jurisprudence [1660]
Purchase now from Liberty Fund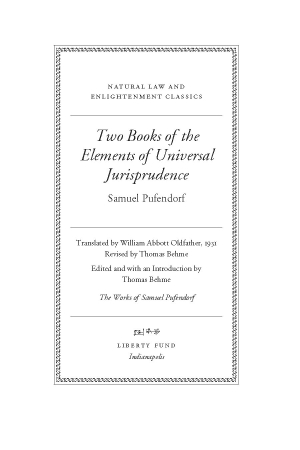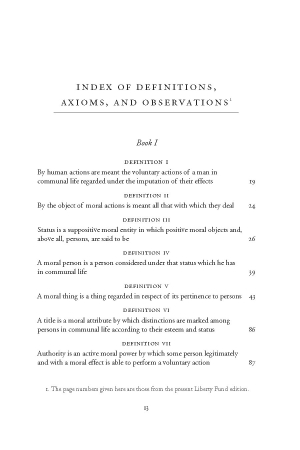 Available in the following formats:
LF Printer PDF
1.53 MB
This text-based PDF was prepared by the typesetters of the LF book.
EBook PDF
1.27 MB
This text-based PDF or EBook was created from the HTML version of this book and is part of the Portable Library of Liberty.
HTML
1.24 MB
This version has been converted from the original text. Every effort has been taken to translate the unique features of the printed book into the HTML medium.
Simplified HTML
1.24 MB
This is a simplifed HTML format, intended for screen readers and other limited-function browsers.
About this Title:
This was Pufendorf's first work, published in 1660. Its appearance effectively inaugurated the modern natural-law movement in the German-speaking world. The work also established Pufendorf as a key figure and laid the foundations for his major works, which were to sweep across Europe and North America. Pufendorf rejected the concept of natural rights as liberties and the suggestion that political government is justified by its protection of such rights, arguing instead for a principled limit to the state's role in human life.
Copyright information:
The copyright to this edition, in both print and electronic forms, is held by Liberty Fund, Inc.
Fair use statement:
This material is put online to further the educational goals of Liberty Fund, Inc. Unless otherwise stated in the Copyright Information section above, this material may be used freely for educational and academic purposes. It may not be used in any way for profit.
Table of Contents:
THE ELEMENTS OF UNIVERSAL JURISPRUDENCE BY SAMUEL PUFENDORF BOOK I
Edition: current; Page:

[

18

]
Edition: current; Page:

[

19

]
Edition: current; Page:

[

24

]
Edition: current; Page:

[

26

]
Edition: current; Page:

[

39

]
Edition: current; Page:

[

43

]
Edition: current; Page:

[

86

]
Edition: current; Page:

[

87

]
Edition: current; Page:

[

91

]
Edition: current; Page:

[

94

]
Edition: current; Page:

[

98

]
Edition: current; Page:

[

103

]
Edition: current; Page:

[

107

]
Edition: current; Page:

[

202

]
Edition: current; Page:

[

229

]
Edition: current; Page:

[

233

]
Edition: current; Page:

[

235

]
Edition: current; Page:

[

239

]
Edition: current; Page:

[

247

]
Edition: current; Page:

[

266

]
Edition: current; Page:

[

267

]
Edition: current; Page:

[

269

]
Edition: current; Page:

[

280

]
Edition: current; Page:

[

281

]
THE ELEMENTS OF UNIVERSAL JURISPRUDENCE BY SAMUEL PUFENDORF BOOK II
Edition: current; Page:

[

282

]
Edition: current; Page:

[

283

]
Edition: current; Page:

[

295

]
Edition: current; Page:

[

298

]
Edition: current; Page:

[

306

]
Edition: current; Page:

[

315

]
Edition: current; Page:

[

323

]
Edition: current; Page:

[

367

]