David Hume, Enquiries Concerning the Human Understanding and Concerning the Principles of Morals [1777]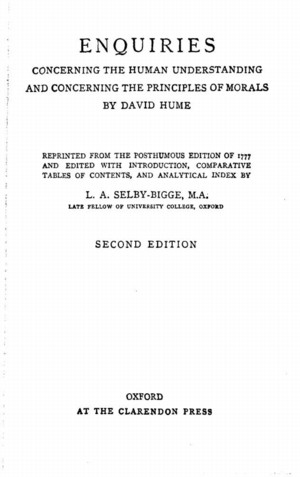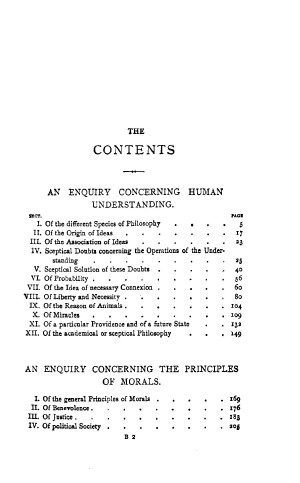 Available in the following formats:
Facsimile PDF
13.8 MB
This is a facsimile or image-based PDF made from scans of the original book.
Facsimile PDF small
4.04 MB
This is a compressed facsimile or image-based PDF made from scans of the original book.
Kindle
730 KB
This is an E-book formatted for Amazon Kindle devices.
EBook PDF
1.18 MB
This text-based PDF or EBook was created from the HTML version of this book and is part of the Portable Library of Liberty.
ePub
607 KB
ePub standard file for your iPad or any e-reader compatible with that format
HTML
834 KB
This version has been converted from the original text. Every effort has been taken to translate the unique features of the printed book into the HTML medium.
Simplified HTML
834 KB
This is a simplifed HTML format, intended for screen readers and other limited-function browsers.
About this Title:
Two of David Hume's most important works of moral philosophy, epistemology, and psychology which together were supposed to make up Hume's "science of man". They are a revised version of his earlier work A Treatise of Human Nature which appeared in 1739.
Copyright information:
The text is in the public domain.
Fair use statement:
This material is put online to further the educational goals of Liberty Fund, Inc. Unless otherwise stated in the Copyright Information section above, this material may be used freely for educational and academic purposes. It may not be used in any way for profit.
Table of Contents:
Edition: current; Page:

[

i

]
ADVERTISEMENT
Most of the principles, and reasonings, contained in this volume, were published in a work in three volumes, called A Treatise of Human Nature: A work which the Author had projected before he left College, and which he wrote and published not long after. But not finding it successful, he was sensible of his error in going to the press too early, and he cast the whole anew in the following pieces, where some negligences in his former reasoning and more in the expression, are, he hopes, corrected. Yet several writers, who have honoured the Author's Philosophy with answers, have taken care to direct all their batteries against that juvenile work, which the Author never acknowledged, and have affected to triumph in any advantages, which, they imagined, they had obtained over it: A practice very contrary to all rules of candour and fair-dealing, and a strong instance of those polemical artifices, which a bigotted zeal thinks itself authorized to employ. Henceforth, the Author desires, that the following Pieces may alone be regarded as containing his philosophical sentiments and principles.
Edition: current; Page:

[

3

]
the

CONTENTS
AN ENQUIRY CONCERNING HUMAN UNDERSTANDING.
AN ENQUIRY CONCERNING THE PRINCIPLES OF MORALS.
APPENDIX.
A DIALOGUE . . . . . . . . .

Additional Note to Page

125 . . . . . .
INDEX . . . . . . . . . . .
Edition: current; Page:

[

5

]
AN ENQUIRY
concerning

HUMAN UNDERSTANDING

Edition: current; Page:

[

17

]

Edition: current; Page:

[

23

]

Edition: current; Page:

[

25

]

Edition: current; Page:

[

40

]

Edition: current; Page:

[

56

]

Edition: current; Page:

[

60

]

Edition: current; Page:

[

80

]

Edition: current; Page:

[

104

]

Edition: current; Page:

[

109

]

Edition: current; Page:

[

132

]

Edition: current; Page:

[

149

]
Edition: current; Page:

[

166

]
Edition: current; Page:

[

167

]
AN ENQUIRY
concerning the

PRINCIPLES OF MORALS

Edition: current; Page:

[

168

]

Edition: current; Page:

[

169

]

Edition: current; Page:

[

176

]

Edition: current; Page:

[

183

]

Edition: current; Page:

[

205

]

Edition: current; Page:

[

212

]

Edition: current; Page:

[

233

]

Edition: current; Page:

[

250

]

Edition: current; Page:

[

261

]

Edition: current; Page:

[

268

]
Edition: current; Page:

[

285

]
Edition: current; Page:

[

347

]
Edition: current; Page:

[

none

]
PRINTED IN GREAT BRITAIN AT THE UNIVERSITY PRESS, OXFORD BY VIVIAN RIDLER PRINTER TO THE UNIVERSITY