Tracts on Liberty by the Levellers and their Critics Vol. 4 (1647)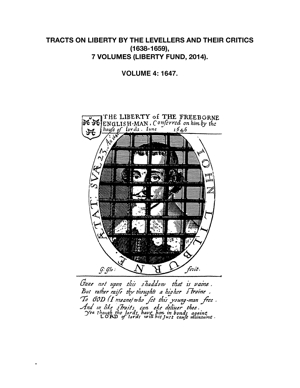 This volume is part of a seven volume collection of Leveller Tracts. The first edition contains 18 tracts by John Lilburne, Richard Overton, William Walwyn, Henry Ireton, John Wildman, and others, and includes important documents such as "The Petition of March", the Declaration of the Army, the Putney Debates, "The Agreement of the People," and "The Petition of November."
For more information about the titles and authors in this collection, see:
The second expanded edition of LT will have the following additional 24 titles (of which 4 are still uncorrected) and which are available elsewhere on the OLL):
Tracts on Liberty by the Levellers and their Critics (1638-1660), 7 vols. Edited by David M. Hart and Ross Kenyon (Indianapolis: Liberty Fund, 2014-18). Vol. 4 (1647).
Copyright:
The text is in the public domain.
Found in:
Part of:
Quoted 1 time:
Formats:
| Format | Description | Size |
| --- | --- | --- |
| HTML | This version has been converted from the original text. Every effort has been taken to translate the unique features of the printed book into the HTML medium. | 1.19 MB |
Table of Contents