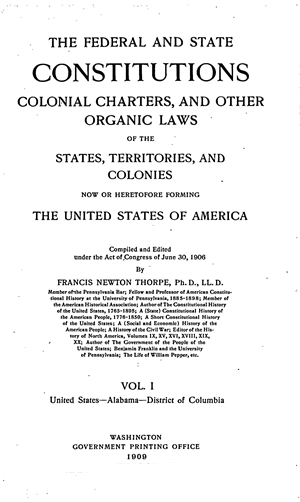 The Federal and State Constitutions, 7 vols.
Thorpe was commissioned by the U.S. Congress to edit a 7 volume collection of Colonial, Federal and State constitutions in 1906. The volumes are in alphabetical order, with Volume 1 dealing with United States-Alabama-District of Columbia; Vol. 2 Florida-Kansas; Vol. 3 Kentucky-Massachusetts; Vol. 4 Michigan-New Hampshire; Vol. 5 New Jersey-Philippine Islands; Vol. 6 Porto Rico-Vermont; Vol. 7 Virginia-Wyoming.
The Federal and State Constitutions, Colonial Charters, and other Organic Laws of the States and Territories now or heretofore forming the United States of America, compiled and edited by Francis Newton Thorpe (Washington: Government Printing Office, 1909). 7 vols.
Copyright:
The text is in the public domain.