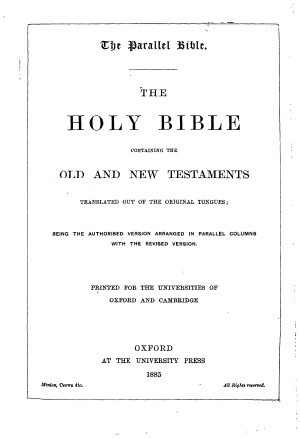 The Parallel Bible. Old and New Testaments (KJV and Revised Version)
A parallel version of the Old and New Testaments with the King James Version in one column and the revised Version in another column. Because of the size of this text it has been split into OT (KJV and RV) and NT (KJV and RV). The complete text is available only as a very large PDF file.
The Parallel Bible. The Holy Bible containing the Old and New Testaments translated out of the Original Tongues: being the Authorised Version arranged in parallel columns with the Revised Version (Oxford University Press, 1885).
Copyright:
The text is in the public domain.