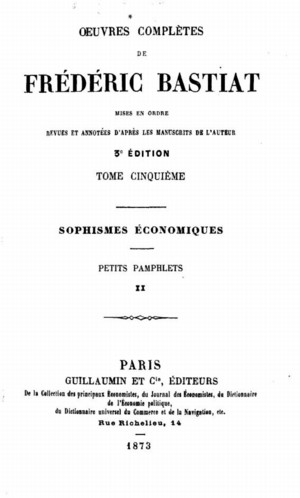 Oeuvres complètes de Frédéric Bastiat, 3rd ed. vol. 5 Sophismes économiques et Petits pamphlets II
Volume V of Bastiat's collected writings in 7 volumes, which contains more of his lengthier pamphlets such as What is Seen and What is Not Seen and his letters to Proudhon on Free Credit.
Oeuvres complètes de Frederic Bastiat, mises en ordre, revues et annotées d'après les manuscrits de l'auteur (Paris: Guillaumin, 1873) 3rd edition, 7 vols. Vol. 5.
Copyright:
The text is in the public domain.
Formats:

| Format | Description | Size |
| --- | --- | --- |
| Facsimile PDF | This is a facsimile or image-based PDF made from scans of the original book. | 20 MB |
| Facsimile PDF small | This is a compressed facsimile or image-based PDF made from scans of the original book. | 6.34 MB |