The Phaeacians and the Cyclopes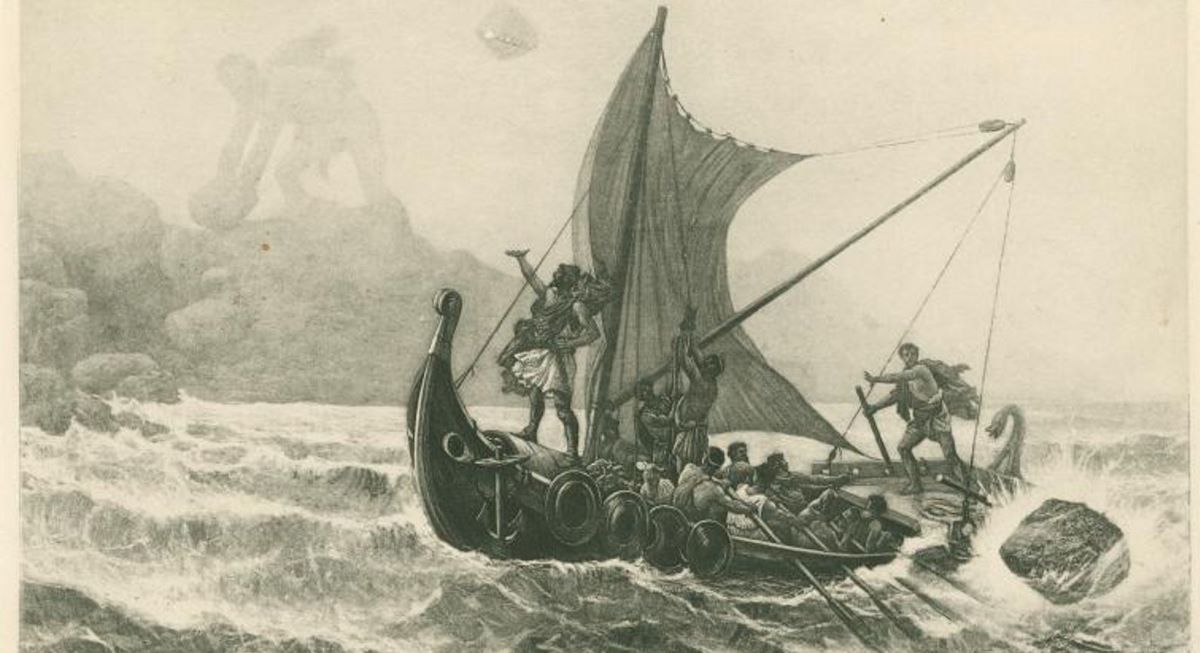 In Book VIII of Homer's
Odyssey
, Odysseus begins relating the story of his adventurous journey from Troy to the Phaeacian court. During his account, which spans Books VIII-XII, Odysseus famously tells of his dealings with the lawless cyclops Polyphemus.
Curiously, Alcinous, king of the Phaeacians, had earlier mentioned that his people, descendants of
giants
(
Ody
.7.58), once lived on the island
Hyperia*
alongside their brother cyclopes. Since that time, the Phaeacians had chosen to leave
Hyperia
and colonize Scheria. However, their shared genealogy and place of origin clearly implies that the Phaeacians and the cyclopes were once a single race descended from Poseidon.  
Why, then, are the Phaecians so different from the cyclopes in Homer's Odyssey? The cyclopes have barely changed at all. They are still gigantic in size, have acquired no new skills, nor even established new laws. They remain the same except for one thing: they have only one eye, rather than two. This implies that the cyclopes, instead of evolving or developing as a people, have devolved or degenerated. They have lost perspective literally and figuratively. Despite their long lives and mammoth size, they have not bettered or added to themselves. They are incapable of growing their own plants; the gods provide for them. They live secluded in their own cave and therefore have neither civil society, laws, architecture, nor a system of economics. They are also not capable of building ships, a skill perfected by their Phaeacian kin. 
The Phaeacians, however, have a robust and flourishing society. They have established marriage customs as seen by Nausicaa's anticipation of her betrothal in Book VI. They have ornate homes and a just political and social structure headed by a monarch. King Alcinous himself lives in a mansion filled with ornate decoration, complete with delicious food, a talented singer, and Ancient Greek customs, like xenia. The Phaeacians are skilled dancers and accomplished athletes in the Olympic sports of wrestling, boxing, throwing, and running. They produced ships of divine or magical quality which grant them conveyance to any place on earth in a day. In short, the Phaeacians are a well-structured, civil, and advanced culture compared to their larger lawless brethren.
The Phaeacians also show a stiff upper lip to their fate in contrast to Polyphemus' whiny curse of Odysseus to his father Poseidon. After the Phaeacians convey Odysseus home, Poseidon, who is angry at Odysseus, becomes enraged and turns the Phaeacian ship into stone. Poseidon then "covers the island with a mountain." This line is famously difficult to interpret but is generally understood as either Poseidon destroying Scheria or hiding it forever. Either way, the Phaeacians, as prophesied, would never offer passage to a stranded sailor again. Alcinous knew the prophetic consequence of aiding travelers, yet he continued to convey home all who reached Scheria. Why? Should not he have barred all travelers from coming or sent them away? Ah, but that would have been an Oedipal attempt at dealing with fate. The prophecy indicated that the Phaeacians's fate would come true no matter what happened in the Homeric universe. The Phaeacians, therefore, acted exactly as they ought. Their specific gift was their magical ships that knew all lands, moved faster than can be imagined, and required no oars to travel. Instead of worrying about the unchangeable future, the Phaeacians used their gift to aid others. Had they stopped conveying wayfarers home, they would not have only failed to prevent the prophecy, but also would have acted against the nature and custom of their people.
*The name Hyperia is itself an abstract and proper noun based on the Greek preposition Huper (above). Thus, Hyperia roughly means "the place above," most likely referring to a heavenly place "beyond" the normal physical boundaries of the world.