Anne Louise Germaine, Baronne de Staël-Holstein (April 22, 1766)
by Peter Mentzel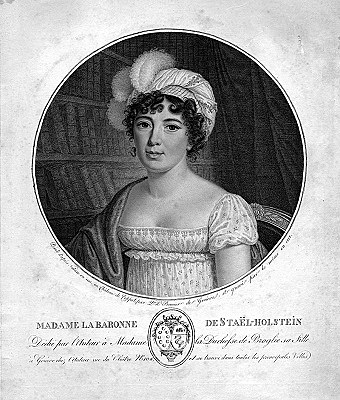 This month's featured birthday anniversary is the French woman of letters usually referred to simply as Germaine de Staël or Madame de Staël, known not only for her prodigious and wide-ranging writings, but for her great influence on the intellectual climate of the time. During her lifetime she became famous as a novelist, political philosopher, and literary critic.
She was born in Paris into the wealthy Necker family of Geneva, one of the richest families in Europe. Her father, Jacques Necker, was the comptroller to Louis XVI and a famous liberal intellectual. Her mother, Suzanne Curchod (born in Lausanne) was a remarkably accomplished woman who held a famous and influential salon that regularly hosted such luminaries as Voltaire, Diderot, Gibbon, and Hume.
Young Germaine, raised in such a rich intellectual and cultural setting, received an excellent education and from an early age exhibited an irresistible charm and wit that made her own salon, later in life, one of the most brilliant in Europe.
In 1786 she was married to Sweden's ambassador to France, Baron Erik de Staël -Holstein. While it was a marriage of convenience rather than love, the couple managed to stay together until their separation in 1797. Germaine de Staël had three children during these years, Auguste (b.1790), Albert (b.1792), and Albertine (b.1796), the latter probably fathered, however, by Benjamin Constant (see below).
Germaine de Staël, like her adored father, was an early and vociferous supporter of the revolution of 1789. She remained in Paris, protected by her husband's diplomatic status, until 1793 when she retreated in self-imposed exile to the family's estate, "Coppet," outside Geneva, Switzerland, (except for a brief interlude in England, where she joined her lover, Louis de Narbonne, and other emigres) From Coppet she observed the events of the French Revolution, and, under her skillful management, her estate attracted some of the most brilliant liberal thinkers in Europe. She returned to Paris after 1794, publishing books on political philosophy, retrospectives on the revolution, as well as two novels. In her policy prescriptions for post-revolutionary France, she condemned the excesses of the Jacobins as well as the reactionary ultra-royalists who wanted to pretend that the revolution had never happened. While she later advocated a constitutional monarchy, during the years after the revolution she was in favor of a republican form of government. She published several important essays during this period, one of which, A Treatise on the Influence of the Passions upon the Happiness of Individuals and of Nations, emerged as one of the foundational works of Romanticism. It was also during this period that she met, and began a tumultuous fourteen year-long love affair with, Benjamin Constant (1767-1830), who encouraged her growing interest in German Romanticism.
Her relationship with Constant and his liberal friends also galvanized her opposition to Napoleon Bonaparte, whom she had first met in 1797. Her outspoken and vociferous protests against Napoleon's increasingly authoritarian rule finally resulted in her exile in 1803. During the next decade she traveled around Europe, being celebrated and fêted wherever she went. Tsar Alexander I was particularly taken with her and issued her a Russian passport. But it was probably her travels throughout Germany that had the most lasting impact, both on her and on the subsequent development of European intellectual and artistic culture. She was captivated by the embryonic Romantic movement she observed there, and the related Sturm und Drang school of literature. She met the great German Romantic intellectual August Wilhelm von Schlegel who became a life-long friend and interlocutor. In 1810 she published one of her most famous and influential works, On Germany, in which she praised German culture and gave a fascinating and sympathetic overview of the emerging Romantic School of literature. Pointedly, she never once mentions Napoleon in the book, even as he was engaged in wars of conquest against the German states at the time. Infuriated by the omission, Napoleon's police banned the book and confiscated and destroyed all the copies they could find.
She returned to Paris in 1814 after the fall of Napoleon and welcomed the Bourbon restoration and the Charter of 1814, though she quickly became disillusioned with both. The fall of Napoleon and the foreign military occupation had not, she observed, established a very good foundation for the establishment of liberty in France after all. It was in these years that she wrote what is probably her most enduring work, Considerations on the Principal Events of the French Revolution. It was published posthumously in 1818 by her son, Auguste, and son-in-law, Victor de Boglie, assisted by her old friend von Schlegel.
During Napoleon's Hundred Days she again escaped to Coppet, where she was eventually joined by some of her old friends and acquaintances. Among them was Lord Byron, whom she had met during a visit to England in 1813. She returned to Paris again late in 1816, where she received a chilly reception from most of the returned émigrés and the government. While she made an effort to continue to hold her salon, her health was declining and by the Spring of 1817 she was a bed-ridden invalid. She died on July 14 of that year.
While Germaine de Staël produced an incredible number of literary works, including novels, poems, and plays, most of these are hardly read today. Instead, her most important legacy is in the history of ideas, especially Liberalism, and the history of art, notably Romanticism. Indeed, the growth of Romanticism in the arts, as well as its influence on the development of liberalism and nationalism, can be directly traced to her writings and especially to the incredibly influential gatherings she continued to host until her dying day. As one of her admirers quipped around 1815: "There are three great Powers struggling against Napoleon for the soul of Europe: England, Russia, and the Madam de Staël."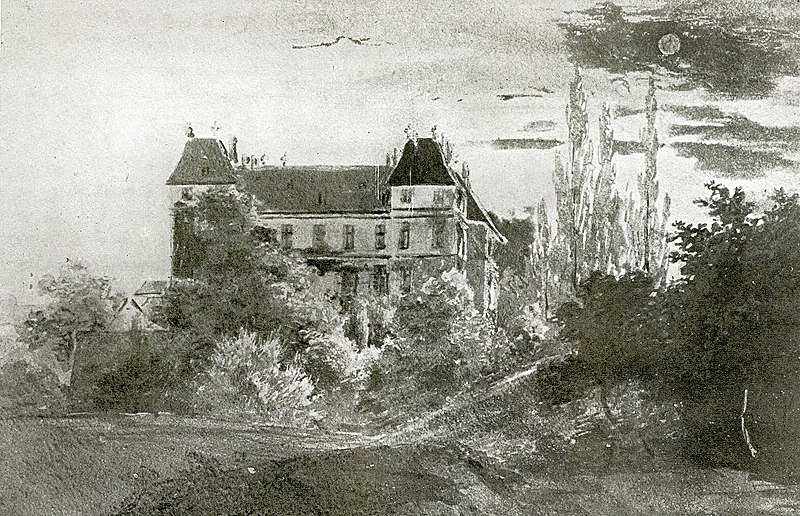 OLL Birthdays & Anniversaries