§ 1.: Antiquities
Edition: orig; Page: [237]The history of the family: a controversial theme.If before we speak of our law of inheritance as it was in the twelfth and thirteenth centuries, we devote some small space to the antiquities of family law, it will be filled rather by warnings than by theories. Our English documents contain little that can be brought to bear immediately or decisively on those interesting controversies about primitive tribes and savage families in which our archaeologists and anthropologists are engaged, while the present state of those controversies is showing us more clearly every day that we are yet a long way off the establishment of any dogmas which can claim an universal validity, or be safely extended from one age or one country to another. And yet so long as it is doubtful whether the prehistoric time should be filled, for example, with agnatic gentes or with hordes which reckon by "mother-right," the interpretation of many a historic text must be uncertain.
The family as an unit.It has become a common-place among English writers that the family rather than the individual was the "unit" of ancient law. That there is truth in this saying we are very far from denying—the bond of blood was once a strong and sacred bond—but we ought not to be content with terms so vague as "family" and "unit." It may be that in the history of every nation there was a time when the men and women of that nation were grouped together into mutually exclusive clans, when all the members of each clan were in fact or in fiction bound to each other by the tie of blood, and were accounted Edition: current; Page: [253] strangers in blood to the members of every other clan. But let us see what this grouping implies. It seems to imply almost ofEdition: orig; Page: [238] necessity that kinship is transmitted either only by males or only by females. So soon as it is admitted that the bond of blood, the bond which groups men together for the purpose of blood-feud and of wergild, ties the child both to his father's brother and to his mother's brother, a system of mutually exclusive clans is impossible, unless indeed each clan is strictly endogamous. There is a foray; grandfather, father and son are slain; the wer must be paid. The wer of the grandfather must be paid to one set of persons; the wer of the father to a different set; the wer of the son to yet a third set. If kinship is traced only through males or only through females, then we may have permanent and mutually exclusive units; we may picture the nation as a tree, the clans as branches; if a twig grows out of one branch, it cannot grow out of another. In the other case each individual is himself the trunk of an arbor consanguinitatis.
No clans in England.Now it is not contended that the Germans, even when they first come within the ken of history, recognize no bond of blood between father and son. They are for the more part monogamous, and their marriages are of a permanent kind. The most that can be said by ardent champions of "mother-right" is that of "mother-right" there are distinct though evanescent traces in the German laws of a later day. On the other hand, we seem absolutely debarred from the supposition that they disregarded the relationship between the child and its mother's brother. So soon as we begin to get rules about inheritance and blood-feud, the dead man's kinsfolk, those who must bear the feud and who may share the wergild, consist in partEdition: orig; Page: [239] Edition: current; Page: [254] of persons related to him through his father, and in part of persons related to him through his mother.
Spear-kin and spindle-kin.It was so in the England of Alfred's day; the maternal kinsfolk paid a third of the wer. The Leges Henrici, which about such a matter will not be inventing new rules, tell us that the paternal kinsfolk pay and receive two-thirds, the maternal kinsfolk one-third of the wer; and this is borne out by other evidence. Also it is clear that marriage did not sever the bond between a woman and her blood-kinsmen; they were responsible for her misdeeds; they received her wer, and we are expressly told that, if she committed homicide, vengeance was not to be taken on "the innocent family" of her husband. It would even seem that her husband could not remove her from the part of the country in which her kinsmen lived without giving them security that he would treat her well and that they should have an opportunity of condoning her misdeeds by money payments. Now when we see that the wives of the members of one clan are themselves members of other clans, we ought not to talk of clans at all. If the law were to treat the clan as an unit for any purpose whatever, this would surely be the purpose of wer and blood-feud; but just for that purpose our English law does not contemplate the existence of a number of mutually exclusive units which can be enumerated and named; there were as many "blood-feud groups" as there were living persons; at all events each set of brothers and sisters was the centre of a different group.
No permanent organization of the blood-feud group.From this it follows that the "blood-feud group" cannot be a permanently organized unit. If there is a feud to be borne or wer to be paid or received, it may organize itself ad hoc; but the organization will be of a fleeting kind. The very next deed of violence that Edition: current; Page: [255] is done will call some other blood-feud group into existence. Along with his brothers and paternal uncles a man goes out to avenge hisEdition: orig; Page: [240] father's death and is slain. His maternal uncles and cousins, who stood outside the old feud, will claim a share in his wer.
The blood-feud group is not a permanent legal unit.This is what we see so soon as we see our ancestors. About what lies in the prehistoric time we can only make guesses. Some will surmise that the recognition of the kinship that is traced through women is a new thing, and that in the past there have been permanently coherent agnatic gentes which are already being dissolved by the action of a novel principle. Others will argue that the movement has been not from but towards agnation, and has now gone so far that the spear-cousins are deemed nearer and dearer than the spindle-cousins. Others, again, may think that the great "folk-wandering" has made the family organization of the German race unusually indefinite and plastic, so that here it will take one, and there another form. What seems plain is that the exclusive domination of either "father-right" or "mother-right"—if such an exclusive domination we must needs postulate—should be placed for our race beyond the extreme limit of history. To this, however, we may add that the English evidence as to the wife's position is a grave difficulty to any theory that would start with the patriarchal family as a primitive datum. That position we certainly cannot ascribe to the influence of Christianity. The church's dogma is that the husband is the head of the wife, that the wife must forsake her own people and her father's house; and yet, despite all preaching and teaching, the English wife remains, for what has once been the most important of all purposes, a stranger to her husband's kin, and even to her husband.
The kindred as a local group.It is quite possible that in England men as a matter of fact dwelt together in large groups tilling the land by co-operation, that the members of each group were, or deemed themselves to be, kinsmen in blood, and that as a force for keeping them in these local groups spear-sibship was stronger than spindle-sibship:—their relative strength could be expressed by the formula 2: 1. We get a hint of such permanent cohesive groups when we find King Æthelstan legislating against the mœgð that is so strong and so mickle that it Edition: current; Page: [256] denies the king's rights and harbours thieves. The whole power of the country is to be called out to ride against these offenders. The law will, if possible, treat such a mœgð as an "unit" by crushing itEdition: orig; Page: [241] into atoms. But in no other way, so far as we can see, will its unity be legally recognized. The rules of blood-feud that the law sanctions are a practical denial of its existence. Unless it be endogamous, it can have no claim to the whole wer of any one of its members; every one of its members may have to pay wer along with persons who stand outside it.
The kindred as landowning unit.Again, if we accept the common saying that the landowning unit was not an individual but a mœgð, a clan, or gens, we must meet the difficulty that at an early period land was being inherited through women. The rules of inheritance are very dark to us, but, so far as we can see, the tendency in the historic period is not towards an admission of the "spindle-kin," but towards a postponement of their claims to those of the "spear-kin." Already in the eighth century the Anglo-Saxon thegn wishes to create something like the estate in tail male of later times. And the law takes his side; it decrees that the form of the gift shall be respected. Now if for a moment we suppose that a clan owns land, we shall see a share in this land passing through daughters to their children, and these children will be on their father's side members of another clan. Our landowning clan, if it still continues to hold its old lands, will soon cease to be a clan in any tolerable sense of the term; it will be a mere group of co-proprietors, some of whom are bound by the sacred tie of blood-feud more closely to those who stand outside than to those who stand inside the proprietary group.
The kindred no corporation.We must resist the temptation to speak of "the mœgð" as if it were a kind of corporation, otherwise we have as many corporations as there are men and women. The collective word mœgð is interchangeable with the plural of the word mœ´g, which signifies a kinsman. When a man has been slain, those who are bound and entitled Edition: current; Page: [257] to avenge his death will, it is probable enough, meet together and take counsel over a plan of campaign; but so far as we can see, the law, when first it knows a wergild, knows the main outlines of a system which divides the wergild among individual men. ThereEdition: orig; Page: [242] is in the first place a sum called the healsfang, which is due only to those who are very closely related to the dead man; then there is the rule that gives two-thirds to the spear and one to the spindle. Again, when the "kindred" of a lordless man is ordered to find him a lord, we need not think of this as of a command addressed to corporations, or even to permanently organized groups of men; it may well be addressed to each and all of those persons who would be entitled to share the wergild of this lordless man: every one of them will be liable to perform this duty if called upon to do so.
The household as landowner.A fatherless child "follows its mother"; apparently this means that, as a general rule, this child will be brought up among its maternal, not its paternal, kinsmen; the guardianship however of its paternal goods is given by ancient dooms to its paternal kinsmen. But such texts do not authorize us to call up the vision of a mœgð acting as guardian by means of some council of elders; the persons who would inherit if the child died may well be the custodians of the ancestral property. But even if in any given case a person's kinsmen act together and, for example, find a lord or appoint a guardian for him, it is only by reason of their relationship to him that they constitute an unit. There may be a great deal to show that in England and elsewhere strong family groups formed themselves and that the law had to reckon with them; but they were contending against a principle which, explain it how we will, seems to be incompatible with the existence of mutually exclusive gentes as legal entities.
We turn to the popular theory that land was owned by families Edition: current; Page: [258] or households before it was owned by individuals. This seems to mean that at a time when a piece of land was never owned by one man, co-ownership was common. Now co-ownership may takeEdition: orig; Page: [243] various forms. In the later middle ages it took here in England at least four. There was the tenancy in common. In this case when one co-tenant died, his own undivided share descended to his heir. There was the joint tenancy. In this case when one co-tenant died, his share did not descend to his heir, but "accrued" to the surviving co-tenant or co-tenants. There was the co-parcenary occasioned by the descent of lands to co-heiresses. In this case there had been doubt whether on the death of one co-tenant without issue there would be inheritance or "accruer by survivorship." The intimate union between husband and wife gave rise to a fourth form, known as tenancy by entireties. We cannot a priori exhaust the number of forms which co-ownership may take. Nor is it only on the death of one of the co-owners that the differences between these forms will manifest themselves. In a modern system of law, and in many a system that is by no means modern, every one of the co-owners may in general insist on a partition either of the land itself or, it may be, of the money that can be obtained by a sale of it; or again, without any partition being made, he can without the consent of his fellows transfer his aliquot share to one who has hitherto stood outside the co-owning group. Demonstrably in some cases, perhapsEdition: orig; Page: [244] in many, these powers are of recent origin. Let us for a moment put them out of account. Let us suppose that on a father's death his land descends to his three sons, that no son can force his brothers to a physical partition of the inheritance, and that no son can sell or give away his share. Let us make yet another supposition, for Edition: current; Page: [259] which there may be warrant in some ancient laws. Let us suppose that if one of the three sons dies leaving two sons, these two will not of necessity inherit just their father's share, no more, no less. Let us suppose that there will be a redistribution of the shares into which the land has hitherto been ideally divided, so (for example) that these four persons, namely the two uncles and their two nephews, will have equal shares. The land is still owned by four men. Let the number of co-tenants increase until there are forty of them; the state of the case is not altered. Individuals do not cease to be individuals when there are many of them. But if there are many of them, we shall often spare ourselves the trouble of enumerating them by the use of some collective name. If John Smith's land has descended to his seven daughters who are holding it as co-parceners, we shall in common discourse speak of it as the land of the Smiths or of the Smith family, or, if we prefer medieval Latin to modern English, we shall say that the land belongs to the genealogia Johannis Fabri. If these ladies quarrel with their neighbours about a boundary, there may be litigation between two families (inter duas genealogias), the Smiths, to wit, and the Browns; but it will be a quarrel between "individuals"; this will be plain enough so soon as there is any pleading in the action.
Edition: orig; Page: [245]Is co-ownership older than several ownership?Now no one is likely to maintain, even as a paradox, that the ownership of aliquot shares of things is older than the ownership of integral things. If nothing else will restrain him, he may at least be checked by the reflection that the more ancient institution will inevitably become the more modern within a few years. He distributes the land to families. So soon as by the changes and chances of this mortal life any one of those families has but a single member, Edition: current; Page: [260] "individual ownership" will exist, unless to save his dogma he has recourse to an arbitrary act of confiscation.
Co-ownership and aliquot shares.To deny that "family ownership" is an ownership by individuals of aliquot shares is another expedient. But this in truth is a denial of the existence of any law about partition. If there is any law which decides how, if a partition be made, the physically distinct shares ought to be distributed, then there is already law which assigns to the members of the group ideal shares in the unpartitioned land. But to seek to go behind a law for the partition of family estates without passing into a region in which there is no ownership and no law does not in western Europe look like an endeavour that is destined to succeed. Such evidence as we have does not tend to prove that in ancient times the "joint family" was large. Seldom did it comprise kinsmen who were not the descendants of a common grandfather: in other words, the undivided family rarely lived through three generations. But supposing that there is no law about partition, we still have before us something which, if we agree to call it ownership, is ownership by individuals. We have land owned by four, or by forty individuals, and at any moment a war, a plague or a famine may reduce their number to one.
Birth-rights.To our thinking then, the matter that has to be investigated is not well described as the non-existence of "individual ownership."Edition: orig; Page: [246] It would be more correctly described as the existence and the origin of "birth-rights." Seemingly what we mean when we speak of "family ownership," is that a child acquires rights in the ancestral land, at birth or, it may be, at adolescence; at any rate he acquires rights in the ancestral land, and this not by gift, bequest, inheritance or any title known to our modern law.
Edition: current; Page:

[

261

]
History of birth-rights.Now that such rights once existed in England and many other parts of western Europe is not to be denied. When the dark age is over, they rarely went beyond this, that the land holder could not utterly disinherit his expectant heirs either by will or by conveyance; the father, for example, could not sell or give away the ancestral land without the consent of his sons, or could only dispose of some "reasonable" part of it. If he attempted to do more, then when he was dead his sons could revoke the land. However, it was not unknown in some parts of Germany that, even while the father lived, the sons could enforce their rights and compel him to a partition.
Birth-rights and inheritance.It is natural for us to assume without hesitation that those forms of birth-right which are least in accord with our own ideas are also the most archaic, that the weaker forms are degenerate relics of the stronger, that originally the child was born a landowner, that a law which only allows him to recall the alienated land after his father's death is transitional, and that his right has undergone a further and final degradation when it appears as a mere droit de retrait, a right to redeem the alienated land at the price that has been given for it. According to this theory, the law of intestate succession has its origin in "family ownership." It is an old and a popular doctrine. Before however we allow to it the dignity of a proved and universal truth, we shall do well to reflect that it attributes to barbarous peoples a highly commendable care for the proprietary rights of the filius familias, and if for his proprietary rights then also for his life and liberty, for the state of things in which a father may lawfully reduce the number of his co-proprietors by killing them or selling them into slavery is not one that we can easily imagine as a normal or stable stage in the history of mankind.
Edition: orig; Page: [247]Birth-rights begotten by a law of inheritance.The suggestion therefore may be admissible that at least in some cases "family ownership," or the semblance of it, may really be, not the origin, but the outcome of intestate succession. We have but to Edition: current; Page: [262] ask for a time when testamentary dispositions are unknown and land is rarely sold or given away. In such a time a law of intestate succession will take deep root in men's thoughts and habits. The son will know that if he lives long enough he will succeed his father; the father will know that in the ordinary course of events his land will pass from him to his sons. What else should happen to it? He does not want to sell, for there is none to buy; and whither could he go and what could he do if he sold his land? Perhaps the very idea of a sale of land has not yet been conceived. In course of time, as wealth is amassed, there are purchasers for land; also there are bishops and priests desirous of acquiring land by gift and willing to offer spiritual benefits in return. Then the struggle begins, and law must decide whether the claims of expectant heirs can be defeated. In the past those claims have been protected not so much by law as by economic conditions. There is no need of a law to prohibit men from doing what they do not want to do; and they have not wanted to sell or to give away their land. But now there must be law. The form that the law takes will be determined by the relative strength of conflicting forces. It will be a compromise, a series of compromises, and we have no warrant for the belief that there will be steady movement in one direction, or that the claims of the heirs must be always growing feebler. That this is so we shall see hereafter. The judges of Henry II.'s court condemned in the interest of the heir those testamentary or quasi-testamentary dispositions of land which Englishmen and Normans had been making for some time past, though the same judges or their immediate successors decided that the consent of expectant heirs should no longer be necessary when there was to be an alienation inter vivos. Thus they drew up the great compromise which ruled England for the rest of the middle ages. Other and different arrangements were made elsewhere, some more, some less favourable to the heirs, and we must not assume without proof that those which are most favourable to the heirs are in the normal order of events the most primitive. They imply, as already said, that a son can hale his father before a court of law and demand a partition; when this Edition: current; Page: [263] can be done there is no "patriarchalism," there is little paternal power.
Edition: orig; Page: [248]Antiquity of inheritance.In calling to our aid a law of intestate succession we are not invoking a modern force. As regards the German race we cannot go behind that law; the time when no such law existed is in the strictest sense prehistoric. Tacitus told his Roman readers that the Germans knew nothing of the testament, but added that they had rules of intestate succession. These rules were individualistic: that is to say, they did not treat a man's death as simply reducing the number of those persons who formed a co-owning group. Again, they did not give the wealth that had been set free to a body consisting of persons who stood in different degrees of relationship to the dead man. The kinsmen were called to the inheritance class by class, first the children, then the brothers, then the uncles. The Lex Salica has a law of intestate succession; it calls the children, then the mother, then the brothers and sisters, then the mother's sister. These rules, it may be said, apply only to movable goods and do not apply to land; but an admission that there is an individualistic law of succession for movable goods when as yet anything that can be called an ownership of land, if it exists at all, is new, will be quite sufficient to give us pause before we speak of "family ownership" as a phenomenon that must necessarily appear in the history of every race. Our family when it obtains a permanent possession of land will be familiar with rules of intestate succession which imply that within the group that dwells together there is mine and thine. But the Lex Salica already knows the inheritance of land; the dead man's land descends to his sons, and an express statement that women cannot inherit it is not deemed superfluous.
Edition: current; Page:

[

264

]
Family ownership in England.Now as regards the Anglo-Saxons we can find no proof of the theory that among them there prevailed anything that ought to be called "family ownership." No law, no charter, no record of litigationEdition: orig; Page: [249] has been discovered which speaks of land as being owned by a mœgð, a family, a household, or any similar group of kinsmen. This is the more noticeable because we often read of familiae which have rights in land; these familiae, however, are not groups of kinsmen but convents of monks or clerks.
Birth-rights in England.But, further, the dooms and the land-books are markedly free from those traits which are commonly regarded as the relics of family ownership. If we take up a charter of feoffment sealed in the Norman period we shall probably find it saying that the donor's expectant heirs consent to the gift. If we take up an Anglo-Saxon land-book we shall not find this; nothing will be said of the heir's consent. The denunciatory clause will perhaps mention the heirs, and will curse them if they dispute the gift; but it will usually curse all and singular who attack the donee's title, and in any system of law a donee will have more to fear from the donor's heirs than from other persons, since they will be able to reclaim the land if for any cause the conveyance is defective. Occasionally several co-proprietors join to make a gift; but when we consider that in all probability all the sons of a dead man were equally entitled to the land that their father left behind him, we shall say that such cases are marvellously Edition: current; Page: [265] rare. Co-ownership, co-parcenary, there will always be. We see it in the thirteenth century, we see it in the nineteenth; the wonder is that we do not see more of it in the ninth and tenth than our Anglo-Saxon land-books display.
In the days before the Conquest a dead man's heirs sometimesEdition: orig; Page: [250] attempted to recover land which he had given away, or which some not impartial person said that he had given away. They often did so in the thirteenth century; they sometimes do so at the present day. At the present day a man's expectant heirs do not attempt to interfere with his gifts so long as he is alive; this was not done in the thirteenth century; we have no proof that it was done before the Conquest.
Expectant heirs do not like to see property given away by will; they sometimes contest the validity of the will which contains such gifts; not unfrequently, as every practitioner in a court of probate will know, the legatees are compelled to compromise their claims. All this happened in the days before the Conquest; but when we consider that the testamentary or quasi-testamentary gift was in that age a new thing, we cannot say that such disputes about wills were common.
Edition: current; Page:

[

266

]
A doom of King Alfred speaks thus:—"If a man has book-land which his kinsmen left him, we decree that he is not to alienate itEdition: orig; Page: [251] outside his kindred, if there is writing or witness that this was forbidden by those who first acquired it and by those who gave it to him;The restraint on alienation. and let this be declared with the witness of the king and the bishop in the presence of his kinsfolk." We may argue, if we will, that this is an attempt to impose upon the alienable book-land some of those fetters which have all along compressed the less alienable folk-land or "family-land"; the forma donationis is to be observed and restrictive forms are not unknown. Nevertheless, here, about the year 900, we see the current of legislation moving, at least for the moment, in favour of the expectant heirs. Either a new law is made for their benefit or a new precision is given to an old law.
Partition of inheritances.We may well suppose that often enough a man's co-heirs left his land unpartitioned for some time, and that for more than one generation his male descendants and such of his female descendants as were not married continued to live together under one roof or within one enclosure as a joint, undivided household. We may guess that when, to take one out of many examples, ten thegns hold three hides in parage, they are cousins; but the partition of an inheritance among co-heirs, or rather as it happens co-heiresses, appears at an early time, and we have nothing to show that when an inherited estate remained undivided and one of the parceners died, his share did not pass to his own descendants according to the same rules of inheritance that would have governed it had it been physically partitioned and set out by metes and bounds. No one word is there to show that a son at birth was deemed to acquire a share of the land that his father held. Need we say that there is no one word to show that the law treated the father as a trustee for his children, or as the attorney or procurator of his family?
Edition: current; Page:

[

267

]
The appointment of heirs."Only God can make a heres, not man"—said Glanvill. But far back in remote centuries Englishmen had seen no difficulty in giving the name heres to a person chosen by a landholder to succeed him in his holding at his death. And so with the English word for which heres has been an equivalent. It was not inconceivable that a man should name an yrfeweard to succeed him. We are far from believingEdition: orig; Page: [252] that this could be done of common right, or that this nominated yrfeweard was a heres in the Roman sense of that term; but, while in Glanvill's day it would have been a contradiction in terms to speak of an heir who was not of the blood of the dead man, this had not been so in the past.
The restraint on alienation before and after the Conquest.We must admit that most of our evidence relates to book-land, and we have often argued that in all likelihood book-land is an exotic and a superficial institution, floating, as it were, on the surface of English law. Of what went on below the surface among those men who had no books we can learn little; it is very likely that a restraint in favour of the expectant heirs was established. But what we see happening among the great folk is not unimportant, and it is this:— the Anglo-Saxon thegn who holds book-land does not profess to have his heir's consent when he gives part of that land to a church; his successor, the Norman baron, will rarely execute a charter of feoffment which does not express the consent of one heir or many heirs. Our record is miserably imperfect, but as it stands it tends to prove that among the rich and noble there was a period when the rights of the expectant heir were not waning but waxing. In the end, as we shall see hereafter, the heir succeeds in expelling from the common law the testamentary or quasi-testamentary gift of land.
Last words on family ownership.We have not been arguing for any conclusion save this, that in Edition: current; Page: [268] the present state of our knowledge we should be rash were we to accept "family ownership," or in other words a strong form of "birthright," as an institution which once prevailed among the English in England. That we shall ever be compelled to do this by the stress of English documents is improbable; nor at this moment does it seem likely that comparative jurisprudence will prove that dogma the universal validity of which we have ventured to doubt. To suppose that the family law of every nation must needs traverse the same route,Edition: orig; Page: [253] this is an unwarrantable hypothesis. To construct some fated scheme of successive stages which shall comprise every arrangement that may yet be discovered among backward peoples, this is a hopeless task. A not unnatural inference from their backwardness would be that somehow or another they have wandered away from the road along which the more successful races have made their journey.
Nature of inheritance.About the rules of intestate succession which prevailed here in the days before the Conquest we know little; they may have been different in the different folks, and at a later time they may have varied from shire to shire. We know much more of the rules that obtained among our near cousins upon the mainland, and by their aid we may arrive at a few cautious conclusions. But we are here met by a preliminary question as to the nature of inheritance. For a time we must disregard that canon of later English law which bids us use the words "inheritance" and "heir" only when we are describing the fate which awaits the lands, or to speak more nicely, the "real estate," of the dead. This canon we cannot take back with us into the distant age that is now before us; but, applying these terms to movables as well as to immovables, and assuming for a while that we know who the dead man's heirs must be, we have still to ask, What is the nature of inheritance?
Inheritance and representation of the dead.It is the more necessary to ask this question because we might otherwise be misled by modern law and Roman law into giving it a tacit answer that would not be true. To us it must seem natural that when a man dies he should leave behind him some representative who will bear, or some few representatives who will jointly bear, his persona. Or again, we may be inclined to personify the group of rights and duties which are, as it were, left alive, though the man Edition: current; Page: [269] in whom they once inhered is dead: to personify the hereditas. We Englishmen do something of this kind when we speak of an executor owing money to or having claims against "the estate" of his testator. To do something of this kind is so natural, that we can hardly imagine a time when it was not done.
Representation of the dead in modern law.But our own modern law will remind us that even in the nineteenth century there is no absolute necessity compelling the whole persona, or whole estate, of the dead man to devolve upon one representative, or one set of representatives who will act in unison. In the case of intestacy the "realty" will go one way and the "person-alty" another. This is not all: it is conceivable that the realty itselfEdition: orig; Page: [254] should fall into fragments, each of which will descend in a different course. Not only does our law respect local customs, but it also retains in an obscured form the old rule which gives paterna paternis, materna maternis. As an exercise for the imagination we might construct a case in which the intestate's realty would be broken into twelve portions, each of which would follow a different path. Thus even in our own day we have not yet found it needful to decree that some one man or some set of conjoint persons shall succeed in universum ius defuncti.
Why must the dead be represented?But why do we demand that the dead shall be represented? The law of inheritance seems to answer two purposes, which can be distinguished, though in practice they are blended. The dead man has left behind him a mass of things, and we must decide what is to be done with them. But further, he has gone out of the world a creditor and a debtor, and we find it desirable that his departure should make as little difference as may be to his debtors and creditors. Upon this foundation we build up our elaborate system of credit. Death is to make as little difference as may be to those who have had dealings with him who has died, to those who have wronged him, to those whom he has wronged.
Edition: current; Page:

[

270

]
Representation not necessary in early times.Now the first of these needs must be met at an early stage in legal history. If there is to be peace, a scramble for the dead man's goods cannot be suffered; law must have some rule for them. On the other hand, we cannot say with any certainty that the second purpose will become perceptible until there is a good deal of borrowing and lending. But it is only this second purpose that requires any representation of the dead. It may be allowed indeed that so soon as land is inherited the heir will in some sort fill the place of his ancestor. The land, when it becomes his, must still bear the same burdens that it has hitherto borne. But here there seems to be no representation of the ancestor; rather we have a personification of the plot of land; it has sustained burdens and enjoyed easements in the past, and must sustain and enjoy them still.
Edition: orig; Page: [255]Representation and religion.We have therefore grave doubts as to whether any widely general dogma about these matters will deserve a ready assent. So much will depend upon religion. In this province of law the sacral element has in various ages and various lands been strong. We have to think not only of what is natural but also of what is supernatural. Among one rude people the representation of the ancestor by the heir may appear at an early time, because the son must perform sacrificial duties which have been incumbent on his father. Among another and a less rude people there may be no representation until commerce and credit demand it. Of Germanic heathenry we know little, but the Christianity which the Germans have adopted when first they are writing down their laws is not a religion which finds its centre at the family hearth. Much might be done by a pious heir for the good of his ancestor's soul, and the duty of doing this was sedulonsly preached; but the heir could not offer the expiatory sacrifice, nor would it be offered in his house; no priesthood had descended upon him. There is therefore no religious nucleus that will keep together the universum ius defuncti; the churches would prefer that the dead man's lands and goods should never reach the hands of the heir but be dissipated by pious gifts.
Inheritance of debts and credits.In the old time the person or persons who succeeded to the lands and goods of the dead man had few, if any, debts to pay or to receive. Most of the pecuniary claims that could be made good Edition: current; Page: [271] in a court of law would perish at the death of the creditor and at the death of the debtor. We may perhaps gather from the so-called "wills" of this age that there were some claims of which this was not true, for a testator sometimes says that his debtors are to be forgiven or that his creditors are to be paid. In the former case, however, we cannot be certain that there has not been an express promise that the creditor "or his heir" shall have the money. In later days this phrase becomes part of the common form of a written bond for the payment of money; and there is much both in English and in continental documents to suggest that the mention of the heirs has not been idle verbiage. A promise to pay money to Alfred is no promise to pay money to Alfred's heir, just as a gift of land to Alfred will hardly give him heritable rights unless something be saidEdition: orig; Page: [256] of his heirs. As to the hereditary transmission of a liability, this we take it was not easily conceived, and when an Anglo-Saxon testator directs that his debts be paid, this, so far from proving that debts can normally be demanded from those who succeed to the debtor's goods, may hint that law is lagging behind morality. If the heir paid the ancestor's debts, he did a pious and laudable act, perhaps an act as beneficial for the departed soul as would be the endowment of a chantry:—this is a feeling that grows stronger as time goes on. At any rate our law, when at the end of the thirteenth century it takes a definite form, seems to tell us that in the past many debts have died with the debtors. We have every reason to believe that claims ex delicto would seldom, if ever, survive the death of the wrong-doer or of the wronged. For one moment the blood-feud and the wergild may induce us to think otherwise; but in truth there is here no representation. The wergild was not due to the slain man and is not paid to one who represents him. At least in the common case it is not even paid only to those persons who are his heirs, for many persons are entitled to a share in the wergild who take no part of the inheritance. The slain man's brothers, uncles and cousins, as well as his children, have been wronged and atonement must be made Edition: current; Page: [272] with them. And when an attack is made upon the slayer's kinsmen or the wergild is demanded of them, they are not pursued as his representatives—he himself may be alive—they are treated rather as his belongings, and all that belongs to him is hateful to those who hate him. Gradually as the feud loses its original character, that of a war, the heirs of the slayer may perhaps free themselves from all liability by rejecting the inheritance; but this is an infringement of the old principle, and in the region of blood-feud there is not much room for the development of representation. Lastly, as regards the wrongs which do not excite a lawful feud, such as insults, blows, wounds, damage to land or goods, we must think of them as dying with the active and dying with the passive party. Only by slow degrees has our law come to any other rule, and even now-a-days those causes of action which were the commonest in ancient times still die with the person.
Edition: orig; Page: [257]The inheritance need not descend in one mass.If there is to be no representation of the dead man for the purpose of keeping obligations alive, then there is no great reason why the things that he leaves behind him should all go one way, and early Germanic law shows a tendency to allow them to go different ways. It sees no cause why some one person or some set of conjoint persons should succeed in universum ius defuncti. Thus the chattels may be separated from the land and one class of chattels from another. Among some tribes the dead man's armour, his "heriot," follows a course of its own and descends to his nearest kinsman on the sword side. Then it is said that in the Lex Salica we may see the last relics of a time when movable goods were inherited mainly or only by women; and all along through the middle ages there are German laws which know of certain classes of chattels, the clothes and ornaments of a woman's person, which descend from woman to woman to the neglect of males. At all events, already in the Lex Salica there is one set of canons for chattels, another for land; a woman cannot inherit land.
Transition.But the little more that can be said of these obscure matters will be better said hereafter. It is time that we should turn to an age Edition: current; Page: [273] which is less dark and speak of the shape that our law of inheritance takes when first it becomes plain in the pages of Glanvill and Bracton and the rolls of the king's court. And the first thing that we have to do is to leave off using the words "inheritance" and "heir" in that wide sense in which we have hitherto used them:—they point only to the fate of land and of those incorporeal things that are assimilated to land; they point to a succession which is never governed by testament.
§ 2.: The Law of Descent
Primary rules.At the end of Henry III.'s reign our common law of inheritance was rapidly assuming its final form. Its main outlines were those which are still familiar to us, and the more elementary of them may be thus stated:—The first class of persons called to the inheritance comprises the dead person's descendants; in other words, if he leaves an "heir of his body," no other person will inherit. Among hisEdition: orig; Page: [258] descendants, precedence is settled by six rules. (1) A living descendant excludes his or her own descendants. (2) A dead descendant is represented by his or her own descendants. (3) Males exclude females of equal degree. (4) Among males of equal degree only the eldest inherits. (5) Females of equal degree inherit together as co-heiresses. (6) The rule that a dead descendant is represented by his or her descendants overrides the preference for the male sex, so that a grand-daughter by a dead eldest son will exclude a younger son. Here for a while we must pause, in order to comment briefly upon these rules.
Preference of descendants.The preference of descendants before all other kinsfolk we may call natural: that is to say, we shall find it in every system that is comparable with our own. A phrase that is common in the thirteenth Edition: current; Page: [274] century makes it prominent. A man who dies without leaving a descendant, though he may have other kinsfolk who will be his heirs, is often said to die "without an heir of (or from) himself" (obiit sine herede de se). It is only when a man has no heir de se, that his brother or any other kinsman can inherit from him.
Preference of males.A preference for males over females in the inheritance of land is strongly marked in several of the German folk-laws. The oldest form of the Lex Salica excludes women altogether. Some of the later codes postpone daughters to sons and admit them after sons, but a postponement of daughters even to remoter male kinsmen is not unknown. As to England, we may say with some certainty that, in the age which immediately preceded Harold's defeat, women, though they could inherit land, were postponed at least to their brothers. Domesday Book seems to prove this sufficiently. In every zone of the system of landholdership as it stood in the Confessor's day we may find a few, but only a few, women as tenants. On the other hand, already at the beginning of the ninth century we see aEdition: orig; Page: [259] clear case of a king's daughter inheriting his land, and other cases of female heirs are found at an early date.
Influence of feudalism.In later days the customs which diverge from the common law, for instance the gavelkind custom of Kent, agree with it about this matter:—males exclude females of equal degree. This precedence is far older than feudalism, but the feudal influence made for its Edition: current; Page: [275] retention or resuscitation. At the same time, the feudalism with which we are concerned, that of northern France, seems to haveEdition: orig; Page: [260] somewhat easily admitted the daughter to inherit if there was no son. In England, so soon after the Norman invasion as any law becomes apparent, daughters, in default of sons, are capable of inheriting even military fees. In 1135 it is questionable—and this is the extreme case—whether a king's daughter cannot inherit the kingdom of England.
Primogeniture.A rule which gives the whole of a dead man's land to the eldest of several sons is not a natural part of the law of inheritance. In saying this we are not referring to any fanciful "law of nature," but mean that, at all events among the men of our own race, the law of inheritance does not come by this rule if and so long as it has merely to consider what, as between the various kinsmen of the dead man, justice bids us do. When it decides that the whole land shall go to one son—he may be the eldest, he may be the youngest— and that his brothers shall have nothing, it is not thinking merely of the dead man and his sons, and doing what would be fair among them, were there no other person with claims upon the land; it has in view one who is a stranger to the inheritance, some king or some lord, whose interests demand that the land shall not be partitioned. It is in the highest and the lowest of the social strata that "impartible succession" first appears. The great fief which is both property and office must, if it be inherited at all, descend as an integral whole; the more or less precarious rights which the unfree peasant Edition: current; Page: [276] has in a tenement must, if they be transmissible at all, pass to one person. But these tendencies have to struggle against the dictateEdition: orig; Page: [261] of what seems to be natural justice, the obvious rule that would divide the inheritance among all the sons. Perhaps we see this best in the case of the kingship. So soon as the kingship became strictly hereditary it became partible. Over and over again the Frankish realm was partitioned; kings and the younger sons of kings were slow to learn that, at least in their case, natural justice must yield to political expediency. Brothers are equals, they are in parage; one of them cannot be called upon to do homage to his peer.
Primogeniture in England.Happily for the England of the days before the Conquest, the kingship had never become so strictly hereditary as to become partible. On the other hand, we have every reason to believe that the landowner's land was divided among all his sons. We are here speaking of those persons who in the Norman classification became libere tenentes. It is not improbable that among those who were to be the villani and the servi of Domesday Book a system of impartible succession, which gave the land to the eldest or to the youngest son, was prevalent; but for a while we speak of their superiors. In the highest strata, among the thegns, though we do not see primogeniture, we do see causes at work which were favouring its growth. Causes were at work which were tying military service to the tenure of land, and it would be natural that the king, who had theretofore looked to one man for an unit of fighting power, should refuse to recognize an arrangement which would split that duty into fractional parts: he must have some one man whom he can hold responsible for the production of a duly armed warrior. It Edition: current; Page: [277] is to this that point the numerous entries in Domesday Book which tell us of two, three, four, nine, ten thegns holding land "in parage." They are, we take it, co-heirs holding an undivided inheritance, but one of them is answerable to the king for the military service due from the land. This is the meaning of "tenure in parage" in later Norman law. The younger heirs hold of the eldest "in parage"; theyEdition: orig; Page: [262] do him no homage; they swear to him no fealty; they are his peers, equally entitled with him to enjoy the inheritance; but he and he alone does homage to the lord and is responsible for the whole service of the fee. As will be said below, this arrangement appears in the England of the twelfth and thirteenth centuries when an inheritance falls to co-heiresses. There are several texts in Domesday Book which seem to show that the Norman scribes, with this meaning of the term in their minds, were right in saying that some of the Anglo-Saxon thegns had been holding in parage. It is not unnatural that, if one of several brothers must be singled out to represent the land, this one should usually be the eldest. In Buckinghamshire eight thegns were holding a manor, but one of them was the senior of the others and was the man of King Edward. Probably he was their senior in every sense of the word, both their elder and their superior; he and only he was the king's man for that manor. The king then is beginning to look upon one of several brothers and co-heirs, usually the eldest, as being for one very important purpose the only representative of the land, the sole bearer of those duties to the state which were incumbent on his father as a landholder. The younger sons are beginning to stand behind and below their elder brother. By a powerful king this somewhat intricate arrangement may be simplified. He and his court may hold that the land is adequately represented by the firstborn son, not merely for one, but for all purposes. This will make the collection of reliefs and aids and taxes the easier, and gradually the claims of the younger sons upon their eldest brother may become merely moral claims which the king's court does not enforce.
Edition: current; Page:

[

278

]
Primogeniture in Normandy.It is by no means certain that in 1066 primogeniture had gone much further in Normandy than in England. True that in all probability a certain traditional precariousness hung about the inheritance of the military fiefs, a precariousness which might become a lively force if ever a conquering duke had a vast land to divide among his barons. But we cannot argue directly from such precariousnessEdition: orig; Page: [263] to primogeniture. We may say, if we will, that primogeniture is a not unnatural outcome of feudalism, of the slow process which turns an uninheritable beneficium into a heritable feodum. It is as a general rule convenient for the lord that he should have but one heir to deal with; but as already said, the lord's convenience has here to encounter a powerful force, a very ancient and deep-seated sense of what is right and just, and even in the most feudal age of the most feudal country, the most feudal inheritances, the great fiefs that were almost sovereignties, were partitioned among sons, while as yet the king of the French would hardly have been brought to acknowledge that these beneficia were being inherited at all. It is the splendid peculiarity of the Norman duchy that it was never divided. And, as this example will show, it was not always for the lord's advantage that he should have but one heir to deal with: the king at Paris would not have been sorry to see that great inheritance split among co-heirs. And so we cannot believe that our Henry III. was sorry when his court, after prolonged debate, decided that the palatinate of Chester was divisible among co-heiresses. A less honest man than Edward I. would have lent a ready ear to Bruce and Hastings when they pleaded for a partition of Scotland. That absolute and uncompromising form of primogeniture which prevails in England belongs, not to feudalism in general, but to a highly centralized feudalism, in which the king has not much to fear from the power of his mightiest vassals, and is strong enough to impose a law that in his eyes has many merits, above all the great merit of simplicity.
Edition: current; Page:

[

279

]
Primogeniture under later Norman law.In Normandy the primogenitary rule never went beyond securing the impartibility of every military tenement, and even this impartibility was regarded as the outcome of some positive ordinance. If the inheritance consisted of one hauberk-fief, or of a barony, or of a serjeanty, the eldest son took the whole; he was bound to provide for his brothers to the best of his ability; but this was only a moral duty, for an ordinance had forbidden the partition of a fief. If there were two fiefs in the inheritance and more than one son, the two eldest sons would get a fief apiece. Other lands wereEdition: orig; Page: [264] equally divided; but the eldest son would have no share in them unless, as we should say, he would "bring into account" the military fief that he was taking. It is put as a possible case that the value of a share in the other lands will exceed that of the fief; if so, the eldest son need not take the fief; he has first choice, and it is possible that the knightly land will be left to the youngest and least favoured son. In short, Norman law at the end of the twelfth century prescribes as equal a partition of the inheritance among sons as is compatible with the integrity of each barony, serjeanty or military fief, and leaves the sons to choose their portions in order of birth. Indeed, subject to the rule about the impartibility of military fiefs, a rule imposed by the will of the duke, Norman law shows a strong desire for equality among sons. Any gift of land made by a father to one of his sons is revoked by the father's death; no one is to make one of his expectant heirs better off than the rest. Not upon the Normans as Normans can we throw the burden of our amazing law of inheritance, nor can we accuse the Angevin as an Angevin.
Primogeniture in England under the Norman kings.We may believe that the conquest of England gave William an opportunity of insisting that the honour, the knight's fee, the serjeanty, of the dead man, was not to be divided; but what William and his sons insisted on was rather "impartible succession" than a strict application of the primogenitary rule. The Conquest had Edition: current; Page: [280] thrown into their hands a power of reviving that element of precariousness which was involved in the inheritance of a beneficium or feodum. There is hardly a strict right to inherit when there is no settled rule about reliefs, and the heir must make the best bargain that he can with the king. What we see as a matter of fact in theEdition: orig; Page: [265] case of the very great men is that one son gets the Norman, another the English, fief. On the death of William Fitz Osbern, for example, "the king distributed his honour among his sons and gave Breteuil and the whole of the father's possessions in Normandy to William and the county of Hereford in England to Roger." "Roger of Montgomery died; his son Hugh of Montgomery was made earl in England, and Robert of Bellême acquired his whole honour in Normandy, while Roger of Poitou, Arnulf, Philip and Everard had no part of the paternal inheritance." We may believe also that in the outer zones of the feudal system the mesne lords insisted on the impartibility of the knight's fee and of the serjeanty, and that these as a general rule passed to the eldest son; but we cannot say with any certainty that, if the dead man held two different fees of different lords, his eldest son was entitled to both of them. Norman law, as already said, is in favour of as much equality as is compatible with the integrity of each military fee.
Inheritance in the Anglo-Norman Leges.Two of the authors who have left us Leges for the Anglo-Norman period approached the topic of inheritance; neither of them knew what to make of it. The Leis Williame say, "If a man dies without a devise, let his children divide the inheritance equally"; but this occurs among sentences of Roman origin, and, if its maker had any warrant for it, he may perhaps have been speaking only of movables. The author of the Leges Henrici goes all the way to Edition: current; Page: [281] the ancient Lex Ribuaria for a canon of inheritance, and fetches thence a rule which we should be rash in applying to the England of the twelfth century, for it would exclude a daughter in favour of the remotest male kinsman, to say nothing of admitting father and mother. He says this however, and it is to the point:—In theEdition: orig; Page: [266] first place the eldest son takes the father's feodum. What exactly he would have given to the eldest son, or what he would have done if the inheritance comprised two feoda, we do not know. The Conquest and the clash of national laws have thrown all into confusion, and the king will profit thereby.
Primogeniture under the Angevins.It may well be that Henry II. spoke his mind in favour of primogeniture both in England and in Normandy; his son Geoffrey in 1187, just when Glanvill was writing, decreed that in Britanny the knight's fee should pass intact to the eldest son. But already in Glanvill's day English law had left Norman law behind it. "According to the law of the realm of England," he says—and probably he is here contrasting the kingdom with the duchy—the eldest son of the knight or of one who holds by knight's service succeeds to all that was his father's. With such a military tenant he contrasts the "free sokeman." The free sokeman's land is divided among all his sons, but only if it be "socage and partible from of old." If it has not Edition: current; Page: [282] been partible from of old, then by some customs the eldest, by others the youngest son will inherit it.
Primogeniture in Glanvill and Bracton.In the many commentaries on this text it has hardly been sufficiently noticed that the sphere of primogeniture is already defined by very wide, and the sphere of equal division by very narrow words. Glanvill does not say that a knight's fee is impartible among sons; he says that land held by military service is impartible. Of the serjeanties he here says nothing; of them it were needless to speak, for a serjeanty is the most impartible of all tenements, impartible (so men are saying) even among daughters. But if we leave serjeantyEdition: orig; Page: [267] and frankalmoin out of account, by far the greater number of the free tenures that exist in England at the end of the twelfth century fall within the sphere of primogeniture; they are in name and in law military tenures. True that the tenant may be a mere peasant who will never go to the wars; but if he pays one penny by way of scutage his tenure is military, and usually when lords make feoffments they take care that the burden of scutage shall fall upon their tenants. By far the greater number of the countless new feoffments that are being made day by day are creating military tenures, for it is not usual for the feoffor to assume as between himself and his tenant the ultimate incidence of the uncertain war-tax. The greater number of those very numerous tenures in "free and common socage" which exist in the last of the middle ages, have, we believe, their origin in the disappearance of scutage and the oblivion into which the old liability for scutage fell. But then again, Glanvill does not say that socage land is partible among sons. For one thing, it is partible only if it has been treated as partible in time past. Every new tenure therefore that is created after Henry II.'s day, albeit a tenure in socage, adds to the number of estates which obey the primogenitary rule. But more; the estates which according to Glanvill are partible, are only the estates of the "free sokemen." Now while in his day the term "socage" was just beginning to have Edition: current; Page: [283] that wide meaning which would ultimately make it cover whatever tenure was non-military, non-elemosinary, non-serviential, there was no similar extension of the term "sokeman." The free sokemen whom he has in view are a small class that is not increasing. They are to be found chiefly on the ancient demesne of the crown. A few may be found on other manors, for the more part in the eastern counties; but these are disappearing. On the one hand, many are lapsing into villeinage; on the other hand, some are obtaining charters, which perhaps make them in name and in law military tenants, but at any rate give them a new estate and one that has never been partitioned. Therefore after Glanvill's day there was no further change in the law; Bracton uses almost the self-same wordsEdition: orig; Page: [268] that his predecessor used.
Partible lands.Consequently there is very little litigation about this matter, and Edition: current; Page: [284] what there is comes from very few counties. We can refer to seventeen cases from the reign of John and the early years of Henry III. which make mention of partible land; of these seven come from Kent, five from Norfolk, three from Suffolk, one from Northamptonshire, one from Rutland. Leaving Kent out of account, it is the land which the Domesday surveyors found well stocked with "free-men" and sokemen that supplies us with our instances. In later days it may be possible to find a few isolated examples of partible land in many shires of England; but, outside Kent, the true home of partibility is the home of that tenure which the lawyers of Edward I.'s day distinguished from "socage" by the term "sokemanry."
Edition: orig; Page: [269]Gavelkind.The problem which is set before us by the gavelkind of Kent is not a problem in the history of the law of inheritance, but a difficult problem in the general history of English law, and one which is of an economic rather than of a purely legal character. It belongs to the twelfth century. It is this:—How does it come about that at the end of that period there is in Kent, and not elsewhere, a strong class of rent-paying tenants who stand well apart from the knights on the one side and the villeins on the other, a class strong enough to maintain a lex Kantiae which differs at many points from the general law of the land? We have already given such answer as we can give to this hard question. On the one hand, it seems to us that the matter of the Kentish custom is in part very old. The law of inheritance shows a curious preference for the youngest son. When his father's house has to be divided, the hearth (astre) is reserved for him. We may say with some certainty that a rule which had its origin in the twelfth century, if it gave a preferential share to any son, would give it to the eldest. Again, some parts of the custom Edition: current; Page: [285] enshrined ancient English proverbs, which the scribes of the fourteenth century could not understand and which make reference to institutions that must have been obsolescent in the twelfth, obsolete in the thirteenth century. On the other hand, we cannot think that the Kent of 1065 was a county in which the tillers of the soilEdition: orig; Page: [270] were peculiarly well off. Unless the terminology of the Domesday surveyors was far more perverse and deceptive than we can believe it to have been, Kent differed little from Sussex, widely from Norfolk, and in 1086, not Kent, but the shires of the Danelaw must have seemed the predestined home of a strong free yeomanry tenacious of ancient customs. Nor, again, can we think that Kent suffered less than other districts at the hands of the Norman invaders. The best theory that we can suggest is that in the twelfth century the un-rivalled position of Kent as the highway of commerce induced a widespread prosperity which favoured the tillers of the soil. An old system of "provender rents" may have passed into the modern system of money rents without passing through the stage in which the lord places his main reliance on the "week work" of his tenants. A nucleus of old customs expanded and developed; even the lowest classes of tenants were gradually brought within their range, until at length it was said that every child born in Kent was born free.
Edition: current; Page:

[

286

]
Disgavelling.It is only to modern eyes that the inheritance partible among sons is the main feature of gavelkind. In the thirteenth century a custom which allowed the sons of the hanged felon to inherit from their father may have seemed a more striking anomaly. Still the partible inheritance was beginning to attract attention. ArchbishopEdition: orig; Page: [271] Hubert Walter, who presided in the king's court during years critical in our legal history, obtained from King John a charter empowering him and his successors to convert into military fees the tenements that were holden of their church in gavelkind. The archbishop's main object may have been to get money in the form of rents and scutages, instead of provender and boon-works, "gavel-corn" and "gavel-swine," "gavel-erth" and "gavel-rip"; and we have here an illustration of those early commutations of which we have been speaking, and an important illustration, for a great part of Kent was under the archbishop and his example would find followers. It is possible, however, that Glanvill's nephew and successor also intended to destroy, so far as he could, the partible inheritance. Such at any rate was the avowed object of Edward I. when in 1276 he "disgavelled" the lands of John of Cobham. In the charter by which he did this we have perhaps the oldest argument in favour of primogeniture that has come down to us, Edition: current; Page: [287] for when Bracton tells us that the first-born son is "first in the nature of things" this is hardly argument. "It often happens," says Edward, "that tenements held in gavelkind, which so long as they remained whole were sufficient for the maintenance of the realm and provided a livelihood for many, are divided among co-heirs into so many parts and fragments that each one's part will hardly support him"; therefore as a special favour Cobham's gavelkind lands are to descend for ever as though they were held by knight's service.
Introduction of primogeniture.We are far from saying that there were no sound reasons of state to be urged for the introduction and extension of the primogenitary rule. Englishmen in course of time began to glory in it, and under its sway the England of Edward I.'s day had become a strong, a free,Edition: orig; Page: [272] and a wealthy state. But we miss one point in the history of our law unless we take account of its beautiful simplicity. Granted that each military fee should descend as an impartible whole, a hundred difficulties will be evaded if we give all the dead man's lands to his eldest son—difficulties about "hotchpot," difficulties about the contribution of co-heirs to common burdens, difficulties about wardships and marriages to which a "parage" tenure must, as we shall see hereafter, give rise. We cut these knots. That when one man leaves the world one other should fill the vacant place, this is an ideally simple arrangement. The last years of Henry II. were the years that decided the matter for good and all, and they were years in which a newly fashioned court, unhampered by precedents, was with rude, youthful vigour laying down its first principles. Here as elsewhere its work is characterized by a bold, an almost reckless, simplicity. Nor must we fail to notice that here as elsewhere it generalized the law of the great folk and made it common law for all free and lawful men, except some ancient and dwindling classes which had hardly come within its ken. When we balance the account Edition: current; Page: [288] of our primogenitary law we must remember that it obliterated class distinctions.
Inheritance by co-heiresses.The manner in which our law deals with an inheritance which falls to the dead man's daughters may give us some valuable hints about the history of primogeniture. If we look merely at the daughters and isolate them from the rest of the world, their claims are equal and the law will show no preference for the first-born. This principle was well maintained, even though some of the thingsEdition: orig; Page: [273] comprised in the inheritance were not such as could be easily divided, or were likely to become of less value in the process of division. For example, if there was but one house, the eldest daughter had no right to insist that this should fall to her share, even though she were willing to bring its value into account. No, unless the parceners could agree upon some other plan, the house itself was physically divided. And so again, if there was but one advowson, the eldest sister could not claim the first presentation as her own; all the parceners must join in a presentation, otherwise it will lapse to the ordinary. There were, however, certain indivisible things; a castle could not be partitioned, nor the messuage which was the head of a barony. This passed as a whole to the eldest of the sisters, but she accounted for its value in the division of the rest of the inheritance. To explain this a maxim of public law is introduced:— were partitions made of these things, earldoms and baronies would be brought to naught, and the realm itself is constituted of earl-doms and baronies. So again, Bracton's opinion is that a tenement Edition: current; Page: [289] held by serjeanty ought not to be divided, and this opinion seems to have been warranted at all events by the practice of an earlier age. But the king's claim to prevent the partition of a great fee has in the past gone far. In 1218 a litigant pleads that ever since the conquest of England it has been the king's prerogative right that, if one of his barons dies leaving daughters as his heirs, and the elder-born daughters have been married in their father's lifetime, the king may give the youngest daughter to one of his knights with the whole of her father's land to the utter exclusion therefrom of the elder daughters. There is a good deal in the history of the twelfth century to show that the king had held himself free to act upon some such rule. The law of later times about the abeyance of titles of honour is but a poor remnant of the right which he has thus assumed. When of old he "determined an abeyance in favour of one of the parceners," he disposed not merely of a "title of honour" andEdition: orig; Page: [274] a "seat in the House of Lords," but of a great tract of land.
Co-heirs and parage.But, though the division among the co-heiresses was in general a strictly equal division, we see the eldest daughter or her husband standing out as the representative of the whole inheritance for certain feudal purposes. The law about this matter underwent an instructive change. We will suppose that Henry, who holds of Roger, dies leaving three daughters, whom in order of birth we call Alice, Barbara and Clara, and that a partition of the land is made among them. Now two different feudal schemes may be applied to this case. On the one hand, we may decide that each of the three women holds her land of Roger; on the other, that Alice holds the whole inheritance of Roger, while her sisters hold their shares of her. Roger has apparently something to gain and something to lose by the adoption of either scheme. On the one hand, he may wish to Edition: current; Page: [290] treat Alice as his only tenant, for he will thus have one person to whom he can look for the whole service due from the whole land; but then, if this theory is adopted, can he fairly claim any ward-ships or marriages in the lines of which Barbara and Clara are the starting points? This, however, seems to have been the old theory; Alice will hold of Roger; her husband, and no one else, will do homage to Roger for the whole land; her sisters will hold of her; they will "achieve" (accapitare) to her, that is, will recognize her as their head. For three generations (of which they are the first) they and their descendants will do no homage, swear no fealty, and pay no reliefs; but the third heir of Barbara or Clara must pay relief to, and become the man of, Alice or her heir. We have here the Norman tenure in parage.
Edition: orig; Page: [275]Fluctuations in the law as to parage.The reason why no homage is done until a third heir has inherited we cannot here discuss; but it soon becomes apparent that the king is dissatisfied with this arrangement and that the law is beginning to fluctuate. In 1236 the English in Ireland sent to Westminster for an exposition of the law. Of whom do the younger sisters hold? The answering writ, which has sometimes been dignified by the title Statutum Hiberniae de Coheredibus, said that if the dead man held in chief of the king, then all the co-heirs hold in chief of the king and must do him homage. If the lands were held of a mesne lord, then that lord has the marriages and wardships of all the parceners, but only the eldest is to do homage, and her younger sisters are to do their services through her hands. The eldest daughter, the writ Edition: current; Page: [291] says, is not to have the marriage and wardship of her sisters, for this would be to commit the lambs to the wolf. This last provision looks like new law, if it means that the wardships and marriages of Barbara's descendants are to belong to Roger, and not to Alice or her descendants. In 1223 we may find the daughter of an elder sister claiming the marriage of the son and heir of a younger sister. A judge of Edward I.'s day tells us of a cause célèbre in which the wardships and marriages of the heirs in the younger line had in generation after generation gone to the representatives of the older line; but all this was held null and void at the suit of the lord. Bracton gives the law as it was laid down by the writ of 1236, and in his day we still see the younger daughters holding of their sister, holding without homage until the third heir has inherited. BrittonEdition: orig; Page: [276] knows that the lord cannot be compelled to take the homage of any but the eldest daughter, and that, when this has been done, he can and must look to that sister for the whole of his services; but Britton advises the lord to accept the homage of all, for should he not do so, he may find some difficulty in getting wardships and marriages in the younger lines. The lords from this time forward had their choice between two courses. As a matter of fact they took Britton's advice, followed the king's example and exacted homage from all the sisters. Very soon, if we are not mistaken, the old law of parage began to fall into oblivion.
The lord's interest in primogeniture.The lesson that we learn from this episode is that the lord's interest has been powerful to shape our law of inheritance. At one time it Edition: current; Page: [292] looks as if even among women there would be what we may call an external primogeniture, so that the eldest of the daughters would be the only representative of the fee in the eyes of the lord and of the feudal courts. Had this principle been consistently applied, the rights of the younger daughters might have become merely moral rights. But in the thirteenth century wardships and marriages were of greater importance than knight's service and scutage, and first the king and then the other lords perceived that they had most to gain by taking the homage of all the sisters.
Inheritance of villein land.It is by no means impossible that the spread of primogeniture to tenements that were hardly military save in name, and then to tenements that were not military even in name, was made the easier by the prevalence of "impartible succession" among the holders of villein tenements. We have already said that in the thirteenth century such tenements often pass from ancestor to heir. There is a custom of inheritance which is known to the manorial court and maintained against all but the lord. That custom seems generally to point to one person and one only as entitled to succeed to the dead man's tenement. In a manorial extent it is rare to find the names ofEdition: orig; Page: [277] two brothers or even of two sisters entered as those of the tenants of a tenement. On the other hand, it is very common to find that the tenant is a woman. Often she is a widow, and it is clear that she is holding the virgate of a dead husband. But putting the widow out of the case, then, if there were several sons, either the eldest or the youngest seems usually to have succeeded to his father to the exclusion of his brothers. In later days very many copyholds follow the primogenitary rules of the common law, and we cannot think that those rules have been thrust upon them in recent days, though no doubt the courts have required strict proof of abnormal customs. We imagine therefore that from a remote time many villein tenements have descended in a primogenitary course. On the other hand, it is certain that a scheme which gave the land to the youngest son was common.
Edition: current; Page:

[

293

]
Ultimogeniture.A mere accident—for we think that it was no better—has given the name "borough English" to this custom of ultimogeniture. In the Norman days a new French borough grew up beside the old English borough of Nottingham. A famous case of 1327 drew the attention of lawyers to the fact that while the burgages of the "burgh Francoys" descended to the eldest son, those of the "burgh Engloys" descended to the youngest. It was natural for the lawyers to find a name for the custom in the circumstances of this case, to call it the custom of the borough English, or the custom of borough English, for such a custom came before them but rarely. Without saying that it never ruled the descent of tenements held by the free socage of the common law, we seem fully entitled to say that, if we put on one side what in the thirteenth century were distinguished from socage as being burgage tenures, and if we also put on one side the "sokemanry" of the ancient demesne, then a freehold tenement descending to the youngest son was an exceedingly rare phenomenon; and in 1327 the Westminster courts had as yet had little to do with the inheritance of burgages and sokemanries. The true home of ultimogeniture is the villein tenement; among villeinEdition: orig; Page: [278] tenements it has widely prevailed; in Bracton's day its appearance raised a presumption that the tenements which it governed were not free.
Edition: current; Page:

[

294

]
Origin of ultimogeniture.It is hardly to be explained without reference to the lord's interest and the lord's will. But what has thus to be explained is not really the preference of the youngest son, but the impartible inheritance. If once we grant that the tenement is not to be divided, because the lord will have but one tenant, then in truth the preference of the youngest is quite as natural as the preference of the eldest son. Perhaps if the lord had merely to pursue his own interest he would as a general rule choose the first-born, for the first-born is the most likely of all the sons to be of full age at the time of his father's death. Were there military service to be done, there would be good reason for selecting him. But if we look at the matter from the tenant's point of view, there is something to be said in favour of the youngest son. If the eldest son took the tenement, he might marry and beget a new family while his brothers were still unable to earn a livelihood. Give it to the youngest, and the brothers may all dwell together until all can labour. Add to this—and it will count for something—that the youngest is the son most likely to be found in the house at his father's death; he will be at the hearth; he is the fireside child. The ancient customs of free tenements will sometimes respect this idea: the land is to be equally divided among the sons, but the house, or, if not the house, at least the hearth, is given to the youngest. Perhaps we may see in this a trace of an ancient religion of which the hearth was the centre. If then we suppose aEdition: orig; Page: [279] lord insisting on the rule, "One tenement, one tenant," and yet willing to listen to old analogies or to the voice of what seems to be "natural equity," it is not at all improbable that, with the general approval of his tenantry, he will allow the inheritance to fall to the youngest son.
Impartible peasant holdings.A good illustration of the conflicting principles which will shape a scheme of descent among peasant holders is afforded by a verdict given in 1224 about the custom which prevailed in the "ancient demesne" manors of Bray and Cookham:—The jurors have always seen this custom, "that if any tenant has three or four daughters and all of them are married outside their father's tenement, save one, Edition: current; Page: [295] who remains at the hearth, she who remains at the hearth shall have the whole land of her father, and her sisters shall recover no part thereof; but if there are two or three or more daughters and all of them are married outside their father's tenement with his chattels, whether this be so before or after his death, the eldest daughter shall have the whole tenement and her sisters no part; and if the daughters are married after their father's death with his chattels, and this without protest, and one of them remains at the hearth, she at the hearth shall retain the whole tenement as aforesaid." Subject to the rule that the tenement must not be partitioned, we seem to see here an attempt to do what is equitable. If really there is no difference between the daughters—no such difference as can be expressed in general terms by a rude rule of law—then we fall back upon primogeniture; but if the other daughters have been married off, the one who is left at the hearth is the natural heir. But already in the thirteenth century ultimogeniture was becoming unpopular:Edition: orig; Page: [280] Simon de Montfort granting a charter of liberties to his burgesses at Leicester abolished it. The reason that he gave is curious:—the borough was being brought to naught by the default and debility Edition: current; Page: [296] of heirs. By the common assent and will of all the burgesses he established primogeniture among them. We may believe that what moved the burgesses was not so much any ill effects occasioned by the old mode of inheritance as the bad repute into which it had fallen. It was the rule for villeins, explicable only by the will of the lord. The burgesses of Leicester mean to be free burgesses and to enjoy what is by this time regarded as the natural law for freemen.
Causes of ultimogeniture.We would not suggest that in no case can a custom of ultimogeniture have arisen save under the pressure of seignorial power. In a newly conquered country where land is very plentiful, the elder sons may be able to obtain homes of their own and, they being provided for, the father's lands may pass to the fireside child; and again there may conceivably have been a time when the pressure which made for impartible succession was rather communal than seignorial. But as a matter of fact, whether we look to England or to other European countries, we shall hardly find ultimogeniture save where some lord has been able to dictate a rule of inheritanceEdition: orig; Page: [281] to dependent peasants. It seems to have been so in medieval Germany. The common land law divides the land among all the sons, giving perhaps to the eldest, perhaps to the youngest a slight preference; the noble fief will often pass undivided to the first-born; the tenement of the peasant will go as a whole either to his eldest or to his youngest son, and as a matter of geographical distribution the primogenitary will be intermingled with the ultimogenitary customs:—"the peasant," says a proverb, "has only one child." Edition: current; Page: [297] For all this, however, we are not entitled to draw from ultimogeniture any sweeping conclusions as to the large number of slaves or serfs that there must have been in a remote past. The force which gives the peasant's tenement to his youngest or his eldest son is essentially the same force which, in one country with greater in another with less success, contends for the impartibility of the military fee. Somehow or another it has come about that there is a lord with power to say "This land must not be divided." The persons to whom he says this may be slaves, or the progeny of slaves, who are but just acquiring an inheritable hold upon the land; they may be mighty barons who have constrained him much against his will to grant them "loans" of land; they may be free landowners over whom he has acquired jurisdictional powers, which he is slowly converting into proprietary rights.
Representation in inheritance.The representative principle—the principle which allows the children or remoter descendants of a dead person to stand in that person's stead in a scheme of inheritance—is one which in England and elsewhere slowly comes to the front. Our fully developed common law adopts it in all its breadth and permits it to override the preference for the male sex. The daughters, grand-daughters and other female descendants of an eldest son who died in his father's lifetime will exclude that father's second son. In the twelfth century, however, this principle was still struggling for recognition. In all probability neither the old English nor the old Frankish law would have allowed grandsons to share an inheritance with sons.Edition: orig; Page: [282] The spread of primogeniture raised the problem in a somewhat new shape. In Glanvill's day the king's court was hesitating about a case that must have been common, namely, a contest between the younger son and his nephew, the son of his dead elder brother. In some cases the problem can be evaded. If, to use Glanvill's phrase, A who is tenant of the land "forisfamiliates" his eldest son by providing him with a tenement for himself, this may prevent that son's son from claiming to inherit before A's younger sons. On the other Edition: current; Page: [298] hand, the tenant by persuading his lord to take in advance the homage of his eldest son may secure the preference of that son's issue. If, however, there are in the case no such facts as these,—if the question between uncle and nephew is neatly raised,—then we must fall back upon the maxim Melior est conditio possidentis; he who is the first to get seisin can keep it.
Influence of John's accession.Some ten years afterwards the realm of England together with duchies and counties in France was a vacant inheritance lying between John and Arthur. John's coronation and reign in England might have become a formidable precedent in favour of the uncle, had his reign been aught but a miserable failure. It might well seem, however, that a judgment of God had been given against him. Had not Glanvill's nephew told him that he was not king by hereditary right? The lesson that Englishmen were likely to learn from his loss of Normandy and Anjou was that hereditary right ought not to be disregarded, and that the representative principle was part of the scheme of hereditary right. Neglect of that principle had exposed England to a French invasion and had given a king of the French some plausible excuse for pretending that he ought to be king of England also.
Edition: orig; Page: [283]Casus Regis.So the representative principle grew in favour. Bracton obviously thinks that as a general rule it is the just principle, though he shows some reluctance, which has deep and ancient roots, to apply it to a case in which the uncle is, and the nephew is not, found seated at the dead man's hearth. As to the law of the king's court it is still this, that if the uncle is, and the nephew is not, an astrier, a Edition: current; Page: [299] "hearth-heir," at the moment of the ancestor's death, or if, the tenement having been left vacant, the uncle is the first to obtain seisin of it, the nephew must not have recourse to self-help, nor has he any action by which he can obtain a judgment. The possessory mort d'ancestor will not lie between kinsmen who are so nearly related, while if the nephew brings a proprietary action, the king's court will keep judgment in suspense. It will give no judgment against the nephew; he really is the rightful heir; but a precedent stands in his way; it is the casus Regis; and "so long as that case endures" no judgment can be given against the uncle. The inference has been drawn that Bracton wrote the passages which deal with this matter before the death of Arthur's sister, Eleanor of Britanny, which happened in 1241. Henry III. kept that unfortunate lady in captivity, and took good care that she should never marry. This inference, however, does not seem necessary. For some years after Eleanor's death Henry may have been unwilling to admit that there ever had been any flaw in his hereditary title. At any rate the records of the earlier years of his reign seem fully to bear out what Bracton says. On the other hand, from the Edwardian law books the casus RegisEdition: orig; Page: [284] has disappeared. The nephew can now recover the land from the uncle by writ of right although the uncle was the first to get seisin. After Bracton's day there was nothing that was regarded as a change in the law; but at some moment or another an impediment which had obstructed the due administration of the law was removed, and thus, at what must be called an early date, the principle of representation prevailed in England and dominated our whole law of inheritance. In the suit for the crown of Scotland we can see Edition: current; Page: [300] that Bruce, though he stood one step nearer to the common ancestor, was sadly at a loss for arguments which should win him precedence over Balliol, the representative of an older line. He had to go to a remote age and remote climes, to Spain and Savoy and the days of Kenneth MacAlpin; all the obvious analogies were by this time in favour of representation.
The exclusion of ascendants.We must now turn to the rules which govern the inheritance when the dead man has left no descendants, and we at once come upon the curious doctrine that the ascendants are incapable of inheriting. Even though I leave no other kinsfolk, neither my father, nor my mother, nor any remoter ancestor can be my heir; my land will escheat to the lord. To find an explanation for this rule is by no means easy. Already Bracton seems to be puzzled by it, for he has recourse to a metaphor. An inheritance is said to "descend"; it is a heavy body which falls downwards; it cannot fall upwards. This is one of those would-be explanations which are mere apologies for an existing rule whose origin is obscure. Nor is the metaphor apt. We cannot say that the inheritance always descends, for in the language of Bracton's time it is capable of "resorting," of bounding back. My land cannot ascend to my father, but it can resort to my father's brother. Thus we are driven to say that, though the heavy body may rebound, it never rebounds along a perpendicular line. These legal physics however are but after-thoughts.
Edition: orig; Page: [285]This exclusion not primitive.There can be little doubt that the phenomenon now before us is in some sort and in some measure the work of feudalism. This at all events seems plain, that we cannot treat the exclusion of ascendants as primitive. Several of the folk-laws give the father and mother a prominent place in the scheme of inheritance. The passage Edition: current; Page: [301] from the Ripuarian law which the author of our Leges Henrici appropriated says:—"If a man dies without children, his father or mother succeeds to his inheritance"; the brother and the sister are postponed to the parents. On the other hand, there is much to show that in many parts of Europe the process which made beneficia hereditary stopped for a while at the point at which the vassal's descendants, but no other kinsfolk, could claim the precarious inheritance. What we have now to discuss, however, is not an exclusion of ascendants and collaterals, it is the admission of collaterals and the exclusion of ascendants.
Blackstone's explanation.An ingenious theory about this matter has been made popular by Blackstone. It is said that the admission of collaterals took place in the following fashion. Originally the first feudatory, the man who has taken a feodum novum, could transmit an inheritance in it only to his descendants. When, however, it had passed to one of his issue, let us say a son, and that son died without issue, then there were some collaterals who might be admitted to the inheritance of this feodum antiquum. The restriction was that the fief was not to go to any one who was not a descendant of the original vassal, "the first purchaser" of our English law; but among such descendants there might be collateral inheritance. Thus suppose that Adam is the first purchaser, that he leaves two sons, Bertram and Clement, that Bertram inherits the fief and dies without issue; then Clement can inherit; or, if we suppose that Bertram leaves issue, then on any future failure of his issue, Clement or Clement's issue can inherit. In such a scheme of course there is no place for inheritance by an ascendant. Then we are told that the next advance was to treat theEdition: orig; Page: [286] feodum novum, the newly granted fief, as though it were a feodum antiquum, a fief that by fiction of law had descended to the dead man from some ancestor. Thus Adam is enfeoffed and dies without issue; any collateral kinsman of his can inherit from him, because every collateral kinsman of his must be the descendant of some person who can be regarded by fiction of law as the first purchaser Edition: current; Page: [302] of the fief. On the other hand, none of Adam's lineal ancestors can inherit. By fiction the land came to him down some line of ancestry; we cannot tell down which line it descended; we must suppose (our fiction requires this) that the ancestors in that line must be dead; therefore we have to act as though all of Adam's ancestors were dead, and therefore we exclude them from the inheritance.
Failure of the explanation.That something of this kind happened in some countries of Europe, in particular Lombardy, may be true. That it happened in England or in Normandy we have no direct evidence, and indeed Norman law of the thirteenth century admitted the ascendants, though it postponed each ascendant to his or her own issue. But at any rate we cannot make this story explain the English law of Bracton's day. Adam is enfeoffed and dies without issue. His father cannot inherit; but his elder brother can inherit, and yet the fiction that the feodum novum is a feodum antiquum would afford as good a reason for excluding an elder brother as for excluding a father. In our law it would be impossible for the younger of two brothers to acquire a feodum antiquum if his elder brother were still living. We have not, however, for England, nor have we for Normandy, any proof that the process which converted the "benefice" into a hereditary "feud" made any distinct pause at the moment when it had admitted the descendants of the dead vassal. We have not for England, nor have we for Normandy, any proof that the collaterals gained their right to inherit under cover of a fiction. The terms which our modern feudists have employed, feodum antiquum, feodum novumEdition: orig; Page: [287] are not technical terms of our English law; they were brought hither from a remote country. We cannot be certain that Edition: current; Page: [303] Norman law had ever excluded the ascendants; it did not exclude them in the thirteenth century. Dark as are the doings of the author of the Leges Henrici, we can hardly believe that he was at pains to copy from so distant a source as the law of the Ripuarian Franks a passage which flatly contradicted what already was a settled rule in this country, while it is impossible to suppose that in this instance he is maintaining an old English rule against Norman innovations. On the whole, remembering that the Conquest must have thrown the law of inheritance into confusion, that the king had many a word to say about the inheritance of the great fees, that the court of Henry II. had many an opportunity of making rules for itself without much regard for ancient custom, we are inclined to look for some explanation of the exclusion of ascendants other than that which has been fashionable in England.
The rule as to lord and heir.Another explanation has been suggested. It introduces us to a curious rule which deserves discussion for its own sake, the rule, namely, that the same person can never at the same time be both lord and heir of the same tenement.
The question in Glanvill.Glanvill tells us that certain difficult questions are often raised by gifts which fathers make to their sons. We may well believe that this is so, for in England the primogenitary rule is just now taking its comprehensive and absolute shape, and a father must in his lifetime provide for his younger sons, if he wishes them to be provided for at all. Glanvill then supposes that a father, whom we will call O, has three sons whom in order of their birth we will call A, B and C. With the consent of A his apparent heir, O makes aEdition: orig; Page: [288] feoffment to B. Then B dies without issue, leaving O, A and C alive. Who is to inherit? This is a knotty problem which taxes the Edition: current; Page: [304] wisdom of our wisest lawyers. Glanvill distinctly supposes that O, the father, will claim that the land is to come to him. But A urges that O is already the lord of the land and cannot be both lord and heir. Then C appears and argues that the same objection can be urged against A; for A is heir apparent of the seignory, and, if now he be allowed to inherit the land in demesne, then, on O's death, he will be both lord and heir. Glanvill thinks that at any rate the claim of O must be rejected. He cannot possibly hold the land, for he cannot be both lord and heir; nor, when homage has been done, will land ever revert to the feoffor, if the feoffee has any heir however remote. Besides (says Glanvill, who brings in this physical or metaphysical consideration as an after-thought) in the course of nature an inheritance descends and never ascends. Then the question between A and C must be argued. Glanvill is for allowing A to inherit at present; but if hereafter O dies and the seignory descends to A, he will not be able to retain both the seignory and the tenancy, for he must not be both lord and heir. Having become lord, he must give up the land to C.
Problems occasioned by the rule about lord and heir.On our earliest plea rolls we may see this quaint doctrine giving rise to all manner of difficulties. Obviously it is capable of doing this. For example, if in the case that has just been put we suppose that at O's death A has a son X, then there will be the question whether A, now that he has become lord, must give up the land to his own son X or to his brother C. In the former event, if A leaves at his death two sons X and Y, we shall once more have a problem to solve. We have undertaken to prevent the seignory and the tenancy Edition: orig; Page: [289]remaining in one and the same hand, and yet the common rules of inheritance are always bringing them together.
Edition: current; Page:

[

305

]
Effect of homage.Glanvill in his treatment of this theme supposes that the father (O) has taken the homage of his son (B). Bracton lays stress upon this condition. Only when homage has been done are we to apply the rule which excludes the lord from the inheritance. This is at the bottom of one of the peculiarities of the "estate in frankmarriage." When a father makes a provision for a daughter, he intends that if the daughter has no issue or if her issue fails—at all events if this failure occurs in the course of a few generations—the land shall come back to him or to his heir. Therefore no homage is done for the estate in frankmarriage until the daughter's third heir has entered, for were homage once done, there would be a danger that the land would never come back to the father or to his heir. Here again is a reason why in parage tenure a younger sister and her heirs do no homage to the elder sister until the younger sister's third heir has entered. Were homage once done, the younger sister's share could never come to her elder sister. Why either in the case of frankmarriage or in that of parage the entry of the third heir should make a difference it is not easy to see. Perhaps it is presumed that, if the land has thrice descended down the line of which the daughter is the starting point, there is no reason to fear that her issue will fail. Perhaps, however, we have here some relics of an old system of inheritance which, could we understand it, would show the connexion between several puzzling rules.
Edition: current; Page:

[

306

]
Edition: orig; Page: [290]Why cannot the lord inherit?But whence this rule that excludes the lord from the inheritance? Why cannot the same man be both lord and heir, or (to put the question in a better shape) why should not the lord inherit and the seignory become extinct? Have we here to deal merely with one of those metaphysical difficulties which lawyers sometimes create for themselves, or have we to deal with a rule that has a purpose? On the one hand, it may be said that the kernel of the whole matter is this, that the seignory, the homage, is regarded as a thing and that lawyers cannot readily conceive its annihilation. Such an explanation would be more probable had we before us a doctrine of the fifteenth century; in the twelfth our law had hardly entered the metaphysical stage. On the whole we are inclined to see here a struggle against the effects of primogeniture. If under this novel principle the younger sons are to have anything, it must be given them by their father in his lifetime:—the law of the royal court has decreed it. But the voice of natural justice can be heard crying as of old for as much equality among the sons as the interests of the king and of the state will permit. At all events it is not fair that one son should take the whole of the land that his father has not given away, and also come in by some accident to the land that was given—and it could hardly have been given without his consent—to one of his younger brothers. He ought not to have it so long as there is any younger brother to claim it:—enough for him that he will get homage and service; he should not ask for more. The case is not like that in which a father provides a marriage portion for a daughter. That is an old case. In the days when the inheritance was divisible among sons that case had to be met. Without the concurrence of his sons a father might give his daughter a reasonable maritagium; but if the daughter's issue failed, then the land was to come back to her father or her brothers. The primogenitary rule which is now being enforced in all its simplicity has raised a new case. The father Edition: current; Page: [307] who enfeoffs a younger son in return for homage is (probablyEdition: orig; Page: [291] with his eldest son's consent) contending against the primogenitary rule. He is "forisfamiliating" the younger son; he is in a possible case depriving that younger son's sons of their chance of inheriting from their grandfather. We ought not to allow the eldest son to get back the land of which he has, with his own consent, been deprived by his father.
The leaning towards equality.It is difficult for us to express this vague feeling in precise terms; but the difficulty is not of our making. In Glanvill's day it was puzzling the wisest heads in the king's court. In Bracton's day there had been a great change. Men had been accommodating themselves to primogeniture. The father now freely disposes of his land without the consent of his eldest son. Often when he enfeoffs a younger son he does not take homage, and does not take it just because he desires that on failure of that son's issue his eldest son shall have the land. The rule that, if homage has intervened, a lord cannot inherit from his man is still in force; but it now looks like a capricious, inexplicable rule, and the judges seem to be showing it little favour. The statute of 1290 which put a stop to subinfeudation soon made the whole doctrine obsolete. Thenceforward if a father enfeoffed a son in fee simple, there would be no homage, no tenure, between the feoffor and the feoffee.
The exclusion of the lord and the exclusion of the ascendant.We may seem to have digressed far from our original theme, the exclusion of ascendants from the inheritance; but it is a serious question whether that exclusion is not the outcome of the rule about lord and heir. Glanvill supposes a father to come forward Edition: current; Page: [308] and claim the tenement of which he enfeoffed a son who has died without issue. The father is sent empty away and is told that he Edition: orig; Page: [292]must not be both lord and heir. Would it not have been simpler to tell him that an elementary rule of the law of inheritance excludes all direct ancestors of the dead man? A remark about the course of nature, which does not permit inheritances to ascend, is thrown in, but it fills a secondary place; it may express a generalization which is gradually taking shape.
Exclusion of the lord leads to exclusion of the father.On the whole there are not many cases in which a man can put in any plausible claim to inherit from a dead son. If the son acquired the land by inheritance from any paternal ancestor, there can be no talk of the father inheriting from the son, for the father must be already dead. If the son acquired the land by inheritance from his mother or any maternal ancestor, there can be no talk of the father inheriting, for, as we shall see hereafter, a strict rule prevents maternal lands from falling to the paternal kinsfolk. And now we have decided that if the son comes to the land by the gift of his father, his father is not to be heir as well as lord. We have thus exhausted all the common cases in which a boy is likely to acquire land. The case in which a man dies without issue in his father's lifetime leaving land which he did not acquire by inheritance, nor yet by the gift of his father, nor yet by the gift of any one whose heir the father is,— this in the twelfth century is a rare case. It is one which the king's judges engaged in their task of rapid simplification will be apt to neglect, especially as they find the rule about lord and heir an unmanageable rule. And so we come to the principle that excludes the direct ancestors, and the only apology that can be offered for it is that heavy bodies never bound upwards in a perpendicular line.
Suggested explanation of the exclusion of ascendants.This explanation, it must be frankly owned, has in it some guesswork; but before it is rejected we must call attention to two facts. In the year 1195, unless a plea roll misleads us, a man did bring an assize of mort d'ancestor on the death of his son, and the defendant answered, not that fathers do not inherit from sons, but that the plaintiff was his villein. We know of no other case of the same kind and Edition: current; Page: [309] should be much surprised to find one during the next hundred years. On the other hand, after just a hundred years we should not be surprised to find in some solitary instance a father putting in a claim. Edition: orig; Page: [293] Britton, with Bracton's text before him, deliberately and more than once asserted that the father can inherit from the son. He would postpone the father to all his own descendants but would admit him after them. What apology have we to offer for Britton? Perhaps this:—He was writing when the statute of 1290 had just been made; he shows himself uncertain as to its precise effect; but he knows that it will make great changes. One of these changes will be that it will deprive the old rule about lord and heir of any material to work upon. Henceforward if a father enfeoffs a son in fee simple, the son will not be the father's tenant. Why then should not the father inherit? Has not the only rational impediment to his succession been removed? But by this time the rule was too well rooted to be blown down by a side wind. The father was excluded until 1833.
The ascendants in Scottish law.Lastly, before our suggestion is condemned, we would ask that a law of inheritance very closely akin to our own should be examined. Scottish law, like Norman law, did not exclude the lineal ancestor; it admitted him so soon as his own issue was exhausted. But Scottish law had some rules very strange in the eyes of a Southron which had the effect, if not the object, of tempering the universal dominion of primogeniture. The youngest of three brothers purchases land and dies without issue; it is the middle, not the eldest, brother who inherits from him. It is not fair that the eldest should have everything.
Inheritance of collaterals.The canons which regulate the course of inheritance among the collateral kinsfolk of the dead man are worthy of observation. Our Edition: current; Page: [310] English law has been brought to bear upon a brisk controversy that has been carried on in Germany. What was the main principle of Edition: orig; Page: [294]the old Germanic scheme of inheritance? Was it a "gradual" or a "parentelic" scheme? Proximity of kinship may be reckoned in divers ways. The calculus which will seem the most natural to us in modern time is a "gradual" calculus. Each act of generation makes a degree, and we count the number of degrees that lie between the propositus and the various claimants. It is probable that any system of inheritance with which we have to deal will prefer the descendants of the dead man to all other claimants; we will therefore leave them out of account. This done, we find in the first degree the dead man's parents; in the second his grandparents, brothers and sisters; in the third his great-grandparents, uncles, aunts, nephews, nieces; in the fourth his great-great-grandparents, great uncles, great aunts, first cousins, great-nephews, great-nieces; and so forth. Our English law of inheritance has a very different scheme. In order to explain it we had better make use of a term to which modern disputants have given a technical meaning, the term parentela. By a person's parentela is meant the sum of those persons who trace their blood from him. My issue are my parentela, my father's issue are his parentela. Now in our English scheme the various parentelae are successively called to the inheritance in the order of their proximity to the dead man. My father's parentela is nearer to me than my grandfather's. Every person who is in my father's parentela is nearer to me than any person who can only claim kinship through some ancestor remoter from me than my father. For a moment and for the sake of simplicity we may speak as if there were but one ascendant line, as if the dead man had but one parent, one grandparent and so forth, and we will call these progenitors father, grandfather and the like. The rule then becomes this: Exhaust the dead man's parentela; next exhaust his father's parentela; next his grandfather's; next his great-grandfather's. We see the family tree in some such shape as that pictured on the next page.
The remotest kinsman who stands in Parentela I. is a nearer heir than the nearest kinsman of Parentela II. Between persons who stand in different parentelae there can be no competition. In a purely Edition: current; Page: [311] gradual scheme my great-great-grandfather, my great uncle, my first cousin and my great-nephew are equally close to me. In a parentelic scheme my great-nephew, since he springs from my father, is nearer to me than my first cousin. We have here, it is said, not aEdition: orig; Page: [295] "gradual" but a "lineal-gradual" scheme. Within each parentela or line of issue the "grade" is of importance; but no computation of grades must induce us to jump from a nearer to a remoter line so long as the nearer line has any representative.
The parentelic scheme.We have preferred to state the matter in this abstract, and in England unfamiliar, fashion rather than to repeat the rules that have been admirably expounded by Hale and Blackstone. English, Scottish and Norman law seem to afford the best specimens of the parentelic scheme. Whether this scheme is of extremely ancient date, or whether it is the outcome of feudalism, is a controverted question which cannot be decided by our English books and records. We can only say that in the thirteenth century it seems to be among Englishmen the only conceivable scheme. Our text-writers Edition: current; Page: [312] accept it as obvious, and this although they will copy from the civilians an elaborate Arbor Consanguinitatis and hardly know that the English law is radically different from the Roman.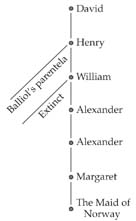 Edition: orig; Page: [296]The Scottish inheritance.A good illustration is afforded by the careful pleadings of John Balliol in the great suit for the crown of Scotland. He traced the downward descent of the crown from David to the Maid of Norway. He himself had to go back to Henry, Earl of Huntingdon, in order to find an ancestor common to him and the proposita. But he had to face the fact that William the Lion left daughters, and he could not get so far back as Henry without alleging that the lines of these daughters had become extinct. On the Maiden's death "the right resorted" to William's parentela, but it found that parentela empty and so had to go back further.
Edition: current; Page:

[

313

]
Rules for collaterals of the same parentela.We have said that the parentelae or stocks are to be exhausted one by one. The method of exhausting them is that in accordance with which the descendants of the dead man are first exhausted. We must apply our six rules:—(1) A living descendant excludes his or her own descendants. (2) A dead descendant is represented by his or her own descendants. (3) Males exclude females of equal degree. (4) Among males of equal degree only the eldest inherits. (5) Females of equal degree inherit together. (6) The rule that a dead descendant is represented by his or her descendants overrides the preference for the male sex.
Choice among the ascending lines.But we have as yet been treating the problem as though it were much simpler than really it is. The dead man does not stand at the end of a single line of ancestors. He must have had two parents, four grandparents, and so forth. Along which of the lines which met in him are we to move in search of those parentelae which are to be called to the inheritance? Our medieval lawyers, copying theEdition: orig; Page: [297] pictures drawn by canonists and civilians, are guilty of the same unjustifiable simplification with which we can be charged. They represent "the ascending line" as a single line. In the first "cell" in it they write "pater, mater," in the second "avus, avia," in the third "proavus, proavia" and so on, apparently forgetting that every person has four grandparents, and that the English system is not one which can treat these four as sharing a single "cell." More instructive would it have been had they drawn their picture thus:—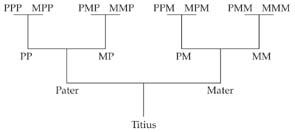 Edition: current; Page:

[

314

]
Had they done this, they might have left us some clear principle for directing our choice between the various ascendant lines and have solved some problems which were still open in the nineteenth century.
Paterna paternis. Materna maternis.As it is, we can see the rule that the heir must be one who is related by blood kinship not only to the propositus but to the purchaser. By "purchaser" is here meant the person who last acquired the estate otherwise than by inheritance. Now if the person whose heir we are seeking was himself the purchaser, our rule will admit every blood kinsman or kinswoman of his. But if he was not the purchaser, then our choice will be restricted. Suppose that his father was the purchaser, no one can be admitted who is not related by blood to that father. Suppose that his mother was the purchaser, any one who takes the inheritance must be related by blood to her. Suppose that his father's mother was the purchaser, a successful claimant must be her blood kinsman. We have here the rule which in foreign books is expressed by the proverb Paterna paternis, maternaEdition: orig; Page: [298] maternis. Our English law does not merely postpone the materni or, as the case may be, the paterni; it absolutely excludes them. My father's brother cannot inherit from me land that descended to me from my mother; my father's father's brother cannot inherit from me land that descended to me from my father's mother. So far as we can see, this rule was in force in the thirteenth century. Attempts have been made to represent it as a specifically feudal rule, one which takes us back to a time when only the descendants of the original vassal could inherit; but such attempts seem to be unnecessary; a rule whose main effect is that of keeping a woman's land in her own family is not unnatural and may well be very ancient. We see its naturalness when we apply it to the descent of a kingdom. When the Maid of Norway died, her father, King Eric, put Edition: current; Page: [315] in a claim to the throne of Scotland and sent learned Italian lawyers to argue his case in Edward's court; but no one seems to have taken him or his claim very seriously. The ascending line along which the inheritance must return should obviously be the line of the Scottish kings; it is not to be tolerated that one who has no drop of their blood in his veins should fill their place. In the thirteenth century no wide gulf could be fixed between the inheritance of a kingdom and other impartible inheritances. John Balliol argued on the expressed assumption that the rules applicable to baronies were applicable to his case. If therefore at a later day we find the law of Scotland not merely rejecting the rule Materna maternis, but absolutely excluding all materni even when the inheritance has come from their side, we may suspect that it is no true witness to the ideas of the thirteenth century, and take to heart the lesson that a system that looks exceedingly "agnatic" and that refuses to trace inheritable blood through a female, except in the descending line, is not of necessity very old. Those rules of inheritance which deal with unusual cases are often the outcome of no recondite causes, but of some superficial whim.
Edition: orig; Page: [299]Choice among the admissible stocks.The rule Paterna paternis, materna maternis may exclude from our view certain of those ascending lines which go upwards from our propositus; it will not enable us to make a choice between the lines that are not thus excluded. Thus suppose that the person whose heir is wanted was himself the purchaser of the land, none of his kinsmen are excluded and we have to choose between many ascending lines. We think it certain that in the thirteenth century, as in later times, the line first chosen was that which we may call agnatic, the line, that is, in which there is an unbroken succession of male ancestors, and that, so long as there was any one who could trace his blood from a member of that line, no other person could inherit. Such a rule is a natural part of a system which postpones females to males. Just as the inheritance will go down from father to son so long as the male line is unbroken, so when we look upwards Edition: current; Page: [316] we first look along the male line. The remotest person in the remotest parentela which comes down from an ancestor who stands in that line is preferable to the nearest person in the nearest parentela which has some other starting point.
No clear principles are found.Beyond this all is dark. We gravely doubt whether during the middle ages any clear canons were established to regulate the order of succession between those parentelae which could trace their kinship to the propositus only through some female ancestor of his. That "the male blood is more worthy than the female" was indubitable; Adam was created before Eve, but a definite calculus which should balance worthiness of blood against proximity of degree was wanting. Our lawyers were not at pains to draw pictures of their own; they transplanted the trees of the Romanists, and those trees could not take firm root in English soil. In Elizabeth's day an exceedingly simple problem was treated as an open question for which the Year Books provided no obvious solution. A man purchases land and dies without issue; who shall inherit from him, his mother's brother or a cousin who is his father's mother's father's son's son?Edition: orig; Page: [300] When this question had been decided in favour of the claimant who was of kin to the father of the propositus, it still left open a question about the order of precedence among the female ancestors upon the father's side, a question which was warmly debated and never really settled until a statute of 1833 rounded off our law of inheritance by declaring that the mother of the more remote male paternal ancestor is preferable to the mother of a less remote male paternal ancestor. That in an age which allowed no Edition: current; Page: [317] testamentary disposition of freehold lands cases never happened which raised such problems as these is hardly to be believed; but, to all seeming, they did not happen with sufficient frequency to generate a body of established doctrine.
Place of the half-blood in the classical common law.Our law's treatment of "the half-blood" has been a favourite theme for historical speculators. We have been sent for its origin back to a time when "feuds" were not yet hereditary; we have been sent to "the agnatic family." As a matter of fact we do not believe that the phenomenon which has to be explained is very ancient. It is this:—Our common law utterly excludes "the half-blood." No one who is connected with the propositus only by the half-blood can inherit from him. A man buys land and dies without issue; his half-brother, whether consanguineous or uterine, cannot inherit from him. If there is no kinsman or kinswoman of the whole blood forthcoming, the land will escheat to the lord. Of course all the descendants of a man or a woman are of kin to him or to her by the whole blood. A man leaves a daughter by his first wife, a son by his second wife; his son inherits from him. A man leaves no sons and no issue of sons, but five daughters, two by his first wife and three by his second wife; they will all inherit from him together and take equal shares. Any question about the half-blood can only arise when thisEdition: orig; Page: [301] man has ceased to be and one of his descendants has become the propositus, and no one of them, according to our law, will become the propositus until he obtains an actual seisin of the land. A man leaves a son and a daughter by a first wife, and a son by a second wife. His eldest son inherits and is entitled to seisin. If however he dies without issue before he has obtained seisin, then his father is still the propositus. That father has a daughter and a son. The son inherits before the daughter. He is not inheriting from his half-brother; he is inheriting from his father. On the other hand, if the elder son acquires seisin, all is altered. When he dies without issue he is the propositus. We have now to choose between a sister by the whole blood Edition: current; Page: [318] and a half-brother, and we hold, not merely that the sister is to be preferred, but that the land shall sooner escheat to the lord than go to the half-brother. Possessio fratris de feodo simplici facit sororem esse heredem; the entry of the eldest son has made his sister heir.
The half-blood in earlier times.Now it seems clear that the law of Bracton's day had not yet taken this puzzling shape. Bracton holds that the half-blood can inherit, though it is postponed to the whole blood. First we take the case in which a man purchases land and dies without issue, leaving a sister of the whole blood and a brother of the half-blood. The sister will inherit to the exclusion of her brother; but after her death and the failure of her heirs the brother will inherit; he is merely postponed, not excluded for good and all. Next we take the case in which a man inherits land from his father and then dies without issue, leaving a sister of the whole blood and a consanguineous half-brother. Now some were for holding that the half-brother should in this case be preferred to the sister, and Bracton, though his mind may have fluctuated, probably shared this opinion. The distinction which turns on the question whether the eldest son has acquired seisin seems to be only just coming to the front. Fleta and Britton agree that if a man purchases land and dies without issue, his Edition: orig; Page: [302]sister by the whole blood will be preferred to the half-brother. They do not affirm, as Bracton does, that in this case if there is no brother or sister of the whole blood, a brother or sister of the half-blood will be admitted; but neither do they deny this. As to the case in which the propositus has inherited land from his father, Fleta is for preferring the consanguineous half-brother to the sister of the whole blood, and this without reference to seisin; Britton is for preferring the sister by the whole blood, and this without reference to seisin. What is more, Britton holds that if a man has two wives and a son by each, one of those sons can inherit from his Edition: current; Page: [319] half-brother land that had descended to that half-brother from his mother; in other words, that I may on the death of my half-brother inherit land which belonged to my stepmother, though here of course I am not of the blood of the purchaser.
Fluctuations in practice.These are not speculative fancies. If we turn to the records of the time, we shall see much uncertainty; we shall see claims brought into court which the common law of a later day would not have tolerated for an instant, and juries declining to solve the simplest problems. Even Britton's doctrine that through my half-brother I can acquire the land of my stepfather or stepmother, does not seem ridiculous. In Edward I.'s reign the law seems to be setting its face against the claims of the half-blood; but even in Edward II.'s there is a great deal more doubt and disputation than we might have expected. It is clear that a sister will inherit from her brother of the whole blood a tenement that he purchased, and exclude a brother by the half-blood; but that the brother of the half-blood is utterly incapable of taking such a tenement is not plain. When the tenement has descended from father or mother to the eldest son, the lawyers are beginning to make every thing turn on seisin; but they haveEdition: orig; Page: [303] not yet fully established the dogma that, if once that eldest son is seised, his half-brother will be incapable of inheriting from him.
Exclusion of the half-blood is modern.Our persuasion is that the absolute exclusion of the half-blood, to which our law was in course of time committed, is neither a very ancient nor a very deep-seated phenomenon, that it tells us nothing of the original constitution of feuds nor of the agnatic family. In truth the problem that is put before us when there is talk of admitting the half-blood is difficult and our solution of it is likely to be capricious. We cannot say now-a-days that there is any obviously proper place for the half-blood in a scheme of inheritance, especially Edition: current; Page: [320] in our "parentelic" scheme. The lawyers of the thirteenth and fourteenth centuries had no ready solution, and we strongly suspect that the rule that was ultimately established had its origin in a few precedents. About such a matter it is desirable that there shall be a clear rule; the import of the rule is of no great moment. Our rule was one eminently favourable to the king; it gave him escheats; we are not sure that any profounder explanation of it would be true.
Edition: current; Page:

[

321

]
Edition: orig; Page: [304]Coparcenery.When an inheritance falls to the daughters of the dead man, each of these "parceners" (participes) is conceived as having a certain aliquot share in the as yet undivided land. This share is her "purparty" (propars); it will obey the ordinary rules of inheritance; it will descend to her issue, and, on failure of her issue, it will resort to her sisters or their descendants. We may, as already noticed, see traces of an older scheme which would admit a right of accruer between sisters and the near descendants of sisters; but this was fast disappearing. Once more we see the representative principle brought into play; the distribution of shares between the descendants of dead daughters is per stirpes not per capita. If we suppose the only issue of the propositus living at his death to be the two grand-daughters that have sprung from one of his daughters and the three that have sprung from another, the inheritance must first be halved, and then one half of it will be halved again, while the other half will be divided into thirds. It would be a great mistake to suppose that our male-preferring and primogenitary system succeeded in keeping almost all of the great inheritances as unbroken wholes. Glanvill's own lands passed to three daughters.Edition: orig; Page: [305] Twice within a few years the inheritance of an Earl of Chester "fell among the spindles." The inheritance of William Marshall the regent was soon split into thirty-fifths for one of his five daughters was represented by seven daughters. For a male to get a share "by distaff right" was by no means uncommon. But generally when an estate, at all events when a great estate, became partible, it was soon physically partitioned. Any one of the parceners could Edition: current; Page: [322] demand a partition, and the days were past when a family would keep together after the death of its head. The young heiress did not long remain unespoused; her marriage was disposed of at the earliest possible moment; the rich widow generally found another husband, though the church would not bless her second union; it is rare therefore to find that any large mass of land long remains in the hands of a feme sole.
Limits of inheritance.Germanic law seems to have set a limit to blood relationship, or "sib-ship." An inheritance cannot be claimed by one who does not stand within a certain degree, or rather, a certain "joint" or generation, the fifth, the sixth or the seventh. The family was pictured not as a scale with degrees, nor as a tree with branches, but as a human body with joints. The parents, according to one scheme, stand in the head, brothers in the neck, first cousins at the shoulders, second cousins at the elbows, third cousins at the wrists, fourth, fifth and sixth cousins at the finger-joints; here the sib ends; seventh cousins would be "nail cousins" and there would be no legal relationship between them. We may see traces of this idea in England and in Normandy. The Norman custom held that the line of consanguinityEdition: orig; Page: [306] did not extend beyond the seventh degree. Bracton refuses to draw the ascending line beyond the tritavus, the sixth ancestor of the propositus; beyond this point memory will not go. However, the rules for the limitation of actions that were in force in Bracton's day would in any ordinary case have made it impossible for even a fifth cousin to bring an action for an inheritance, for a demandant was obliged to allege that the common ancestor who connected him with the propositus had been seised since the coronation of Edition: current; Page: [323] Henry II. The rule therefore against ascending beyond the tritavus fell into oblivion, and then, owing to the spasmodic nature of our statutes of limitation, it becomes theoretically possible for a man to claim an inheritance from any kinsman however remote.
Restriction of alienation in favour of the expectant heir.We turn to speak of an important episode which is intimately connected with the spread of primogeniture. In the thirteenth century the tenant in fee simple has a perfect right to disappoint his expectant heirs by conveying away the whole of his land by act inter vivos. Our law is grasping the maxim Nemo est heres viventis. Glanvill wrote just in time, though only just in time, to describe an older state of things.
Glanvill's rules.Several distinctions must be taken. We must distinguish between military tenure and free socage; between land that has come to the dead man by descent ("heritage") and land that he has otherwise acquired ("conquest"); between the various purposes for which an alienation is made. Without his expectant heir's consent the tenant may give reasonable marriage portions to his daughters, may bestow something on retainers by way of reward, and give something to the church. His power over his conquest is greater than his power over his heritage; but if he has only conquest he must not give the whole away; he must not utterly disinherit the expectant heir. Curiously enough, as it may seem to us, he has a much greaterEdition: orig; Page: [307] power of providing for daughters, churches and strangers than of providing for his own sons. Without the consent of his eldest son he can "hardly" give any part of his heritage to a younger son. The bastard therefore is better off than the legitimate younger son. Glanvill confesses that this is a paradox; but it is law. As to the man Edition: current; Page: [324] who holds partible socage, he can give nothing, be it heritage, be it conquest, to any son, beyond the share that would fall to that son by inheritance. Glanvill, however, is far from defining an exact rule for every possible case; he nowhere tells us in terms of arithmetic what is that reasonable portion which the father may freely alienate. We can see however that one main restraint has been the deeply rooted sentiment that a father ought not to give one of his sons a preference over the others; they are equals and should be treated as equals. In the case of partible socage land this sentiment still governs; but the introduction of primogeniture has raised a new problem. When Glanvill is writing, the court is endeavouring to put the eldest son in the advantageous position that is occupied by each of the sokeman's expectant heirs; without his consent he should not be deprived by any gift made to his brothers of that which was to come to him upon his father's death. But under the new law what was to have come to him at his father's death was the whole of his father's land. Are we then to secure all this for him, and that too in the name of a rule which has heretofore made for equality among sons? If so, then we come to the paradox that it is better to be a bastard than a legitimate younger son. This could not long be tolerated. Free alienation without the heir's consent will come in the wake of primogeniture. These two characteristics which distinguish our English law from her nearest of kin, the French customs, are closely connected.
The heir's consent.The charters of the twelfth century afford numerous examples of expectant heirs joining in the gifts of their ancestors. Occasionally the giver may explain that he has not obtained his heir's concurrence, because he is disposing not of heritage but of conquest; Edition: orig; Page: [308]but very often one heir or several heirs are said to take part in the gift. To all seeming the necessity for the heir's concurrence was not confined to the common case in which the donor had a son. Walter Edition: current; Page: [325] Espec's foundation of Kirkham Abbey was confirmed by his nine nephews, the sons of his three sisters; and the consent of the donor's daughters is sometimes mentioned. It would seem too that it was not enough that the heir apparent, the donor's eldest son, should give his consent. If he consented, he could not afterwards complain; but if he died before his father, his consent would not bar his brothers, perhaps not his sons. Therefore the prudent donee procures the concurrence of as many of the donor's near kinsfolk as can be induced to approve the gift. Daughters consent though the donor has sons who also consent. In a gift to Winchcombe three of the donor's sons give a sworn consent, and further swear that they will if possible obtain the consent of a fourth son, should he return to the king's peace. The Abbey of Meaux could not get the consent of the donor's eldest brother, but it took the consents of his other brothers and "all his other kinsfolk"; the eldest brother died in the donor's lifetime and his sons brought a suit for the land, which the monks were glad to compromise. Well worthy of notice are the cases, not very uncommon, in which little children are made to approve their father's pious gifts; worthy of notice, because an attempt seems made to bind them by receipt of a quid pro quo. At Abingdon the monks, fearing that the heir might afterwards dispute the donation, gave him twelve pence and a handsome leather belt. At Ramsey two infantes receive five shillings apiece, an infantulus a shilling, and a baby held in its mother's arms twenty pence; so at Chartres four pence are put into the hands of a child who isEdition: orig; Page: [309] too young to speak; and so, to return to England, the monks of Edition: current; Page: [326] Winchcombe who are taking a conveyance from a woman before the king's justices at Gloucester, besides making a substantial payment to her, give six pence to her son and six pence to each of her three daughters. In some charters the heirs are put before us not merely as assenting to, but as joining in the gift; it is a gift by a man and his heirs; in other cases the heirs are named among the witnesses of the deed. What ceremony was observed upon these occasions we cannot tell, but when the heirs are spoken of as giving the land, it is by no means impossible that the symbolic turf, twig or charter was delivered to the donee by the "joint hands" of all the givers.
Disappearance of the restriction.Unfortunately when in 1194 the rolls of the king's court begin their tale, it is too late for them to tell us much about this matter. However in 1200 Elyas Croc gave the king thirty marks and a palfrey to have a judgment of the court as to whether a gift made by his father Matthew was valid. Matthew had given to his own younger brother, the uncle of Elyas, a knight's fee which, so Elyas asserted, was the head of the honour and barony. Whether Elyas got a judgment or no we cannot say; but this looks like an extreme case; the father had been giving away the ancestral mansion. So late as 1225 a son vainly tries to get back a tenement which his father has alienated, and plaintively asks whether his father could give away all the land that he held by military tenure without retaining any service for himself and his heirs:—but it is unavailing. Bracton knows nothing of—or rather, having Glanvill's book before him, deliberately ignores—the old restraint: it is too obsolete to be worth a word. The phrase "and his heirs" in a charter of feoffment gives nothing to an heir apparent.
Edition: current; Page:

[

327

]
Edition: orig; Page: [310]Causes of the change.The change, if we consider its great importance, seems to have been effected rapidly, even suddenly. The earliest plea rolls have hardly anything to say of rules which, however indefinite, were law in 1188. We seem to see here, as already suggested, the complement of that new and stringent primogeniture which the king's court had begun to enforce. The object of the restraint in time past had not been solely, perhaps not mainly, the retention of land "in a family"; it had secured an equal division of land among sons, or as equal a division as the impartibility of the knight's fee would permit. It became useless, inappropriate, unbearable, when the eldest son was to have the whole inheritance. No great harm would be done to the feudal lords, at all events to the king, by abolishing it. They had, or they meant to have, some control over the alienations made by their tenants, more control than they could have had under a law which partitioned the inheritance.
Rebutting effect of a warranty.The material cause of the great change we may find in such considerations as these; but it must have been effected by some machinery of legal reasoning, and we may suspect that the engine which did the work was one that was often to show its potency in after centuries—"the rebutting effect of a warranty." Alan alienates land to William; Alan declares that he and his heirs will warrant that land to William and his heirs. Alan being dead, Baldwin, who is his son and heir, brings suit against William, urging that Alan was not the owner of the land, but that it really belonged to Alan's wife and Baldwin's mother, or urging that Alan was a mere tenant for life and that Baldwin was the remainderman. William meets the claim thus:—"See here the charter of Alan your father, whose heir you are. He undertook that he and his heirs would warrant this land to me and mine. If a stranger impleaded me, you would be the very person whom I should vouch to warrant me. With what face then can you claim the land?" Baldwin is rebutted from the claim by his ancestor's warranty. It is a curious and a troublesome doctrine which hereafter will give rise to many a nice distinction. A man is debarred, rebutted, from claiming land because the burden of a warranty given by one of his ancestors has fallen upon him. In later Edition: current; Page: [328] days, already when Bracton was writing, this doctrine no longer came into play when a tenant in fee simple had alienated his land; Edition: orig; Page: [311]for in such a case the heir had no right to the land, no claim which must be rebutted. It only came into play when the alienator and warrantor had been doing something that he had no business to do, when a husband had been alienating his wife's land, or a tenant for life had made a feoffment in fee. But we may suspect that this doctrine performed its first exploit when it enabled the tenant in fee simple to disappoint his expectant heirs by giving a warranty which would rebut and cancel their claims upon the alienated land.
A great and sudden change.Be this as it may, our law about the year 1200 performed very swiftly an operation that elsewhere was but slowly accomplished. Abroad, as a general rule, the right of the expectant heir gradually assumed the shape of the retrait lignager. A landowner must not alienate his land without the consent of his expectant heirs unless it be a case of necessity, and even in a case of necessity the heirs must have an opportunity of purchasing. If this be not given them, then within some fixed period—often it is year and day—they can claim the land from the purchaser on tendering him the price that he paid. The conception of a case of necessity may be widened indefinitely; but for centuries the seller's kinsmen enjoy this ius retractus. Norman law and Angevin law took this turn, and we can see from our own borough customs that it was a turn which our own law might easily have taken. But above our law at the Edition: current; Page: [329] critical moment stood a high-handed court of professional justices who were all for extreme simplicity and who could abolish a whole chapter of ancient jurisprudence by two or three bold decisions.
§ 3.: The Last Will
Edition: orig; Page: [312]The germs of the last will.We may believe that, even in the first days of English Christianity, the church was teaching that the dying man was in duty bound to make such atonement as was possible for the wrongs that he had done and to devote to the relief of the poor and other pious works a portion of the wealth that he was leaving behind him. There is a curious story in Bede's history which may prove somewhat more than this. A certain householder in the realm of Northumbria died one evening but returned to life the next morning. He arose and went into the village church, and, after remaining for a while in prayer, he divided all his substance into three parts; one of these he gave to his wife, another to his sons, the third he reserved to himself, and forthwith he distributed it among the poor. Shortly afterwards he entered the abbey of Melrose. Now certainly this man behaved as though he conceived his property to consist of "wife's part," "bairns' part" and "dead's part," and it is a remarkable coincidence that this tale should be told of a Northumbrian, for in after days it was in Scotland and the northern shires of England that the custom which secured an aliquot share to the wife, an aliquot share to the children, and left the dying man free to dispose of the residue of his goods, struck its deepest roots. We might be wrong however in drawing any wide inference from this isolated story, the only tale of the kind that comes to us from these very ancient times, and at all events we are not entitled to say that this man made a testament. To all seeming his pious gift was irrevocable and took effect immediately.
Edition: current; Page:

[

330

]
What is a will?From the middle of the ninth century we begin to get documents which are often spoken of as Anglo-Saxon wills or testaments. Before using these terms, it will be well for us to say a few words about their meaning, and, though we allow to them Edition: orig; Page: [313]their largest scope, we ought, it would seem, to insist that a will or testament should have at least one of three qualities. In the first place, it should be a revocable instrument. Secondly, it should be an ambulatory instrument. By this we mean that it should be capable of bestowing (though in any given instance it need not necessarily bestow) property which does not belong to the testator when he makes his will, but which does belong to him at the moment of his death. For the third quality that we would describe we have no technical term; but perhaps we may be suffered to call it the "hereditative" quality of the testament; it can make an heir, or (since our own history forbids us to use the term heir in this context) it can make a representative of the testator.
Ambulatory quality of a will.This matter may be made the clearer by a short digression through a later age. In the twelfth century it became plain that the Englishman had no power to give freehold land by his will, unless some local custom authorized him to do so. A statute of 1540, which was explained and extended by later statutes, enabled any person who should "have" any lands as tenant in fee simple to "give, dispose, will and devise" the same "by his last will and testament in writing." Nevertheless, we find the courts holding—and apparently they were but following a rule which had long been applied to those wills of land that were sanctioned by local custom—that a will of freehold lands is no ambulatory instrument. The statute, they hold, does but empower a man to give by will what he "has" when he makes the will. And such was our law until 1837. Now Edition: current; Page: [331] this piece of history will dispose us to believe that our ancestors, in times not very remote from our own, found great difficulty in conceiving that a man can give by his will what does not belong to him when he makes that will. Our common lawyers would not allow that a statute had surmounted this difficulty, and this although for a long time past the will of chattels, which was under the care of the canonists, had been an ambulatory instrument. Still the statutoryEdition: orig; Page: [314] will of freehold land was a revocable instrument; it did nothing at all until its maker died; it did not impede him from selling or giving away the lands that were mentioned in it; and it was always called "a last will and testament."
Hereditative wills.Then again the "hereditative" quality of the will comes to the front but very slowly. We are not here speaking about the use of words. In England it is as true to-day as it was in the time of Glanvill that only God, not man, can make an heir, for the term heir we still reserve as of old for the person who succeeds to land ab intestato. But, to come to a more important matter, though at the present day it is possible for the Englishman by his will to transmit the whole of his persona, the whole of his fortune "active and passive," to a single person—as when he writes "I give all my real and personal estate to my wife and appoint her my sole executrix"—he can make a complete will without doing this. He may leave Blackacre to John, Whiteacre to Thomas, Greenacre to William, and so forth; there will then be no one person representing the whole of his fortune, the whole mass of those rights and duties which were once his and continue to exist though he is dead, nor will there be any group of persons who jointly represent him or his fortune. John, William, and Thomas do not jointly represent him even as regards the rights that he had in his land. John, for example, has nothing whatever to do with Whiteacre or Greenacre. We find this a tolerable state of things even in the nineteenth century. For a long time past the executor, or the group of executors, has represented the testator as regards that part of his fortune which is called his "personalty"; but of this representation also we shall see the beginnings in the thirteenth century. What of the ninth?
Edition: current; Page:

[

332

]
The Anglo-Saxon will.Nothing is plainer than that the so-called Anglo-Saxon will is not the Roman testament. The use of writing is Roman, and a vague idea that in some way or another a man can by written or spoken words determine what shall be done after his death with the goods that he leaves behind, comes as a legacy from the old world to the new; but the connexion between the Anglo-Saxon will and the Roman testament is exceedingly remote. We have no one instance of an Englishman endeavouring to institute a heres in the Roman Edition: orig; Page: [315]sense of that term. That term was in use among the clerks, but it could be applied to one who in no sense bore the whole persona of a dead man, it could be applied to a devisee, as we should call him, who became entitled to a single piece of the testator's land. The word testamentum was laxly used; almost any instrument might be called a testament; the ordinary land-book which witnessed a conveyance by one living man to another living man was a testament. The Anglo-Saxon "will," or cwiðe as it calls itself, seems to have grown up on English soil, and the Roman testament has had little to do with its development.
The post obit gift.The most important of its ingredients we shall call "the post obit gift." A man wishes to give land to a church, but at the same time he wishes to enjoy that land so long as he lives. A "book" is drawn up in which he says, "I give (or, I deliver) the land after my death." Now this book cannot fairly be called a will. To all seeming it is neither revocable, nor ambulatory, nor yet is it hereditative. At this moment the testator gives a specific plot of land to a church; he makes the gift for good and all; but the church is not to have possession until after he is dead. Men do not seem to see the ambiguity Edition: current; Page: [333] of this phrase, "Dono post obitum meum," or to apply the dilemma, "Either you give at this moment, in which case you cease to have any right in the land, or else you only promise to give, in which case the promisee acquires at most the benefit of an obligation." Occasionally, but rarely, the donor says something that we may construe as a reservation of an usufruct or life estate; but generally this seems to be thought quite unnecessary; "I give after my death," is plain enough.
Edition: orig; Page: [316]The post obit gift and the royal land-book.At a later time such a gift has become impossible, because the courts insist that there cannot be a gift without a livery of seisin. You cannot give and keep. The desired transaction, if it is to be effected at all, must involve two feoffments. You must enfeoff the church in fee and be re-enfeoffed as its tenant for life. That laxer notions about seisin should have prevailed in earlier times may seem strange, but is a well-attested fact. In part we ascribe it to the influence of those royal land-books which bear the crosses of the bishops and the anathema of the church. The book that the lay holder of bookland possesses authorizes him in express terms to give that land in his lifetime or after his death to whomsoever he pleases, or to whatsoever "heir" he pleases. The pious recitals in the book tell us that one of the objects of these words is that the donee may have wherewithal to redeem his soul and benefit the churches. The holder of bookland when he makes his post obit gift is, to use a modern but not inappropriate phrase, "executing a power of appointment" given to him by an authoritative privilege, he is doing what he is empowered to do by the forma doni. And as he can give his land after his death, so he can burden his land with the payment of a rent which is only to become current at his death. He can combine these forms. He may give the land to his wife for her life, she paying a rent to the monks at Winchester, and declare that on her death the land itself is to go to the New Minster. He may declare that one thing is to happen if he dies without Edition: current; Page: [334] a son and another thing if he has a son. He can make contingent and conditional gifts. All this he can do, at all events with the king's consent, for a full liberty of alienation post obitum suum is secured to him by his land-book.
The death-bed distribution.But there is a second ingredient in the will, namely, the deathbed confession with its accompanying effort to wipe out past sin. Already in the eighth century the dying man's last words, his verba novissima, are to be respected. In the dialogue ascribed to Egbert, Archbishop of York, the question is put, "Can a priest or deacon be witness of the verba novissima which dying men utter about their property?" The answer is, "Let him take with him one or two, so Edition: orig; Page: [317]that in the mouth of two or three witnesses every word may be established, for perchance the avarice of the kinsfolk of the dead would contradict what was said by the clergy, were there but one priest or deacon present." We have here something different from those post obit gifts of which we have already spoken. A man may make a post obit gift though he expects to live many years; but those last words which we find the church protecting are essentially words spoken by one who knows himself to be passing away. And we seem to see that they are as a rule spoken, not written, words; they form part (we may almost say this) of the religious service that is being performed at the death-bed. How much power they have we know not. Some portion of his chattels, no doubt, the dying man may give to pious uses, and perhaps his last words may convey the title to his bookland:—his "avaricious" kinsfolk (so they are called by the clergy) are watching him narrowly. But further, there is much in future history, much in continental history, to suggest that even here we have to deal with gifts which are thought of as gifts inter vivos. The sick man distributes, divides, "devises," a portion of his chattels. He makes that portion over to his confessor Edition: current; Page: [335] for the good of his soul; he makes what—regard being had to the imminence of death—is a sufficient delivery of them to the man who is to execute his last will. The questions that we wish to ask—Are his words revocable and are they ambulatory?—are not practical questions. Not in one case in a thousand does a man live many hours after he has received the last sacrament. The germ of executorship seems to be here. The dying man hands over some of his goods to one who is to distribute them for the good of his soul.
The written cwiðe.Then these two institutions "the post obit gift" and "the last words" seem to coalesce in the written cwiðe of the ninth, tenth and eleventh centuries. At first sight it seems to have many of the characteristics of a true will. For one thing, it is an exceedingly formless instrument; it is almost always written in the vulgar tongue, not inEdition: orig; Page: [318] Latin, even though it comes from a bishop. It calls itself a cwiðe, that is a saying, a dictum; it is its maker's nihsta cwiðe; it contains in advance (if we may so speak) his verba novissima. He gives his various lands specifically, providing for his kinsfolk, remembering his dependants, freeing some of his slaves and bestowing lands and rents upon various churches. He also makes gifts of specific chattels, his precious swords, cups and vestments are distributed. He says how many swine are to go with this piece of land and how many with that. He sometimes gives what we should describe as pecuniary legacies. Distinct traces of those qualities which we have called ambulatoriness and revocability are very rare. Occasionally however we see residuary gifts of chattels and of lands. King Alfred tells us that in the past when he had more money and more kinsmen, he had executed divers writings and entrusted them to divers men. He adds that he has burned as many of the old writings as he could find, and declares that if any of them still exist they are to be deemed void. But it is never safe for us to assume that every man Edition: current; Page: [336] can do what a king does with the counsel of his wise men. Lastly, the testator—though this is not very common—says something about debts that are owed to him or by him, and which are not to perish at his death.
The right to bequeath.But, though all this be so, we cannot think that an instrument bearing a truly testamentary character had obtained a well-recognized place in the Anglo-Saxon folk-law. With hardly an exception these wills are the wills of very great people, kings, queens, king's sons, bishops, ealdormen, king's thegns. In the second place, it is plain that in many cases the king's consent must be obtained if the will is to be valid, if the cwiðe is to "stand." That consent is purchased by a handsome heriot. Sometimes the cwiðe takes the form of a supplicatory letter addressed to the king. In the third place, an Edition: orig; Page: [319]appeal is made to ecclesiastical sanctions; a bishop sets his cross to the will; the torments of hell are denounced against those who infringe it. Then again, even in the eleventh century, it seems to be quite common that the cwiðe should be executed in duplicate or triplicate, and that one copy of it should be at once handed over to that monastery which is the principal donee, and this may make us doubt whether it is a revocable instrument. In some cases the will shades off into a family settlement. Often it is clear enough that the testator is not disposing of all his property. He merely tries to impose charges in favour of the churches on those unnamed men who will succeed to his land.
Wills and death-bed gifts.On the whole it seems to us that we have here to deal with a practice which has sprung up among the great, a practice which is ill-defined because it is the outcome of privilegia. As to the common folk, we may perhaps believe that the landholder, if and when he can give away his land at all, may make a post obit gift of it which will reduce him to the position of a tenant for life, and that every man, even when his last hour has come, may distribute some part Edition: current; Page: [337] of his goods for the effacement of his sins and the repose of his soul. This distribution we strongly suspect of being in theory a gift inter vivos. The goods are handed over to those who are to divide them. In the written cwiðe of the great man, it is true, we do not at first sight see anything that looks like either a delivery inter vivos or the appointment of an executor. At first sight the dead man's estate seems expected to divide itself. Then, however, we observe that the will begins with a prayer that the king will uphold it. May we not say that the king is the executor of these wills? In a few instances we find something more definite. "Now I pray Bishop Ælfstan that he protect my widow and the things that I leave to her . . . and that he aid that all the things may stand which I have bequeathed"— "And be Bishop Ælfric and Tofig the Proud and Thrunni guardians of this cwiðe." When among the great the practice of uttering one's last words in advance while one is still whole and strong becomesEdition: orig; Page: [320] established, the goods are no longer handed over when the words are uttered and the cwiðe is becoming an ambulatory instrument; but still some person is named who is to effect that distribution which is to be made at the testator's death. A well-known text in the Epistle to the Hebrews, a text far better known than anything in the Institutes, says that a testament is of no effect until the testator's death; but even at the call of an inspired writer men were not able to accept this doctrine all at once.
Intestacy in Cnut's day.Already in Cnut's day it was unusual for a man to die without "last words," and it was necessary for the king to combat, or perhaps to renounce, the notion that the man who has said no last words has proved himself a sinner. "If any one leaves this world without a cwiðe, be this due to his negligence or to sudden death, then let the lord take naught from the property, save his right heriot; and let the property be distributed according to his (the lord's) direction and according to law among the wife and children and Edition: current; Page: [338] nearest kinsfolk, to each the proper share." Some lords, we may suspect, perhaps some episcopal and abbatial lords, had already been saying that if a man leaves the world without taking care of his soul, his lord, or the church, ought to do for him what he should have done for himself. But the time had not come when this doctrine would prevail.
The lord and the cwiðe.The law that we have just cited seems to assume, not only that every man will have a lord, but that every man will have a lord with a court, and that by this lord's hand his goods, perhaps also his lands, will be divided among his kinsfolk, the "right heriot" having been first taken. The heriot gives an occasion for what we may call a magisterial, though it is also a seignorial, intervention between the dead man and his heirs. Another such occasion is afforded by the soul-scot or mortuary. The dead man's parish church has a legal claim to a payment when he is buried. At least in later Edition: orig; Page: [321]days, it generally claims the best, or the second best, beast or other chattel; very commonly the testator provides for his mortuary in his will. Not unfrequently it happens that a monastery can demand both soul-scot and heriot. But though the lord is thus tempted to intervene, it does not seem likely that Anglo-Saxon law knew anything either of the probate of wills or of any legal proceeding that must of necessity take place when there has been an intestacy, anything like the "grant of administration."
Norman law.We may doubt whether the Normans brought with them to England any new ideas about these matters. They knew the post obit gift of land. It was possible for a man to say in a charter, "I have given this land after my death," or "I have given it after the deaths of myself and my wife," or "I have given the whole of it after my death if I leave no issue of my body, but half of it if I leave issue." In all probability they knew the death-bed distribution of chattels. But that they had either accepted or rejected anything that could be accurately called a testament we do not know.
Edition: current; Page:

[

339

]
The will under the Norman kings.In England after the Conquest there was no sudden change. A man could still make a post obit gift of land and sometimes made it with impressive solemnity. Thus in a charter which comes from the early years of the twelfth century we read—"And thereupon in the same chapter the said Wulfgeat after his death for the weal of his soul gave to the church of Ramsey ten acres of his own land. And after the chapter was at an end the monks together with the said Wulfgeat came together into the new church, and there when, as the custom was after a chapter, the prayers for the dead had been finished, the said Wulfgeat made a gift of the said land upon the portable altar dedicated to the Holy Trinity by a rod which we still have in our keeping." Occasionally in such cases it was thought well that the donor should put himself under the obligation of paying a small rent to the abbey while he lived, but there was no necessity for a duplex process of feoffment and refeoffment, which would imply an analysis of the post obit gift such as men had not yet made.
Edition: orig; Page: [322]Post obit gifts of chattels.The vague conception that prevailed as to the nature of these transactions can be illustrated by certain dealings which are characteristic of the Norman age. We hardly know how to describe them. The result of them is to be that after a certain person's death a church will take the whole, or some aliquot share, of his chattels. If we call them testaments, we say too much; if we call them present gifts, we say too much; if we call them covenants to give, again we say too much. Occasionally the language of contract may be employed. For example, a conventio is made between the Abbot of Burton and Orm of Darlaston; the abbot gives land to Orm, and Orm and his son agree that upon their deaths their bodies shall be carried to Burton, and with their bodies is to go thither the whole of their pecunia whatsoever and wheresoever it may be. Or land may be given by the monks "upon this convention," that when the Edition: current; Page: [340] feoffee is dead he shall cause himself to be carried to the monastery for burial with his whole pecunia. Or one who holds land of a convent may endeavour to bind his heirs for all time to leave the third part of their chattels "by way of relief" to the house of Stanlaw. So we are told that Earl Hugh and his barons, when they founded the abbey at Chester, ordained that all the barons and knights should give to God and St. Werburgh their bodies after death and the third part of their whole substance; and they ordained this not only for the barons and knights, but also for their burgesses and other free-men. Such a transaction as this, in which the gift shades off into a law for the palatinate, is of great importance when we trace the growing claims of the church to distribute for pious uses the chattels of dead persons; but for the moment we are discussing the post obit gift, and, though words of covenant may sometimes be used, we seem to see that the transaction is conceived to be a present gift. "He gave himself to the church so that, should he wish to become Edition: orig; Page: [323]a monk, he would enter religion in no other place, and, in case he should die a layman in England, he should be buried here with a third of the whole pecunia which he should have in England." When Earl Gilbert of Lincoln says in a charter, "Know ye that for the redemption of my sins, and for the special love that I have for the church of St. Mary of Bridlington, I have delivered myself (mancipavi me ipsum) to the said church, to the intent that wherever I may bring my life to a close I may receive a place of burial in the said church," if we were to translate his curious words into modern terms, we might perhaps say that he is making an irrevocable will of his personalty for the behoof of his favourite church; still he Edition: current; Page: [341] thinks that he is making a present gift. Even in 1240 a man will say, "Know that I have given and confirmed by this charter to God and St. German of Selby all the lands that I now have or shall hereafter acquire, and one half of the chattels that I shall acquire during my life, to be received by the monks after my death."
Evolution of definite law.We have now to watch a complicated set of interdependent changes, which took place during the twelfth and thirteenth centuries, and which gradually established a definite law. In the first place we will describe in a summary fashion the various movements.
(1) The king's court condemns the post obit gift of land and every dealing with land that is of a testamentary character; but it spares the customs of the boroughs and allows certain novel interests in land to be treated as chattels.
(2) By evolving a rigorously primogenitary scheme for the inheritance of land, it destroys all such unity as there has ever been in the law of succession. Henceforth the "heir" as such will have nothing to do with the chattels of the dead man, and these become a prey for the ecclesiastical tribunals.
(3) The church asserts a right to protect and execute the last will of the dead man. In her hands this last will (which now can only deal with chattels) gradually assumes under foreign influence a truly testamentary character, and the executor of it gradually becomesEdition: orig; Page: [324] the "personal representative" of the dead man, but has nothing to do with freehold estates.
(4) The horror of intestacy increases. The church asserts a right (it is also a duty) of administering the dead man's goods for the repose of his soul. The old law which would have given the intestate's goods to his kinsfolk, being now weakened by the development of the rule which gives all the land to the eldest son, disappears, or holds but a precarious position at the will of the church.
Of these four movements we must speak in turn, though they affect each other.
Feudalism and wills of land.The common belief that before the Conquest the landholder Edition: current; Page: [342] could give his land by will, and that this power was taken from him at a blow by the "feudalism" which came from France, we cannot accept. The post obit gift of land—and this we believe to have been all that had been sanctioned by the ordinary law of unconquered England—did not disappear until late in the twelfth century; it had been well enough known in Normandy; and the force that destroyed it in England cannot properly be called feudal.
Post obit gifts of land.From the point of view of the feudal lord a post obit gift is not much more objectionable than an out and out gift. We cannot in mere feudalism find any reason why the landholder should not make a post obit gift with the consent of his lord, and without the consent of his lord it is very doubtful whether he can make a gift at all. And so there need be nothing to surprise us in the following story. That great man Eudo the Dapifer was lying on his death-bed in Normandy, and, having received absolution, he made a division, or "devise" as we say, of all his property in the presence and with the advice and consent of King Henry I. And he commanded his folk, appealing to the fealty which they owed him, to carry his body to the abbey which he had built at Colchester. And with his body he bequeathed to that house the manor of Brightlingsea and a hundred pounds of money and his gold ring. He also gave a cup and his horse and his mule; but these the abbot had to surrender to the king in order that he might obtain a concession of the said manor: in order (to use the old phrase) that the cwiðe might stand.
Edition: orig; Page: [325]Condemnation of the post obit gift.We are told by a plaintive monk that a few years after Glanvill's book was written, some new rule was put in force at the instance of Edition: current; Page: [343] Geoffrey Fitz Peter, one of Glanvill's successors in the justiciarship, so as to invalidate a gift which William de Mandeville, Earl of Essex, had made on his death-bed to Walden Abbey. The ministers of the devil had of late years established a law which until then had never been heard of, to the effect that "no one, even though he be one of the great, when he is confined to his bed by sickness, can bequeath by his last will any of the lands or tenements that he has possessed, or grant them to those men of religion whom he loves above all others." We may well believe that there is some truth in this story, and that just at the time when Glanvill was writing and the last of the Mandeville earls was dying, the newly reformed king's court was for the first time setting its face sternly against the ancient post obit gift of land.
The law in Glanvill.The reasons for this determination are not far to seek, for Glanvill was at pains to explain them at some length. In one place he says that only God can make an heir, not man. This remark takes us back to the "nullum testamentum" of Tacitus; but it is thrown out by the way, for of any institution of an heir in the Roman sense there never had been any talk in England, unless some new ideasEdition: orig; Page: [326] had of late flown hither from Bologna and threatened to convert the old post obit gift into a true testament. But in another passage we have earnest argument. "As a general rule, every one in his lifetime may freely give away to whomsoever he pleases a reasonable Edition: current; Page: [344] part of his land. But hitherto this has not been allowed to any one who is at death's door, for there might be an immoderate dissipation of the inheritance if this were permitted to one who in the agony of approaching death has, as is not unfrequently the case, lost both his memory and his reason; and thus it may be presumed that one who when sick unto death has begun to do, what he never did while in sound health, namely, to distribute his land, is moved to this rather by his agony than by a deliberate mind. However, such a gift will hold good if made with the heir's consent and confirmed by him."
Testamentary gifts abolished in the interest of the heir.And so the gift of land by a last will stood condemned; not because it infringes any feudal rule, for in this context Glanvill says no word of the lord's interests, but because it is a death-bed gift, wrung from a man in his agony. In the interest of honesty, in the interest of the lay state, a boundary must be maintained against ecclesiastical greed and the other-worldliness of dying men. And that famous text was by this time ringing in the ears of all lawyers— "Traditionibus et usucapionibus dominia rerum, non nudis pactis transferuntur." Rejecting the laxer practices of an earlier time, rejecting the symbolic delivery of land by glove or rod or charter, Edition: orig; Page: [327]they were demanding a real delivery of a real seisin. They were all for publicity; their new instrument for eliciting the truth, the jury, would tell them only of public acts. And so the old post obit gift perished. It was a gift without a transfer of possession. Henceforth if a tenant in fee would become tenant for life, there must be feoffment and refeoffment, two distinct transactions, two real transfers of a real seisin. The justices were fighting, not so much against a Roman testament, as against the post obit gift. They had the heir's Edition: current; Page: [345] interest at heart, not the lord's. Even the lord's licence would not enable the tenant to disinherit his heir by a "devise" or a post obit gift. And these justices owed the heir something. They were on the point of holding that he had no right in the land so long as his ancestor lived. In their bold, rapid way they made a compromise.
Attempts to devise land.As a matter of fact, during the thirteenth century men not unfrequently professed to dispose of their lands by their last wills or by charters executed on their death-beds. It is a common story in monastic annals that so and so bequeathed (legavit) land to our church and that his heir confirmed the bequest. The monks hurried off from the side of the dying man to take seisin of some piece of his land; they trusted, and not in vain, that they would be able to get a confirmation out of the heir; "a father's curse" was a potent argument. But as a matter of law no validity was ascribed to these legacies or imperfect gifts. What had happened, when analyzed by the lawyer, was either that the heir had made a feoffment, or that the monks having already taken seisin, he had released his right to them, and such a release would have been just as effectual if there had been no will in their favour, and if they had been—as in strictness of law they really were—mere interlopers. We have seen that for a short while in the middle of the thirteenth century it seemed very likely that a power to leave land by will would be introduced by that effective engine the forma doni. The court hesitated for a whileEdition: orig; Page: [328] and then once more it hardened its heart: land was not, and even the forma doni could not make it, bequeathable.
Devisable burgages.Already in Glanvill's day the burgage tenement was a recognised exception from the general rule. We are told that the assize of mort d'ancestor will not lie for such a tenement because there is another assize which has been established for the profit of the Edition: current; Page: [346] realm. These words apparently refer us to some ordinance of Henry II. which we have not yet recovered, but which may still be lurking in the archives of our boroughs. In the thirteenth century it was well-known law that under custom a burgage might be given by testament; but apparently the limits of this rule varied from town to town. Bracton seems to have been at one time inclined to hold that the burgage could be given by will when, but only when, it was comparable to a chattel, having been purchased by the testator and therefore being an article of commerce. However, while Bracton was writing the citizens of London and of Oxford came to the opinion that, even if the testator had inherited his burgage, he might bequeath it. In course of time this doctrine prevailed in very many boroughs, and if we may judge from wills of the fourteenth century, the term "borough" must in this context have borne its widest meaning. We may believe, however, that in the past a line had been drawn between the purchased and the inherited tenement; it is just in the boroughs that we find what foreign lawyers know as the retrait lignager, the right of the expectant heir to redeem the family land that his ancestor has alienated.
Probate of burgage wills.If, as Bracton thought, the burgage could be bequeathed because it was a "quasi chattel," the inference might be drawn that such a bequest would fall, like other bequests, within the domain of the ecclesiastical courts. This inference Bracton drew; but the boroughs resisted it and at length succeeded in establishing the principle that the bishop had nothing to do with the will, in so far as Edition: orig; Page: [329]it was a gift of a burgage tenement. In course of time some at least of the larger boroughs established registers of the wills that dealt with such tenements. The will had to be produced before the Edition: current; Page: [347] borough court and enrolled; some towns were also requiring the enrolment of conveyances. Occasionally in the fourteenth century the burgher would execute two documents, a formal "testament" dealing with his movables, and a less formal "last will" which bestowed his tenements; but we see no more than a slight tendency to contrast these two terms. It is before the borough court, not before the king's court, that the man must go who desires to claim a tenement that has been bequeathed to him but is being withheld. However, to meet his case writs are devised which enjoin the officers of the borough to do him justice; from their first words they are known as writs Ex gravi querela; but they seem hardly to belong to the period which is now before us.
The chattel real.That the "marriage," the "wardship" and the "term of years," are quasi chattels for testamentary purposes is a doctrine which seems to have grown up rapidly in the first half of the thirteenth century. We have already endeavoured to explain it by saying that these things are regarded as investments of money. In this instance free play was given to the doctrine which likened them to movables; the legacy of a term of years, like the legacy of a horse or of ten pounds, was a matter for the spiritual tribunal, and it became settled law that the testator's "chattels real" pass to his executors.
The church and the testament.In the course of the twelfth century our primogenitary scheme for the descent of land was established in all its rigour. It then became absolutely impossible that one system of succession should serve both for land and for chattels. We have indeed argued before now that in all probability our old law had never known the unity of the Roman hereditas, but may from the first have had one ruleEdition: orig; Page: [330] for land, another for chattels, one for a man's armour, another for a woman's trinkets. But in the twelfth century, just when there seems a chance that at the call of Roman law our lawyers will begin to treat the inheritance as a single mass, they raise an insuperable barrier Edition: current; Page: [348] between land and chattels by giving all the land to the eldest son. Henceforward that good word heir has a very definite and narrow meaning. What is to become of the chattels? They do not pass to the heir; they are not inherited. While the temporal law is hesitating, ecclesiastical law steps in.
Progress of ecclesiastical claims.For ages past the church had been asserting a right, which was recognized by imperial constitutions, to supervise those legacies that are devoted to pious uses. The bishop, or, failing him, the metropolitan, was bound to see that the legacy was paid and properly applied, and might have to appoint the persons who were to administer the funds that were thus devoted to the service of God and works of mercy. Among the barbarians, where in the past there had been nullum testamentum, the pious gifts were apt to be the very essence of the testament. The testator was not dissatisfied with the law of intestate succession, but he wished in his last hour to do some good and to save his soul. Thus the right and duty of looking after the pious gifts tended to become a jurisdiction in all testamentary causes. The last will as such was to be protected by the anathema.
Jurisdiction over testaments.We may believe that for some time after the Conqueror had made his concession to the church, the clergy would have been satisfied if testamentary causes had been regarded as "mixed," that is, as causes which might come indifferently before the lay or the spiritual tribunal. Elsewhere they had to be content with this. Our Norman kings did not renounce any such testamentary jurisdiction as was then existing. The king was prepared as of old to enforce the cwiðe. Henry I. in his coronation charter says—"If any of my barons or men falls ill, I concede the disposition that he makes Edition: orig; Page: [331]of his fortune (pecunia); and if he meets a sudden death by arms or sickness and makes no disposition, his wife, children or liege men may divide his fortune (pecunia) for the good of his soul, as Edition: current; Page: [349] they shall think best." The king, and now in general terms, grants that his baron's cwiðe shall "stand," and in dealing with a case of intestacy says nothing of the bishop, though we notice that already the intestate's goods are no longer inherited; they are distributed for the good of the dead man's soul.
Victory of the church courts.It is well worthy of remark that Henry II. and Becket, though they sought for causes of dispute, did not quarrel about the testament. Quietly the judges of the royal court, many of whom were bishops or archdeacons, allowed the testament to fall to the share of the ecclesiastical forum. They were arranging a concordat; the ablest among them were churchmen. About many matters, and those perhaps which seemed the most important, they showed themselves to be strong royalists; in particular they asserted, to the peril of their souls, that the church courts had nothing to do with the advowson. But as regards the testament, they were willing to make a compromise. The spiritual courts might take it as their own, provided always that there were to be no testamentary gifts of land. This concession might well seem wise. Under the influence of Roman law men were beginning to have new ideas about the testament; it was becoming a true testament, no mere post obit donation or death-bed distribution. The canonist, being also a Romanist, had a doctrine of testaments; the English law had nothing that deserved so grand a name.
The lay courts and the last will.The concession was gradually made. Glanvill knows an action begun by royal writ by which a legatee can demand the execution of a dead man's will. The sheriff is commanded to uphold, for example, the "reasonable devise" which the dead man made to the Hospitallers, if they can prove that such a devise was made. However, if in this action the defendant denied that the testament was duly executed, or that it contained the legacy in question, then the plea went to the court Christian, for a plea of testament belonged toEdition: orig; Page: [332] the ecclesiastical judge. For a short time therefore it seems as if the function of the spiritual forum would be merely that of certifying Edition: current; Page: [350] the royal court that the dead man made a valid will in such and such words, or that his supposed will was invalid in whole or in part. But this was only a transitional scheme. The writs to the sheriff bidding him uphold a testament or devise have dropped out of the chancery register at the beginning of Henry III.'s reign. Thenceforth the legatee's action for his legacy was an action in the court Christian and the will was sanctioned only by spiritual censures, though of course there was imprisonment in the background.
The will with executors.Meanwhile the type of will that had begun to prevail in England was the will with executors. One of the earliest documents of this kind that have come down to us is the will of Henry II. It takes the form of a letter patent addressed to all his subjects on both sides of the sea. It announces that at Waltham in the year 1182 in the presence of ten witnesses (among whom we see Ranulf Glanvill) the king made, not indeed his testament, but his division or devise (divisam suam) of a certain part of his fortune. He gives sums of money to the Templars and Hospitallers, he gives 5000 marks to be divided among the religious houses of England "by the hand and view" of six English bishops and Glanvill his justiciar; he gives 3000 marks to be divided among the religious houses of Normandy by the hand and view of the five Norman bishops, 1000 marks to be divided by the hand and view of the bishops of le Mans and Angers among the religious houses of Maine and Anjou; he gives other sums to be expended in providing marriages for poor free women in his various dominions; he charges his sons to observe this distribution; he invokes God's curse upon all who infringe it; he announces that the pope has confirmed this "devise" and has sanctioned it with the anathema. We notice that this exceedingly solemn document, which no doubt was the very best that the English Edition: orig; Page: [333]chancery could produce, did not call itself a testament, did not use the terms do, lego, did not even use the term executor. It contained no Edition: current; Page: [351] residuary gift, no single legacy that was not given to pious uses. Still here indubitably we see executors, one set of executors for England, another for Normandy, another for Maine and Anjou; all of them, save Glanvill, are of episcopal rank. Then in Glanvill's book we find the testamentum and the executor. "A testament should be made in the presence of two or three lawful men, clerks or laymen, who are such that they can be competent witnesses (testes idonei). The executors of the testament should be those whom the testator has chosen and charged with this business; but, if he has named no one, then his kinsmen and relations may assume the duty."
Origin of the executor.Who is the executor and whence does he come? This is not a question that can be answered out of English documents, though, as already said, we may strongly suspect that, under some name or another (perhaps as mund of a cwiðe) he has been known in England for several centuries. That he does not come out of the classical Roman law is patent; it is only late in the day, and only perhaps in England and Scotland, that he begins to look at all like an instituted heres; yet under one name or another (executor gradually prevails) he has been known in many, if not all, parts of western