Robert Bellarmine, On Temporal and Spiritual Authority [2012]
Purchase now from Liberty Fund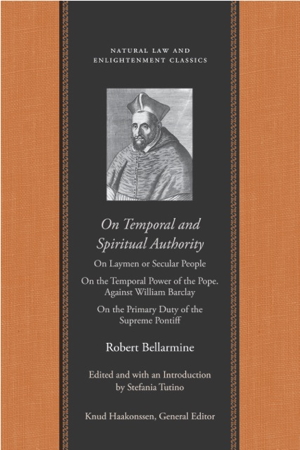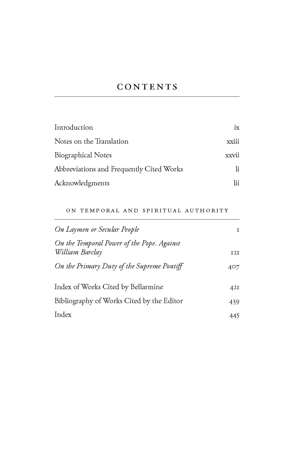 Available in the following formats:
HTML
1.32 MB
This version has been converted from the original text. Every effort has been taken to translate the unique features of the printed book into the HTML medium.
Simplified HTML
1.32 MB
This is a simplifed HTML format, intended for screen readers and other limited-function browsers.
About this Title:
Robert Bellarmine was one of the most original and influential political theorists of his time. He participated in several of the political debates that agitated early modern Europe, such as the controversy over the Oath of Allegiance in England. Bellarmine presents one of the clearest and most coherent definitions of the nature and aim of temporal authority and its relationship to spiritual authority. The king has jurisdiction over the body, the pope over the conscience. This distinction was crucial for the history of early modern monarchies: the conflict between state and church ceased to be concerned with physical persons and was no longer a contest for the consciences of subjects.
The political thought of Bellarmine was at the center of post-Reformation debates on the relationship between state and church; on the nature, aim, and limits of temporal government; and on the relation between religion and natural law. He posed in a novel, controversial manner the relationship between public and private spheres, thus opening up questions central to what we consider "modernity." This accessible edition of some of Bellarmine's most important works in fresh translations will be interesting for a wide readership of both scholars of political thought and the educated general public.
Copyright information:
The copyright to this edition, in both print and electronic forms, is held by Liberty Fund, Inc.
Fair use statement:
This material is put online to further the educational goals of Liberty Fund, Inc. Unless otherwise stated in the Copyright Information section above, this material may be used freely for educational and academic purposes. It may not be used in any way for profit.
Table of Contents:
ON TEMPORAL AND SPIRITUAL AUTHORITY
On Laymen or Secular People
Edition: current; Page:

[

2

]
Edition: current; Page:

[

3

]
Edition: current; Page:

[

5

]
Edition: current; Page:

[

9

]
Edition: current; Page:

[

15

]
Edition: current; Page:

[

18

]
Edition: current; Page:

[

21

]
Edition: current; Page:

[

26

]
Edition: current; Page:

[

30

]
Edition: current; Page:

[

34

]
Edition: current; Page:

[

36

]
Edition: current; Page:

[

40

]
Edition: current; Page:

[

47

]
Edition: current; Page:

[

49

]
Edition: current; Page:

[

53

]
Edition: current; Page:

[

68

]
Edition: current; Page:

[

75

]
Edition: current; Page:

[

79

]
Edition: current; Page:

[

81

]
Edition: current; Page:

[

87

]
Edition: current; Page:

[

92

]
Edition: current; Page:

[

102

]
Edition: current; Page:

[

110

]
Edition: current; Page:

[

121

]
On the Temporal Power of the Pope. Against William Barclay
Edition: current; Page:

[

122

]
Edition: current; Page:

[

123

]
Edition: current; Page:

[

150

]
Edition: current; Page:

[

153

]
Edition: current; Page:

[

159

]
Edition: current; Page:

[

179

]
Edition: current; Page:

[

121

]
Edition: current; Page:

[

193

]
Edition: current; Page:

[

197

]
Edition: current; Page:

[

203

]
Edition: current; Page:

[

211

]
Edition: current; Page:

[

226

]
Edition: current; Page:

[

233

]
Edition: current; Page:

[

236

]
Edition: current; Page:

[

245

]
Edition: current; Page:

[

252

]
Edition: current; Page:

[

259

]
Edition: current; Page:

[

265

]
Edition: current; Page:

[

269

]
Edition: current; Page:

[

278

]
Edition: current; Page:

[

280

]
Edition: current; Page:

[

286

]
Edition: current; Page:

[

290

]
Edition: current; Page:

[

301

]
Edition: current; Page:

[

306

]
Edition: current; Page:

[

311

]
Edition: current; Page:

[

318

]
Edition: current; Page:

[

322

]
Edition: current; Page:

[

325

]
Edition: current; Page:

[

331

]
Edition: current; Page:

[

333

]
Edition: current; Page:

[

335

]
Edition: current; Page:

[

339

]
Edition: current; Page:

[

351

]
Edition: current; Page:

[

355

]
Edition: current; Page:

[

359

]
Edition: current; Page:

[

369

]
Edition: current; Page:

[

377

]
Edition: current; Page:

[

383

]