Ludwig von Mises, Nation, State, and Economy: Contributions to the Politics and History of Our Time [1919]
Purchase now from Liberty Fund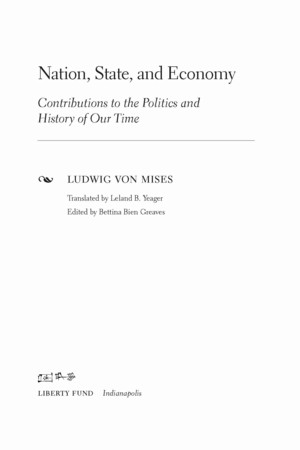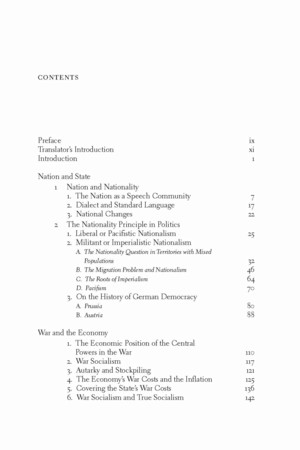 Available in the following formats:
LF Printer PDF
2.07 MB
This text-based PDF was prepared by the typesetters of the LF book.
EBook PDF
690 KB
This text-based PDF or EBook was created from the HTML version of this book and is part of the Portable Library of Liberty.
HTML
611 KB
This version has been converted from the original text. Every effort has been taken to translate the unique features of the printed book into the HTML medium.
Simplified HTML
611 KB
This is a simplifed HTML format, intended for screen readers and other limited-function browsers.
About this Title:
Nation, State, and Economy, published less than a year after Austria's defeat in World War I, examines and compares prewar and postwar economic conditions and explicates Mises's theory that each country's prosperity supports rather than undercuts the prosperity of other countries. Mises's humanitarian recommendations in this book, born from a classical liberal perspective, provide a striking example of how supposedly "hardnosed" economic theory, based on the reality of experience, is in fact far more supportive of human flourishing than seemingly more "idealistic" but actually impractical social theories. Specifically, Mises warned of the consequences of the punitive terms of the Treaty of Versailles by victors more interested in punishing their defeated enemies than in building a Europe that would be able to meet the challenges of the future. With the benefit of hindsight we see how different European and world history might have been.
Copyright information:
The copyright to this edition, in both print and electronic forms, is held by Liberty Fund, Inc.
Fair use statement:
This material is put online to further the educational goals of Liberty Fund, Inc. Unless otherwise stated in the Copyright Information section above, this material may be used freely for educational and academic purposes. It may not be used in any way for profit.
Table of Contents:
Edition: current; Page:

[

i

]
NATION, STATE, AND ECONOMY
Edition: current; Page:

[

xxviii

]
Edition: current; Page:

[

1

]
Edition: current; Page:

[

7

]
Edition: current; Page:

[

110

]
Edition: current; Page:

[

147

]
Edition: current; Page:

[

176

]
Edition: current; Page:

[

185

]
Edition: current; Page:

[

195

]
Edition: current; Page:

[

196

]