THE EARLIER LETTERS OF JOHN STUART MILL

1838-1848
Edition: current; Page:

[

vi

]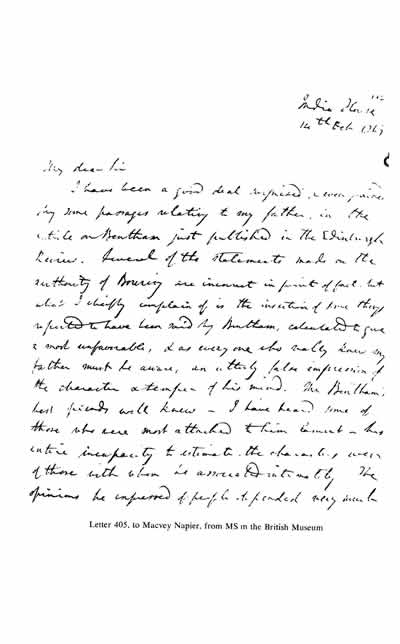 Edition: current; Page:

[

367

]
1838
Edition: current; Page:

[

368

]
Edition: current; Page:

[

378

]
Edition: current; Page:

[

386

]
Edition: current; Page:

[

390

]
Edition: current; Page:

[

393

]
Edition: current; Page:

[

395

]
1839
Edition: current; Page:

[

396

]
Edition: current; Page:

[

398

]
Edition: current; Page:

[

401

]
Edition: current; Page:

[

405

]
Edition: current; Page:

[

410

]
Edition: current; Page:

[

414

]
Edition: current; Page:

[

415

]
Edition: current; Page:

[

417

]
1840
Edition: current; Page:

[

419

]
Edition: current; Page:

[

421

]
Edition: current; Page:

[

424

]
Edition: current; Page:

[

425

]
Edition: current; Page:

[

437

]
Edition: current; Page:

[

440

]
Edition: current; Page:

[

443

]
Edition: current; Page:

[

447

]
Edition: current; Page:

[

450

]
Edition: current; Page:

[

451

]
Edition: current; Page:

[

461

]
1841
Edition: current; Page:

[

472

]
Edition: current; Page:

[

473

]
Edition: current; Page:

[

478

]
Edition: current; Page:

[

482

]
Edition: current; Page:

[

485

]
Edition: current; Page:

[

491

]
Edition: current; Page:

[

495

]
1842
Edition: current; Page:

[

496

]
Edition: current; Page:

[

499

]
Edition: current; Page:

[

501

]
Edition: current; Page:

[

508

]
Edition: current; Page:

[

514

]
Edition: current; Page:

[

517

]
Edition: current; Page:

[

520

]
Edition: current; Page:

[

533

]
Edition: current; Page:

[

538

]
Edition: current; Page:

[

548

]
Edition: current; Page:

[

550

]
Edition: current; Page:

[

551

]
376.
TO MACVEY NAPIER
Your letter received this morning is extremely satisfactory as to the article on the Romans & I shall probably make Michelet & Walter the text of it. I could scarcely be ready by the January number, as when once one begins to read German books on historical subjects, the more one reads, the more one wants to read. I am rather glad that the Ed. Rev. should pay the tribute due from us all to the memory of Arnold, before I have occasion to speak of his History. And if an early publication of the post-humous volume should be announced, I could still wait for it.
I do not know whether your approval of the article in the Westr, especially as to the composition, may not have a bad effect upon me by encouraging me to write hastily as the article was written in three days & was never meant to be a thing of any pretension. I should hardly have thought it worthy of the Ed. but I should probably have given you the refusal of it, if I had not been committed to the Westr before I contemplated anything more than one of the small-print notices which that review usually contains. I should never send there anything which you would take, if I were not under a sort of personal obligation to the present proprietor, not only for saving me the mortification of letting the review drop while in my hands, but as one of my principal contributors (& a gratuitous one) while I managed it. My reason for asking whether you would have taken this particular article, was that I might know what subjects suit your review & are not preengaged. The historical articles which I have been thinking of for you are things of great labour & require a long time for the preparation, but there are many things which I could write offhand, & should often do so if I knew that they would suit you. I could easily have something ready for the January number without detriment to my progress with the Romans, if we could hit upon any subject which suited us both.
You have touched up Alison very well & it was time. My fingers have often itched to be at him. The undeserved reputation into which that book Edition: current; Page: [552] is getting, merely because it is the Tory history, & the only connected one of that important time, is very provoking.
377.
TO AUGUSTE COMTE
Les incroyables retards que j'ai éprouvés à l'égard de votre 6me volume, et ensuite son ampleur extraordinaire et l'abondance de ses matières, ne m'ont permis d'en achever la première lecture que la veille même du jour ou j'écris cette lettre. Ce volume a dignement complété un ouvrage nécessairement unique dans le développement de l'humanité, car en supposant même que vous n'eussiez pas posé les premières bases fondamentales de la doctrine sociologique positive, vous n'en resteriez pas moins le fondateur de la vraie méthode sociologique, dans tout ce qu'elle a de vraiment caractéristique et par suite celui de la systématisation définitive des connaissances humaines. Quant aux doctrines spéciales de ce précieux volume, j'étais, j'ose le dire, suffisamment préparé par l'ensemble des volumes précédents et par notre correspondance, pour ne sembler trouver même dans les parties les plus remarquables de cette élaboration finale, que la confirmation et le développement d'idées que je possédais déjà, sauf quelques dissidences d'opinion d'importance mineure, dont je m'étais déjà aperçu et que la lecture de ce volume a notablement diminuées. Une seule fois j'y ai ressenti cette sorte de secousse que vos travaux m'ont souvent fait éprouver, et qui résulte de la subite appréhension d'une grande idée lumineuse et nouvelle. C'est dans l'endroit où vous parlez des hautes qualités sociales qu'on finira par trouver dans la vie industrielle, malgré le mobile essentiellement égoïste qui la dirige presque exclusivement aujourd'hui. A ce sujet vous apprendrez peut être avec intérêt un rapprochement caractéristique qui a lieu entre vos idées et celles d'un de nos écrivains les plus remarquables, dont le nom ne vous est pas probablement resté inconnu, M. Carlyle, qui bien que doué de facultés plutôt esthétiques que scientifiques, et procédant par intuition beaucoup plus que par raisonnement, a souvent des éclairs de génie qui en font en quelque sort un prophète et précurseur du progrès social. Cet Edition: current; Page: [553] homme recommandable avec qui je suis lié depuis onze ans, me disait dernièrement qu'il ne fallait pas désespérer de l'idéalisation poétique de l'industrie; car, disait-il, voyez quelle grande poésie on a su tirer de la vie militaire, quoiqu'il n'y ait rien de plus naturellement laid que l'acte de tuer, accompagné des diverses circonstances physiques qui s'y rapportent; mais cependant en fesant convenablement ressortir ce que cette opération brutale comportait ou suscitait de dignité et de noblesse morale, on est parvenu à trouver là dedans tout un monde de poésie et d'art. Cette réflexion m'a vivement frappé, mais je n'ai pas d'abord reconnu, pas plus que M. Carlyle, ce que vous avez si admirablement établi, c.à.d. que les éminentes qualités sociales de la vie militaire dérivent toutes entières de son organisation, et de son caractère de fonction sociale, l'instinct guerrier en lui-même étant un de nos plus ignobles penchants, tandis que la discipline intellectuelle et surtout morale qui a résulté de l'association d'hommes plus ou moins civilisés pour faire la guerre, même offensive, a été un moyen fécond, et dans une certaine époque le seule moyen possible, de développer la sociabilité humaine. Une fois donc qu'on sera parvenu à effectuer une véritable organisation de l'industrie, on lui imprimera par là même les qualités sociales qui lui ont semblé jusqu'ici les plus antipathiques, et dont la décroissance apparente dans notre époque de transition a motivé tant de craintes exagérées, que j'ai moi-même partagées, sur les tendances morales du type moderne de civilisation industrielle. Vous m'avez rendu le service immense de dissiper irrévocablement, en ce qui me concerne toute crainte pareille, et cette grande idée a eu tout de suite pour moi, comme il en arrive souvent à pareille occasion, un caractère d'évidence qui fait qu'on s'étonne de ne l'avoir pas rencontrée plus tôt et sans suggestion extérieure.
J'apprécie convenablement la sage réserve dont vous avez usé en écartant comme prématurée toute discussion immédiate sur la plupart des institutions politiques proprement dites, au moins dans l'ordre temporel. Vous avez très bien fait sentir que la régénération sociale dépend maintenant de l'essor spirituel, ce qui devient au reste de plus en plus evident aux esprits éclairés par l'impuissance aujourd'hui constatée de toutes les tentatives théoriques et pratiques qu'on fait depuis bientôt cent ans pour renouveler l'état de l'humanité par les seules institutions. Je crois même cette heureuse révolution spéculative plus avancée dans ce pays-ci que partout ailleurs, désenchantés comme nous sommes des institutions soi-disant libres à raison d'une plus intime familiarité pratique. Chez nous aujourd'hui les prolétaires croient presque seuls à l'efficacité réformative [sic] des institutions démocratiques, encore les chefs les plus considérés du mouvement politique prolétaire, parmi lesquels il y en a de très recommandables, mènent aujourd'hui habituellement de front avec leurs projets politiques, des idées de moralisation et de culture intellectuelle pour les masses populaires, dirigées Edition: current; Page: [554] à la vérité jusqu'ici, comme il n'en pouvait être autrement, par une philosophie métaphysique et négative. Vous avez donc très judicieusement employé vos efforts surtout à caractériser le nouveau pouvoir spirituel, dont la naissance même, et à plus forte raison son incorporation dans le système social, suffirait déjà, dans un gouvernement temporel quelconque, à dissiper en grande partie le désordre, même matériel, soit en rectifiant et en élargissant les idées des classes dirigeantes, soit en leur imposant, de gré ou de force, une moralité meilleure. Vous vous êtes donc sagement borné, quant à l'ordre temporel, à poser le principe incontestable, que la direction en doit désormais appartenir aux chefs industriels, en laissant indécises bien des questions, destinées à être progressivement résolues par les sociologistes positifs, et sur lesquelles je désirerais bien entamer déjà avec vous une discussion philosophique. Telles sont, par exemple, celle des moyens à prendre pour atténuer l'influence inévitable jusqu'à un certain point mais si exagérée aujourd'hui, que le hasard, celui de la naissance surtout, exerce en désidant du personnel de la haute industrie, indépendamment des conditions de la capacité industrielle. Vient ensuite la question de la part d'influence qu'il pourrait être convenable de réserver, dans l'ordre politique, aux classes industrielles inférieures, question qui renferme l'avenir des institutions représentatives, quant aux deux seules fonctions qu'on pourrait concevoir comme leur appartenant dans l'avenir, d'abord comme moyen d'enseignement politique pour les masses, et ensuite comme organe régulier pour constater ou refuser l'adhésion populaire aux réglemens généraux émanés des chefs.
Je me propose maintenant, après un court intervalle, de reprendre la lecture de votre élaboration sociologique depuis son commencement au 4m volume, afin d'en mieux saisir l'ensemble et de m'en rendre en même temps plus familiers les principaux détails.
Je me suis réservé peu de place pour vous parler dans cette lettre, soit de la grande série de travaux futurs que vous annoncez à la fin du volume, soit de votre préface et de l'indigne conduite de votre éditeur et de son patron M. Arago. Quant à ce dernier je me réjouis vraiment qu'il se soit Edition: current; Page: [555] emporté tellement au delà des bornes que la prudence aurait imposées à tout homme moins aveuglé par la vanité et par l'instinct de la domination. S'il s'était contenté de dire qu'il reconnaissait à M. Sturm des titres mathématiques supérieurs aux vôtres, on aurait pu croire à sa bonne foi, et sa réputation scientifique aurait donné à son opinion, ainsi exprimée, quelque poids auprès de la partie du public qui ne pouvait juger par lui-même. Heureusement il a manqué de cette prudence vulgaire et a donné à tous ceux qui ont lu même partiellement vos deux premiers volumes, ainsi qu'à une génération entière d'élèves polytechniques, le droit de lui dire avec pleine conviction qu'il en a menti: ce qui sera certes, beaucoup plus nuisible à la considération publique et européenne dont il se glorifie, que son mensonge ne le saurait être à la vôtre. Quant à votre préface, j'avoue qu'avant d'avoir lu le volume lui même je craignais que le défi ainsi jeté à ceux dont dépendaient vos moyens actuels de vie ne fût de nature à aggraver le danger qu'il signalait, mais dès que j'ai vu les dures vérités qu'avec votre franchise ordinaire vous avez dites dans le 57me chapitre sur l'incapacité et la bassesse morale de la plupart des savans actuels, j'ai trouvé profondément convenable une préface qui au fond ne contient rien de plus offensant pour eux que le livre lui même et qui en désignant personnellement les plus coupables est de nature à inspirer aux autres une salutaire crainte.
378.
TO JOHN STERLING
I have at last got the enclosed paper for you from Henry Cole.
I have been reading your review of Tennyson for the second time, after an interval of several weeks. I have found more difference than I expected in our judgments of particular poems, & I will not pretend that I think yours the more likely to be right, for I have faith in my own feelings of Art, but I have read & reflected so little on the subject compared with you, that I Edition: current; Page: [556] have no doubt you could give many more reasons for your opinions than I should be fully competent to appreciate. Still, I think I could justify my own feelings on grounds of my own, if I took time enough to meditate—but I doubt its being worth while—the thing is not in my fach.
The preliminary remarks are very delightful reading, & I think they do as much as can be done to render this age, what Carlyle says no age is, romantic to itself. But I think Tennyson, having taken up the same theory, has miserably misunderstood it. Because mechanical things may generate grand results he thinks that there is grandeur in the naked statement of their most mechanical details. Ebenezer Elliott has written a most fiery ode on the Press, which is a mechanical thing like a railroad, but the mechanicality is kept studiously out of sight. Tennyson obtrudes it.
379.
TO JOHN STERLING
I am very glad indeed to hear that you are writing the sort of paper you mention. As to Tennyson, you were right in getting so much praise of him into the Quarterly by no greater sacrifice than leaving some of the best of the earlier poems unmentioned. I do not differ from your principle that the highest forms of poetry cannot be built upon obsolete beliefs—although what you say of the Ancient Mariner & Christabel seems to me true of the Lady of Shalott, and the objection does not seem to me to lie strongly against the Lotos eaters or Œnone. But neither is the idyl one of the highest forms of poetry—neither Spenser, Tasso, nor Ovid could have been what they were by means of that. And greatly as I admire Michael & its compeers, that is not the crowning glory of Wordsworth. And how poor surely is Dora compared with some dozen of Wordsworth's poems of that kind.
Edition: current; Page:

[

557

]
My remark on mechanical details does not apply to Burleigh, which seems to me Tennyson's best in that stile—not much, if at all, to the Gardener's Daughter, a good deal to Dora which I do not like—a little to some parts of Locksley Hall: but in a most intense degree to such things as Audley Court, Walking to the Mail, the introduction to Morte d'Arthur; & the type of what I object to is the three lines of introduction to Godiva, which he has stuck in, as it were in defiance. But, mind, I do not give my opinion as worth anything, to you especially—& my feeling is only to be reckoned as that of one person, competent in so far as capable of almost any degree of exalté feeling from poetry.
Have you seen Macaulay's old-Roman ballads? If you have not, do not judge of them from extracts, which give you the best passages without the previous preparation. They are in every way better, & nearer to what one might fancy Campbell would have made them, than I thought Macaulay capable of. He has it not in him to be a great poet; there is no real genius in the thing, no revelation from the depths either of thought or feeling—but that being allowed for, there is real verve, & much more of the simplicity of ballad poetry than one would at all expect. The latter part of the Battle of the Lake Regillus, & the whole of Virginia, seem to me admirable.—
380.
TO GEORGE HENRY LEWES
I return Sand's letter which it was very pleasant to have an opportunity of reading. I have no right or claim to send any message to her but I should be very willing she should know that there [are] other warm admirers of her writings & of herself even in this canting land—among whom I am neither the only nor the best.
I think your article on Göthe decidedly your highest flight, as yet. Edition: current; Page: [558] Without being the dernièr mot on such a man, it recommends itself to my knowledge of him as truer than any other writing on the subject which I have met with. There are also some striking thoughts in it & although there is considerable Carlylism in the opening pages, & something of the tranchant manner which makes people call you by various uncomplimentary names indicative of self-conceit, both these defects disappear as you go on & full two thirds of the article seem to me to be in a stile infinitely nearer to excellence than any of your other writings known to me: for being perfectly simple & apparently unconscious, it shews its good points to the best advantage and wherever feeling is shewn, it is, consequently, really eloquent. All that seemed to me unsuccessful in the beginning of the Spinosa, because it looked artificial & studied, is here, for the contrary reason, completely successful.
Please to observe here that I am by no means biassed in favour of the article by its compliments to myself, which rather tell the other way for I have a dislike to seeing my own ugly name in print.
Tell the lady, with my best wishes, that I am getting very hungry.
Yours (in the dual number)
After receiving your tart note I reopen this to add my warmest congratulations.
381.
TO ALEXANDER BAIN
I have not been very well, but am a little better.
Edition: current; Page:

[

559

]
382.
TO GEORGE HENRY LEWES
I think your preface excellent & likely to be of extremely great use. You have hit off the characteristics of the different authors admirably, & the style is uniformly good & quite free from any of the defects which have been complained of. I intend reading it again & making a remark or two but they are really of little importance.
Did you see the letter in the Times today in answer to your article on anonymous writing.
Commend me to the respectable mère de famille.
383.
TO AUGUSTE COMTE
Depuis la venue de votre lettre du 5 novembre jusqu'à la réponse que j'y fais maintenant, il s'est écoulé un intervalle d'une longueur qui, je l'espère bien, se répétera rarement dans notre correspondance. Ce laps de temps a été fort rempli chez moi par des devoirs indispensables et par une santé momentanément dérangée, mais surtout par une lecture lente et approfondie de votre élaboration sociologique dans sa totalité, lecture dont le commencement a été retardé, bien malgré moi, et que j'ai voulu terminer avant de vous rien écrire, résolution dont je crois avoir à me féliciter.
Edition: current; Page:

[

560

]
Vous avez très bien senti qu'un travail comme celui de vos trois derniers volumes ne pouvait être pleinement jugeable que dans son ensemble, et même après une lecture plusieurs fois renouvelée. J'en ai fait moi-même l'épreuve la plus décisive. D'abord je n'avais jamais, malgré plusieurs lectures très attentives, convenablement senti la haute valeur scientifique du 4me volume, faute d'en avoir pu suffisamment assimiler les doctrines avant de les avoir vu compléter par vos derniers travaux: jusque-là je n'y voyais surtout que la préparation indispensable de l'élaboration historique du 5me volume, en sentant toutefois dignement la portée de votre grande conception de la statique sociale. Quant au 5me volume, je lui avais toujours rendu pleine justice, mais il me restait de m'en pénétrer encore plus profondément. En ce qui se rapporte spécialement au 6me volume, vous avez dû d'après ma lettre précédente, me croire moins capable que je ne l'étais réellement d'en apprécier la grandeur, qui dépasse peut-être à mes yeux, tout ce que vous aviez fait antérieurement. En effet, par un privilège réservé aux esprits pleinement systématiques et compréhensifs, (mot anglais dont je ne connais pas d'exact équivalent en français) vous aviez jeté dans les volumes précédents de si féconds germes de toutes les principales conceptions du volume final, que les choses les plus merveilleuses que j'y lisais me faisaient l'effet de les avoir toujours connues. C'est en relisant successivement, et à loisir, toutes les parties de l'élaboration, que j'ai éprouvé une impression finale et décisive, non seulement plus forte mais essentiellement nouvelle, en tant que celle-ci est surtout morale. Je crois que ce qui se passe à présent en moi est une première vérification spéciale de la grande conclusion générale de votre Traité, l'aptitude de la philosophie positive, une fois organisée dans son ensemble, à prendre pleine possession des hautes attributions sociales jusqu'ici très imparfaitement remplies par les seules religions. Ayant eu la destinée, très rare dans mon pays, de n'avoir jamais cru en Dieu, même dans mon enfance j'ai toujours vu dans la création d'une vraie philosophie sociale le seul fondement possible d'une régénération générale de la moralité humaine, et dans l'idée de l'Humanité la seule qui pût remplacer celle de Dieu. Mais il y a loin de cette croyance spéculative au sentiment que j'épreuve aujourd'hui de la pleine efficacité ainsi que de l'avènement prochain de cette inévitable substitution. Quelque bien préparé qu'on puisse être, comparativement à la plupart des esprits, à subir les conséquences mentales de cette conviction, il est impossible qu'elle ne détermine pas une sorte de crise dans l'existence de tout homme dont la nature morale n'est pas trop au dessous des devoirs qu'elle impose; soit en démontrant clairement que le travail direct de la régénération politique et surtout morale qu'on a toujours rêvée pour un avenir indéfini, est réellement devenu possible de nos jours et que le temps est venu où les dévouemens individuels peuvent vraiment réaliser un fruit appréciable pour une si grande cause, soit en déterminant, par une réaction nécessaire, un sentiment amer Edition: current; Page: [561] des diverses imperfections particulières qui tendent à nous rendre plus ou moins indignes d'une telle destinée. Il n'y a du reste, aucune raison de croire que cette crise doive se terminer chez moi autrement que d'une manière favorable soit à mon bonheur individuel, soit à l'utilité de mon action sociale.
Quant au désir si honorable pour moi, que vous me témoignez de savoir si, après une mûre appréciation, je regarde vos derniers chapitres et surtout le premier des trois comme propres à déterminer la constitution finale d'une nouvelle philosophie générale, c.à d. d'une pleine systématisation durable de l'ensemble de nos conceptions réelles vous devez sans doute sentir déjà, d'après tout ce que je viens de dire que je ressens très profondément cette conviction, et que j'adhère entièrement aux conclusions générales de votre ouvrage, sauf quelques notions secondaires qui ne me semblent pas suffisamment éclaircies, et qui en supposant même qu'elles ne le fussent jamais, n'altéreraient en rien le caractère essentiellement satisfaisant de cette immense systématisation. A cela j'ajoute que bien que j'aie longtemps pensé qu'un esprit pleinement conséquent ne peut exister que sous l'ascendant complet de la philosophie positive, je n'avais jamais cru qu'il pût exister déjà, et dès le premier pas, une réalisation si complète de cette éminente propriété de l'esprit positif. Vous me faites peur par l'unité et le complet de vos convictions, qui semblent par là ne pouvoir jamais avoir besoin de confirmation de la part d'aucune autre intelligence, et je sens que cette précieuse sympathie que vous me témoignez à un degré très au dessus de mon mérite réel et que vous avez proclamée avec une si noble confiance à tous les esprits philosophiques de l'Europe dans la note que vous m'avez consacrée, m'est bien nécessaire aujourd'hui pour ne pas trembler devant vous.
Avec cela il y a toujours des questions plus ou moins secondaires sur lesquelles je conserve encore, soit une opinion différente de la vôtre, soit des difficultés non encore résolues. Quoique les unes et les autres tendent problement à disparaître, je ne dois pas chercher à atténuer ce qu'il peut exister entre nous de différence réelle, d'autant moins que je sens aujourd'hui, à l'égard de toute opinion que vous avez sanctionnée, la nécessité de me défendre contre l'entraînement, toujours plus à craindre dans ma nature particulière qu'un esprit critique exagéré. J'ajourne toute indication plus précise de ces différences, jusqu'à l'époque très prochaine de la publication de mon livre, qui vous en indiquera, soit directement, soit plus souvent indirectement, quelques-unes. Je vous dirai, à propos de ce livre, dont les trois quarts sont maintenant imprimés, qu'il me paraît toujours, même dans les parties qui ont l'air le plus métaphysique, très propre à faciliter, pour mon pays la transition de l'esprit métaphysique à l'esprit positif. Quant à la valeur propre des conceptions positives qui s'y trouvent, je ne puis avoir là dessus d'opinion définitive que lorsqu'elles Edition: current; Page: [562] auront été connues et jugées par vous, jusqu'ici seul juge compétent à ce sujet.
J'ai appris, avec le plus vif intérêt tout ce que vous m'avez dit dans votre dernière lettre sur les choses qui vous sont personnelles, d'abord, l'effet favorable de votre préface, que j'ai besoin au reste de savoir confirmé par le résultat de la réélection annuelle; ensuite l'éclatante punition que vous vous disposez à faire subir à vos indignes ennemis, et finalement, le programme des travaux que vous destinez à votre année de repos, qui serait certes une année de très forte contention intellectuelle pour tout autre que vous. Je crois que votre volume sur la géométrie analytique pourra avoir un grand succès ici, ainsi que le traité de philosophie mathématique que vous annoncez pour un temps plus éloigné. Il y a certainement aujourd'hui chez nos jeunes géomètres un commencement de tendances à chercher la régéneration scientifique des conceptions mathématiques, tendances dont la métaphysique allemande qui domine maintenant ici, commence à s'emparer, à sa manière, à peu près comme la métaphysique française a tâché de le faire par l'organe de Condillac. Je crois au reste d'après l'accueil que plusieurs de nos savans ont fait à vos deux premiers volumes, qu'ils sont réellement mieux préparés que les savans français à sentir la portée de vos grandes conceptions de philosophie mathématique qui même aussi peu développées qu'elles le sont dans le 1er volume ont été dès lors pour moi la première preuve décisive de la force et de la fécondité de votre génie philosophique.
Le M. Carlyle dont je vous parlai est tout autre que le célèbre athée (Carlile) qui n'avait réellement d'autre mérite éminent que celui de son courage et qui a fini, je crois, par une sorte de conversion christiano-déiste. M. Carlyle est un homme très supérieur a celui-là, quoique moins complètement émancipé. Il est connu par plusieurs ouvrages, entr'autres par une Histoire de la Révolution française, prise d'un point de vue imparfait mais progressif pour ce pays-ci, et remarquable par un véritable génie épique, autant que ce génie peut se développer sans autre doctrine générale que ce qu'on peut appeler la critique de la critique. Cet ouvrage représente l'esprit organique dans l'état vague, ou plutôt l'esprit du besoin d'organisation, et comme c'est là l'esprit qui règne ici dans la partie la plus avancée du public, l'ouvrage a eu, malgré le style le plus excentrique, un grand retentissement.
Je ne négligerai aucune occasion de m'informer plus particulièrement sur les deux traductions allemandes de votre Cours. Je crois les penseurs allemands très préparés à abandonner, dès qu'on leur donnera quelque chose de mieux, leur ténébreuse métaphysique, essentiellement épuisée Edition: current; Page: [563] aujourd'hui dans son pays natal. Je vous suis toujours très obligé de vos démarches amicales auprès de M. Balard, et bien heureux qu'on se souvienne encore de moi à Montpellier. Je serais bien aise de savoir les noms de ceux de vos amis qui me font l'honneur inattendu de ne m'avoir pas oublié!
tout à vous et pour toujours
384.
TO ROBERT BARCLAY FOX
Do not think because I did not answer your last most interesting letter, that I either failed to sympathise with you with all in it that demanded sympathy or to appreciate the friendship and confidence shewn by your writing on such things to me. But it is little that can be done by words of consolation in such cases, & that little, few perhaps are less qualified to do than I, while you have those near you who are more than sufficient to do all that can be done. I do not feel the less but the more for your disappointment from the proof which the verses you sent me gave of your determination to be one of those to rise stronger & nobler from such trials.
There are abundance of subjects on which I should like a little mental communion with you if I could get my thoughts together for the purpose. First, there is in public affairs, much in the wind. Your prediction about the Corn Laws seems in a way to be verified sooner than we either of us expected, & that is sure to lead to great changes in the condition & character of our rural population & above all in the relation of landlords & tenants which on its present footing is essentially an unwholesome relation & cannot last. Things have certainly come to a strange pass when the manufacturing majority must starve in order that the agricultural minority may—starve also. But these things, important as they are, do not occupy so much of my thoughts as they once did; it is becoming more & more clearly evident to me that the mental regeneration of Europe must precede its social regeneration & also that none of the ways in which that mental regeneration is sought, Bible Societies, Tract Societies, Puseyism, Socialism, Chartism, Benthamism &c. will do, though doubtless they have all some Edition: current; Page: [564] elements of truth & good in them. I find quite enough to do in trying to make up my own mind as to the course which must be taken by the present great transitional movement of opinion & society. The little which I can dimly see, this country even less than several other European nations is as yet ripe for promulgating.
In the meantime I do not know that there was anything better for me to do than to write the book I have been writing, destined to do its little part towards straightening & strengthening the intellects which have this great work to do. The said book is printed as far as p. 160, vol 2, & will be published when Providence & the publisher see fit. I heard of you the other day from Philip Melvill who I believe brought the first intelligence which had reached the India House of such a thing being on the anvil. A propos, there was some time ago a very pretty, but very unnecessary—what shall I call it? deprecation from your sister Caroline relative to this book & to something which occurred near the tombs of the old Templars. I do not recollect any more of what passed than that she accused herself of having impliedly instigated a very natural announcement which I made, certainly not for the first time then, touching the superfluousness of her troubling any bookseller respecting the two volumes in question, since I should as soon have thought of my own brother buying any book of mine as of any of your family doing so. You will certainly receive in due time what has been from the first destined for you—I mean you in the plural number, for I never separate you in fact or in thought—& the one who reads most of it may keep it, if the others chuse.
George is quite well and vigorous, & promises much. I think he will do credit to his bringing up. My other pupil Mary is doing well too. As for the others you know them & they can answer for themselves. We are thankful for the exertions of you all about the little orphan. What her chances are I do not know. Such elections by universal suffrage are as you truly say a monstrous thing.