John Ramsay McCulloch, The Principles of Political Economy (5th ed.) [1864]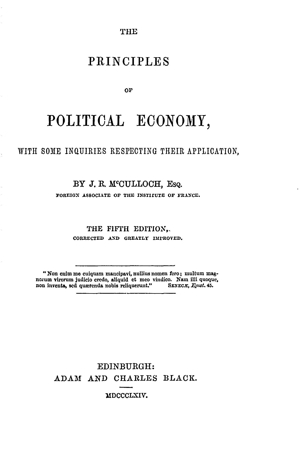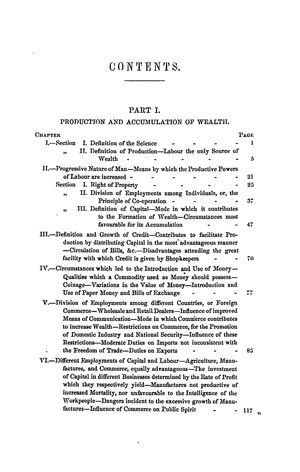 Available in the following formats:
Facsimile PDF
23 MB
This is a facsimile or image-based PDF made from scans of the original book.
Kindle
704 KB
This is an E-book formatted for Amazon Kindle devices.
EBook PDF
1.19 MB
This text-based PDF or EBook was created from the HTML version of this book and is part of the Portable Library of Liberty.
ePub
459 KB
ePub standard file for your iPad or any e-reader compatible with that format
HTML
1.24 MB
This version has been converted from the original text. Every effort has been taken to translate the unique features of the printed book into the HTML medium.
Simplified HTML
1.24 MB
This is a simplifed HTML format, intended for screen readers and other limited-function browsers.
About this Title:
A revised and expanded edition of McCulloch's major treatise on the principles of political economy.
Copyright information:
The text is in the public domain.
Fair use statement:
This material is put online to further the educational goals of Liberty Fund, Inc. Unless otherwise stated in the Copyright Information section above, this material may be used freely for educational and academic purposes. It may not be used in any way for profit.
Table of Contents:
Edition: current; Page:

[

iv

]
PRINCIPLES OF POLITICAL ECONOMY.
PART I.: PRODUCTION AND ACCUMULATION OF WEALTH.
Edition: current; Page:

[

21

]
Edition: current; Page:

[

70

]
Edition: current; Page:

[

77

]
Edition: current; Page:

[

85

]
Edition: current; Page:

[

117

]
Edition: current; Page:

[

142

]
Edition: current; Page:

[

165

]
Edition: current; Page:

[

187

]
Edition: current; Page:

[

232

]
PART II.: VALUE AND PRICE.
The various methods by which labour may be rendered most productive, and the relation and dependence of the different kinds of industry being traced and exhibited in the preceding chapters, we proceed to the second division of our subject, or to an investigation of the laws which regulate the value and price of the products of industry.
In treating of the production of wealth, it was not necessary to inquire whether the labour required to appropriate and produce commodities, was the sole source and measure of their value; or whether it was not partly derived from other causes, and partly only from labour. But an acquaintance with the circumstances which determine the value of commodities, in the different stages of society, is necessary to enable us to ascertain, with due precision, the laws which regulate their distribution.
Edition: current; Page:

[

233

]
Edition: current; Page:

[

249

]
Edition: current; Page:

[

258

]
Edition: current; Page:

[

275

]
Edition: current; Page:

[

298

]
PART III.: DISTRIBUTION OF WEALTH.
The inhabitants of countries which have made any considerable progress in civilisation and the arts, may be divided into the three classes of labourers, landlords, and capitalists; and whatever be the condition of any society—whether rude or refined, rich or poor—every person belonging to it, who is not a pauper, or does not subsist on the bounty of others, may be reckoned in one or other of these classes. They divide amongst them all the wealth of the community. Public functionaries of all sorts, and the various individuals engaged in what are called liberal or learned professions, exchange their services for valuable considerations. The whole subsistence of such persons, so far as they depend upon their employments, is derived from wages; and they are as evidently labourers as if they handled a spade or held a plough. "Every man," says Paley, "has his work. The kind of work varies, and that is all the difference there is. A great deal of labour exists besides Edition: current; Page: [299] that of the hands; many species of industry besides bodily operation—equally necessary, requiring equal assiduity, more attention, more anxiety. It is not true, therefore, that men of elevated stations are exempted from work; it is only true that there is assigned to them work of a different kind: whether more easy or more pleasant may be questioned; but certainly not less wanted, nor less essential to the common good." Hence it is that the inquiry into the distribution of wealth among the different orders of the society, resolves itself into an investigation of the laws which regulate wages, rent, and profit, and of the best methods of providing for the exigencies of the poor, or of those who are unable to provide for themselves. We shall begin by endeavouring to lay before the reader a view of the circumstances which determine the wages of labour in different employments.
Edition: current; Page:

[

300

]
Edition: current; Page:

[

315

]
Edition: current; Page:

[

360

]
Edition: current; Page:

[

368

]
Edition: current; Page:

[

396

]
Edition: current; Page:

[

406

]
Edition: current; Page:

[

426

]