Donald S. Lutz, Colonial Origins of the American Constitution: A Documentary History [1998]
Purchase now from Liberty Fund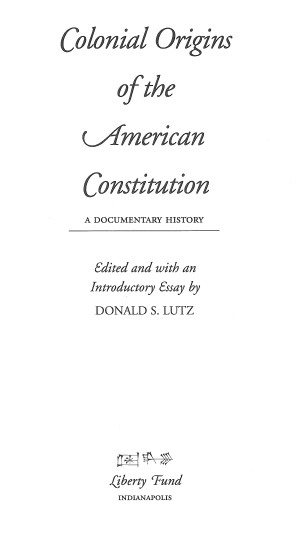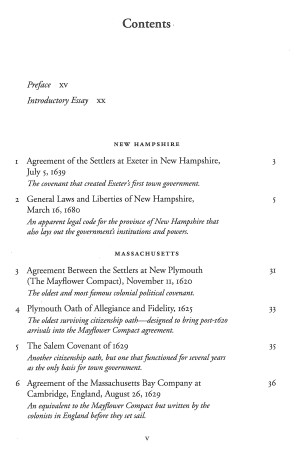 Available in the following formats:
EBook PDF
1.1 MB
This text-based PDF or EBook was created from the HTML version of this book and is part of the Portable Library of Liberty.
HTML
1.1 MB
This version has been converted from the original text. Every effort has been taken to translate the unique features of the printed book into the HTML medium.
Simplified HTML
1.1 MB
This is a simplifed HTML format, intended for screen readers and other limited-function browsers.
About this Title:
A collection of eighty documents which demonstrate how local government in colonial America was the seedbed of American constitutionalism. Most of these documents, commencing with the Agreement of the Settlers at Exeter in New Hampshire, July 5, 1639, and concluding with Joseph Galloway's Plan of Union, 1774—"the immediate precursor to the Articles of Confederation"—have never before been accessible to the general reader or available in a single volume.
Copyright information:
The copyright to this edition, in both print and electronic forms, is held by Liberty Fund, Inc.
Fair use statement:
This material is put online to further the educational goals of Liberty Fund, Inc. Unless otherwise stated in the Copyright Information section above, this material may be used freely for educational and academic purposes. It may not be used in any way for profit.
Table of Contents:
Edition: current; Page:

[

5

]
Edition: current; Page:

[

31

]
Edition: current; Page:

[

33

]
Edition: current; Page:

[

35

]
Edition: current; Page:

[

36

]
Edition: current; Page:

[

38

]
Edition: current; Page:

[

40

]
Edition: current; Page:

[

41

]
Edition: current; Page:

[

43

]
Edition: current; Page:

[

45

]
Edition: current; Page:

[

46

]
Edition: current; Page:

[

48

]
Edition: current; Page:

[

50

]
Edition: current; Page:

[

52

]
Edition: current; Page:

[

54

]
Edition: current; Page:

[

56

]
Edition: current; Page:

[

57

]
Edition: current; Page:

[

60

]
Edition: current; Page:

[

61

]
Edition: current; Page:

[

68

]
Edition: current; Page:

[

70

]
Edition: current; Page:

[

88

]
Edition: current; Page:

[

90

]
Edition: current; Page:

[

92

]
Edition: current; Page:

[

95

]
Edition: current; Page:

[

136

]
Edition: current; Page:

[

139

]
Edition: current; Page:

[

141

]
Edition: current; Page:

[

143

]
Edition: current; Page:

[

158

]
Edition: current; Page:

[

161

]
Edition: current; Page:

[

163

]
Edition: current; Page:

[

165

]
Edition: current; Page:

[

166

]
Edition: current; Page:

[

168

]
Edition: current; Page:

[

172

]
Edition: current; Page:

[

176

]
Edition: current; Page:

[

178

]
Edition: current; Page:

[

204

]
Edition: current; Page:

[

207

]
Edition: current; Page:

[

209

]
Edition: current; Page:

[

210

]
Edition: current; Page:

[

216

]
Edition: current; Page:

[

217

]
Edition: current; Page:

[

221

]
Edition: current; Page:

[

227

]
Edition: current; Page:

[

229

]
Edition: current; Page:

[

232

]
Edition: current; Page:

[

235

]
Edition: current; Page:

[

239

]
Edition: current; Page:

[

241

]
Edition: current; Page:

[

250

]
Edition: current; Page:

[

253

]
Edition: current; Page:

[

254

]
Edition: current; Page:

[

256

]
Edition: current; Page:

[

263

]
Edition: current; Page:

[

263

]
Edition: current; Page:

[

271

]
Edition: current; Page:

[

287

]
Edition: current; Page:

[

290

]
Edition: current; Page:

[

297

]
Edition: current; Page:

[

299

]
Edition: current; Page:

[

302

]
Edition: current; Page:

[

303

]
Edition: current; Page:

[

305

]
Edition: current; Page:

[

308

]
Edition: current; Page:

[

309

]
Edition: current; Page:

[

314

]
Edition: current; Page:

[

327

]
Edition: current; Page:

[

336

]
Edition: current; Page:

[

339

]
Edition: current; Page:

[

345

]