6: The Foundations of Voluntariness
If there is no inevitable public-goods dilemma, and the contention that there is one—a basic proposition on which hinges the super-structure of modern political thought—is a delusion, why is society organized as if private contracts were impotent to commit people to certain critical kinds of co-operation, and why does command play the role it does? For let it be admitted for the moment that the Hobbesian argument is a mere rationalization of a state of affairs brought about by causes wholly alien to it; that though Leviathan is sovereign, this is no confirmation of a theory claiming that people need and want it to be sovereign. But then could the "real" operative causes be only matters of historical coincidence, bringing about the centralization of power, as a different coincidence might have led to its decentralization? Or are there endemic features in society which explain that the monopoly of force within it, far from decaying in time, persists with no tendency to a reversal to the state of nature? Is not the durability and steady growth of the institutions that can be said to be logical consequences of the social contract sufficient proof of the impossibility of getting people to do their bit for the public good and to contribute voluntarily to what each could enjoy without contributing?
Putting it the other way round, if overcoming the conflict between private and public good is not the irreplaceable function one thought political institutions had to fulfil, have they any other? Or are they just a bad habit, a slack letting go of individual responsibility one had learnt to indulge in but could unlearn?
This is obviously asking too many large questions all at once. Priority goes to making the case that the type of social interaction where Edition: current; Page: [[134]] the enjoyment of a good by all depends on the contributions of only some is not generally a dilemma. It can have a positive or a negative issue in the state of nature. The positive issue—public provision of some of the good—depends, as it properly should, on there being sufficient advantage in providing it publicly, compared to the acquisition of private substitutes.
The least semblance of founding our argument on the decency, farsightedness, and considerateness of human nature must be avoided. It is often both possible and sensible to envisage solutions to the hardest of non-pure, conflictual co-ordination problems by recourse to people's better selves. If they are reasonable and can see the pettiness of immediate advantage, the superiority of looking "across the valley," beyond some paltry "local optimum," at the true optimum on the far side; if they have enough self-respect, good taste, and sociability not to exploit opportunities for free riding, they will not allow possible gains from loyal co-operation to be aborted by perverse incentives to act disloyally.
It may well be that man's better self is more robust than he is given credit for in the bleak theory of public goods. In particular, it may be the case that his better self becomes the more assertive, and his ability to sustain good co-operative solutions the more reliable, the more often it is appealed to by prevailing social arrangements (or, on the contrary, by the lack of arrangements to impose such solutions by command). This, of course, is the Tocqueville view of "politics as education," or "learning by doing," the formation of character to fit the role expected of it. Needless to say, it is not a particularly "upbeat" view, being well suited to support predictions about the corruption, hypertrophy, and decay of public life once a cumulative process of "institutions that build characters that build institutions" gets off on the wrong tack.
Now a theory which relies on the reasonableness and decency of men to solve fundamental social problems relies on a question of fact having a comforting answer. People might or might not be decent enough to master the problem in hand, but as a matter of empirical fact, we may find that they happen to be. If we do, all is well.
However, there is no empirical fact. Since the problem in hand is universally solved in a socio-contractual manner, i.e., by commandobedience, Edition: current; Page: [[135]] we can never test with respect to any really serious issue whether people could master it by spontaneous reasonableness and decency. There is no state of nature. Hence any rival to the "paradigm" of the public-goods dilemma owes it to itself to be no less austere and bleak in its view of human character and motivation, eschewing all reliance on our better selves lest it be open to the wholly proper objection that no solution to a vital problem is much good that does not withstand "selfishness" in motivation and single-mindedness in its pursuit.
"Selfishness" and the milder "self-interestedness" are much-misused terms in both positive and normative enquiry, in decision theory and ethics. Some authors do not hesitate to treat them as synonyms for rationality or for utility-maximization. If concepts could, the latter would wince and squirm for being taken for the former. The various distinctions between them, some elementary and others a little less so, need not detain us now, though we will not altogether avoid them before we are done; Chapter 8 attempts to sort out some of the tangle. For the immediate purpose in hand, our approach will have all the austerity and bleakness the least hopeful view of human nature may require, for we will restrict individual motivation by the conditions we sketched out and labelled "single-mindedness" in Chapter 3.
To recapitulate:
1.

Each player's choice is motivated by and only by his own prospective payoff.

2.

No player expects to play the game with the same players more than a known small number of times, and his play is uninfluenced by extra-game relations.
With their better selves thus held strictly in check, and without contract-enforcement being publicly provided, let people be confronted with the problem of actual or potential publicness in the provision of any good.
Exclusion
The conceptual framework used in restating the conventional approach to the public-goods dilemma in Chapter 3 can continue to serve here. We are concerned with non-self-renewing goods which Edition: current; Page: [[136]] need some resource contribution in order to be reproduced. The problem arises from a weak nexus, and in the limiting simplest case no nexus, between individual contribution to and benefit from the good. For any person, a good is non-excluded if he can increase his benefit (e.g., consume more) without increasing his contribution (e.g., pay no more), or decrease his contribution (e.g., shirk at work) without decreasing his benefit (e.g., draw the same pay). Every non-self-renewing good can be excluded from access by a given set of persons at some cost. The exclusion cost of a good can vary widely from the insignificant to the prohibitive. It is some function, both of its intrinsic characteristics and of institutional arrangements. The former depend, in turn, on an "engineering" or "logistical" kind of economics, encompassing factor-endowments and technologies for making the good and preventing access to it on some selective basis, while the latter depend mainly on social mores. It may be helpful to elucidate further these diverse influences.
Food and mass merchandise in cities are "excluded" by the walls and floor-plans of supermarkets, by checkout counters, cashiers, and electronic anti-theft tags. The cost of exclusion is what it is and nobody outside supermarket operators gives it much thought. The alternative to exclusion is to throw the door open to all comers (i.e., all humanity) or to a self-selected class of persons (all who take the trouble to come and visit the store). Enormous changes in social mores would be needed to make such non-exclusion work; existing mores are strongly for exclusion.
The use of a road or bridge may be excluded by toll-gates. The exclusion cost consists partly in access management—barriers, change-givers, attendants, etc.—and partly in the slowing down and periodic jamming of the traffic. If traffic is very light, the first kind of cost is very high; if it is heavy, the second kind is very high. In either extreme case for traffic density, there are strong arguments for building a public road or bridge with the required resources contributed in a manner, whatever it is, that is less closely linked to road-use than the payment of a toll by each vehicle as it passes. In the limit, it is built out of general revenue with an unknown incidence on particular road-users. In any event, both toll and no toll are generally compatible with our mores.
Edition: current; Page:

[

[137]

]
A children's playground in a public square is easy to exclude at the material cost of a fence and an attendant, yet the intangible cost is such that the control of access by the sale of entry tickets, and the building of the playground from anticipated receipts, are unthinkable. Contemporary mores would not tolerate a playground where rich children could play and poor ones look on. The total exclusion cost, including the offense to our sense of the fitness of things, would be high enough decisively to put the playground, if there is to be one at all, in the publicly provided class of goods. School is another, perhaps slightly weaker, case where the intangible "moral" cost to society of excluding children whose parents are too poor or too indifferent to pay, and who are not bright enough to win scholarships, suffices to put education in the category of public goods—even though the costs of exclusion in the narrower, tangible sense are quite low if not actually negative. (They could be said to be negative in case it is cheaper to achieve a "given improvement" in the mind of the average child if some of the unmotivated or dumb children, as well as children both unlucky in being born poor and lacking the family background favoring application and discipline, are filtered out by having to win scholarships or by their parents having to pay. Their not being dragged along, retarding the rest, would presumably provide a saving greater than the cost of collecting fees and running tests for scholarships. None the less, even no or negative exclusion cost is unlikely to sway education, or at least a residual core of it, out of the class of publicly provided goods.)
Health services have exclusion costs whose nature is not unlike those of education. Non-exclusion authorizes misgivings about not discouraging frivolous complaints and about treating, and postponing the death of, the hopelessly ill at a cost they or their families would not support. Given these by-products of non-exclusion in health care, exclusion may save rather than cost money, but this will no more prove a decisive reason for turning all health care back into a private good in the future than it was an obstacle to making most of it a public good in the first place. Many of the most important de facto public goods owe their publicness not at all to the "logistics" of exclusion, but to what we tend glibly to call, for want of a less question-begging word, "social choice."
Edition: current; Page:

[

[138]

]
Perhaps the arch-example of mores, of a social sense of the fitness and propriety of things as the dominant factor in exclusion, is the link between work and pay. Working together to some common purpose, to carry out interrelated tasks, can be conceived as an arrangement with some contractual features, where a co-operating group's pay bears some fixed relation to its total input of effort. The ultimate group, the only one of which this is always rigorously true, is all humanity. For any smaller group there are, by definition, individuals or other groups outside it at whose expense our group can, under the right circumstances, free ride or who can, in turn, free ride at the group's expense. Nevertheless, there are market disciplines of greater or lesser strictness which keep the pay received and the work done by a co-operative group as a whole—such as a firm, a partnership, a workshop, etc.—roughly in line with its total marginal product.
No such market disciplines operate inside the group. The marginal product of an individual within a team may not be measurable, or it may be offensive to measure it. Often, individual members of it share and share alike, or in proportions depending on seniority or other criteria not directly dependent on individual contributions. Everyone is deemed to have given an implicit promise to do his bit. The reliability of these promises is a public good. Each team member benefits from the promise-keeping of the others without having to keep his own, for as long as he shirks decorously and does not defy appearances, his pay will continue. Exclusion—no pay for no work, less pay for less work—depends on monitoring individual efforts by the team, which collectively bears the cost of individual shirking. (The result in equilibrium is the same whether the "team" is employed by a "firm," or is itself the "firm.") The cost of monitoring is only partly a matter of the logistics and engineering of performance-measurement and the deployment and motivation of supervisors. My claim is that in the vast majority of cases of team effort these "objective" costs play no important part in the non-exclusion of the shirker. Weightier is Edition: current; Page: [[139]] the deterrent effect of the social niceties, the dislike of pettiness, the sheer embarrassment of looking over someone's shoulder, imputing to him less than wholly fair conduct, making invidious comparisons with mates, applying inegalitarian yardsticks leading to no less inegalitarian sanctions, and so forth. This is perhaps the main reason why pay structures depend so much on exogenous symbols like diplomas and degrees, or "objective" factors like seniority—distinctions among team members whose effect on value added is often debatable or even negative—while those undistinguished by such differentials get, within the limits of reasonableness and decency, equal pay for equal presence rather than equal pay for equal effort. It is the high "cost of exclusion" in this social, rather than engineering, sense that mainly makes the link between efforts and rewards within a team tenuous, and confers upon individual wages and salaries a degree of "publicness" which is largely ignored by public-goods theory.
Taking a continuum of "degrees of publicness," going from the wholly private to the wholly public, and imagining that the universe of goods can be arranged along this continuum in any manner we choose, two imaginary limiting cases mark either end. At one end, everything is obtained privately by contracts of exchange. Each person either gets what he wants by individually paying for it or finds himself excluded from access to it. The marginal cost of acquiring a unit of the good is generally not less than the marginal cost of producing and excluding it. This case underlies the classical liberal idea of social organization as a spontaneous market order which maximizes the probable material welfare of any randomly chosen person.
Edition: current; Page:

[

[140]

]
However, the elegance of the reasoning behind this idea of every benefit matched to a contribution by the market mechanism is marred by the Achilles heel (which classical liberals fully acknowledge) of some "irreducible minimum" domain of social choice dealing with the provision of public goods. They pertain to the rule of law, the protection of the realm, and, depending on the pragmatism of the particular version, to "essential public services," a "social safety-net," and certain positive and negative externalities which do not lend themselves to the assignment of negotiable "rights" and hence to market solutions.
These, then, comprise the legitimate functions of the state, and may constitute a loose definition of the "minimal" state. Their list is stipulative. It is in some fashion prior to, and not the product of, a "social-choice rule," least of all the type that aggregates preferences. (The exception is if the result of the aggregation is "fixed" in advance by an appropriate loading of preferences. There may, for instance, be a society with a distribution of preference profiles such that it will under no sensible aggregation rule declare to want more than certain "essential public services" or more than a wide-meshed, rudimentary "social safety-net." Nor would it call for enlarging the list of public goods in the quiet expectation of comfortable free rides on some of these goods. No doubt the weakest side of the classical liberal theory is that it seems to assume, Deus ex machina, the possibility and even the likelihood of a society which has such minimal public-goods preferences, or would have them but for the "demagogy" of "politicians.")
The opposite extreme of the continuum of publicness is also stipulative and normative, albeit in a more heroic and uncompromising fashion. The list of public goods does not spring from any Achilles heel, any principle of exception. Everything is provided publicly "to each according to his needs." Contribution is required "from each according to his ability." For any one person, there is no dependence whatever of the benefits he enjoys upon the contribution he makes. He can accede to enhanced conceptions of his needs; he can then consume correspondingly more and "culturally higher" goods at no marginal cost to himself. His contribution varies only with his ability, Edition: current; Page: [[141]] or his representation (including his possible concealment) of it. As two forces pull in opposite directions, to greater individual needs and smaller individual contributions, with no explicit "social choice rule" to reconcile the gigantic public-goods problem that this creates, the result must tend towards a chronic inconsistency at the collective level between too high consumption and too low production. Consistency is saved by the fortunate circumstance that the rule regulating benefits and the other rule regulating contributions operate outside time and space, in the "realm of abundance." Exclusion is happily irrelevant and the socially painful exclusion cost of treating goods as "commodities" and subjecting them to the cash nexus need not be borne.
Anything between these two Platonic ideals of privateness and publicness is, of course, a "mix," a distribution across the spectrum of publicness in some pattern. It might look tempting to seek the determinants of the pattern in marginal equivalences between the cost of providing each good publicly and the cost of production and exclusion of the same good provided privately. Moreover, since for many goods there would be no marginal equivalence and some would be provided only publicly, others only privately, explaining the respective lists of goods and their outputs would have to run in terms of production and exclusion-cost functions of the private substitutes of the public goods, with due allowance for the elasticities of substitution of each for every other. (Every good is, of course, a substitute for every other to some extent.)
Pushing the reasoning a little, it becomes evident quickly enough that, as is to be expected, the price and output of every good depends on those of every other, both private, public, and in between (e.g., "subsidized"). From this it is only a step to defining that "mix" of publicly provided and market exchange goods which is efficient and welfare-maximizing, given the production possibilities, individual preferences, the method of their aggregation, and the distribution of income. This step, I think, should be firmly resisted if only for the reason that any mix, from the wholly public to the wholly market, can be defined as the welfare-maximizing one if we impute such (tangible and intangible) exclusion costs as will make that particular mix come out as the result. Provided all exclusion costs are high enough, a pure Edition: current; Page: [[142]] socialist regime, with everything provided publicly and no production for market exchange, is the most efficient one. Since the exclusion cost is not "known," but is "revealed" by social choice, there is nothing to stop us from imputing that value to it which makes it worth while publicly to provide the publicly provided good; in fact, no other imputation seems possible. Any mix is the most efficient one by virtue of the tautological nature of exclusion costs.
Though it is only a little less vulnerable to this type of critique, we will address a more modest objective. Instead of seeking to define the equilibrium pattern of public and exchange goods that would be efficient and hence rational for society to choose and force its members to contribute to, we will first exclude social choice; we will reason in a state-of-nature context, devoid of any rule whereby non-unanimous decisions become binding on both consenting and dissenting members. We will then suppose that on an ideal Day One, the day of allocating productive resources to alternative uses for a number of succeeding days, an indefinite number of projects are suggested, each for publicly providing a quantity of a certain good for a given non-excluded group of persons. Prospective beneficiary members of the group own equal shares of available productive resources and are free to contribute or not to each project, chosen singly. The question to answer is: what conditions must such a project fulfil in order to be successfully launched? The conventional social-contract answer, of course, is that since any such project has the essential characteristics of a public-goods dilemma, voluntary contribution (on the assumptions of single-mindedness, which is our agreed platform) is irrational, hence the conditions of success cannot be found within the rational-choice "paradigm." It is this conventional answer we seek to replace with a more general one.
Free Riders or Suckers All
Let us take it that a successful project of public provision for the group N has N beneficiaries, of whom k (the "suckers") contribute and the remaining N − k (the "free riders") do not. Though we will be resorting to this simple Manichaean distinction, it is in fact too easy and obscures the continuity of shades in social roles; even if we Edition: current; Page: [[143]] will make no direct use of it in the analytical part of the argument, this continuity is important and should have a place in the backs of our minds as we go on. Except in limiting cases, which are not easy to realize, being a sucker may be no total loss; nor is being a free rider necessarily a total "getting away with it." If a person's contribution to a project of public provision and his consumption of the publicly provided good are both variable, it is possible to move towards more and more perfect free-rider status (a) by contributing less, (b) by consuming more, or (c) by some of both. Conversely, the status of absolute sucker is approached via (a) a higher contribution, (b) lesser use of the publicly provided good, or (c) both.
A person who, starting from one type of status, keeps adjusting his contribution or his consumption or both towards the other will "flip" at some point, changing over from sucker to free rider or vice versa. The thin conceptual line separating the two, which he crosses in effecting this passage, is the "locus of fairness." It is a set of "fair" combinations of contribution and benefit. There are infinitely many such combinations, and selecting the set of "fair" ones in general, let alone applied to the circumstances of a particular rich or poor, young or old, healthy or ill person, is a problem in what we might call "moral accountancy." Evidently, it can have as many solutions as there are moral accountants.
There are literally countless criteria for telling those who are abused (contribute too much, given the benefits they derive) from those who abuse them (benefit too much, given what they contribute). The hypothetical occupier of the locus of fairness, who neither abuses nor is abused, may be rare or non-existent; on either side of him there are all shades and degrees of suckers and free riders. The contrary would be curious. For private exchange is so designed that contribution and benefit should be balanced individually, while in public provision they are balanced globally for a group, and neither can nor are intended to be matched for each person. Some may just happen to come off fairly, or none may; all others are treated either too well or not well enough.
The absence of any mechanism that could keep individually adjusting contributions and benefits to each other means that by most criteria and most of the time a scheme of public provision will validly Edition: current; Page: [[144]] be judged redistributive, more or less heavily taking from some and giving to others; if by a fluke a criterion were found that momentarily saved this from being the case, in a moving environment a different criterion would be required a moment later. Not all who judge a scheme redistributive would also judge it unfair. The notion of fairness is shapeless enough to fit a scheme both because it is and because it is not redistributive. Nevertheless, the mechanism of public provision is such as to keep provoking the making of these judgments, whichever way they fall out. The burden of the argument is that "free rider" and "sucker" are, if looked at closely, more ubiquitous social roles than we tend to imply in ordinary discourse. Having said this, and continuing to bear it in mind, for practical purposes one must not push relativism and moral accountancy all the way. In arguing the rationality of a course of action—to contribute or not to a project of public provision—one needs identifiable "payoffs," rather than a multiplicity of shades of moral judgments upon outcomes that shade imperceptibly into one another.
In simplifying, we will use symbols denoting the following meanings:
x
good available in and for market exchange (x1, x2: quantities of x);
y
good available by public provision to non-excluded persons (y1: quantity of y);
N
a group of N non-excluded persons who all share equally in the benefit if the good y is provided. No non-N benefits;
k
a subgroup of k persons in N who all contribute equally to the total cost of publicly providing y1;
ψ
the contribution of each person in k; "subscription";

k̄

the threshold value that k must attain at a given ex ante ψ for the project of publicly providing y1 to be successful; k <

k̄

→ y = 0. Ex post, k and

k̄

are equated in every successful project by the pro rata adjustment of subscriptions;
N > 1 }
k ≥

k̄

}
the good y is publicly provided, the good x is produced for exchange. We will call it the "mixed regime";
N = k
condition of "fairness";
N − k
subgroup of free riders in N;
k
subgroup of suckers in N if N − k > 0;
N = 1 →
only the good x is produced and every person is a one-man band. We will call it the "exchange regime."
While under command-obedience relations the contribution ψ would be a poll tax, in the state of nature it is a voluntary subscription. The rule of the "game" is that when a project for publicly providing y1 for the group N is put forward, subscriptions of ψ are invited. All who subscribe do so without knowing how many others are also subscribing. Knowing the nature of the project and ψ, however, all have some more or less precise estimate of k̄, the smallest number who must subscribe for the project to be successful. If it is undersubscribed (i.e., k < k̄), subscriptions are not called up and the "exchange regime" prevails; each person gets the private good x he produces, or the private goods produced outside the group N that he can exchange for x. Both x and all private goods exchanged for x are substitutes of y to varying degrees.
If the project for organizing y fails due to undersubscription, it can be reproposed, but only under significant penalty: for instance, a waiting-period of some length has to be accepted before the group N can try again to organize the provision of y. Without this condition, no risk would be attached to failure by undersubscription, for non-subscribers could costlessly repent and subscribe the morning after.
If the project is oversubscribed, ψ is reduced pro rata. An alternative rule to apply in this case would be to provide y1 + Δy of the good y, i.e., to organize public provision on a more lavish scale. However, we will not admit this alternative, both because we can define the condition of success with greater economy without it and because the provision of Δy can always be treated as an accessory project proposed subject to y1 and to be accepted or rejected on its merits, rather than as an overshooting of the target.
An asymmetry is implied in the rules. The gain of the free rider can be net, absolute: he can get something for nothing. The loss of Edition: current; Page: [[146]] the sucker, however, need never be total loss: he does not have to give something for nothing. If he contributes to public provision, he derives some benefit, albeit on unfair terms. He is exploited, but it is a priori compatible with sanity for him to prefer a "mixed regime" where he pays an unfair ψ for public provision to an "exchange regime" where he keeps ψ and devotes it to private goods. As is the habit of asymmetries, this particular one plays a central role in determining whether the public-goods "dilemma" is inherent or not in "publicness" and in the consequent loosening of the nexus between contribution and benefit.
Stacked, Interlocking, and Straddle Rankings
Having reconsidered the nature of the "payoffs" in public-goods provision, and bearing in mind that in reality they are not discrete outcomes, but shade into one another by degrees, we are reaching the heart of the matter, the ranking of the possible public-goods "payoffs" in the preference-orders of "single-minded" persons. At least in the present context (though not in every "game" context), it would be running away from the real questions to treat the rankings of payoffs as "given" by tastes or dispositions, much as we treat goods in consumer choice or states of affairs in social-choice theory—as matters about which non est disputandum. Instead, the rankings in the public-goods "game" must be endogenous, grounded in the analysis of the problem a rational person, who uses payoffs as instrumental goods, as means to "utility," must try and solve when confronted with the binary choice "subscribe" or "not subscribe."
Edition: current; Page:

[

[147]

]
In our N-person group, we are considering the choice of moves of a person A which will result in certain "payoffs" depending on how the other N A persons move; let these other persons be represented by B. B's move can be considered as A's probability estimate that any randomly chosen member in the group will move as B; the limiting value of this probability is 1, standing for A's certainty that the whole group moves as B does. In Figure 11, however, B can simply be the other player in a two-person game; the game serves as a reference framework only and is not meant to yield a solution.
The four different payoffs of the characteristic public-good game can be ranked in 24 different orders. Of these, 21 would be either downright nonsensical or would make sense only if the conditions of "single-mindedness" were violated. (For instance, A's preferring to pay for something rather than getting it for nothing is either nonsense or is not "single-minded" because it presupposes some concern for B getting the "sucker" payoff as a consequence, or seeks virtue associated with his own payoff, or reflects an aversion to the moral outcomes or social consequences of taking a certain payoff rather than a less favorable one.) Only three of the possible rank-orders are prima facie not insane and also single-minded. Each payoff in each of the three rankings is labelled below with A's move, "subscribe" or "not subscribe," of which it is a possible alternative outcome. Thus, s1 and s2 are the high and low payoffs to A from "subscribe," ns1 and ns2 the high and low payoffs from "not subscribe." In each ranking, then, there is a different linkage between the two high and the two low payoffs of the two respective moves:
Edition: current; Page:

[

[148]

]

In the first type of ranking, the two alternative payoffs that may result from not subscribing are "stacked" on top of the two payoffs that subscribing may produce. In the second ranking, the alternative pairs "interlock," not subscribing producing the best or third-best, subscribing the second-best and worst payoffs. The third ranking has the possible payoffs from not subscribing in best and worst place; these "straddle" those from subscribing, placed second- and third-best.
There is nothing further to be said at this stage about persons whose payoff ranking is stacked or interlocking (though some such people, motivated by other considerations than the preference-order of their public-goods payoffs, will come back on the scene in Chapter 8). Whatever B may do, an A with such payoff rankings will always value the payoff from not subscribing higher than the payoff from subscribing (his ns1 is higher than his s1; his ns2 is higher than his s2). His "dominant strategy" confirms the prediction of the public-goods dilemma: in public-goods situations where the level of contribution and the value of the publicly provided benefit in the "mixed regime" (i.e., some public and some private goods) are such as to engender this preference-ranking, A will not contribute voluntarily to public provision. Of course, this is merely an implication of ranking payoffs in a certain order. We do not know whether there are many or any persons with such preference-rankings, nor whether there are contribution-to-benefit relationships in the world that would make such rankings rationally compelling and the "not subscribe" strategy consequently dominant.
On the other hand, a great deal more can and needs to be said about the "straddle" ranking. It imposes no dominant strategy. Putting it less technically, there is no telling, from a mere look at the ranking, that the pair of payoffs to A from not subscribing stands higher or is worth more than the pair from subscribing, or vice versa, for any one of the two alternative moves B may make: "best" is paired Edition: current; Page: [[149]] with "worst," "second-best" with "third-best." Hence, voluntary subscription is at least an admissible solution; a group where the straddle ranking is significantly represented in the members' preferences may or may not publicly provide a good for itself, but at least its attempt to do so is not condemned by the logical interdiction laid down in the public-goods dilemma.
Our program adopted above, however, was not to treat preference for payoffs as falling from heaven like "tastes" for final (consumption) goods and "dispositions" to final, non-instrumental values. They must, to make sense, be derivable from instrumental rational-choice criteria applied to the fundamentals of public provision. Both subscription and non-subscription under such conditions should be the product of the "straddle" which imposes no dominant strategy, but allows one or the other.
The possibility of voluntary public provision under "single-minded" motivation depends on two successive tests:
1.

Are conditions such that the "straddle" is the rationally compelling preference ranking?

2.

Given the straddle ranking, are conditions such as to make "subscribe" a better move than "not subscribe"?
Of the two tests, the second is set up in Chapter 7. Before attempting the first, however, it will pay us to explore what beckons as a bold short-cut.
No Free Riders, No Suckers
If the rules of the "game" are what we say they are, its four payoffs arise out of the inequality
N ≥ k ≥ k̄ ≥ 1 (1)
for only if (1) holds can there be a "mixed regime" (N > 1, k ≥ k̄), with free riders and suckers (N − k ≠ 0), and with the possibility of Edition: current; Page: [[150]] reversion to an "exchange regime" (N = 1). But it should be a simple matter to fix ψ in such a way that
N = k̄ ≥ 1 (2)
excluding the possibility of the "free-rider" and "sucker" payoffs, and admitting only two alternatives, the "fair" mixed regime if all subscribe or the pure exchange regime if less than all do (the "group" then shrinks to a single person).
In plain English, what we are saying is that if in a community all members want a bridge over the river, the way to persuade each to contribute might be to fix the per caput contribution ψ low enough to make the money run just short of that needed for completing it from bank to bank unless all contribute.
Unfortunately, such an arrangement would be too easy to defeat. Any one group member who under such conditions is the first to declare that he will not contribute, and if need be lends his declaration added credibility by one of the many devices for "pre-committing" himself to a course of action (e.g., making an expensive side-bet, forfeiting something precious if he subscribes), has a very good chance of getting the others to subscribe his share in addition to their own, lest the whole project should be aborted for want of a relatively small sum. The same would be true, albeit a little less so each time, of the second declarer, and the third, and so forth. With each additional declarer, ψ is getting progressively higher, k̄ lower and N − k̄ (the greatest number of free riders a public-good project can support given that each of a critical minimum number k̄ of suckers is prepared to contribute ψ) growing, until the process stops at the point where suckers no longer find it worth while to accept a marginal increase in ψ.
Clearly, as ψ rises, it gets less and less attractive for a diminishing number of suckers to save the project from an increasing number of free riders, so that with other things equal the probability of at least k̄ voluntary subscriptions forthcoming must be falling. The per caput subscription that maximizes this probability, i.e., one the group or its organizers should choose if it would rather have the project succeed than fail, must thus be low enough to encourage subscription, yet high enough to provide a safety margin against the risk represented Edition: current; Page: [[151]] by attempted free riding, since if there is no room for it the latter can spoil all.
The notion of a "safety margin," however, is itself a little question-begging. We are not dealing with a given natural disposition of a population, the observed statistical frequency of free riders within a community, but with rational calculation that tips the scales in favor of free riding. If the fixing of ψ were a matter of public negotiation, any group member could try and negotiate it upwards by one of two tactics: he could either lie by claiming to be keener to pay than he was in the hope that others will be encouraged to follow his false lead ("suckering" them into paying a high enough ψ to let him free ride); or he could lie by claiming lack of interest, "pre-committing" himself not to pay ("suckering" the rest into compensating for this with a high enough ψ). With successful pursuit of these tactics producing a rising ψ, there would be both increasing resistance by the rest of the group to any further rise and an increasing probability that further attempts at widening the margin for free riding would defeat themselves by causing undersubscription, hence no public provision at all and nothing to ride free on.
The per caput subscription ψ eventually fixed for a given public-good project can be seen either as the outcome of trial and error, tâtonnement by negotiation, or as the product of a decision on behalf of the group (e.g., by its habitual or ad hoc "leadership," by a subgroup promoting the project, or by the "emergent consensus" of public opinion), reached as if it took the assumed outcome of hypothetical negotiation into account. In neither case may the actually chosen ψ be one that demonstrably maximizes the chance of an adequate number of subscriptions, for it cannot be demonstrated that there is a single particular ψ that satisfies this requirement. However, the chosen ψ will in any case be greater than the value that would satisfy the expression (2) above (i.e., that would exclude all possibility of free riding). The "short-cut to fairness" under voluntariness is not feasible.
Finally, any negotiation, or any probability judgment about what the negotiation would yield if it took place, whose effect is to determine what shall be the admissible number of free riders consistent with an adequate level of voluntary contribution by the rest, presupposes Edition: current; Page: [[152]] that the per caput subscription ψ is naturally variable (for if ψ is fixed and the total cost of public provision is also fixed, there is no room for negotiating about the admissible number of free riders). This is clearly the case with variable sums of money or variable hours of labor; there are, however, important public-goods problems where the individual contribution is naturally fixed. If a group attempted to secure for its members such "moral public goods" as reliance on promises, contract compliance, the safety of unguarded property, trust in unmarried girls being virgins and married ones faithful, a person could either contribute or not: little would be added to the public's trust in virtue by respecting some contracts, not stealing all unguarded property, telling the truth often, keeping faith now and then, and being virgin a little. Arguably, only the full exercise of such virtues by enough members of a community will really provide the respective moral goods as public goods, to be relied on by all.
Whether the uniform contribution promised by each subscriber is a decision-variable or a natural fact of life, for voluntariness it must be such as to deny the certainty that anyone's subscription to contribute is, or is not, required for making up the decisive number of subscribers. "Certain to be required" allows easy blackmail; "certain not to be required" leaves no reason to contribute. The straddle ordering produces no interesting result in a non-stochastic environment; only uncertainty makes it come into its own.
The Straddle Ranking: A Necessary Condition
1. "Free riding," ranked highest, is impossible to beat or to match. None of the other three payoffs can possibly be as favorable (provided the player is "single-minded").
2. The "fair" mixed regime, ranked second-best, is superior to "sucker" by virtue of their respective definitions; under the former, a person gets more for the same, or as much for less, than under the latter. "Sucker" gets the mixed regime at unfair odds, which is implied to be worse than getting it at fair ones.
3. The "fair" mixed regime is superior to the market-exchange regime by virtue of the hypothesis that there is a public-goods problem. If it were not, the person whose preferences we are considering would Edition: current; Page: [[153]] never be prepared to devote any of his resources to obtain public provision of a given good on "fair" terms in preference to getting substitutes in market exchange, no matter how many or how few others of his group were willing to devote theirs to it; the question of how to get the voluntary co-operation of others would not arise if it were not desired.
4. The remaining piece needed for justifying the straddle is to establish that under certain conditions being a "sucker" is superior to having the exchange regime.
As the public good is, by definition, to be provided for a whole group, the latter is the proper starting-point. From the group we will have to find our way back to the individual member who is the sole master over the way he values outcomes. We want to end up knowing whether (assuming these were the only two outcomes to choose from) he would rather contribute to public provision on unfair terms, or opt for an exchange regime where he got what he paid for.
One may feel free to regard the group N as homogeneous in having some common interest in the public good y. From here, we will take it that there is a utility function U (x, y) such that as U increases, at least some person in N feels better off and none feels worse off. Moreover, we will treat U as a cardinal index number, as if it were, save for its dimensionality, the utility of a representative member of N. We define the mixed regime m, the exchange regime e, and the conditions of desired publicness of y:
U (x1, y1) ≡ Um
U (x2, 0) ≡ Ue
U (x1, y1) > U (x2, 0) (1)
U (x1, y1 − dy1) = U (x2, 0) (2)
A weaker alternative to condition (2) would be to assume that the marginal utility of the public good increases steeply up to some threshold quantity and diminishes steeply past that threshold. This conveys, less rigidly than condition (2), that the public good has a critical supply; Edition: current; Page: [[154]] less of it causes crowdedness and jeopardizes non-exclusion, more produces questionable additional benefit.
The sole resource available and needed to produce either good is C, the production function is C (x, y), and the resource budget at the disposal of and shared equally by all in N is C̄. We assume:
C (x1, y1) = C (x2, 0) = C̄
When in a mixed regime y1 is produced, the cost of x1 is cx1, hence the cost of publicly providing y1 is C̄ − cx1. To establish the utility dimension:
Ue = C̄
The hypothesis that there is a public-goods problem to be solved implies:



The hypothesis can be interpreted intuitively: if the group N had a collective mind, it would be "collectively rational" for it to opt for the mixed regime and produce x1, y1. However, since we take it that N has no collective mind, whether this will be done is presumed to be decided by separate individual minds.
While all N persons share equally in the benefit Um and in the cost of the exchange good cx1, only a subset of k persons in N share the cost of the public good C̄ − cx1. It is "collectively rational" for the subgroup k to contribute C − cx1 if their portion k/N of the total benefit that accrues to the whole group exceeds the cost they alone bear:



alternatively:



The inequality (2) expressed the case of general dilution. Whatever the dilution factor k/N, it is "collectively rational" for the subgroup k to Edition: current; Page: [[155]] contribute if the dilution is at least offset by the cost-benefit relationship which I will (very loosely) baptize the "productivity of publicness" factor Um Ue/C cx1. (The "productivity of privateness" is unity, for it is the numéraire or yardstick.) A low dilution-factor may permit toleration of a relatively modest productivity of publicness and vice versa.
A different way of putting it is that if the advantage of providing a good publicly rather than getting by with privately exchanged substitutes is not very great, a high proportion of the beneficiary community must share in the cost if each contributor is not to be worse off than in the exchange regime. The opposite, of course, is the case when providing the public good is so advantageous that it would be preferable even for a small proportion of the community to contribute, and to carry a large proportion of free riders, rather than make do with the exchange regime.
Though these are statements of the obvious, they help to drive home the point that whether public provision is "collectively rational" for a subgroup of "suckers" (voluntary contributors) depends on two ratios: one reflects the "productivity of publicness," the other the general dilution factor k/N, showing the fraction the contributors get out of the whole benefit accruing to the non-excluded group due to their contribution. Intuitively, one may see the dilution-factor as the measure of the handicap inflicted by non-exclusion upon the attractiveness of contributing. (With exclusion, there is of course no dilution; only contributors benefit and neither suckers nor free riders exist.) The handicap of dilution must be offset by what I call, for lack of a less objectionable term, the extra "productivity of publicness." The greater is the latter, the more dilution by free riding a project of public provision can bear and still remain better for the body of "suckers," taken together, than the exchange regime.
The two ratios combined must be not less than unity. This is a necessary condition for any member of the group N to accept playing the role of sucker (i.e., staying in the subgroup k) in the public-goods situation described by inequality (2) above, if the sole alternative is to have the exchange regime. Whether it is a sufficient condition is an open question; we will consider it presently. Meanwhile, two implications of the necessary condition are worth pointing out.
Edition: current; Page:

[

[156]

]
1. Voluntariness of contribution introduces a selection mechanism for sorting out attractive from unattractive projects of public provision. While many or all may be deserving for one reason or another, only those stand a reasonable chance of spontaneous realization whose publicness confers upon the group concerned a substantial additional benefit compared to non-public substitutes obtainable under an exchange regime. The selection mechanism implied by the combined "productivity-and-dilution" ratio in inequality (2) would screen out frivolous projects and somebody's mere good ideas. No comparable screening mechanism operates under command-obedience relations.
2. The absolute size of the group is not directly relevant to voluntary contribution being rational (in the sense of being an admissible, non-dominated strategy); it is not N but k/N that matters. There is a type of "parochial" motivation (cf. Chapter 8, p. 211) under which k/N may, in turn, be influenced by N. But the reason why this may be so does not lie in any straightforward contribution-benefit calculus.
The Straddle Ranking: A Sufficient Condition
Assuming for simplicity that members of a subgroup bear equal costs and enjoy equal benefits, unless the necessary condition for a subgroup of "suckers" to be better off when contributing to a mixed regime than having a pure exchange regime is satisfied, it cannot be preferable for an individual to be part of the subgroup. The necessary condition for k and for any individual in k is the same. However, this is not sufficient to make the individual actually prefer being in the subgroup.
In looking into reasons justifying a preference, we must bear in mind that such an enquiry is subjecting the individual to an artificial thought-experiment. He is not being asked whether he would wish to be one of his group's suckers, or would rather not subscribe given the combined chance of free riding (if enough others subscribe), or the Edition: current; Page: [[157]] exchange regime (if they do not). He must instead close his mind to the two major payoffs—free riding and the fair mixed regime—and decide which of the two minor payoffs—sucker and the exchange regime—he would rather have if the more attractive major payoffs were somehow excluded. The problem he must solve in deciding what is sensible for him to prefer is perhaps best located by "bracketing" it with ranging shots, i.e., with limiting special cases.
One such limiting case is "no dilution." Let y1 in the "mixed regime" be a good to which all must contribute or else none of it will be provided. A police cordon where all must firmly link arms, traffic which will only flow if all drive on the same side, a shared secret that all must keep, look like being such goods; there are others of which "all or none" is not literally true but a good enough approximation. The contribution of each member of the group being required for the entire benefit to accrue, and the failure of one spoiling it for all, any one individual's contribution bears the same proportion to his own benefit resulting from it as the total contribution bears to the total benefit. There is no dilution, and k/N in the general inequality (2) becomes N/N, i.e., unity. From (2), an individual will prefer to contribute to such a good provided:



This is the same condition as for the "collective rationality" of the whole group. It is also the condition for the case where N = 1, the one-man band. Contribution is both collectively and individually preferable to the exchange regime as long as the "productivity of publicness" is greater than that of "privateness," i.e., of the exchange regime used as the yardstick. (Evidently, a one-man band may find it impossible to contribute at all by himself, since public provision has an implicit scale aspect.) If the concept of an efficient or "socially optimal" scale of public provision were to be admitted as meaningful despite the attendant problem of moving from a voluntary to an involuntary distribution of the burden of required contributions, it might be said that the socially optimal scale is reached where the diminishing "productivity of publicness" reaches unity.
In another special case, let y1 be not a man-made, but a God-given Edition: current; Page: [[158]] public good, such as daylight at noon. An individual's attempted contribution to it would be totally wasted: lighting his candle would not make the day any more luminous. There would be "infinite dilution," and it would be better for the individual to contribute only if:



—a silly condition.
Finally, take the case of what passes for archetypal and figures as an unstated assumption in most orthodox discussions of public-goods problems. Justifications of taxation and treatments of "publicness" or "collective action" which demonstrate the quasi-impossibility of voluntary contribution usually contain this unstated assumption. For short, I will call it the case of "conventional dilution." It postulates that since N Edition: current; Page: [[159]] share equally, the part a contributor can hope to capture for himself out of the increase in group benefit due to his own contribution corresponds to 1/N, i.e., the reciprocal of the size of the group. The general dilution factor k/N takes the value 1/N and the sufficient condition for "sucker" being individually better than "exchange regime" is:



This, of course, is an almost impossibly demanding condition. Significantly, as k/N turns into 1/N, the numerator becomes constant and the denominator alone remains variable. The dilution becomes directly and solely dependent on N, the absolute size of the group. This must have been the intuitive spring of the belief that while voluntary contribution by rational persons is wholly unlikely, it is a little less unlikely in small than in large groups. But in the context this is hardly more instructive than to find that while pigs are wholly unlikely to fly, they are a little less unlikely to outfly woodcocks than eagles. Once they are cast as pigs, it seems pointless to determine whom they might outfly. If they see the effect of their own contribution on their own share in benefits as in (2c), circumstances must be quite extraordinary for it to seem better to them to act the sucker. The straddle ranking is then a freakish rarity.
The unstated assumption which turns potential contributors into pigs who won't fly is now ready to break surface. In "no dilution" (2a), the "marginal product" due to any one contribution is equal to the total product, for the withdrawal of any single contribution would spoil or abort the public good altogether: the group benefit Um Ue would disappear. In "infinite dilution" (2b), the "marginal product" due to any one contribution is nil. The public good is there regardless of whether anyone contributes. In "conventional dilution" (2c), the marginal Edition: current; Page: [[160]] product due to one more contribution is no higher than the average product per contributor. This is because the public good in question is continuously divisible and can be increased or decreased by driblets. Each contribution to its production is alone decisive for an increment, independently of other contributions. The ith contribution is solely responsible for the ith increment and only for that increment. No contribution is pivotal or decisive for the whole good or any large lump of it. With k contributors, withdrawal of one would reduce the total product or group benefit by no more than the factor 1 /k, and the reduction in the withdrawing ex-contributor's own benefit would, of course, be only the 1/N part of this, presumably small, reduction. Under almost no conceivable circumstances would it pay him to make the contribution.
Once it is made explicit, the assumption of perfect or near-perfect divisibility of the public good and the consequent irrelevance of its scale and of the number of contributions to it, with each contributor adding the average product per head, looks a quite special one. I should certainly not wish to build the "logic of collective action" upon it.
Edition: current; Page:

[

[161]

]
The relevance of scale seems to be inherent in the notion of publicness. In a subsequent section (Chapter 7, 170) the case for regarding the scale of supply of publicly provided goods under given "cultural" conditions as being determined by the size of the beneficiary group is argued in detail. In the formal analysis of the present chapter, one of the conditions defining the public goods problem (condition 2) is a threshold size of the public good y1: withdrawal of dy1 from it would render the whole useless. This strong condition evokes the bridge spanning the river from bank to bank: pinching off even a short length would leave a useless, incomplete bridge. Less intransigent threshold or indivisibility conditions might well be more realistic, but at all events dimensionality seems to me inseparable from the very concept of publicness. Given the size and character of the community, there are few goods one can offer to each and every member of it for free in driblets, for doing so would make a mockery of non-exclusion unless enough driblets were offered to add up to a critical total.
Be that as it may, the rules of the "game" that help to define the general dilution factor k/N in inequality (2) above provide that when a project is proposed to a group involving the public provision of the good Edition: current; Page: [[162]] y1, there must be inferior voluntary contributors, each subscribing ψ k ≥ k̄, for it to go ahead; if undersubscribed, nothing happens. Assuming it goes ahead, there are k suckers and N − k free riders. The best of all worlds, of course, is to be in N − k, and when the "game" is played out any player may in fact gamble on his falling into the N − k subgroup where he can have his cake and eat it. Before the game is played, however, we need to know how he would rank two of its minor, least attractive possible "payoffs," assuming he could have only one or the other. Would he consider being a sucker more attractive than the exchange regime, where he gets to keep his subscription ψ and can exchange it for the private goods it will fetch?
If, miraculously, he could have the certain knowledge that he is one of N − k, he would by implication know that k others are subscribing anyway, hence his own subscription would add nothing to total group benefit. Its "marginal productivity" would be nil, and only the quite absurd inequality (2b) above would be a sufficient condition to make him prefer being a sucker to no purpose. Conversely, if equally miraculously he knew for certain that he is one of k (and k is not greater than k̄), his subscription (like that of any other suckers in k) would make all the difference between having the mixed regime and the corresponding group benefit, or having the exchange regime. The sufficient condition for his preference for "sucker" over "exchange regime" would then be the quite undemanding inequality (2a).
Admitting that he knows neither that he is one of N − k nor that he is one of k, what is it sensible for him to suppose, given that it is a priori no worse and could be better for him to order his possible payoffs on a reasoned basis—no matter how scant the evidence from which he must reason—than by drawing matchsticks?
If, arguing from the principle of there being insufficient reason to hold any other hypothesis for as likely (let alone more likely) to be true, he supposed that his chance of being one of the N − k subgroup was Edition: current; Page: [[163]] (N − k)/N and his chance of being one of the k subgroup was k/N, the sufficient condition for his preferring "sucker" would, of course, coincide with the necessary condition expressed by inequality (2).
Equiprobability II
The same form of equiprobability which in Chapter 5 was found to be necessary for a rational person to believe that bare majority rule will be best for him turns out to provide a pivotal condition for a rational and single-minded person willingly to accept the role of sucker. As in certain novels, "the resemblance is wholly coincidental," and if parallels are to be drawn it is perhaps fair to say that Equiprobability I, leading to preference for the barest majority rule, supposes ignorance about one's community, and unworldliness, of a taller order than Equiprobability II. The latter is a hypothesis envisaged by A that if a given project of public provision requires that the proportion of subscribers be k/N, the probability of any random B subscribing is also k/N. This hypothesis is purely a landmark, a formal point of reference to aid reasoning. It has no suggested truth-value, and it will be up to A to invest it with a different probability if there is some ground for doing so, depending on the nature of the public-goods project in question, and the information he has about the tastes, needs, and interests of the Bs. The equiprobability hypothesis is best seen as a reference-point in a probability spectrum which A would compare to the specific probability attaching to a given project (which may itself be less than, equal to, or greater than equiprobability), such comparisons supporting or not a reasoned preference for "sucker" over the private good of the exchange regime. It is not suggested that A does make this comparison, but that his conduct can be rationalized as if he did.
A does not in fact know what is best for him, unless he knows what the Bs will do; knowledge of what the Bs would do if they opted for what was best for them could, in a sense (the sense of "Nash equilibrium") define A's best, but he has to substitute probability judgments for the missing knowledge. For a start, let the Bs represent an independent variable he ignores. Suppose that they are all led, blindfolded, to a bowl full of black and white marbles, each B taking one. If Edition: current; Page: [[164]] he took black, he must subscribe to a given public project, if he took white, he must not. A is then made to choose a marble with his eyes open. Whether a black or white marble has the higher value for him depends on the distribution of the marbles held by the B s, which he must estimate as best he can if he wants to make a reasoned choice. Broadly speaking, if he thought most of the Bs held black marbles, he should take white, for his subscription would not be required for the project to be realized and for him to benefit from it. Conversely, if he thought too few Bs might be holding black marbles, he should choose black (and subscribe), for at worst nothing happens as a consequence and the pure exchange regime remains available, and at best the project is realized in a mixed regime.
Equiprobability II is the case where the bowl was filled with black and white marbles in the proportions k/N to (N − k)/N; by taking their marbles blindfolded, the Bs are led to the "mixed strategy" of subscribing with a probability p = k/N. For any value of p between 0 and k/N, the black marble is worth more to A than the white if his possible payoffs are ranked in the straddle order. "Subscribe," in other words, is his "dominant strategy" in the face of B's "mixed strategy" of subscribing from 0 to k times out of N; for if A subscribes his expected payoff is either "sucker" (the mixed regime on unfair terms) or "nothing happens," depending on how the Bs broke between k and 0, whilst if he does not subscribe both of his expected payoffs are "nothing happens" no matter how the Bs broke.
On the other hand, if p is not bounded by the range 0 < p < k/N but can assume any value 0 < p < 1, hence, also p > k/N, A has no dominant strategy. A merely ordinal straddle ranking of his payoffs which tells us which he prefers but not by how much does not fully Edition: current; Page: [[165]] define his best course of action. Its full definition calls for the cardinal utilities of A's payoffs and the fully numerical probability of the collective mixed strategy of the Bs. For the wheel to come full circle, one must then consider that instead of taking marbles blindfolded and acting on that, each B is really an A, trying to work out what he had best do in view of what everybody else might do. This, in turn, begs the question of the mutual consistency of people's expectations. We attempt to shed a little more light on these matters in Chapter 7.
7: Constructive Risk
The classic position in social-contract theory, public finance, and welfare economics has tended to be that public goods are defined by non-excludability and jointness of supply. It was not always very clear whether it was both characteristics together that conferred the quality of publicness on a good, or whether non-excludability was responsible for some and jointness for other aspects of publicness, each separately being capable of causing different, more or less intractable, problems. In any event, however, causation was to run from intrinsic characteristics of the good to its publicness.
On examination, few goods are found to have the peculiar properties that would make them intrinsically public. Even the notorious lighthouse whose signals every passing ship could see as well as every other regardless of whether it had paid any lighthouse dues, and whose usefulness to one ship was in no way diminished by another ship's also benefiting from it, could be argued out of the public realm and "privatized" with the aid of imaginary light-scramblers and unscramblers (the latter given only to ships that paid dues). Its "jointness" would fall victim to the progressive crowding of the sea-lanes in the area due to too many ships being induced to pass that way by the usefulness of the beacon's signal.
Our tactic in the last chapter with respect to exclusion was to reverse the order of causation. Instead of being public because it was non-excludable, a good became non-excluded because the "public" Edition: current; Page: [[167]] wanted it so. Its intrinsic non-excludability, if any (or more precisely its high exclusion cost in the "logistical," "engineering" sense), was one possible factor among others in the decision to provide it publicly for a given group. Its "social" and indeed "moral" exclusion cost may have been another. But, except for special cases, it rarely looks convincing to explain a group attempting to organize public provision of a good in terms of its high exclusion cost. Causation generally runs more easily the other way. There is no reason why any good, regardless of its intrinsic characteristics, should not be publicly provided if somebody—typically, though not at all necessarily, the members of the group to be included in the benefits of provision—will contribute the required resources. High enough exclusion cost made up of moral and social intangibles can always be imputed so as to make such an enterprise worth while in a trivial sense.
Subscription to the enterprise may or may not be non-trivially worth while in two senses. On criteria that are quite vulnerable to attack, it may be "collectively rational" for the group. On somewhat more impregnable grounds, it is individually rational if individuals, assumed to reach their decisions in certain ways and on certain grounds, prove it so by subscribing voluntarily. In the state of nature that is the scene of this part of the present book, it is this second sense of worthwhileness that concerns us. In formulating a sufficient condition for the straddle ordering of alternative payoffs in public provision, we have come some way towards a theory of voluntary, state-of-nature contribution to public goods. The rest of the way gets progressively easier as we go.
Having turned the classic public-goods argument upside down with respect to exclusion, we shall now expose jointness to the same treatment, to see to what extent it will lend itself to it, and with what consequences.
Edition: current; Page:

[

[168]

]
All or None
Jointness is the property of a good which enables one more person to use, consume, or enjoy it, rely on, or otherwise benefit from it without the consumption, reliance, benefit, etc. of any other person being thereby reduced. If there can be a man-made good in truly joint supply, it is either available or not. The idea of making more of it available contradicts the idea of its jointness. If such goods can have increments, they have them at a borderline where this jointness has ceased.
Contract-enforcement may illustrate jointness over a bounded range. All contracting parties benefit from enforceability and from the belief of others in it. This benefit in terms of greater compliance by all "believers" is undiminished as the same or additional parties conclude more contracts in reliance on it. However, as contracts proliferate, so do (though perhaps not in proportion) defaults and litigation. At some point, the apparatus of judging and enforcing judgment gets sufficiently clogged up, expensive, unreliable, and slow for contractual commitments to be taken less seriously and contracts no longer to "mean what they used to." Crowdedness of enforcement, in encouraging lax compliance or downright default, may perversely induce greater crowdedness. Everybody's benefit from reliance on the practice of contracting is impaired. The borderline of "jointness" has been passed and an increase in the supply of enforcement, or in that of non-public substitutes, becomes meaningful. Much the same may be true of civil security being, after a point, compromised and swamped by rising criminality, calling forth a rising supply of substitutes, self-help, private guards, vigilantism, and insurance.
On scrutiny, jointness turns out to be merely a special case of indivisibility, linked to it by "uncrowdedness." A one-lane bridge over a watercourse is in joint supply to all users as long as they are few. As traffic gets heavier, jointness stops; each additional vehicle reduces the average benefit derived by all, due to crowdedness, longer waiting, accidents, and so on. Broadening the bridge and adding a second lane, allowing vehicles to pass both ways, restores jointness. That this is the case is due solely to the impossibility of adjusting the bridge's capacity by driblets to traffic growth. The smallest practicable increment Edition: current; Page: [[169]] is one more lane and when that gets crowded, one more again, each lane recreating jointness over a certain range, and each further phase of traffic growth erasing it again.
The converse, however, is not always true. A good may come only in indivisible, fixed "lumps," yet it might never be uncrowded and each additional user would diminish the enjoyment of existing ones, no matter how few. A lovers' lane or any place where two is company and three is a crowd are cases in point, and so are less romantic "positional goods," privileges, and honors which may well be indivisible yet are always "crowded" to some extent the moment they have more than one occupant. Indivisibility alone permits jointness; but it does not entail it.
It is quite clear how the indivisibility of a good has the direct consequence that for any level of individual contribution to its cost some minimum number k must contribute in order to enable a group of N persons to benefit from it, while once k have contributed, the remaining N − k might as well not contribute unless to affect distributional issues of "fairness." To the extent that this is the case, the benefit that an individual can expect to derive from his own contribution to the group good is powerfully "leveraged." Instead of having (implicitly) to reckon with some patently destructive dilution factor (such as 1/N, the reciprocal of group size, which would be applicable under perfect divisibility of the public good and constant returns to contributions), it is typically a much more moderate one (k/N, the proportion of the group carrying the burden for the whole group) that an individual has to allow for when deciding whether it would pay him to volunteer for the role of sucker. This general dilution-factor functions as the measure of probability—in looser everyday parlance, the risk—that the failure of any randomly chosen member of the group to subscribe to the cost of the group good would cause the group good to fail.
Do we conclude, then, that wholly indivisible goods stand some, at first sight quite reasonable, chance of being publicly provided out of freely subscribed contributions, whereas the chance of wholly divisible goods being so provided is incomparably smaller (and for most practical purposes negligible)—so that for the latter sorts of goods "divided we fall" and the forbidding public-goods "dilemma" remains the appropriate paradigm?
Edition: current; Page:

[

[170]

]
What our scrutiny is about to show is that while this is formally quite true, it is also fairly unimportant, for once divisible goods "go public" they lose much of their divisibility. Publicness may well be caused by indivisibility in the engineering-logistic sense (the bridge that must not be shorter than the width of the river). Much of the social infrastructure is presumably public because it is to some degree indivisible. In the probably more general socio-economic sense, however, it is publicness that causes indivisibility. This is a logical consequence of the form of the problem: the size of the non-excluded public and its standards of expected provision being exogenous constants at least within limits, the supply dimension of the good, or at all events the threshold size it must at least have, is by implication fixed. Its physical characteristics, notably its eventual divisibility in terms of the logistics of production, do not really affect the issue.
The supply of bought meals is divisible in all kinds of ways. The number of restaurants, their tables, the number of meals, and the contents of each meal are all variable by fine increments. Let, however, a free mid-day meal be offered in the works canteen to all employees who choose to come; in a canteen under a certain size, with too few tables and meals below a conventional standard, there might be so much jostling, having to come very early or very late, bribing of waitresses, frustrated queueing, and grumbling by discontented employees that the meal, considered as an attempt at non-excluded provision, could not qualify as a public good. There is an unflattering analogy with animal husbandry: when feeding a herd of swine or cattle, there is a minimum length of trough, size of feed-lot, and quantity of grain or fodder, failing which the animals push, spill, and trample the feed into the mud; below a threshold size of supply there is no good.
It is of the essence of non-excluded, public provision that the familiar mechanisms for adjusting supply and demand to each other ex post are ruled out at least in intent. If they do creep back in (as they sometimes do in the form of "pull," side-deals, the bartering of favors, fiddling, queues and waiting lists, bribes, under-the-counter service, and, last but far from least, quasi-exclusion by the assignment of priorities), leading to the establishment of limited and controlled access according to merit, deserts, or some other criterion, in the presence of significant effects from this kind of demand-adjusting device provision of Edition: current; Page: [[171]] the good is not "non-excluded" and properly "public," though its privateness may be disguised by the figleaf of no overt price or low price.
At a given level and style of civilization, with habitual norms and practices in the use of private substitutes, a community is likely to have reasonably specific ideas about the standard that public provision of a good must meet. There is only so much truancy, juvenile delinquency, gang intimidation of teachers, and scholastic non-achievement that is still compatible with the concept of free public education for all. If the "supply of education," however one may contrive to put a measuring-rod against it, falls short of the community's notion of the minimum needed for coping, unplanned corrective mechanisms of diverse efficiency tend to be set in motion. Part of the non-excluded group—probably the richer and/or brighter—may "exclude itself" altogether, or form a separate "élite," inclusive group and informally annex the "good" schools. Another part—probably the dullest and/or those with the worst family backgrounds—may be effectively excluded and relegated to a separate publicly provided "good," consisting of a less ambitious or substandard education in the worst schools. Alternatively, contributions to the cost may be raised to lift the level of supply to (or above) the threshold consistent with publicness, or short-cuts and reforms tried to alter the nature of the good and fit its supply to the demand without raising the cost. In any case, a degree of indivisibility of the (physically no doubt easily divisible) good "education" will have been demonstrated: once it is made non-excluded, if all do not get it, none do, at least not in the intended sense and manner, and to the culturally determined standard of expectation.
Medical care, almost infinitely divisible in terms of its logistics, likewise tends to become indivisible to a degree once it is no longer meant to be rationed either by money or by medical discretion and Edition: current; Page: [[172]] sense of proportion. Unless there are enough doctors to cope with everyone's demands for attention more or less instantaneously, nobody is assured of proper attention, though many will in fact get it. Failing a publicly provided, free health service of a certain minimum dimension, there must be hidden (or perhaps even overt) exclusion mechanisms which screen out a part of the demand on some ground, satisfy frivolous complaints with placebos, and keep others at the bottom of waiting-lists. Literal non-exclusion, however, literally means all or none; all or none in turn means some, albeit standard-bound, fixed minimum size of supply; and that, of course, means indivisibility at least up to a threshold.
To anticipate a very reasonable objection, let us admit to two kinds of indivisibility. One is of the logistical sort: half a bridge is no bridge, a half-pair of boots is useless. Unless the whole cost of the natural unit of the good is found, it will not be usefully provided. This is "definite indivisibility," easy to perceive. The other kind is "vague indivisibility," where the useful unit of the good in public provision is hard to define, moot, a matter of appreciation. The exact dimensions (how large a room, how many tables and waitresses, how much crockery, how much food and what sort) the free meal in the works canteen must have to pass for "public," non-excluded in the intended meaning of non-exclusion, and given the standards of the group of people to be served, are not sharply drawn. The criterion the unit of the good must meet is adequacy, and the good is vaguely indivisible because "adequate" is a vague term. This gives rise to a paradox invoked by Hampton (1987). She uses the example of "a heap" of stones. Whether a given pile of stones is adequate to pass for a heap is not self-evident. Supposing that there is doubt about the matter and it is worth something to each of a group of individuals that the pile should be a heap. Would each or any of them take the trouble to add a stone to it? The conventional wisdom is that none would, each arguing that either the pile is already a heap as it is, or it is not going to become one thanks to just one more stone. In other words, the vagueness of the indivisibility of the desired heap deprives the kth contribution of the critical, pivotal character it has for "definitely indivisible" goods. Potential contributors would consequently lose the incentive provided by the probability that without them there might be fewer than k contributors, causing failure.
Edition: current; Page:

[

[173]

]
Their reasoning, however, would be irrational in the sense of being self-contradictory. For if they were asked whether they were certain that the pile is already a heap, and they said no, we could ask them whether it would become one for sure thanks to two more stones, or three more stones, etc., to n more stones. If there were no finite n stones, no matter how large n was, that would for sure make a heap (i.e., if only an infinitely large unit would constitute a "good" and have value for them), the problem could be dismissed as a false one. If, on the other hand, adding a finite number Δn stones would be agreed as "sure to make a heap" and Δn sure to unmake it, the person so interviewed would have admitted to some implicit probability distribution that a given stone within the range Δn to Δn is the stone that makes a pile a heap. Unless the person could reasonably account for a belief that there is a black hole, a discontinuity over some part of the probability range he has so defined, he would have reasoned as if he held that adding any stone up to the nth will add some increment of probability Δp to the truth of the statement that the pile is a heap; his expected benefit from contributing that stone would be the value to him of the heap times Δp. The converse would be true if he withdrew a stone.
While for a sharply outlined, "definitely indivisible" good there is a single number k denoting the number of contributions required for the good to be produced at all, for a fuzzily outlined, "vaguely indivisible" good this is replaced by a probability distribution of numbers whose mathematical expectation is ex hypothesi k. Passing from a sharp to a blurred outline of the indivisible good does not deprive the contributors of the incentive to contribute if they had any to start with. There is still a set of contributors whose marginal product equals the total product in such a way that if any member of the set withdrew his contribution the good would fail to be provided.
Under "definite indivisibility" this set is the subset k of the non-excluded population N, and the a priori probability that any random member of N is also a member of k is k/N. Under "vague indivisibility," the subset is itself a probability distribution around k. But this should prima facie not deter the individual from contributing, provided he would have done so if k had been a single number; his maximizing reasoning would simply become a little more sophisticated to reach an analogous conclusion. If the contributing subset needed to produce Edition: current; Page: [[174]] the good were in fact larger than k, his chance of being a necessary contributor would be pro tanto larger than k/N, and vice versa. Consequently, using in a maximizing calculation the certainty equivalent of the probability distribution of the subset of required contributors would entitle an individual to expect as good or as bad a result in terms of his benefit less his contribution as he would have got if he had calculated with the single number k. This result might have to be modified for utility-maximizing (rather than net-benefit-maximizing) individuals whose utility was not a linear function of their net benefit. If the latter were the case, they might attach more weight to the loss they would bring upon themselves by being the cause of the failure of the public good and of the falling back to the exchange regime than to the gain from not contributing to a good that was going to be produced anyway, since in reality it needed fewer contributors than the certainty equivalent of a distribution of more or less probable values of k. It may be that the presence of many such individuals in N would, on balance, bias the overall result in favor of contributing to "vaguely indivisible" public goods, but the bias seems to me too conjectural to insist upon.
It is hard to think of a conveniently divisible good which, once it is made freely available to some group of non-excluded persons, does not become "vaguely" indivisible, at least within limits broadly set by "culture" and custom. Good manners seem infinitely divisible, but unless a large enough proportion of a (locally defined) group subscribes to a code of good manners, reliance on it will not serve as a public good to the whole group, for that would require some threshold probability of anyone meeting with predictable good conduct on the part of anyone else (including, of course, strangers). That one more person in the group forgetting his manners, one more stroller spreading litter in the park, one more apprehended offender being let off with impunity should spoil the social amenities, the agreements of the park, or the security of unguarded property, so that one moment all benefit and the next none does, is admittedly a contrived construction Edition: current; Page: [[175]] to put on public goods. So is the role given to the last straw in breaking the camel's back.
Nevertheless, if a critical load of straw can break the camel's back, there must always be a critical nth straw to complete the critical load; the fact that we do not confidently assign a single number to stand for n, but implicitly treat it as a probability distribution, does not make the notions of criticalness and of thresholds any less valid. If all other straws are to be carried as planned, the possible loss of utility in case they cease to be carried, and the rising probability of the loss in fact being incurred as additional straws are added to the load, are conceptually perfectly clear. Applying the concept in practice may be a difficult calculation and blundering about it easy; but this is immaterial to questions of validity and may even be irrelevant to empirical issues as long as there are enough blunders either side of the "right" answer to cancel themselves out. The necessity to treat the problem in probabilistic terms, moreover, can be made into a virtue by harnessing the solution to the effect of risk.
Non-exclusion of a given group, brought up to certain standards of civilization, entails a certain, however indistinctly defined, threshold. Supply cannot be allowed to fall below the threshold if the good is to function as a public one. Hence, for its provision to be possible from the resources of the group, some minimum number of "subscriptions" to contribute is needed. The supply a lesser number of subscribers could provide would either be useless (the feed would be trampled into the mud, the bridge would not reach the other shore) or contrary to the intent of the enterprise in that it would bring about recourse to devices of covert exclusion and quasi-exclusion. The "lump" of the good corresponding to the critical threshold supply is, of course, liable to have the same handicap as the pile of stones that was a heap, or the load that would break the camel's back: it is hard to say for sure exactly how large it is. Evidence to support various hypotheses about it could come from experience, worldly wisdom, public debate, and public-goods lobby politics from the parish pump to the national level. Given the evidence, such as it is, it will be a probability distribution in people's heads and quite possibly a somewhat different one in each head—without this fact making a particular solution any more or less likely.
Edition: current; Page:

[

[176]

]
"Uncertainty"
We do not usually know for sure what is in people's heads. However, this is no licence for ascribing to them unexplained dispositions, propensities, and aversions which can be turned to support almost any claim concerning behavior. Attributing to people uncaused leanings, "animal spirits," and gut reactions is a rampant practice in situations involving uncertainty and "risky" choices, where choosing could be said to be rational if it seemed consistent with "probability of utility" comparisons among mutually exclusive outcomes (payoffs). There are two non-instrumental, non-derived, "final" propensities, in particular, that tend to be imputed to people in such situations, both confusing, or so I believe, because they reflect confused thought.
1. People deal in certain ways with known probabilities; they are supposed to deal differently with unknown probabilities (because they "dislike uncertainty," "refuse to make decisions on inadequate data," "prefer rational evaluation to blind plunging," etc.). In fact, almost anything they might do could be explained by and blamed on "uncertainty."
In this type of claim, there is first a confusion between frequency (or statistical probability) and the far more general concept of the (necessarily subjective) probability a person attaches to a hypothesis being true. It makes a certain sense to speak of a frequency as "known." If applicable to the hypothesis, a known frequency is one possible and perhaps the major element among many that a person may choose to consider as evidence when judging the probability that the hypothesis is in fact true. It is this probability, formed in the mind of the person concerned, on such evidence as he has, that is alone relevant to his reasons for and against his acting on the hypothesis. It is neither "known" nor "unknown"; these are quite inappropriate categories to apply to the probability of something being true.
"Unknown probability" (except in the frequency sense) is either an unintelligible linguistic absurdity or (more charitably) it is the symbolic Edition: current; Page: [[177]] expression of the refusal by a person to estimate the truth-value of a hypothesis. He may justify his refusal with the penury of evidence, his incompetence in getting any more of it, and in evaluating that which he has. All this is perfectly acceptable as long as judging the hypothesis is an inconsequential parlor-game he may elect to engage in or not, at no opportunity cost either way.
When, however, consequences affecting the person and involving benefits and costs (including forgone benefits and avoided costs) in the widest sense are inseparable both from acting and from not acting on a hypothesis of consequences, the alleged refusal to assign a probability to the hypothesis is either pretense and self-delusion—for by his choice of action or inaction the person has "revealed" that he was implicitly using the particular probability judgment that would have justified his choice—or a renunciation of the exigencies of rationality as a methodological assumption. In the latter case, the claim we make about "unknown probability" is, in reality, a claim that in certain situations otherwise rational persons try and run away from choices, start throwing tantrums, dig in their heels, or bury their head in the sand. This is not a claim one can contest, but nor is it one critics of probabilistic decision theory would own up to.
The other confusion is to treat certain changes in probability as quantitative, others as qualitative, by slipping in a more or less covert assumption of non-continuity. The claim that "uncertainty" makes for a wholly different behavioral world from "certainty" is of this sort. If the probability of a proposition being true is represented by a cardinal index running from 0 to 1, the Hegelian fallacy about a "change of quantity" becoming a "change of quality" would, in this context, be to argue that as the index rises from 0.9 to 1 something happens that is quite different in kind from the effect of its rising from 0.8 to 0.9. Edition: current; Page: [[178]] Likewise, a fall in the index from 0.1 to 0 is a very different matter from its decline from 0.2 to 0.1. In both the shift from 0.9 to 1 and from 0.1 to 0, "uncertainty" is replaced by "certainty," and the choice whose consequences are "uncertain" is "different in kind" from that whose (sole) consequence is certain. To say this is either an empty verbalism having no bearing on how we in fact try to make the best choices we can, or an escape into a realm of gratuitous assumptions about non-rational choices under which "anything goes," and for all one can tell there are no determinate solutions.
2. The other great unexplained propensity is not so much to switch behavior (e.g., from rational to irrational or from calculated to ritualistic and reflex-reactive), but to "switch maximands" while still pursuing maximization as the criterion of rational behavior in the face of "uncertainty." When the probabilities of a certain decision producing certain consequences or payoffs are either 1 or 0, at each limiting value (one consequence is certain, all others are excluded), the best decision is the one that maximizes utility. In neo-classical decision theory, this is still the best decision when the several probabilities of alternative consequences are distributed between 1 and 0, for the simple reason that utility is defined as that dependent variable of the payoffs (or consequences of decisions) which the decision is meant to maximize. Given the probabilities, the best decision "reveals" the respective utilities. (The converse is the case when it is the utilities that are given.) It can be said, for instance, that if a person would rather take 20 dollars than the even chance of 10 or 50 dollars, he reveals a utility function where the marginal utility of the payoff diminishes at a certain rate as the payoff increases. If it did not, we could not affirm that refusing the mathematically more than fair gamble was the best, "maximizing" decision. Colloquially, we can also say that the shape of the utility function reflects risk-aversion, prudence, a reluctance to gamble; these attitudes are the visible symptoms of the endeavor to maximize utility when it is declining at the margin.
In addition, however, one often encounters purported explanations of behavior which contend that while people may maximize utility Edition: current; Page: [[179]] under certainty (and, in certain versions, also in the face of statistically measurable risk), under "genuine uncertainty" they just do not (though what else they do is left unclear); or if they do, it is subject to constraints, boundaries, vetoes. Alternatively, they do not maximize utility but something else; they minimize "potential surprise," maximize the minimum outcome, minimize potential regret, anxiety, and so forth. Sometimes "uncertainty of the relevant probabilities" and "aversion to risk" are put forward as the reasons why some other maximand than utility should be assumed, and maximization of expected utility discarded, as the sufficient condition of rational decisions—as if expected utility-maximization were not expressly designed to encompass precisely these features of choice with uncertain consequences.
In sum, these propensities and special behavior-assumptions in the face of uncertainty are not complementary, but alternatives to expected utility-maximization. One cannot hold them and it at the same time. The reason for making this point firmly and at some length (though still far too briefly for a subject to which a book or a whole shelf of books could hardly do full justice) is that sticking to expected utility-maximization as the explanatory hypothesis imposes a salutary discipline on what can and cannot be advanced in a theory where all hinges on the participants' probability judgments of each other's actions. The core of such a theory is sketched in the next section.
A Spontaneous Solution through Risk
The straddle ranking of the four alternative payoffs that two strategies, "subscribe" and "not subscribe," may yield permits rational play without imposing a dominant strategy. Player A expects his best or his worst payoffs if he does not subscribe, and his second- or third-best if he does. Neither pair is a priori better under expected utility-maximization (though the inside pair would presumably be better, Edition: current; Page: [[180]] and subscribing always right, under the kind of risk-minimizing propensities discussed in the preceding section). Since the ranking alone does not enable the player to weigh the outside pair ("best or worst") against the inside pair ("second-best or third-best"), his choice between subscribing and not subscribing is at first blush indeterminate. Actual choice, of course, is always determinate in the trivial sense that it must have had sufficient cause, if only the fall of a spun coin. To restrict possible causes and shut out whimsy, we assume that the player seeks the strategy or move that will maximize his utility, or that he behaves near enough as if he did.
Each move is "risky" in that each involves some probability of a major and some other probability of a minor payoff. The expected utility of each move is the sum of the expected utilities of the major and the minor payoff. Such sums and their difference-comparisons are unintelligible if the payoffs themselves are comparable only in terms of better or worse, greater or smaller, i.e., in terms of their ranks in an ordering. A player's utility-maximizing choice with uncertain payoffs is conceptually intelligible only in terms of level-and-difference comparisons (cardinal utility) and fully numerical probabilities, though it need not be supposed that he must actually assign the numbers and perform the calculation to achieve a reasonably successful approximation to what he would, on longer reflection, identify as his best choice.
We denote the elements in A's choice as follows:
US
the expected utility of the "subscribe" strategy S to A;
s1
the utility of the "fair mixed regime" (major payoff);
s2
the utility of "sucker" (minor payoff);
UNS
the expected utility of the "not subscribe" strategy NS to A;
ns1
the utility of "free ride" (major payoff);
ns2
the utility of the "exchange regime" (minor payoff);
k/N
the proportion of "suckers" in the group needed for the mixed regime (k =

k̄

after adjustment of per caput subscriptions);
p
the probability that any randomly chosen member B subscribes;
p′
the probability of the "free ride" payoff.
Edition: current; Page:

[

[181]

]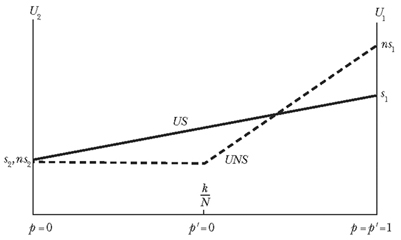 The expected utility US of the strategy S is the sum of the expected values of s2 and s1. Both vary directly with p. With p = 0 (no B is expected to subscribe) s1 has no expected value, while the value of s2 is its opportunity cost ns2, for the subscriber is sure to keep his subscription and resort to the exchange regime of private goods. As p increases, US rises pari passu. One can say either that this reflects a tiny but growing chance of the "fair mixed regime," or that "sucker" involves terms of diminishing unfairness. At a low p, US is mostly the sucker payoff; at a high p, it is mostly "fair mixed regime." When p = 1, US is s1, for the subscriber is sure of fair provision. Thus one can write:
US = (1 − p)s2 + ps1
The expected utility UNS of NS is likewise the sum of the expected values of ns2 and ns1. The nature of free riding is such as to require some contribution before there can be any free riding or, in probabilistic terms, p′ < p < 1. Where all Bs are expected to subscribe, A is sure of the free-rider payoff if he chooses not to subscribe: hence in the limit p′ = p = 1. Conversely, where "too few" Bs are expected to subscribe, A has little or no chance of the free-rider payoff, i.e., k/N> p > p′. In general terms:
p′ = f(k/N, p)
Edition: current; Page:

[

[182]

]
A specific form of this hypothesis is that p′ increases with the excess of p over k/N, rising from nil when p = k/N and converging on p when p = 1. This reflects the argument of Chapter 6, p. 165, and is reflected in Figure 12. However, any weaker hypothesis would suffice as long as it stipulated that p′ < p when p was low and p′ p when p was high—a condition which can be taken as axiomatic. Under any hypothesis about the determination of p′, the expected utility of the not-subscribe strategy NS is
UNS (1 − p′) ns2 + p′ns1
Expected utility-maximization by A is represented in Figure 12, where the utility of the minor and major payoffs is marked on the vertical axes U2 and U1, respectively, and p and p′ are marked on the horizontal axis. Where US is higher than UNS, it is better for A to subscribe, and vice versa.
Between 0 < p < k/N, A plays in what earlier (p. 164n.) we called a subsidiary part of the main game. If he subscribes, the chance of his and the Bs' subscriptions together reaching the critical threshold required for the mixed regime on "sucker" terms increases from 0 to 1 as p rises from 0 to k/N. Over this range, the expected utility UNS of the "not subscribe" strategy is supported only or mainly by the assured utility of ns2; "subscribe" dominates.
Opening up the probability range of the Bs subscribing all the way from 0 to 1 puts A in the generalized choice position of what we had called the main game. At low probabilities of the Bs subscribing, he is better off subscribing, at high probabilities he is better off going for the significant chance of ns1, free riding. UNS cuts US from below, some way to the right of the threshold value k/N of the probability of subscriptions. The weaker the hypothesis, the closer would come this inversion-point to k/N.
Once past the inversion-point, not only is it better not to subscribe, but the excess utility so secured keeps increasing as p tends towards unity. The greater is the probability of all Bs subscribing, the greater is A's incentive to try free riding, and vice versa. This accords with the intuitive interpretation of subscribing as buying the mixed regime on unfair terms for fear that on fairer terms it might not become available at all. The lesser the risk of this being the case, the lesser the point Edition: current; Page: [[183]] of paying to avoid it. The risk is "constructive" in that it reduces the discrepancy between what is "collectively" and individually rational.
All Cretans Are Not Liars
There is a central range of probabilities of the members of a group being prepared to contribute to a "mixed regime," i.e., to the public provision for the whole group of a certain good. Over this range the group is likely to break broadly two ways. A significant proportion are thought to accept being suckers, the remainder are expected to try their luck on free riding. A, whom we assume to hold these probabilistic judgments about his fellows, may go either way "depending on the numbers," i.e., depending on the utilities of his payoffs and the specific probability he attaches to each. For some values of these variable numbers, "subscribe" will maximize his expected utility. Spontaneous cooperation in associations and interest-groups, voluntary contributions to collective purposes, charity, carrying the burdens of leadership, honoring commitments, and respecting norms when it is inconvenient to do so can accordingly be consistent with single-minded utility-maximization, provided the "productivity of publicness" furnishes sufficient incentive. No recourse need be had to more varied mixed motivations, nor to assumptions about certain "games" being replayed, about informal sanctions, private enforcement, and "man's better nature." Not that there is anything wrong with such assumptions. In some ways, what is wrong is not to make them, for they are patently more realistic than snow-pure single-mindedness. However, a theory which can get by on the latter and needs none of the former has, I think, both some intrinsic interest (for it is widely believed that voluntary contribution is inexplicable on that basis alone) and could be helpful in assessing the effect of adding more realistic and less austere assumptions about motives. Some attempt to do that is made in Chapter 8.
For the present, however, the theory must also come to terms with itself outside the central range of probabilities. At the extremes, where we approach certainty of the fair mixed regime (all subscribe) or of the exchange regime (none subscribe), the logic of the straddle framework—and the coherence of the advice to be read off the diagram in Figure 12—comes under some strain. At values of p approaching Edition: current; Page: [[184]] unity, nearly all group members are expected to subscribe and the utility-maximizing move is to do the opposite. Does it really make sense for A to expect all or nearly all the Bs to act contrary to what, from where he stands, looks the best choice? Could the Bs be sufficiently different from him to explain their strange behavior? They cannot really be, for A is any member of the group chosen at random to play opposite the Bs; he is one of them and could swap roles with any randomly chosen B.
The apparent paradox would disappear if the Bs did not "subscribe" but were "taxed." There would then be perfect coherence between everybody contributing while his utility-maximizing move was not to contribute. Any (single-minded) reason to want to pay taxes, however strong or weak to start with, must fall victim to a very high probability that enough others are paying anyway and free riding on their contributions is assured. Taxes, however, are typically paid for reasons other than one's share in the public goods and services financed by one's own payment. Being socio-contractually commanded to pay can explain why all pay, though given that they do, none has any incentive to pay. In the uncoerced state of nature, however, both "all pay" and "none pays" are hopelessly self-contradictory. If all pay, none would, and if none pay, all would.
We seem to be caught in the paradox of the Cretan Liar. When he declares that all Cretans are liars, his lie is construed to mean that none are liars. However, in that case he, too, is telling the truth and all are liars. The solution of this paradox is to refuse to step into logic traps, dismissing them instead as figures of speech. (If the Cretan says that all Cretans are liars, only some are; some may be telling the truth and he may be one who does.) The same solution suggests itself for our state-of-nature public-provision problem: "all subscribe" or "none does"—and even the slightly weaker forms where nearly all do or hardly anyone does—are really figures of speech, for, taken literally, they destroy the stochastic environment with its "constructive" risk, which is an antecedent condition of the solution.
In order to see this, let us recall that the straddle ordering, with Edition: current; Page: [[185]] the minor payoff from "subscribing" ranked above the minor payoff from "not subscribing," was not one of our assumptions, a kind of given "taste about which there shall be no dispute." Instead, it was derived from calculating, single-minded instrumental rationality in the face of certain characteristics of a given public-goods problem. As such, it was very much open to "dispute." Broadly, the productivity of publicness had to offset the dilutive effect of publicness for "sucker" to be preferred. Dilution was a stochastic value, having to do with the probability of an individual being a part of the decisive subset of "suckers," who must carry the free-riding complement of the group in order for public provision for all to happen. The more this probability approaches 0 or 1, the harder it is to accept the straddle ranking in general and the "sucker" payoff in particular. Anyone holding an extreme expectation about his fellow group members, either that nearly all will or that hardly any will contribute, is cutting the ground under the hypothesis that would make it rational for him to rank the payoffs in the straddle order.
Inconsistent Expectations
Consideration of the Cretan Liar problem, placed in the context of private contribution–public benefit, helps to clarify the role of inconsistent expectations held by "players" in the straddle "game" about each other's likely conduct. The sole positive solution with mutually consistent expectations is one where k out of N players hold that the probability p of anyone else subscribing is k/N or less, hence it is preferable to subscribe, while N − k players hold that p is k/N or greater, hence it is better not to subscribe. (The strict division is not at p k/N, but at a somewhat higher probability, defined by the intersection of US and UNS in Figure 12, corresponding to somewhat more suckers and somewhat fewer free riders. It seems more natural to assume, however, that if members of a group formulate a probability about each other, it is in terms of the sucker–free rider distinction, i.e., the focal k/N.)
Mutual consistency is merely a landmark to assist reasoning. It happens to correspond to a positive solution (public provision will be carried out on the planned scale), but it is not a necessary condition of Edition: current; Page: [[186]] it. There is nothing in our scheme that would act upon individual probability-judgments to help make them mutually consistent. Inconsistent expectations can give rise to a positive solution without any absurdity being involved, as long as the inconsistency stops well short of the Cretan Liar paradox. If k or more members of N expect k or less to subscribe, public provision is likely to be successfully undertaken. Conversely, if k or more expect k or more to subscribe, the project is likely to fail due to undersubscription. There may well be opportunities for post-game adjustments, for trying again. But nothing suggests that positive solutions cannot arise out of mutually inconsistent expectations in the first place. Many probability-judgments can turn out to have been simply wrong and, for all we can tell, that may be the end of the matter, at least until another mixed regime to provide another good is placed on the agenda of a given group.
Appendix: Straddle or Chicken
Some of the key propositions and relationships I use in the arguments of Chapters 6 and 7, and some of my conclusions, have been anticipated in an important paper by Taylor and Ward, which came to my attention belatedly, when the text of the present book had already been completed. Acknowledgment of their precedence, and a brief account of some of the divergences between our respective approaches, must therefore be accommodated in this appendix. (References to the Taylor and Ward paper are preceded by TW, to the present book by J.)
I
For TW, non-excludable and indivisible goods are public. For J, publicness is often a social decision, having little to do with the intrinsic characteristics (excludability and divisibility) of the good concerned. It is publicness (i.e., non-exclusion) that causes (or strongly contributes to) indivisibility, which is often more "social" than "technical."
TW warn that the traditional identification of the public-good problem with the prisoners' dilemma is largely groundless. Other Edition: current; Page: [[187]] game structures, and especially the game of chicken, correspond better to reality. The preference-ranking of possible public-goods payoffs in chicken is, from best to worst, "free ride," "public good," "sucker," and "private good," i.e., the alternative payoffs from contributing straddle the alternative payoffs from not contributing. Unlike in the prisoners' dilemma, contributing is not a dominated strategy: it may well be individually rational, utility-maximizing. The clinching argument against the realism of the preference-ordering that causes the prisoners' dilemma (TW, p. 354) is that only in chicken is free ride a feasible alternative. In a non-coerced, state-of-nature public-goods situation, both the prisoners'-dilemma-type and the assurance-game-type preference-ordering of the alternatives would imply that either nobody contributes or all do. Free riding would be impossible in either case. Since the solutions of many actual uncoerced public-goods interactions do include free riding, the preference ordering must place "sucker" above "private good" (CD DD), for otherwise the ordering would contradict the solution.
In the present book (Chapter 6), the corresponding straddle ordering is not inferred from actual solutions, but deduced from the positive effect of the extra utility of publicness and the negative effect of the dilution factor that obtains between an individual's contribution and the benefit that he personally derives from it. The preference order is a matter of rational calculus, with the straddle order being a consequence of the parameters having the right combined value. The nature of the parameters is such that they will tend to have the right value if public provision is sufficiently superior to the exchange regime of private substitutes.
II
Apart from the derivation of the preference-order by inference in TW, by deduction in J, the solutions of chicken and straddle, though similar, are reached by different types (or different "protocols") of interaction. In a two-person game of chicken, the player allowed to move first can, by not subscribing a contribution, put the other player in a position where his best option is to subscribe, the first player getting "free ride," the second "sucker." If there is no sequential rule, either Edition: current; Page: [[188]] player may try and pre-empt this bold strategy by committing himself in advance and beating the other player to not subscribing. This shifts the problem from the game to the pre-game. Considering that if both players were to commit themselves not to subscribe, the public good would not be provided, they may both settle for the less bold strategy. While "both pre-committing" and "neither pre-committing" are equilibria, they are not stable: each player would gain by deviating from the position provided the other maintains it. A co-ordinating contract would not normally be self-enforcing in chicken any more than it is in the prisoners' dilemma (although some self-enforcing tendency would arise in continuous or repeated interaction).
For three-person chicken games, TW show that pre-commitment by one player not to subscribe makes it certain that the other two will subscribe: they define (TW, p. 355) n-person chicken by the property that each player has an incentive to pre-commit himself not to subscribe. This, however, may not be a workable definition unless n is small enough for any one player's pre-committed strategy to represent a significant threat to others, capable of causing them to "chicken." For pre-commitment is not a good strategy in itself, but only through its probable effect on other players. It is by shifting the latter's strategy towards subscribing that the former profits from his own pre-commitment, which earns him the top payoff, i.e., free riding. If the other players' strategies remain unaffected by it, pre-commitment to any particular strategy is at best pointless, at worst a sacrifice of one's freedom to choose a strategy in the game instead of choosing it beforehand in the pre-game—a sacrifice which may be costly if it deprives the player of the benefits of the latest information.
Clearly, the larger is n, the more the posturings and declarations of one player would be ignored by the n 1 others and the more the game would lose the face-to-face character which is the essence of chicken, where the effect of the pre-committed threat strategy of one player upon the uncommitted strategy of the other derives solely from the visibility and mass of the former. Failing that, pre-committing not to subscribe is not better than simply not subscribing, and may be worse. Pre-commitment then becomes the dominated strategy; and, as between the other two uncommitted strategies, neither dominates. Edition: current; Page: [[189]] The working of the n-person chicken of TW should then come to resemble the straddle in J. As against this, TW consider that pre-commitment by some, adjustment of their strategy to it by others, is valid regardless of the absolute value of n, which seems doubtful.
In the straddle of J, a player does not expect his choice of strategy to influence the choice of the strategies of the others: causation runs from the probability of the Bs doing S (or NS) to A doing NS (or S). The straddle, in other words, is not a true game in that the strategies of the Bs are "parametric" for A. He does not expect them to depend on his strategy, though his depends on theirs. In the chicken of TW, causation runs the other way; the Bs are cowed or bluffed into contributing (S) by A's non-contribution (NS).
III
The distinction between few-person chicken and n-person straddle is implicit in the J account of how the subscription per head ψ may be determined (J, p. 151). If it is pitched so low that all must subscribe lest public provision is to fail, one hold-out can, by pre-committing not to subscribe, blackmail the others into subscribing a little more than ψ each. His choice is conspicuous and has great impact. This is the bluff, bargaining, and blackmail play particular to chicken. Once a handful have played this and ψ has been raised high enough for the subscriptions of only some others to suffice, pre-commitment not to subscribe by each additional player ceases to be conspicuous and has a progressively smaller effect on the likelihood of total subscriptions being sufficient.
IV
The straddle can be converted into "chicken with pre- commitment" by having a large n-person group coalesce into a small number of homogeneous subgroups, each choosing a binding strategy for its members. There would, however, be an obvious problem of defection and unravelling of the subgroup if there is no coercion. Hence, it is doubtful that getting back to small numbers by amalgamating many persons into a few cohesive coalitions is a legitimate device to employ in an assumed state-of-nature environment; for making the common Edition: current; Page: [[190]] strategy binding for all members of the coalition in the absence of third-party enforcement is itself a public-goods problem needing to be solved, and cannot be used to bring about the solution.
V
If the sequence of strategy-choices (or pre-commitments to them) are not controlled by a protocol, revolving-door, or queueing device, too many players in TW chicken may decide not to subscribe, or pre-commit not to, all at once, causing public provision to fail by mistake. TW admit two possibilities. People are either "risk-averse" (TW, p. 362) and steer clear of commitment strategies, in which case all may subscribe and none ride free; this solution would be unstable. Or people are "risk-loving," to the effect that too many commit themselves not to subscribe (TW, p. 370). Only if the latter contingency occurs will voluntary provision of the public good fail altogether (ibid.), though—we might add—the group would then have strong reasons for trying again, with many of its members tempering their "love of risk."
In J, there is no exogenously supplied risk-aversion or risk-love. Risk is not a "good" or a "bad" for which there are given "tastes," but a certain constellation of contingent utilities combined with the probabilities of their occurrence. (TW, too, revert to a congruous, rational-choice-type analysis in Section VII of their paper.)
VI
In the straddle, the solution is constructed around the probability of any member B of the non-excluded group N being in the decisive set k who must all subscribe. This probability depends among other things on k/N. In the reference case of equiprobability, it is simply k/N. The solution is generally independent of the absolute size N of the group seeking to organize public provision of a good for itself.
In TW, the somewhat analogous key probability of any group member pre-committing himself not to subscribe is some function of N and some other function of k. It has a separate elasticity with respect to each and the elasticities vary independently of each other (TW, pp. 368–9). Thus, even in the face of a constant k/N, the key probability in question can change either way if both k and N rise or fall Edition: current; Page: [[191]] in the same proportion. The characteristics in question appear to be unexplained independent variables (in much the same way as "risk-love" and "risk-aversion" come exogenously from a black box). This leads TW to fairly inconclusive speculation about the effect of group size on the probability of co-operative solutions.
VII
In TW's chicken, if less than k subscribe and public provision fails to take place, the subscriptions appear to be totally lost (TW, p. 368, table 3). In J, upon undersubscription the subscriptions are simply not called up (returned if "paid" in advance). The difference is important; it is prima facie surprising that under TW's assumptions of total loss, the preference-order is not that of the public goods (or "prisoners'") dilemma, with "sucker" the worst outcome and non- subscription the dominant strategy.
8: An Ethics Turnpike
Having derived certain results, such as they are, from the deliberately austere assumptions of single-mindedness, we should now take a more relaxed view and deal with men who, albeit wholly rational, are open to most (though not all) of the wide range of possible motivations which look capable jointly to govern conduct. At the same time, we must try to eschew the kind of trivial generality where whatever is is, and whatever is done must have been done for a sufficient reason.
Utility-maximization, widely interpreted, is simply making one's action conform to one's motivation. So conceived, it is entailed by rationality. The category of rational actions must, at the very least, exclude the action of knowingly choosing other than the best available alternative. "Best" has the empirical content, if any, that we had put into "motivation." Only if the hierarchy of his motives (including the ratios of any trade-offs that may be acceptable between them) is specified in sufficient detail can we sensibly say, in the face of a choice he has made, that a person did not do the best he could for himself according to his own lights.
"He preferred X to Y," however, is very rudimentary information. It is silent on how the preference-order depended on the quantity and on the probability of X and Y. Any X, no matter how puny or improbable, preferred to any Y, no matter how big, strong, or probable, is an absolute, "lexical" ordering; it excludes trade-offs between variable driblets and variable probabilities of X and Y. Genuine lexical orderings, i.e., orderings of goods that are literally priceless, must be quite rare. Yet the discourse of choice theory often runs, no doubt unwittingly, as if preference were absolute, and X priceless in terms Edition: current; Page: [[193]] of Y, or at least as if acceptable rates of substitution between X and Y were so far away from their available rates of transformation as to leave trade-offs out of the question. It may be that if trade-offs were more in the foreground of analysis and people were consequently represented as more sensitive, more trigger-happy in their choices as prices, quantities available, and probabilities of accrual varied, public finance theory would pay less attention to finding and distributing the burden of contributions for certain public goods that must be provided, and more to the choice between public goods and private substitutes. This, however, is a digression whose pursuit must be left to another occasion.
If motivation is left unspecified and the utility function is only symbolically described, any action can be asserted to maximize utility. Chosen, preferred, and utility-maximizing all become synonyms we cannot tell from each other, though the concept of maximization will not lose all formal significance. "Wanton destruction of one's good maximizes one's utility" is a coherent statement, that we judge as sensible against a background of just the right trade-offs between the good destroyed and such other "goods" as the sense of power, the pleasure of a gratuitous gesture, the demonstration of being above material considerations, and so forth. It is obviously hard, though perhaps not impossible, to deny altogether that a sane man could harbor the sort of preferences that could make self-inflicted damage utility-maximizing for him.
Whether we want to enter into conjectures of this kind depends on the level of abstraction we seek and on our willingness, or lack of it, to be specific about the motivations we attribute to people.
The success of a body of economic theory which gets by very well with a purely formal concept of utility and chooses to ignore specific motivation (it does not matter what people want provided they seek it consistently) suggests that formal "utility" did not swallow up "motives" altogether without cause. Yet for all the progress that stands to the credit of this approach, it seems to me impossible to say all that needs to be said in many areas of the study of choice, solely in "utility-speak" or "preference-talk."
Take, for example, the choice of "risking one's life to save another's." How is this phrased in the two languages? In preference- or Edition: current; Page: [[194]] utility-speak, the choice reveals a higher ranking, or excess utility, of saving another's life over the relevant opportunity cost, i.e., over not risking one's own. In motivation-talk, we uncouple the tautological identity between the reason for the act and its utility. The act of risking one's life can be ascribed to a specific motive, which is conceptually distinct from the utility of the act or the utility of its consequences. The act may then signify that "duty overrode preference," or perhaps that "rule-obedience has put a constraint on utility-maximization." Moral philosophers might find these terms of reference more congenial than pure utility- or preference-speak. In what I irreverently call preference-speak, I could never say with impunity "he preferred X but chose Y." Yet the information that gets lost by not saying this might well be important and valuable.
Imputing specific motives to participants in social life must go hand in hand with reducing the all-inclusive generality of preference or utility concepts, for otherwise choice would end up over-determined. Were utility left wide open, to swallow up all reasons for human action, there could obviously be no place left for a variety of motivations. For moral philosophy and economics to cohabit once again as in their golden age, it might well help if distinct non-utility, extra-preferential motivations could find room next to utility in explanations of choices.
The project of accommodating both in some common frame looks worth while. However, its execution runs into the tangled and disputed frontiers between what must at all events be left to utility and what had better be allotted to (other) specific motivations. The un-instructed have long identified a person's utility with the fulfilment of his selfish ends. Sometimes this has been carried to the heroic simplification of equating "rational" with "selfish." Such pairings of utility and selfishness, selfish and rational, are untenable if treated as definitions, and a muddle if treated as synthetic conclusions. This would be Edition: current; Page: [[195]] so even if selfishness were a workable, well-defined attribute, allowing actions to be sorted into useful, significant classes by reference to it. But it is not much good at classifying actions, for only a small part of all actions could qualify as either selfish or unselfish. The immense majority of commonplace choices are neither, or not noticeably so. Their one obvious motive is ethically neutral. It is to transact "the ordinary business of life"—a motive coming close enough to the intuitive content of the idea of utility, hence one we would certainly not want to purge from it on the grounds that it does not meet the test of selfishness.
The major failing of selfishness as a sorting criterion, however, is its obscurity and weakness. Perhaps one can come closer to giving it a clear and hard meaning by saying that acting selfishly is acting as if we gave no thought to the wishes and interests of others. It could then be the case that all anonymous arms-length transactions must fall into the selfish class. Yet this would be an unacceptable use of "selfish": for selfishness implies the possibility of unselfishness, but how can one unselfishly buy a pound of sugar off the grocery shelf? How must one give thought to the wishes and interests of cane-cutters and grocers to save this act from being selfish?
As such usage of selfish will not do, it is presumably necessary that one should both know, be able to affect, yet choose to ignore, the wishes and interests of others. All our face-to-face Pareto-non-optimal choices should no doubt be put in this class, for it is surely selfish not to please someone if we could please him at no cost to ourselves.
What about cases, then, where we could do so at little cost? On reflection we discover that in indefinitely many of our actions we take no account of manifest, identifiable third-party interests or desires, without anybody, including even the third party in question, being inclined to rule the action selfish. Using my right of way rather than yielding to the other driver, taking the last empty seat in the bus, claiming attention on a first come, first served basis are at worst acts lacking in courtesy. They are generally unclassifiable by reference to selfishness and do not by a long way become selfish acts except by virtue of some disproportionate harm I inflict, or the disproportionate deserts of the rival claim I ignore. It is the other vehicle being an ambulance Edition: current; Page: [[196]] rushing to an emergency, or the standing passenger being a cripple, that makes my act selfish, while in their absence I was merely exercising rights and following rules, though I did ignore others who would have wished me not to do so.
Selfishness, then, is conceptually posterior to, and contingent on, a set of pre-existing, recognized rights and rules, customary laws, and ethical precepts, and could hardly have entered into the shaping of that set in any significant way. As a second-order regulating principle nearer to manners than to morals, parasitic on more fundamental principles, it is not cut out to serve as a basic dividing-line between utility-maximizing actions and actions best understood in terms of other motivations.
The passing reference to Pareto may put the reader in mind of his distinction (though it is one that is perhaps best forgotten) between "logical" and "non-logical" actions and their "springs and roots," interest for the first sort and the residuals for the second. The project to distinguish actions meant to be utility-maximizing, from others rooted in non-utility motives, echoes this Paretian classification without, of course, conceding that it has anything to do with "logic."
Interest, no doubt more so than selfishness, may be a workable criterion in deciding how to deflate the utility function which has grown too all-encompassing for comfort. In doing so, one must not slip into reasoning from interest (that which secures our utility) to utility (that which serves our interests). A widely approved tactic for breaking this circle is that of Rawls, who, in his "thin theory of the good," employs an "index of primary goods" as the appropriate maximand in a context where people do not know in detail who they are and what they want, hence their utility function is as yet unknown. In such a context, a rational person's interest is defined, independently of utility, as the maximization of (the expected value of) his index of primary goods. It turns out, however, that "primary goods" are too broad, too permeable. They let back in the all-embracing, quasi-tautological utility one Edition: current; Page: [[197]] hoped they would help to banish or cut down to size. Primary goods are said to consist of:
Rights and liberties     mostly not alienable
Powers and opportunities     mostly not alienable
Income and wealth     mostly alienable
Self-respect     not alienable
A large, if not the largest, part of these goods cannot be alienated, sold, or even transferred without consideration to others; some, in addition, are not measurable. This is true par excellence of self-respect, which Rawls considers of central importance. A non-transferable good can nevertheless be substituted for another good in a person's index, endowment, or budget, and there may exist substitutions which leave him no worse off. The person may be able to effect such intra-personal trades within his own endowment, e.g., use up an "opportunity" by turning it into "income" or gain some "power" by giving up some "liberty." He may even give up his self-respect for a demeaning profit. It can make perfect sense to impute to such a person, con-jointly with the understanding that certain trade-offs between pairs of his primary goods are inherently feasible, a recognition of the marginal rates of substitution at which he would just find it agreeable to proceed to given trade-offs. What, however, a non- transferable good cannot do is become the object of an interpersonal trade against someone else's good. Consequently, there is no ascertainable rate at which more of such a good—say self-esteem—could be had in exchange for less of another.
In the absence of such a rate, it is impossible validly to deny, for example, that wanton destruction of some quantity of one's own wealth, Edition: current; Page: [[198]] with some concomitant gain in self-esteem, does in fact maximize one's "index of primary goods." When the goods that make up the index are unalienable and unquantifiable, almost anything one does with them can be construed as index-maximizing, i.e., "the best for one's interest," just as in broad utility-speak whatever one does can be said to be utility-maximizing (at least within the limits of consistency or non-contradiction; but one must not place much hope in such limits, for nothing obliges a person to have stable preferences or always to attach the same weights to various primary goods). As long as "interest" is broad enough to include non-transferable goods among the entities that can serve and enhance it, any action can be said to be in our interest if it can be claimed either to increase the quantity or probability of one of our non-transferable goods or to decrease it while increasing that of another good. This is so because one can always impute a high enough or low enough valuation to the non-transferable good which will make the benefit larger than the cost, the gain larger than the loss. Unfavorable internal trade-offs could only be recognized as such by reference to available and ascertainable marginal rates of transformation of one good into the other; if there can be no such rates, the claim that a trade-off was a "maximizing" one cannot be falsified. We are no better off with broad interest than with broad utility.
Homo Oeconomicus
The point of this argument is not to undermine Rawls's concept of "interest" and his choice of the "index of primary goods" as the maximand. These are in fact among the less unattractive parts of his theory. Nor would there be much purpose in attacking them, for their relevance is in any case much reduced by his abandonment of maximization of the expected value of the index in favor of the maximization of its minimum possible value ("maximin"), a relatively crude rule of thumb under which many trade-offs would be forgone as too risky and ambitious. The purpose of laboring the point that interest defined through "primary goods" is no more immune from tautology than undefined, broad utility, because neither can plausibly leave out of account the contribution of unquantifiable intangibles, was rather Edition: current; Page: [[199]] to prepare the ground for the plea I am making to reinstate poor, much-denigrated, and ridiculed Homo oeconomicus.
There is no question of expelling humanity and in its place putting up straw men who only undertake such purposeful acts whose consequences can, in Pigou's unforgotten phrase, "be brought in relation with the measuring rod of money"; who have no intangible interests, aim at no unquantifiable ends, and respect no rules and standards of conduct unless it is because "honesty pays." The object is instead to bring back Homo oeconomicus among the other dramatis personae; more precisely, to have him as one of the several personalities (or dare we say, one of the several parallel preference-orderings?) a given individual may have. In this way, we can use a convenient litmus-test for actions we are prepared to attribute to utility motives. They are actions that have their identifiable money's worth in terms of their full opportunity costs, their full expected consequences, or both. (A weaker form of "full," where most of the cost, or the main consequence, has its money's worth or can otherwise "be brought in relation with the measuring rod of money," may have to do, especially since there may be few actions that would meet the strong version of the test. Most will have some, albeit minor, costs and consequences that have no money's worth, yet matter morally, affectively, or in some other way.) Actions not meeting this test will require the clear and explicit assignment of other specific motives in order to be explicable in terms of conscious rational choice. Thus, preference and utility may cease to be a tautology, "the reason for acting as we do." The utility-motive will stand reduced, reasonably delineated, and much less apt to invade, confuse, or blot out other, interesting motives and interesting sides of the human character.
Three Grades of Rationality
Perhaps it goes without saying, but it is better still to say it, that on the reduced and indeed "reductionist" definition of utility I propose to fit to Homo oeconomicus, maximizing it is still rational; diagnosing that it is, in fact, being maximized poses difficulties, but they are perhaps less forbidding than those associated with the broader, more tautology-prone concept; the novelty is that "rational" may, but by no Edition: current; Page: [[200]] means must, mean "utility-maximizing." Self-sacrifice, self-denial, and more generally conduct determined by standards, with little or no conscious reference to consequences, are at least potentially rational but would not, under the narrowed utility concept that goes with Homo oeconomicus, be utility-maximizing.
How, then, should we use the term "rational" without unwittingly relegating perfectly valid motives for choice to the irrational, but also without implying that whatever sane people do has, for that reason, been done rationally?
For my relatively pedestrian purpose, a brief statement to insure against misunderstanding will suffice; I have no quarrel with and nothing to add to received theory. Many valid concepts of rationality coexist, and, like horses for courses, the sort of action one wants to qualify as rational or not should dictate the choice of the concept.
1. Coherence. Rationality as coherence is the lowest-grade and most general concept likely to be useful. It does just a little more than exclude insane actions. It implies the discipline of subjection to the rules of logic, hence, it forbids self-contradiction and intransitivity. Preferences must be ordered transitively or not at all—it may not be incoherent not to order everything. Coherence requires acceptance that mutually exclusive alternatives have probabilities whose sum cannot exceed unity: for coherence must reject manifest wishful thinking. Rationality as coherence must also satisfy another minimal requirement, the willingness to take notice of available evidence in assessing actions in terms of their expected consequences.
2. Calculation. More demanding and higher-grade than coherence, rationality as calculation involves not merely the non-violation, but also the best-efforts application of the rules of reason and the due-diligence carrying out of the proper mental processes, notably the evaluation of evidence and the comparison of alternatives, by which actions and their consequences can be judged. "Calculation" is, I Edition: current; Page: [[201]] believe, what Herbert Simon calls "procedural rationality." A clear, albeit summary, instruction to conform to such rationality is the proverbial Quidquid agis prudenter agas et respice finem. In contrast to the weaker "coherence," which merely forbids the closing of the mind to relevant evidence, "calculation" may require both that we should examine available evidence and that we should seek out additional evidence, making some attempt at balancing the cost of doing so against its expected value, for however tenuous such balancing is bound to be, it is better ex ante than blind action or blind inaction. Simon's "satisficing" is bounded procedural rationality, where both the acquisition of new evidence and the whole effort of calculation are cut off some way short of the putative optimum. Thus, certain suboptimal but simple rules of thumb, such as "maximin" or "minimax regret," can be accepted under the calculation and a fortiori under the coherence definition of rationality, though they clash with the more sophisticated correspondence.
3. Correspondence. Rationality as correspondence is the criterion of the putative optimum. It is the best match a person with given resources and placed under given constraints can arrange between "cost" and "benefit," opportunity and consequence. Unlike calculation, which need not be faultless, correspondence does imply the successful finding of the most favorable relation between what we want and what we do; like the shortest distance between two points, rationality as correspondence is efficient pairing between ends and means. More than formal and more than procedural, it is substantive; it is the strong rationality concept that underlies maximization. If utility is defined very broadly as that which motivates conscious choice, Bayesian expected utility-maximizing becomes synonymous with rationality as correspondence. The latter satisfies both of the classic Weberian concepts at the same time: Zweckrationalität is of course direct, first-order means-ends correspondence, while Wertrationalität is their second-order correspondence in that the "values" or "ends" it seeks to categorize can only be judged "rational" or not in their instrumental Edition: current; Page: [[202]] capacity, as means to other ends. (True, non-instrumental ends or "values" cannot be brought into relation with the category of rationality.) Correspondence, then, is the most demanding, highest-grade concept of rationality we may wish to attribute to actions.
Public-Goods Forks
Let us imagine a random sample of a population of rationally acting persons in the perfect state of nature. Potentially or actually, they are members of various overlapping groups defined spatially, temporally, culturally, by occupation, income, or whatever community of interest is liable to give rise among them to wishes for the public provision, in common for the group, of given goods. This sample of people, therefore, confronts a number of public-goods problems and within our time-horizon will deal with each positively or negatively. We might imagine the sample of persons transforming itself into a society in the course of producing those solutions. Prevalence of positive solutions will condition and dispose the society to be a (predominantly) political one, while if most of the solutions are negative, the society will live by exchange regimes and develop, at least for a while a (predominantly) capitalist market order.
Three types of causes will tend to bring about negative solutions.
1. Utility motives are weak, because the "productivity of publicness" is relatively low; the attractiveness of providing the good on a non-excluded basis, compared to getting it or its substitutes in an exchange Edition: current; Page: [[203]] regime on an excluded basis, fails to outweigh the dilutive effect of publicness.
2. Non-utility motives in favor of public provision are weak.
3. Public provision fails by mistake; non-utility motives are weak and though utility motives would be adequate for a positive solution, mutually inconsistent expectations about each other's actions take the particular form (too many expect too many to contribute, hence too few contribute) which produces a negative solution. Unless one or more of these causes prevail, a certain quantity, intensity, frequency, reliability, etc. of the good will be publicly provided by voluntary "subscription"; the particular quantity is a "culturally" determined choice, conditioned by the indivisibility inherent in public provision.
A metaphor and its "map" might best illustrate the causes at work. One could imagine the members of our "latent society" all wandering, in dispersed order, down a special road, called for this occasion the "Ethics Turnpike." It has a number of exits, each exit standing for a possible contributory cause of a positive solution to a given public-goods problem. A particular exit leads to an ethically congenial destination for a particular class or type of wanderer. Signposts will attract him to take a given exit, by virtue of the corresponding ethical principles or the self-image that inspires his motives; he will pass exits whose signposts attract him but weakly, and go on down the road.
For each such person, travelling down the Ethics Turnpike corresponds to weighing the rational "strategy" in response to a public-goods problem or "game." At each fork, there are different arguments to consider in favor of taking the particular exit to ethically congenial territory and contribute to the public good in common with those similarly motivated, or going on. These arguments are ethical in a loose sense, and present themselves along the Ethics Turnpike in a descending order of moral worth. At the bottom of the road, having passed all exits and remaining unmoved by the corresponding arguments for contributing, a person may find (a) that enough others have contributed and he is able to free ride; (b) that not enough others have contributed to let him free ride and he would consequently have to make do without the public good, or accept the social contract Edition: current; Page: [[204]] if all accepted it; or (c) that it is best to return to "Go," proceed down the road a second time, and reconsider the arguments.
On the map of the Ethics Turnpike (Figure 13), three main segments are marked off according to the basic type of person most likely to find his congenial exit along it. The first segment is primarily for the type who fears God or acts as if he did. The second segment has exits to suit those who are not indifferent to how some or all their fellow men are faring, and who value only that (but not all that) which people want for themselves or for others. The third is for Homo oeconomicus, maximizing a narrowly defined utility that varies only with the money's worth of his own payoffs.
Lest it be misconstrued, I must enlarge on the last point. Homo oeconomicus behaves as the gambler at the table or the player in the field where "he knows no brothers." Having maximized his payoff, he may dispose of it in any conceivable manner; the behavioral discipline is in the getting, not in the using. There is an analogy here with the producer who obeys the dictates of the utility function appropriate for his calling and maximizes some definition of profit, that being the object of the exercise. The choice between disposing of the profit in a "socially responsible" or hog-hedonistic manner can be construed as separate and posterior. Accountancy, in setting up a profit-and-loss account and an appropriation account, provides a lesson in how the social sciences can make the best use of the fiction of Homo oeconomicus without having to pretend that he is a soulless monster.
The matching of types of person with exits is, of course, not fatal, but probabilistic. A God-fearing man may fail to obey the rules of rectitude, yet may end up subscribing to the public good under the cumulative weight of standard-bound, philanthropic, and "economic" arguments, which add up on the way down the Ethics Turnpike.
Each stretch of the Turnpike leading up to a fork is signposted for the attention of the person whose "standard-bound," "humanist," "prudent," etc. disposition might be attracted by the approaching exit. Thus, he who sees himself as a humanist and thinks that people should, as far as possible, get what they want rather than what moral
Edition: current; Page:

[

[205]

]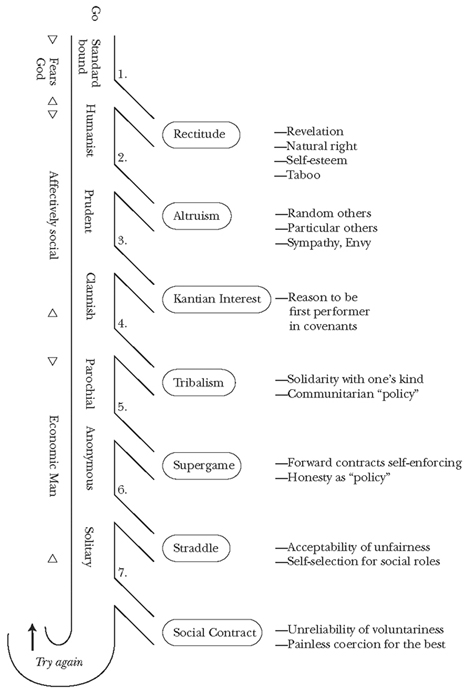 Edition: current; Page:

[

[206]

]
arguments, or other arguments not derived from their preferences, dictate might wish to listen to altruistic reasons that refer to their satisfactions. Another, who is discriminating in his love of others, may attach much weight to "tribal" interests but none to the interests of any random member of humanity outside his tribe.
1. The top fork poses the public-goods problem above all to the person whose conduct is strongly bound to standards, rather than governed by preferences or interests—"God-fearing," as a figure of speech, suggests his character. He finds unanswerable, final arguments on Moses' tablets, in natural right, or in some venerated personal authority for doing the right thing, pulling his weight, not abusing the good faith of others, and living up to a code which may be inherited or formed to match and confirm his own self-image. These arguments are meta-rational, shielded from critical scrutiny, and depend only on genuine, non-instrumental value-perceptions. He may also be moved by considerations of reasonableness, equity, and the merits of cases, but these will have a lesser influence, being essentially consequential points of view. The person who lets himself be governed by standards and rules of rectitude is presumably acting rationally in the sense of being coherent; his rationality, however, is neither calculation nor correspondence (unless it is the calculation of the righteous-by-policy, who seeks to earn his place in heaven or to escape hell). Such a person selects actions for what they are, and does not consciously seek to value them in terms of probable consequences. In "game" settings, his strategy is only weakly dependent on the payoffs. The clearest standard-bound behavior is unconditional obedience to taboos. This is Pareto's "non-logical action" of the reflex type, i.e., one where the subject need not see and does not seek to appreciate the "point" or purpose of a taboo. Obedience to the commands of religion is partly, but only partly, reflexive, for it is arbitrary to deny that considered judgment may play a part in the beliefs that motivate religious obedience.
Conformity to a code of conduct that proves the justness of one's self-image, that has prestige value in one's eye, is in some ways the most complex and the most interesting of motives for rectitude: a person so motivated would typically seek to maintain as close and stable a relation as his will can sustain, between his actual conduct and conduct Edition: current; Page: [[207]] he would like to see himself adopt. Success in this enterprise would lead to increased identification of the person with his code, invest the code with the added value of self-esteem, and reinforce the will to conform to it more heroically still. This, one suspects, is often how it comes about that people do not let go of ungrateful tasks and proudly co-operate with others who are manifestly using them.
2. The second "public-goods fork" is meant to tempt humanists into contributing for altruistic reasons. Their own good depends in some way both on their circumstances and on those of others; "others" are any fellow men. Ordinarily, however, occasions abound for altering the circumstances of those in one's own proximity, community, interest-group, etc., while occasions for affecting the life of random individuals, especially those who are in some respect distant, are infrequent or have to be expressly sought. Hence, "general" altruism tends, in practice, to be directed at particular people. "Circumstances" are, of course, a catch-all. They would no doubt have to include the happiness of others, the maximization of their maximand. The pure altruist would be guided solely by this: he would wish for others what they wish for themselves, whatever that may be, and would incur some sacrifice in his own circumstances to let them get it. The cost he would accept to bear for a given increase in what others wish for themselves is, but for a common unit of measurement, his "degree" of altruism. This degree is well defined if both the cost to A and the benefit to B are in the form of money or of the same good. (Once they are both altruists and A wants B to have the good while B wants A to have it, problems arise and a third non-altruist person C is needed to satisfy them; all in a closed society cannot be altruists.)
Real-life altruists are probably very seldom "pure." A, a non-pure altruist, will incur some cost to let B have what A thinks is good for him and what B would wish for himself if he also wanted to please A. Though this is a boring and convoluted formulation, the basic idea is simple enough. It is that altruism and charity are almost invariably Edition: current; Page: [[208]] "tied," in kind, earmarked, and paternalistic, for by giving B what he would like to see him have (if there is any such thing) A gets either as much or greater satisfaction than by letting B choose what the latter would rather have.
Everything we say about altruism, its degree, and its purity can presumably be said about envy by changing the sign. It is worth something to an envious A that B should not have what he wants; while a non-pure envious A would be more pained by B having certain specific things, that particularly provoke his own envy, than others.
Altruism may help induce A to subscribe to public provision of a good for himself and B that he would not have subscribed to from non-altruistic motives alone. Symmetrically, fear of envy may induce B to subscribe even though he might have been able to free ride; but this deterrent to free riding, like most others, can only operate in conditions of good visibility of B, where he and his conduct are easy to spot.
3. It may look bizarre for an Ethics Turnpike to go some way downhill before coming to the exit for the Kantian Rule. The reason for not ranking it at the very top, however, is straightforward.
There are really two somewhat different arguments recommending obedience to the Kantian Rule. Kant's principle of the "universalizable" interest states, in effect, that it is the duty of anyone to contribute to a public good that would benefit him, if he would wish others to contribute. Kant thus appears to argue from interest to morals, but provides no path from universalizable interest to the service of one's own. He does not seek and nor does he need to prove that anyone wishing to do the best for himself, given what others do, should obey the Kantian imperative. Moreover, the rule "Do to others what you would have them do to you" cannot without further ado be grounded in anyone's own interest by the argument that "by so doing you will induce them to do it to you"; such an argument could be based on hope but not on reasoned insight into what others would do if they followed their interest. Hence, anyone who nevertheless obeys the Kantian rule does so on grounds of rectitude, as part of his standard-bound conduct which is not rationally calculated to secure good consequences Edition: current; Page: [[209]] for himself, though it may turn out to do so if others are righteous, and reciprocate. As such, it does rank with and is fully integrated to the highest motives at the first exit, which is made for the God-fearing but is equally congenial for the high-minded atheist.
There is, however, a morally less lofty level on which obedience to the Kantian categorical imperative is sometimes, however incongruously, recommended on grounds of prudence (the word being used to mean, for all practical purposes, broad utility-maximization). If there is a public-goods dilemma or the threat of one, with a nonco-operative solution that all dislike but cannot escape, and Kantian conduct would overcome the dilemma, is it not prudential conduct? The rule being recommended, then, is "Do to others what you would have them do to you, subject to the probability that this will induce enough of them to do it to you."
This rule is cogent, but its condition is too demanding to be often met. As Hobbes has taught us, the obstacle is inherent in the structure of the implicit "covenant" to be respected. It calls for non-simultaneous performance, half-spot and half-forward. Given a first performer, it is best for the second performer to default; though he may not in fact do so, it is hardly prudential conduct to perform first.
To make the Kantian Rule attractive on prudential grounds, something more is needed. One possibility is to design the scheme of cooperation as an indefinitely repeated series of performances, where it is never in the interest of the second performer to default and thereby abort the "third" or (2n − 1)th performance, whose value to him is ex hypothesi greater than his own opportunity-cost of performing one more time. This design is not always feasible in public-goods situations. We will further consider it at a lower exit ("supergame"). Another possibility is to seek out people with "better natures," hence with more benign, less ruthlessly single-minded maximands, and have them play the roles of second performers. Touched by the trust shown by first performers, such second performers would put some value on not abusing trust, and would reciprocate. Foreknowledge that trust will induce others to shift towards trustworthiness would transform first performance into a rational act in terms of calculation and eventually in terms of correspondence. In all such cases, Kantian conduct would be explicable in terms of "enlightened" self-interest, Edition: current; Page: [[210]] i.e., a strategy of maximization arrived at by relatively sophisticated calculation.
4. Calling the fourth exit "tribalism" is meant to convey a more than genetic distinction between "strangers" and those who, in some significant respect, are our own kind. There is always an inexhaustible number of ways of classifying populations, many of which mean little or nothing to the person so classified. Others, however, rest on important affective, linguistic, cultural, or economic relations, and are liable to generate favorable behavior by members of the class towards each other compared to strangers. Altruism is impartial, random in the selection of beneficiaries within the material constraints set by proximity and occasion. By contrast, "tribalism" is knowingly discriminating. Much that passes for altruism in everyday speech is really tribalism in this sense. The moral license to discriminate is provided by the impossibility to love everybody equally, for what is impossible cannot be required. True non-discrimination would be indistinguishable from indifference. An all-inclusive community is a contradiction in terms, while the inclusion of only some necessarily implies the exclusion of others. Whether this defense is wholly convincing, whether it supports restriction of entry into the community, and whether (if discriminate we must) it justifies discrimination in favor of our own kind instead of some other, possibly more deserving, kind must remain open. For this particular Ethics Turnpike, this is how the exit to tribalism works, and it is a comfort (but no more than that) that there is some, however fragile, moral defense for it, so that not all its weight rests on instincts, passions, and reflexes.
A person with a tribal, communitarian, discriminating disposition towards others will give sympathetic hearing to two non-utility arguments for contributing to a public-good endeavor. The first is "solidarity" with his own group; he will not be indifferent to them having the publicly provided good they want and will consequently accept to bear more of the cost than his own utility-equation would warrant. Solidarity in this sense is formally the same as a reduction in the dilution factor (cf. p. 155–9), which helps determine the value to an individual of his own contribution; the limiting case of complete solidarity means that an individual values the marginal product of his contribution Edition: current; Page: [[211]] that accrues to others in his group just as highly as if it accrued to him, which has the same effect as the case of "no dilution."
The second argument is a matter of "policy," an ulterior motive. Public provision will have some effect in building and cementing a community around the good so provided, an effect which market exchanges of private substitute goods do not have. If a "tribally" disposed person is interested in having a tribe (or perhaps several partly overlapping tribes, clans, clubs, associations, unions, and so forth) to belong to, he may find it politic to incur some cost to facilitate public provision, over and above its own merits, as an instrument of community-building.
5. At the fifth fork, there is a set of arguments for contributing, designed to appeal to the kind of Homo oeconomicus who lives, or at least thinks of himself, in a parochial setting. He bears a name, he has a recognized identity, what he does is readily traceable to him; it is observed and gossiped about in the "parish," and its adverse effects are likely to be held against him. Others in the parish are in a symmetrical predicament, everybody having to bear in mind that "it is a small world" and everybody else may hold their actions against them. For each, free riding or otherwise taking advantage of the other "parishioners" approximates, to a variable degree, an act of default on an implicit contract of reciprocity. Whether each or any such contract is self-enforcing is a question of fact and needs scrutiny.
A parochial man must in any case reject the second condition of single-mindedness: he would fail to establish, or he would risk foolishly to upset, the desirable correspondence between his ends and his means if he adopted conduct (i.e., the use of means) suited only to a known small number of future interactions with others. In the parochial setting, he is in a maze of different, continuing, or repeated "games" (supergames) and extra-game relations with some of the same people. Though each of the latter may find some ad hoc reason to default on a reciprocal "second performance" if the former has performed first, default is a dominant strategy in the "last game" only. In any game that precedes the last, non-performance is dominant for either player if and only if it is a pre-emptive strategy against the anticipated default of the second player in the last game. If there Edition: current; Page: [[212]] is never a last game, or if the probability of the nth game being the last one is not high enough, there is a priori no dominant strategy in any game from the first to the nth. Immediate default yields to the second performer the windfall utility of one unrequited performance by the first performer, after which the latter presumably breaks off and ceases performing. Hence, the windfall utility is obtained at the cost of cutting off the anticipated stream of future utilities that the continuing relation of reciprocal performances would have yielded to the ill-advised defaulter.
The utility of this stream depends on its unit value, its probable length, and the time discount. The windfall utility is a function, among other things, of the form and the unit in which the first performer provides his performance. If performance is a largish, discrete lump—say, three months' deliveries of a good before the first performer stops delivering on grounds of non-payment by the second performer—default may well pay despite the loss of future deliveries. The smaller is the discrete unit, or the closer the series of first and second performances approximates mutually contingent, simultaneous performance by the two parties, the less profitable is default, i.e., the more the reciprocity relation approaches self-enforcement.
Depending on these parameters, performance as dictated by an implicit contract of decency and good faith may be individually best both for the first and the second performer. If so, in no single "game" of a series of "games" (social interactions of various kinds) is it worth a player's while to make it the last game (e.g., to free ride, to "take the money and run"). The case against default is likely to be the stronger the more parochial, the more dense is the network of social relations, and the more numerous and diversified are any person's several interactions with any other.
If in two continuous parallel games some of the players are the same, the opportunity-cost of default in one game may well be the termination of both; and this result, which helps to make the cooperative solution self-enforcing in both, can obtain even if the two sets of players do not overlap, but simply talk to each other. Likewise, and for analogous reasons, if one series of repeated games stops, but another starts up and at least some of the same players play in both, or even talk to each other, the result will approximate that obtained Edition: current; Page: [[213]] in one uninterrupted series of games. Finally, several concurrent series of games (parallel supergames), each involving lumpy, discrete first and second performances by some of the same players, will in the limit shade into a single stream of performances, and will tend to have as good a chance of co-operative solutions as if they were a single supergame with simultaneous continuous performances, i.e., with self-enforcing characteristics.
In all cases, the significance of the "parochial" setting lies in the visibility of each player for the purpose of reciprocity, trust, and sanction for breach of trust. These elements having relevance only in repeated interactions or supergames, the parochial "face-to-face" or small-group setting is not a factor in making for co-operative solution in once-only interactions. Our earlier conclusion about the general irrelevance of group size to the solution of public-goods problems remains intact if each problem is considered as an isolated single play. On the other hand, a truly parochial setting will, one way or another, help to connect and weave single plays into a network or a stream which acts as a supergame.
When all games are supergames and there is, properly speaking, no last game (or only a very low probability of one), the built-in incentives of reciprocity are such that, with only a bit of luck, "honesty is the best policy" for each player. This happens for ulterior, ethically unglorious motives, of which the apprehensive "What will people say?" is one of the least glorious but not the least efficient. Compared to the payoff structure that would obtain under single-minded motivation, these motives would make the free-ride payoff less attractive, the sucker payoff less unfair (for more tend to contribute), and "fair" public provision a shade less improbable.
6. None of the parochial arguments in favor of contributing to public provision will persuade the anonymous person who is or sees himself as inconspicuous and indistinguishable from others, so that the consequences of his actions cannot be held against him. If he finds sufficient reasons to take the straddle exit and support a publicly provided good with his contribution (i.e., if he finds that it pays him to be co-operative even in a single "game"), this would in the given context imply that he ranks his alternative public-goods payoffs in the "straddle" order.
Edition: current; Page:

[

[214]

]
The individual player in the straddle acts as if he considered that the excess utility of the non-excluded, public good over that of the market exchange substitute (broadly what earlier we called the "productivity of publicness") is sufficient to counteract the dilution of his contribution inherent in non-exclusion. His expectations of what other members of his group will do in turn determine whether, against the background of his preference-ordering, he will opt for the sucker role or take a chance on the uncertain but more attractive free-ride option. Collective consistency of expectations, as well as certain moderate forms of their collective inconsistency, ensure that under the straddle conditions enough others agree to contribute for public provision to be successfully organized. The likelihood of this solution, brought about by this motivation, is independent of the size of the group seeking it.
However, the persons who have come down this far on the Ethics Turnpike stand a perhaps better chance of reaching a positive solution, and of reaching it with a somewhat less "unfair" distribution of burdens between suckers and free riders, than would be the case on the sole strength of their straddle preferences and expectations about each other's conduct. The reason is that they may well not be single-minded. In addition to the arguments incorporated in the straddle, they may be open to, and attach some weight to, standard-bound, humanist, "prudent," discriminating, and "parochial" type of arguments encountered at higher exits. If insufficient in themselves to induce voluntary co-operation, they may yet add enough additional carried-forward motives to the single-minded narrow utility-maximizing motivation for this sum to bias the population in favor of a positive public-goods solution.
Despite the positive bias that it may get from such a cumulative carry-forward, the straddle solution remains stochastic. Though markedly suboptimal outcomes, where public provision fails altogether despite a high "productivity" of publicness, are unlikely, they are possible.
7. This lack of certainty in voluntariness is a plausible argument in favor of the social-contract exit. It is weaker and different from the classic contractarian argument. The latter is a corollary of the pre miss that the public-goods problem is a dilemma in the state of nature, in that although all would rather contribute to a public good than Edition: current; Page: [[215]] not benefit from it, none will contribute voluntarily, hence none can benefit. It follows from this premiss that none can, on pain of self-contradiction, reject an arrangement (the social contract) under which all contribute and all benefit and without which the desired outcome is simply not accessible. However, the premiss is false: the public-goods problem is not a dilemma in general. Non-contribution is the dominant strategy only under a particular ("interlocking") ordering of possible outcomes which is unlikely to be found when publicness is substantially more "productive" than privateness. When the publicness is "productive" enough to generate an ordering (the "straddle") where contributing on unfair terms ranks higher than going without the public good, there is no dominant strategy, hence there is nothing fatal and preordained about public provision in the state of nature.
Wanting public goods while refusing the social contract is not self-contradictory; the two can be perfectly coherent. The social contract would ban free riding. If free riding were not feasible anyway in the state of nature, the social contract could be unanimously accepted (it would be Pareto-optimal) because would-be free riders would have nothing to lose by it. Once public provision in the state of nature, and the attendant free riding, is agreed to be possible, the social contract no longer compels unanimous acceptance, for, if nobody else, at least would-be free riders are possible losers under it.
However, they may not be wholly convinced that this is so. Nor will others necessarily regard the sum of state-of-nature motives for contributing, including the probabilistic reasons that would normally yield positive solutions in straddle-type public-goods games, as an absolute assurance of voluntary public provision. For them, the function of the social contract would not be to make public goods possible, but to make them certain. The less a person trusts the good sense of others, their capacity to act in ways that best serve their purposes and to recognize their reciprocal ties to each other, the more he will value the social contract, not as an enabling, but as a certainty-enhancing device.
Admittedly, the expected value or utility of an event is enhanced pari passu with the probability that the statement predicting it is a true statement. The expected utility of publicly providing the good g in excess Edition: current; Page: [[216]] of the utility of the private substitutes it replaces would increase with the probability that the statement "g will be provided" is true. Certainty is the upper limiting value of this probability. That utility should increase by a discontinuous lump as this limit is approached (or reached) is conceivable, but a violation of rationality as coherent ordering of alternatives. Unlike the binary distinction figuring in the classic contractarian argument between "g is impossible" and "g is rendered possible," the distinction between "g is probable" and "g is certain," which is the residual claim one can still make in favor of the social contract, is one of degree and its weight depends on the facts of the case.
The superiority this argument concedes to the social contract may be contingent and weak, but it is still superiority, especially for the doubting and the mistrustful, as long as a second argument is conceded. This argument, rarely stated explicitly, holds that since the social contract forces us to opt for an outcome we prefer anyway, the coercion involved in it is painless and the socio-contractual cost of the good to a contributor is simply the contribution, no more. This is asserting two falsehoods. The first is that if two solutions are otherwise indifferent, a reasonable person values as highly the solution he would not have been allowed to refuse as the one he need not have accepted. The second seems to imply that such a person will rank the solution actually imposed upon him as the only feasible, hence best, under the social contract. Such would be the case if the public-goods problem was one of pure co-ordination, with a unique distribution of the excess utility it produced. As we know, however, public provision is non-pure, conflictual co-ordination with an infinity of different possible distributions of the resulting benefits and the required contributions. It is surely false that whatever benefit-contribution balance is imposed upon a person, he will regard it as the best he could have got, will never feel badly done by, and will feel no pain as long as the balance is at all positive.
Contrary to the obvious presumption that it must be the sociable and socially minded person who is the readiest to call for socio-contractual arrangements, there is a case for holding that their main appeal is to the solitary one who is least linked to others in diverse social interactions and the least confident of the capacity of such interactions Edition: current; Page: [[217]] to yield and maintain workable spontaneous solutions. He is the archetypal isolated individual of Rousseau, with nothing between him and the state. It is in Tocqueville's rueful image of modern mass society, the legacy of the "old regime and the revolution," with no historic classes, no corporate bodies, no associative structures, no subdivisions, no intermediate layers, and no relations linking them to each other, that isolated individuals feel the greatest need to rely on the all-encompassing social contract.
As a state-of-nature society is sorting itself out along the Ethics Turnpike, and organizes a measure of public-goods provision on a voluntary basis, those believing in the superiority of a less hit-or-miss, more comprehensive social design can advocate it. Mostly, however, they can only wait, biding their time.
8. Others, still missing their favorite public goods and wanting to achieve a greater measure of social co-operation than would come about in the course of a single passage along the various exits representing the variety of co-operative motives, might at the last exit leave and return to "Go," in the expectation that with hindsight and the benefit of experience more can be achieved the second time round.
9: The Unfairness of Anarchy
In the last three chapters I was mainly engaged in demonstrating why and how a state-of-nature society can generate positive solutions to the reputedly hardest of co-ordination problems. It was my contention that it would act as if it used a built-in selection mechanism, implicit in the freedom of state-of-nature persons to make or withhold contributions to proposed common endeavors, which would favor schemes of public provision in the order of their worthwhileness to individual contributors. The likelihood of a positive solution was found to be the higher the greater was the excess of the "productivity of publicness," that is, the advantage of employing resources to provide a given "public" good over employing them to produce "exchange" goods—including, of course, private substitutes of the public good. It was this excess which made it potentially rational for people voluntarily to subscribe to schemes of public provision on unfair, "sucker" terms, contributing resources to produce benefits both for themselves and for free riders.
The disincentive to contribute, on the other hand, was rooted in the dilution of benefits, a concomitant of non-exclusion. Under conditions of publicness, only a part of the benefit attributable to an individual's own contribution can be captured by him, the rest accrues indiscriminately to others in the non-excluded public. What proportion he can logically consider as accruing to him, i.e., what his "dilution factor" is, depends on the critical breakdown of a non-excluded population (such as a group with an interest in getting the same public good) between suckers and free riders—a breakdown which is just consistent with producing a positive solution. The critical division of the group is one where there are just enough contributions to enable Edition: current; Page: [[219]] public provision to be undertaken, fewer contributions implying its failure. Dilution must be at least counterbalanced by the differential productivity of publicness in order for the "straddle" ordering of alternative outcomes, and hence the acceptance of the role of sucker, to be rationally admissible under the narrowly single-minded motivation we ascribe to "economic man." Broader, more diverse, motivations could furnish other, additional, and less stringent reasons for contributing; their relative strength and cumulative weight are questions of fact.
State-of-nature society is broadly capable of looking after the production of public goods of sufficient worthwhileness. This conclusion does not prejudge the question of the efficiency or optimality of the resulting balance between public goods and exchange goods—a question which begs others and which for that reason I do not regard as fit to ask. The issue, however, is not the optimality or otherwise of the scale of state-of-nature public goods output. In the conventional theory of the social contract, there can in general be no man-made public goods without coercing some or all members of society to contribute to their production. Hence de facto coercion to contribute, whichever way it originated, is regarded by contractarians as if it had been unanimously agreed by all, since all must have at least some public goods and may wish to have more than some. It was my contention in Chapters 6 and 7 that this theory is a fallacy.
There is, however, at least one alternative "as if" explanation of the demise of the state of nature. It can be agreed that if it had not been superseded by an increasingly complete "perfect" state for reasons that are extraneous to the possibility or otherwise of social co-operation, state-of-nature people would have come to adopt arrangements whose ultimate effect would have been the same. Unlike conventional social-contract theory, the alternative explanation neither claims that the socio-contractual outcome is a necessary consequence of seeking to avoid Pareto-inferior states of affairs nor, what comes to the same thing, that simple consistency requires any individual who prefers to contribute to public goods, provided others contribute too, willingly to accept the command-obedience relations that alone enable him actually to choose this preferred arrangement. Still less is it an explanation that, if valid, would be valid for any and every rational Edition: current; Page: [[220]] individual and would, for this reason, suffice to ensure unanimous agreement.
In our explanation, we find no sufficient reason for unanimous agreement to command-based institutions taking the place of the state of nature. Nor do we need it. We can derive the emergence of such institutions from the distributional conflict between suckers and free riders inseparable from the state of nature. Instead of the certainty that unanimous agreement would produce, it is a matter of conjecture and probability that some should adopt certain strategies; that small beginnings should surreptitiously bring about momentous ends; and that new states of affairs should not be chosen by conscious design but should emerge as the composite result of strategies directed at other objectives. The present chapter is devoted to gathering together the presumptive elements of such an explanation.
The reader will recall that, as a solution of the straddle-type public-goods "game," a group of "players" breaks two ways, into a subgroup of subscribers and another of non-subscribers. In the normal course of public-goods provision, there will be schemes where "subscribe" and "pay the subscription" comprise one and the same irrevocable decision. Stepping up to shoulder the heavier end of a load, going first to break a path, taking the blame for a collective deed, are composite "subscribe-and-pay" decisions of this kind, as would be the cash-with-order acquisition of a public good by some for all. In other cases, "subscribe" having been undertaken at time t0, "pay" is not to follow until t1—the prime instance is the "promise to keep promises" made at t0 and the occasion to keep or break an inconvenient promise, occurring at t1.
Suppose next that in a proposed public-good enterprise of this two-step kind the subscriber subgroup k happens to be greater than the critical minimum k̄. Everyone who took the "subscribe" decision did so in ignorance of what everyone else was deciding. The result, however, is apt to be public knowledge. Since at this point there are visibly more subscribers than necessary and fewer free riders than could be carried by them, free riding is revealed as riskless. Every subscriber, therefore, has an incentive to free ride instead. He will default if he still can rather than honor his subscription. However, each must continue to be the first or among the first to do so and to Edition: current; Page: [[221]] cross over to the free riders, for the point of his move depends on his leaving behind at least k̄ subscribers in the sucker subgroup. Plainly, all cannot be first and it is entirely possible that if there is a rush, too few might be left behind.
If the exit from the sucker subgroup is by a "turnstile" (or its equivalent), or there is some natural or man-made arrangement controlling the sequence of people passing from one subgroup to the other, all may yet be well. For with each person who is seen to pass, or is thought on a probabilistic basis to have passed, from the "suckers-to-be" to the "free riders–to-be," the next person's incentive to pass over is diminished. (In terms of the "straddle" diagram of Figure 12, p keeps moving to the left and the expected excess utility of the NS not-subscribe strategy keeps getting smaller until it becomes negative.) With a turn-stile or other sequential protocol for changing camps, equilibrium between the sucker and the free-rider camp could be reached in a not too disorderly manner (though perhaps involving some jostling at the turnstile) consistent with sufficient residual "pay" decisions to ensure the successful organization of public provision.
Many non-excluded groups and many public-goods schemes, however, would have no natural turnstiles nor the possibility of enforcing disciplined queueing. "Suckers-to-be" in such schemes might well try to default all at once. Equilibrium could well be overshot in the rush, and the attempt at arranging public provision be aborted—a result unwanted by disappointed though willing suckers no less than by failed free riders.
It would, under such circumstance, be probable that among the number of public-goods attempts vulnerable to the above scenario the subscribers to some should by mutual agreement seek to suppress default. There could, in fact, be unanimity within a "sucker" subgroup so situated in favor of enforcing commitments once subscribed to; for nobody would have been forced to subscribe in the first place, all doing so for good reasons of their own. Hence, enforcement would merely have the effect of making sure that the ex ante intent of voluntary sucker and free-rider strategies was not frustrated ex post by the mutually inconsistent attempts of some to secure, with hindsight, an even better payoff than originally aimed at.
Enforcement could conveniently be (and at least in some cases Edition: current; Page: [[222]] almost certainly would be) entrusted to a group executive, with a mandate limited to see that whoever subscribed paid his subscription (after adjustment, if necessary, for the number of subscribers k being greater than the critical minimum k̄). To carry out its mandate, the executive would have the appropriate means of coercion. In such way, through the length and breadth of society a number (perhaps only a small number) of micro-social contracts could be implanted, so to speak at the grass roots, each associated with an enterprise publicly to provide one good for one group.
Abuse, Outrage, Envy
At this point in our scenario certain subgroups of suckers would have willingly accepted to be held to their commitments by enforcement executives formed for the purpose. Despite the availability of machinery, however, there would be no question of forcing free riders to contribute as well. The prima facie reason is that in the state of nature the free riders have promised nothing and must not be held to undertakings to which they were not party.
The high road to coercion is the contractarian pretension that acceptance by a person of a share in a benefit he did not solicit is tantamount to his tacit acceptance of an obligation to provide a share of the corresponding contribution in the same way as those who did solicit the benefit. A free rider, by availing himself of a public good, is Edition: current; Page: [[223]] said to concede the public's right to exact from him a contribution on a basis to be defined. If there were a state-of-nature understanding on public goods, in terms of which suckers freely accept to subscribe to some scheme of public provision in explicit recognition that they are paying both for themselves and for others, this contractarian pretension would contradict it; the two are mutually exclusive.
There is, however, also a low road to coercion that can be taken in a fit of absence of mind, without invoking the high anti-free-rider principle of equal obligation for equal benefit. In any group of people, there is often a handful who do not know how far is too far and how to stop short of it. Free riding on any particular public-good enterprise is meant to be tolerated as a consequence of the state-of-nature condition that suckers assume their role voluntarily. But toleration would be sorely tried by the offensive conduct of the odd free riders who overreach themselves. Since they can always consume more of the public good at no or low marginal cost to themselves, they may easily lose the sense of proportion and good measure that consumers of public goods that run the risk of crowdedness should possess in order to find each other's conduct bearable. Heedless of resentment, they may make themselves conspicuous by excessive use of the public good. Equally easily, they may cause scandal by consuming no more than most but by doing in a provocative, flaunting manner what others do more discreetly. Anyone who has been in a crowd that was given a chance to free ride—to eat and drink all they can, to be seen talking to the star guest, to overlook the collection plate—knows how such occasions bring out extremes of behavior, some people holding back with embarrassed modesty, others outdoing each other in pushy cleverness and noisy self-congratulation at its success. Not only is there a probabilistic basis for supposing that every social group has some conspicuous free riders; there is also some likelihood that due to the dynamics of emulation and the spur of happily getting away with it offensive behavior should grow more unacceptable until it meets a punitive sanction, or at least some non-punitive check.
For these reasons, one would expect tensions to develop and intensify in some of the groups which have organized public provision of some good for themselves. Abuse of publicness could lead to outrage, continuing abuse to outrage that spills over into action. Somewhere, Edition: current; Page: [[224]] and at some point, protracted irritation with provocative free riding would set off counter-measures. In the first instance, they would be directed at the worst offenders. One or both of two measures may be resorted to before any others: exclusion and forced contribution.
Exclusion may be limited to purposes of the public good in question; often, however, it may have to be total expulsion from the group, exclusion from a single, specific benefit not being feasible. In the worst case, non-exclusion would have to be given up altogether. Thus, in a work team that shares and shares alike it may be possible to expel the inveterate shirker; but if that should be impossible all members of the team may have to accept being paid according to their individually monitored performances and the salary would have to cease being a "public good" within the team.
Alternatively, the suckers may force the free rider to contribute in proportion to his benefit, especially as they already have in place the machinery of contribution-enforcement. Where the technical-logistical exclusion-cost is very high, they may consider this the only practical solution; where exclusion is technically easy and cheap, there may be other reasons, rooted in mores, for opting for forced contributions in preference to exclusion.
For the ex–free rider, assuming he were allowed to take the best of the remaining three inferior payoffs, the "fair" mixed regime, where he contributes like everybody else and benefits, would rank as the second-best; "sucker," where he contributes more or benefits less, as third-best; and the exchange regime, where he neither contributes nor benefits, as the worst payoff. Once free riding was barred, he should therefore volunteer to contribute, securing the second-best payoff. But forcible closing of the free-ride option does not leave any voluntary alternative. It entails the enforcement of exclusion or of contribution. Whichever is imposed on him comes with the added burden of coercion. Even if he were offered a genuine choice, we can no longer say which he would take, for his preference-order under duress may well not be the same as under freedom. But for the implied constraint, he would have ranked either of the two payoffs that gave him access to the public good higher than the exchange regime. It is not evident that this would still be the case if his contribution turned into a tax, extracted under the threat of sanctions by the enforcement executive.
Edition: current; Page:

[

[225]

]
What is clear, on the other hand, is that taxation rather than exclusion would have a strong appeal to the moral sentiments of those who have the option to impose one or the other. Exclusion is discriminatory; taxation is not (or at least need not be). In adopting the latter, they can correctly claim that they are not asking any more of the ex–free rider than of themselves. When he is made to contribute, his situation is merely brought into parity with theirs. Admittedly, there is a potent counter-argument denying this, i.e., that their situation was voluntarily assumed, while his is forced. But exclusion, too, would be forced: and between forced disparity and forced parity the latter may well look more equitable.
With this first, yet decisive, step on the low road to fairness, a frontier will have been crossed. Ethically, we are in a different country. At the outset, back in the state of nature, suckers and free riders were unequal in terms of their contributions, but equal in terms of the free choice of their respective strategies. Each could do what he thought best: suckers contributed for fear that otherwise public provision might fail, free riders took the chance that it might not. Now, on the way out of the state of nature, there is both inequality of contribution and inequality of treatment. Some are made to contribute despite themselves; others are still free to choose their strategy and can continue to ride free.
Such incipient movement as began under the impulse of abusive free riding and outrage at conspicuous misbehavior would now naturally gather momentum. It would help satisfy a sense of fitness and equity, and it would draw more force from the envy inspired by the unfair advantage still enjoyed by the remaining free riders. Resented, but tolerated for a while, the latter would in time be more and more liable to be forced to contribute, whether one by one, class by class (however classified), or all at once. The pace of the process might differ from one social group to another and one public good to another. Once properly under way, however, the "fair" mixed regime would be its increasingly probable ultimate outcome. Under any other outcome, inequality of treatment and free-rider advantages would coexist with the coercive potential of an executive apparatus whose vocation was to stop people taking advantage of each other—an unstable combination.
Edition: current; Page:

[

[226]

]
Our starting-line on the Ethics Turnpike was the perfect state of nature, everybody disposing of the same force as everybody else, all disarmed or armed to the same extent. By the time society has organized itself and set up its schemes of public provision, ensuring (where the nature of the good made it necessary) that subscriptions shall be duly followed by actual contributions, the imperfect state of nature will have replaced the perfect one for this reason if not for several others: that each enforcement executive represents some concentration of hitherto dispersed power. Its distribution becomes polycentric instead of evenly spread over all members of society.
Justice and fairness now point in opposite directions. Despite a familiar doctrine teaching that one inspires the other, their contradictory posture is not at all surprising. The free rider takes his stand on the ground of justice, protesting against the pretension which equates the right to exclude from an unsolicited and unrequited benefit with the right to force the beneficiary to contribute to its cost. Though he did not choose to pay for the good, neither did he encourage any expectation that he would. That the suckers in a group do provide it to the entire group is strictly their affair. They have the uncontestable right to include or exclude him from the benefit, but only from the benefit they provide. That inclusion is more convenient than exclusion is, once again, their affair. Its inconvenience and cost do not create a right of forcing him to contribute, in lieu of being excluded. The attempt to arrogate to themselves such a right, by pretending that his non-refusal of the benefit amounts to the implicit acceptance of an obligation, is a failure, for no benefit-based obligation can be created by one party imputing to the other a prior promise he has not made.
The free rider's plea, admitting that in justice he can be excluded but denying that he can be made to pay, may very well be insincere and cynical. He looks suspiciously like inviting suckers to a course of action (exclusion) which he knows to be costly or difficult and which he would be the last to welcome. If there were much chance of its being adopted, he would not suggest it. But only in the last resort would free riding, a problem caused by publicness, be dealt with by abandoning publicness. Nevertheless, the free rider's plea is incontrovertible by arguments drawn from justice.
Quite different is the perspective of fairness. It would be best if Edition: current; Page: [[227]] all contributed voluntarily, and it would still be reasonably well if none furnished grounds for subjecting them to command-obedience. Once, however, some must be forced to contribute, equality of treatment demands that all should be. Admittedly, there is no sure first choice among rival principles of equal treatment. Maybe all should contribute the same amount; or the same proportion of their resources; or what each can spare; or what is warranted by the benefit each derives. Aristotle's principle of "proportionate equality" may be freely translated either as a linear or as an exponential relation. Indeed, indefinitely many competing principles of equality are latent in any triad of burdens, benefits, and beneficiaries. Some principles may be ranked ahead of others by the arguments of "moral accountancy," ethics, or expediency, but one does not for all that entail more equal treatment than another and each has as good a claim to fairness as any other.
Be that as it may, treatment according to some fair principle would usually prevail over treatment lacking any such principle, in so far as what can pass for fairness is acceptable to third parties without supporting argument, while the soulless rigor of strict deontic justice has no such direct appeal—except to those who revere it for what it is, rather than for the particular judgments it hands down. There is, apart from any plausible process leading to the threat of force against free riders, a presumption that the narrowing of the scope of private contracts and the growth of socio-contractual elements in the organization of social co-operation go hand in hand with a tendency, in cases of conflict, for fairness to get the better of justice, and for "society's" preferences to prevail over standards and norms that interfere with their realization.
Progress towards the "fair" mixed regime when all contribute would be the faster, the stronger are two special, sectional interests. Edition: current; Page: [[228]] One arises from the circumstance that not only suckers but also free riders will at worst not lose, and at best gain, when one more free rider is forced to contribute. The sole loser, of course, is the free rider who ceases to be one. When coercion to contribute spreads piecemeal, person by person, category by category, and class by class, the subjection of one more person, category, or class should, for obvious distributional reasons, be supported both by those already subjected and those whose turn was yet to come, even if they recognize, as they may do, that everybody's turn will come before they are done.
This is how, at least in Western Europe, each stage in the late medieval and modern erosion of "ancient liberties," privileges, and immunities was made possible by tactical alliances between the government of the day and those categories that had already lost or were yet to lose their exemptions. In the contemporary state, this is how the progressive widening of the tax base is approved, if not positively demanded, by those already taxed and those to be left outside the net for the time being. There is no reason that plain interest in the allocation of burdens should work differently in the state of nature.
The other special interest in fighting free riding would be that of the enforcement executives. Throughout this book, I have leant over backwards to avoid imparting a will and interests to the state—not that I think doing this would lead to false results, but to see the results one gets without it. An important strand in modern contractarian social philosophy, characterized by such authors as Rawls, Ackerman, or Dworkin, seems to me to treat the state (or, more narrowly, the "government") as reducible to an emanation of the members of civil society, a pure instrument and never an "actor" in its own right with a discretionary role to play. It is no doubt best to meet this strand of argument on its own ground if one can without serious loss of substance, and this has been my intention. It might seem a break with Edition: current; Page: [[229]] this precept to impute an "interest" to the enforcement executive. Nevertheless, since even a mechanical instrument is perfectly capable of having a bias and most instruments do have one, it is pertinent to point out that the enforcement executive justifies itself and grows by enforcement; if in doubt, its bias would be to take a wide rather than a narrower view of who must make what contribution.
The End of Anarchy
There are pedestrian yet fairly robust reasons why a state of affairs with one separate enforcement executive behind each enterprise of public provision should not be stable. "Enforcement goods" may be differentiated to some extent—discovering, judging, and executing judgment can be distinct—but there is little occasion for differentiation between what it takes to exact payments due for one public good and another. Enforcement executives would derive no advantages from staying apart. Amalgamation should make them stronger in force, more influential in not actually having to employ it, and perhaps also more efficient. Shared territory, shared constituencies, and shared public goods would over time induce more and more enforcement executives to merge: as a paler version of the socio-contractual derivation of the state, one could say that if they had not come into history fully merged to start with, their constituents would have chosen to merge them.
With subscriptions turned into tax assessments and with the emergence of a single collection-and-enforcement executive, little by little everybody, unless specifically exempted, would become a contributor to every scheme of public provision. There would then be no sense in nearly everybody paying scores of separate contributions to the same collector. The fiscal system could with advantage be consolidated on the revenue side, with a multitude of anachronistic taxes replaced by just a few. The equally anachronistic earmarking of particular streams of revenue to the provision of particular public goods—in our parable, a relic of selecting public goods to be provided by testing the relevant public's willingness to subscribe the cost of each separately—would also be eroded in practice before finally done away with in Edition: current; Page: [[230]] principle: receipts and expenditures would both be pooled. The real housekeeping constraint would be to balance global inflows and out-flows by working on whichever of the two could best be made to "give," and never mind a particular accounting mismatch between a certain expenditure and the particular revenue item supposedly meant to meet it. The enforcer-exchequer would thus find itself relentlessly pulled by its innocuous-looking housekeeping function into a policy-making one, for it could not help but involve itself in questions of how to adjust to autonomous variations in expenditures and revenues, and of who shall be pressed, and who let off more lightly—even if some of its policies in these matters were overridden on appeal. There is little doubt that—more than to such role as it had in organizing warfare—the apparatus of the state owed its systematic growth over history mostly to its innocuous-looking housekeeping role, more or less along the lines of our "exit from the state of nature" parable.
It does not affect the issue in hand whether the state emerging from these processes is conceived as a pure instrument, or whether it is allowed to take on an institutional life of its own in competition for resources and hence in conflict with civil society. For the present analysis, all we need is that, whether it is a blind instrument or an institution with discretionary features, the incremental actions of the state should to some perceptible degree depend on what its subjects want. This condition is likely to be met by most states except autocracies of rare perfection.
Anarchy, if historical precedent is to be taken as conclusive, does not survive. We have considered two received explanations of its fragility, and found both unconvincing. One of them, Institutional Darwinism, is a half-truth. Invoking the theory of biological evolution, it would posit the survival of the fittest, but can only manage to state a tautology, the survival of the survivor. It fails to give good reasons why we should regard the survivor as fit to survive. It does not come to terms with the demonstrated capacity of perverse, parasitic institutions to survive. It is too easy to turn inside out, becoming in the process an Institutional Gresham's Law. In particular, it never tells us why state-of-nature anarchy should have a uniformly poor life expectancy. At bottom, it must rely on an unprovable axiom, along the lines of Edition: current; Page: [[231]] Hume's affirmation that there must be a sovereign authority "because society could not otherwise subsist." Should anyone feel that this is not self-evident—for the only support of the axiom that "it could not" is that historically "it did not"—he would look in vain for a theory to account for the facts that would tell him "why not."
In contrast to Institutional Darwinism, the contractarian tradition, at least in its Hobbesian version, does offer such a theory. It derives the dominance of the state over anarchy from the basic premiss that non-coerced contribution to public goods is irrational. Hence, if people opted for the state of nature they would be knowingly renouncing public goods. But they cannot both prefer (certain) public goods and willingly renounce them. Consistency requires that they should want to do away with anarchy. The contractarian explanation has stood largely uncontested for three centuries after Hobbes. Only recently has political economy, using game theory, started to dispute the validity of the contractarian representation of the public-goods problem as a prisoners' dilemma with a dominant un co-operative solution. It is the thesis of the present book, argued in detail in Chapters 6 and 7, that the very nature of public goods is such that non-co-operation in their production would seldom be a dominant strategy.
Our argument indeed is that if the state of nature had not been obliterated due to ad hoc causes, it would have been transformed into a society subject to a sovereign state in a piecemeal process, moving crab-wise, largely unplanned. Its motive force would be, not the desire or "need" for public goods, but the demand for greater fairness in the manner of getting them. Its actual destination, however, might well not be greater fairness.
Lured on by the relative ease of each step undertaken to put right some glaring unfairness, and quite pardonably failing to foresee the cumulative and distant consequences, state-of-nature society would with great probability (to borrow Nozick's phrase) "back into the minimal state without really trying." In the course of tidying up and Edition: current; Page: [[232]] sorting out one unfairness after another, it would have substantially brought about the effects conventional wisdom ascribes to the ideal, comprehensive social contract. Nor is there any visible reason to expect some such process to stop at the notional minimal state, or at any other particular point along the private good–public good, contract-command spectrum.
10: The Return of the Free Rider
The end of anarchy would be characterized by two shifts in the social environment. On balance, a shift would occur from contract to command, and from probabilities to certainties. The ultimate source of both is the changeover from voluntary to (mainly) mandatory contributions to public goods.
Implicit in this changeover is the grounding of third-party interventions in conflicts increasingly upon principles of fairness rather than of justice. Justice tends to be the salient principle, facilitating acquiescence in third-party interference, when conflicts arise out of prior conventions, agreements, contracts, and attempts at their enforcement. Fairness is salient for social choice, when conflicts cluster around problems of "who pays what" and "who gets what" in the absence of prior agreements, calling for resolution of the distributive implications of coerced co-ordination.
The full dynamics of the encroachment of one form of social cooperation upon another, involving the replacement of voluntary by mandatory co-ordination, is patently not going to be derived from the handful of basic abstractions which make up our parable of the rise of centralized power. However, the austere poverty of our raw material has some compensating merit too. The focus on the simplified a priori division of society and its constituent groups into suckers Edition: current; Page: [[234]] and free riders is the most direct way I can think of to uncover the game-like interactions that are set off when this spontaneous division is overridden by the command of social choice. The new environment of anti-free-rider suppression has two key features that play a direct role in the form these games take. I shall call them "reverse contribution" and "pooling."
Reverse Contribution
Publicness, it will be recalled, implies a loosening of the nexus between individual contributions and benefits. When a good is wholly private, the person who uses it is a customer and "gets what he pays for." When it is semi-public, he is a beneficiary and pays less than the replacement cost of the good, which can as a rule only be reproduced with the help of some sort of public subsidy. When the good is wholly public, the beneficiary typically contributes nothing towards its reproduction in exchange for the marginal unit of his benefit, whatever contribution he may be obliged to make independently of his marginal benefit.
There are cases (a) where the individual beneficiary of public provision cannot vary the "amount" of his benefit at his own discretion. Such public goods as national defense, a common language, widespread respect for one system of customs and laws yield a certain advantage to each, perhaps greater or less according to their walk of life. There is no obvious way for anyone, given his situation in society, to get a greater advantage by having a more intensive recourse to these goods. Not only is the good itself indivisible, or at least subject to a minimum threshold, but each individual's benefit from it is indivisible as well.
In other cases (b) it is within a person's discretionary power to use more of the good (have more intensive recourse to it), but there would be no point in so doing: he will not want to cross and recross a bridge more often than the number of times his occasions take him to the other bank. Though his benefit from the use of the bridge is in a sense divisible, the marginal benefit is nil.
Finally, however, there are cases (c) where the benefit is both divisible and presumably positive at the margin. Grazing one's livestock on the common looks like being such a case. The remarkable thing Edition: current; Page: [[235]] about common pasture is not that often it is overgrazed: the contrary would be more remarkable. The surprising fact is that it is not more overgrazed, i.e., that its abuse mostly stops well short of the point where one more cow could not be profitably kept on it. The owner of an additional head of stock could reap an unrequited advantage to the detriment of the other cattle-owners. Why does a person in such cases forgo the advantage and restrain his recourse, use, or consumption of the public good, instead of pushing it to the limit where no further benefit could be derived from a further increment?
It looks prima facie irrational to forgo a costless benefit. However, restraint in using the public good can in such apparently puzzling cases be assimilated, at the margin, to a contribution to its provision. Where public provision is based on voluntary co-operation, contributing has a certain rationale which was explored in Chapters 6 and 7. In essence, it is a matter of the allocation of risk between suckers and free riders, the former contributing for fear that public provision might fail if they did not, the latter ready to run the risk that it might. This allocation is consistent with voluntary provision of the good. However, if its rationale is adequate for explaining contribution, it is also adequate to explain restraint in consumption in cases where greater consumption would increase the risk of contributions being inadequate to meet it. Moderation in the consumption of a good increases the probability of its continuing successful public provision.
While we do not know the effective cause of there being only so many cows on the common, the equivalence at the margin between contribution and moderation in use can, within the right parameters, very well be a sufficient cause of it. Certain "players" both among suckers and free riders could rationally choose to employ a variable mixed subscription-and-use strategy, e.g., "This time round I do not subscribe, but restrain my consumption," in place of the pure subscription strategy, there being no a priori reason why the mixed strategy should not yield as much expected utility at the margin as the pure one.
Once, however, contributions cease being voluntary, the whole incentive structure changes. Restraint in consumption is rewarded by a uniformly zero average and marginal payoff, for it does not affect the probability of the good being provided. This probability has previously Edition: current; Page: [[236]] been fixed at the maximum (i.e., certainty) by social choice: taxes and tax expenditures are certain to be what they are, whether or not a given individual exercises moderation in profiting from a given public good. Rational individuals would therefore, switch the "use" component of their strategy from "restraint" to "no restraint" and increase their consumption of any public good whose marginal benefit to them was positive. They would attain equilibrium at a level of consumption or intensity of use of each good, where the marginal benefit was nil due to saturation or, more characteristically, due to the indivisible public good becoming sufficiently "crowded" for rationing, queueing, jostling, spoiling, or analogous constraints to deter any greater use.
Publicness in the provision of health care (whether in the form of outright gratuity, or in the form of insurance where the individual's premium is in the nature of a capitation fee and adjusts imperfectly, if at all, to an increase in the individual's consumption of health services) is widely believed to cause higher demands for it at all but the very highest income levels than would be the case if health care were a pure exchange good; demand is only held in check by seemingly chronic "crowdedness" in many sectors of the free health service, for example, of the United Kingdom. Mutatis mutandis, the same is true of university education in those countries, notably France, Italy, and Spain, where fees are merely nominal and admission to most faculties is a right (or, in public-goods language, "non-excluded"). Recourse to welfare services, including even a reputedly too ready reliance on unemployment benefit in preference to arduous search for inconvenient and inferior employment ("getting on one's bike"), belongs to the same class of phenomena.
In the nature of the case, there are many ad hoc explanations for the endemic character of excess demand for this type of good. Some of them contend that but for the parsimony of governments in fixing the scale of public provision, there would be no excess demand. This is not the place to try and judge the merits of such contentions. All we need say is that contrary to state-of-nature conditions where restraint would be rational, "over-use" of public goods which are subject to crowdedness would be a rational strategy for the user. Hence, the cast-iron social-choice assurance that the good will be provided is a sufficient explanation of over-use and crowdedness, though we may Edition: current; Page: [[237]] not know whether it is the right one. At least it predicts quite well what seems to be happening across the board.
When contribution to public provision is mandatory, its unrestrained use up to the constraints of crowdedness is best understood and referred to as "reverse contribution"—as if the excess use over and above the rational state-of-nature level of use were a partial claw-back of the contribution that had been exacted from the user. While the contribution is mandatory, the reverse contribution is discretionary. It is, loosely speaking, a revenge strategy for "getting one's own back."
Pooling
In the state of nature, the list of public goods, comprising the specification and the scale of provision of each, would be the set of group-game solutions, a separate solution being found for each good by the respective group of "players." (Separate solutions need not, of course, mean that they are independent.) After the exit from the state of nature, the whole list is decided by one all-inclusive set of "players." Social choice is sovereign over the list and over each item in it (except if the choice rule provides for an exempt domain and the good falls within it). Hence, even if aggregate public provision is not determined anew each day in a plebiscitary fell stroke, but is built up piecemeal, sovereignty over the list means that it is what it is because social choice did not decree otherwise. Moreover, contributions are not assessed and exacted separately for each good, but jointly for the entire list: if a person contributes to one man-made public good, he contributes to all. The principle of pooling operates both in deciding what shall be provided and in allocating the costs to be borne: all can have their say and all must do their bit, regardless of their interest in particular items on the list.
Edition: current; Page:

[

[238]

]
Unless the constitution ("choice rule") provides for a dictatorial subset of society whose chosen public-goods list always prevails over the lists everybody else would choose, the "socially chosen" list is essentially some "summation compromise" among the entire set of preference-expressions for alternative lists. I will assume that the choice rule is of this kind, that everybody expresses preference (e.g., votes) for the list he really likes best (I use "preference" non-trivially), and that the nature of the summation compromise is such that some (whether small or large) change in preference-expressions will, if anything, produce some change of the same sign in social choice. One man, one vote combined with some, albeit sluggish, rule of decisiveness will characteristically ensure that the socially chosen list will be sensitive to some degree to everybody's preferred list. Take, for illustration, a case where two classes of goods, public order and social welfare, are provided on a certain scale for A and B. A attaches greater importance to order; B to welfare. In the typical summation compromise, a list of public goods will be chosen, such that A would feel better if more goods conducive to public order were produced, if need be at the expense of welfare-promoting goods; B would have the converse reaction. Once they have both pushed their "reverse contribution" strategies to the point where both order-goods and welfare-goods are "crowded," A would gain more if further order-goods were added to the list. Once more, the converse is true of B.
If y (for order) and z (for welfare) were "excluded" goods obtained in private exchange, we would look for an area of mutual advantage within which A could make B better off at no cost to himself by giving him some z in exchange for some y, and vice versa for B, so that they could trade profitably subject to resolving the bargaining problem of how to share the advantage. Usually, however, no such mutually profitable adjustment of people's holdings or intake of goods is possible when the goods are public. If either of two goods y and z is "uncrowded," it is always better simply to use more of it without giving up any of the other good for the privilege. Hence, there is no area of mutual advantage and no basis for trade. If both goods are "crowded," but at least one of the two yields non-transferable benefits, once again there is no basis for trade. (For instance, if z is sickness or unemployment insurance, and both A and B are already drawing Edition: current; Page: [[239]] all the benefit they can from it in conformity with the principle of reverse contribution, A cannot cause B to get even more by passing on to him some of his own entitlement. Consequently, B cannot profit from renouncing some of his entitlement to the other good y in favor of A, even if y is transferable.) Only if both y and z are inter-personally transferable can trade create a Pareto-superior outcome and improve the benefit the two goods yield to society. Presumably, however, transferability and non-exclusion do not go together, since it is impossible for transfer to procure a benefit in the absence of exclusion.
Failing trade in non-excluded goods, every individual must make do with the "pooled" public-goods list, no matter how unsatisfactory he finds it. It sounds paradoxical that while the pooled list can well be Pareto-optimal, i.e., impossible to change without hurting somebody, it may yet leave every individual worse off than they would be if each could draw up his own list within a fixed resource budget.
In reality, of course, there is no paradox, for society cannot have both non-exclusion and individually tailored patterns of public-goods provision. The two conditions would be contradictory even if each public good were produced in response to preference-expressions and contributions voted for that particular good separately. Pooling, with everybody getting free access to the same list of goods and contributing independently of how much he needs and how well he likes each, is a corollary of publicness and of the whole list being decided by one and the same decisive set (e.g., the majority of voters) under the social-choice rule. Yet when the decision has implications that are mandatory for all, no other way of drawing up the list of public goods may be workable: could it be left to the aged to decide about old-age pensions and long-term health care, given that the burden of contributions does not fall on the aged alone?
The Game of "Ask"
The question that ends the preceding section is obviously rhetorical but not wholly pointless. Since it is better to be repetitive than misunderstood, let us consider once more how and why public provision under any social-choice rule is, by its nature, redistributive with or without deliberate design to that effect on the part of the provider.
Edition: current; Page:

[

[240]

]
In the state of nature, providing public goods redistributes in the somewhat simplified yet palpable sense that all benefit but not all contribute, there being some prima facie shift of benefit from suckers to free riders. Less obviously, but nevertheless effectively, an allocation of burdens may be redistributive even when all are forced to contribute: any "fair" mixed regime is redistributive according to some criteria if not according to others—by certain norms of fairness, it would be unfair if it did not both provide and redistribute.
An allocation of burdens can be recognized as non-redistributive if it satisfies certain conditions of neutrality that are agreed to be minimally sufficient: its redistributive character is relative to those agreed conditions, whatever they are. If two rival sets of conditions contradict each other, no allocation may satisfy both. One possible neutrality condition would stipulate that the burden of contributions be allocated to produce the distribution of real income (or happiness, or whatever else is supposed to lend itself to distribution) that would have prevailed in the pure exchange regime. To approximate, let alone achieve, this result, however, it would not be enough to fix taxes in such a way as to leave everybody's relative post-tax share unchanged (if there is such a way). Income or happiness is presumably reduced by taxes and increased by publicly provided goods. Because of non-exclusion, the hand that fixed the taxes cannot also fix the individual benefits. The most it could do would be to fix taxes or other contributions in the light of the likely benefit each contributor can be expected to derive from the list of public goods, after allowing for the benefit itself being dependent on the level of post-contribution income. Pretending that a certain allocation of contributions, combined with a certain list of public goods, produces this result or something close to it would be certainly brave, if not preposterous. Other, significantly different, neutrality conditions could be excogitated. But they would be merely trying the reader's patience, for finding plainer, more easily satisfied conditions would not really affect the basic issue, which is that it is not in the nature of a social-choice mechanism to search for, and home in on, the target of neutrality; while hitting it without aiming to would be an extraordinary accident.
Distribution effects relative to the shares all would get in a pure Edition: current; Page: [[241]] exchange regime, are intrinsic in the movement away from the exchange regime. Gainers from such effects have, by definition, reason to prefer them to neutrality. Only the losers have any incentive to resist them. The nature of non-fatuous social choice, however, is that under any conceivable aggregation rule defining what shall be a decisive set, and hence whose favorite state of affairs shall be accepted as the socially chosen one, it will normally generate distributive outcomes favoring a corresponding decisive set in society.
Under bare majority rule, for example, a bare majority is always able to choose a distributive outcome out of the range of feasible outcomes which favors it, or some subset within it, at the expense of the minority, whose preferred outcome it was able to overrule. Far from tending towards a distributionally neutral list of public goods and pattern of contributions for producing it, social choice will, if anything, act to ensure that they shall not be neutral.
The point that public provision is sui generis redistributive is distinct from the more widely understood one that it is a particularly potent tool if deliberately employed to that end. Taxation according to some measure of the "capacity to pay" combined with public provision according to some measure of "need" is the grandfather of most deliberate redistributive policies. Social-choice rules, as we have seen, are predisposed to employ public provision in deliberately redistributive ways, by virtue of permitting the resulting set of gainers to overrule the losers. For this reason, a marginal expansion of public provision has a greater likelihood of being "socially chosen" if it is deliberately designed to have a redistributive effect favorable to a potential decisive set, than if its redistributive effect is, so to speak, left to chance. Evidently, public provision need not be a positive-sum game to allow the gainers to outweigh the losers. Provided it is divisible, it is a perfectly straightforward task to divide a zero or negative sum so as to produce a preponderance of gainers over losers, as long as it is the Edition: current; Page: [[242]] preponderance of their numbers that matters, and there is no rule against making one individual lose more than another gains. Fairness rules, far from prohibiting it, may positively call for such results.
Ordinarily one should expect both the unintended and the deliberate redistributive effects of public provision to be at work. The reason I insist on the conceptual distinction between the two is that I can abstract from the second as ordinarily understood, and still derive the same results: public provision will expand, command will encroach upon contract, and free riding and its attempted suppression will be a typically open-ended process even in the assumed absence of policies aimed at modifying the distribution of benefits and burdens in a welfarist and egalitarian (or any other) direction.
Let us now suppose the equal feasibility of two "political" states of affairs, reflected in two extreme "mixed regimes" and (on the principle of "he who can do more can do less") of all less extreme mixed regimes falling between the extremes. At one extreme, the list of public goods is short and most resources are devoted to exchange goods; the converse is true at the other extreme. We will call the first the Minimal and the second the Maximal State. The actual regime between the two limiting ones is socially chosen. The state is a pure instrument registering and executing social choices. The choice of regime changes if enough individual preference-expressions change in the same direction. This translates into the state being to some degree sensitive to what individuals demand. The more agile the choice rule, the more sensitive is the state; if there is provision in the rule for a "mandate to govern," a short, revocable, yet renewable mandate makes for greater, a long, irrevocable mandate for lesser, sensitivity.
There are individuals who, given the actual regime, prefer moving towards the Minimal and others towards the Maximal State. (This does not, of course, prejudge whether they would like to go all the way, but that is not relevant.) Each has reasons and motives for his preferred direction; some or all of the ethical motives surveyed in Chapter 8 may well be at work, albeit influenced by the fact that certain "exits" become either mandatory or forbidden under the operation of the social contract. Everybody is supposed to have expectations of the value to him of various possible public goods, given the contribution he expects to have to make; individuals may or may not Edition: current; Page: [[243]] reckon that their own contributions would have to vary if the list of public goods varied. There would presumably be at least some "ideologically" neutral, single-minded narrow utility-maximizers playing "economic man." They would be indifferent between going towards the Minimal or the Maximal State, except if, and only to the extent that, they expected a change in the overall scale of public provision to have good or bad redistributive effects for themselves. I will take A and B to be two such neutral "economic men." Of the two, moreover, I suppose A to reckon on no redistributive advantage from a changed scale (length of "list") of public provision, nor to have any preferences for a different composition of it.
The free-riding benefit that public provision offers to some at the expense of others is twofold.
1. One sort arises from a change in the composition of public provision in one's favor. Since the same "pooled" list of public goods is available to all non-excluded members of the public, a given individual (such as B), having adjusted his consumption of each good by "reverse contributions," may still derive more benefit from his marginal consumption of certain goods (including perhaps potential public goods that could be but are not provided) than of others. Given the list actually provided, the addition of some he liked and the suppression of others he liked less would increase his benefit; the increase would not require more resources to be devoted to public goods.
2. Depending on how the burden of resource contributions is shared out, providing a given list of public goods redistributes income, utility, or happiness from some people to others (note that taxation need not be progressive, proportional, or for that matter conform to any pattern at all, for this to be the case; a weak or simply indeterminate nexus between contributions and benefits will do). A marginal increase in public provision matched by a marginal increase in contributions could increase redistributive gains and losses: gainers could gain more, and losers lose more. However, many public goods are likely to be indivisible ("lumpy") both ways, collapsing if compressed, but resisting expansion. Therefore, one may never get an all-round marginal increase in public provision as a whole which would leave its composition unchanged. Instead, one can envisage Edition: current; Page: [[244]] each increase as a newly provided good, e.g., some additional defense of public order, or some new welfare service. If for a given individual the new good is a random addition to existing ones, he is as likely to like it better as to like it less than the average. We can then take it that his expected free-rider benefit, if any, from such a random addition to public goods is due to the larger scale of public provision and owes nothing to its changed composition.
In terms of these two distinct sources (scale and composition) of free-rider benefit, indifference between moving towards the Minimal or the Maximal State signifies that the person concerned expects no gain or loss as the relative size of the state expands, unless he expects the expansion to involve a non-random change in the composition of public goods.
Let A and B be indifferent to the scale of public provision in the above sense. They expect to break even on redistribution. In addition, being "economic men," they have no ideological bias either. They are neither rugged individualist plutocrats nor welfare-parasite social-fascists; if there were only two kinds of axes, the ideological and the venal, they would have no axe to grind. If everyone was like them, in terms of the conventional theory of the creeping welfare state, no force would be left to sustain the advance of the public sector and the retreat of free contracts. Nevertheless, their rational interaction would still produce unambiguous impulses to keep society moving towards the Maximal State.
This result can be deduced from fairly innocent assumptions.
1. Every member of society can, once in every time-period, demand of the state to amend the list of old public goods by making one specific change in it. The new list is the sum of these demands, aggregated in the manner laid down by the social-choice rule. Any individual has three options: to ask for one more good, to ask for one less good, or not to ask at all. Asking is costless to the individual concerned, its cost being borne by society. If need be, this assumption can be justified by the likelihood that political entrepreneurs expect to profit from diagnosing, articulating, and pressing home individual demands for public goods. For instance, if some members of Edition: current; Page: [[245]] the public appear to find public order, and others welfare services, inadequate, there will soon arise a candidate, a lobby, or a party of order, and one of welfare, each promoting the provision of more public goods conducive to satisfying the respective constituencies (which free ride on the back of society as far as the cost of rewarding political activity on their behalf is concerned).
2. An individual expects at least as great or greater incremental benefits if his demand for one more public good is met than if his request for suppressing one is agreed. This condition holds if his average benefit from the good he would like to add and the one he would like to suppress, pro rata to their resource costs, is as great or greater than his own share of the cost. I assume this normally to be the case, except if there are public goods that are so useless or are so wastefully produced that an individual could hope personally to gain more from their suppression than from the addition of his favorite new good. This is perfectly possible, especially if the state proves to be a very imperfectly controlled "instrument" of society and takes on a life of its own. But a list of public goods, originally selected on the basis of the "productivity of publicness," must go downhill a long way in quality and cost-efficiency before the exception becomes important and demands to "roll back the state" start to be directed at practical, specific targets instead of being the worthy general principle that has seldom committed anybody to give up any particular public good (or service).
Edition: current; Page:

[

[246]

]
3. Given that everyone else is making the same calculations as the individual in assumption 2, everyone is more likely to ask for one more good than for one fewer. Under any social-choice rule that obliges the state to be sensitive to demands, the probability of good y being added is as great or greater than that of good z being suppressed in response to an individual's demand, for it will tend to be reinforced by the similar demands of many other individuals. In the contrary case, for example, if society were very parsimonious in what it instructed the state to do, an individual might do better to use his "right to ask" for getting rid of a public good he did not much like, and save his share of its cost, than to waste it on a vain request for a good he liked very much but that no one else was requesting. (The familiar objection, that one individual's voice, lobbying efforts, etc. are not going to change the probability of anything one way or the other, is of course as valid or invalid with respect to asking one thing rather than another, as with respect to any other attempt at getting one's way through the political mechanism. Since many people do make such attempts all the time, the objection cannot be altogether valid. The reason is presumably to be sought among the very motives that can make it rational for a person to make a voluntary contribution to a public good despite the dilution in his resulting benefit.) Assumption 3 is probabilistically supported if assumption 2 holds: for if a randomly chosen individual weakly prefers "asking for more" to "asking for less," then more individuals will tend to ask for more than for fewer public goods and any individual who wants a longer list of public goods has a greater chance of finding his demand "socially chosen," provided the two sets of goods that can be added and suppressed are suitably restricted.
If, as under assumption 1, "economic men" have certain limited and formalized political strategies to choose from, and assumptions 2 and 3 are more likely to hold than not, there is (a) as much or more of a free-rider benefit to be had from changing the composition of public provision in one's favor by an expansion than by a contraction of the list of public goods; and (b) the demand for expansion is no less likely to be successful. The strategy of "asking for more" would consequently weakly dominate "asking for less" for both player A and player B. This would leave both of them with two admissible strategies: to ask Edition: current; Page: [[247]] (for more) or not to ask. In each time-period, each player must decide the strategy he will adopt without knowing what the other will have decided.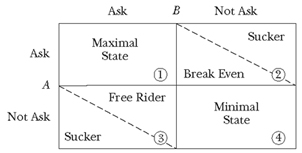 The resulting game of "Ask" in a two-person form is represented in Figure 14. The payoff in square 1, where both ask for, and in a certain proportion of plays get, more of their favorite public goods, corresponds to a movement towards the Maximal State. Square 4 is the possibility of preserving a pre-game Minimal State; it is also consistent with a movement towards it, propelled by extra-game impulses, if any. In neither square 1 nor square 4 does one player get a free-rider benefit at the expense of the other; we will abstract from whatever they may get from non-players if there are any such. Square 2 produces the sucker payoff for B, for the composition of the list of public goods becomes less favorable to him. As the list gets longer, too, the contributions of the two players increase. This is neither good nor bad for either player; we know that they are both indifferent to a change in the scale of public provision, its redistributive effects being neutral for them and affecting only other people. A, however, is also indifferent to the change in the composition of public provision. Hence, in this square, A just breaks even; if we assumed that he too had a favorite public good to lobby for, our thesis would become stronger but more banal. Finally, square 3 is the classic situation where A gets the sucker payoff and B gets a free ride on him; the composition of the public-goods list gets worse for A and better for B, while both contribute more to it since it has lengthened. A's ranking of the squares (i.e., of the payoffs he would get by landing in the square in question) is therefore 1 = 2 = 4 > 3. All he must do is to ward off the risk of square 3: his "ask" strategy consequently dominates his "not ask" Edition: current; Page: [[248]] strategy, although he would just as soon have minimal as maximal provision, and does not believe that a change in the composition of public goods could make him better off. The reason for this apparent paradox can be intuitively seen by considering that in asking for more A expects no positive new benefit, but seeks to insure against B asking for and getting more of what he wants. The latter would get a free-rider benefit at A's expense unless A successfully pressed home a demand of his own, restoring the previous balance in the composition of public goods, albeit on a larger scale. The predicament of A is that of the man walking up the down escalator: he has to keep climbing to stay in the same place.
While A shows a degree of disabused indifference, the payoff rankings of B indicate that he is hopefully striving. He would go for the free-rider benefit, putting the squares in the following order: 3 > 1 = 4 > 2. But his more differentiated preference-order, springing from his more optimistic view of what politics can do for him, does not impel him to adopt a strategy any different from that of the more skeptical A; B too must "ask" no matter what strategy he expects the opposite player to adopt. With or without much conviction, they have to play symmetrically. The solution of the game, therefore, is the Maximal State in square 1, where, as in Alice's Caucus Race, all have won and all must get a prize. However, this solution is a stable equilibrium only in the dynamic and not the static sense; after each "play" the players will be impelled to "ask" again, and will keep moving in the same direction until stopped by some extra-game cause. The movement toward the Maximal State is like the Caucus Race in this, too, that not only must all get prizes, but there is no particular place where the race is supposed to stop either; it goes on unless and until the Dodo stops it.
The Game of "Deficit"
Assumption 1 above, as the astute reader will have noticed, was lopsided. It gave individuals a chance to influence social choice on the benefit side of the public goods relation, but not on the contribution side. It is almost as if the underlying approach tacitly presupposed Edition: current; Page: [[249]] that accounts must balance anyway, that willing the ends is as good as willing the means, and that though individuals may manage to get free rides, for society as a whole benefits cannot increase without contributions increasing. On this tacit supposition, a social choice of more public goods eo ipso is also a choice of higher taxes, however levied. But this supposition is gratuitous in logic, and contradicted by experience. No social choice entails another unless there is a decisive set of individuals such that, given the entailing choice, they would always opt for the entailed one. There is nothing that would necessarily induce a decisive set of people to match an increase in public provision by an increase in taxes; opting for it may or may not be attractive to the minimum number of individuals needed for a decisive coalition; but unless he wishes to, nothing obliges an individual to aim at consistency between benefits and contributions. The essence of publicness, as we have been finding all along, is in fact that there is no individual obligation to balance the two.
I propose, therefore, to make the assumptions of the preceding section more symmetrical by enlarging the options available. An individual will now be able to ask for one more or one fewer public good, but also for lower or higher taxation. If he asks successfully, taxation will be lowered or raised for him and everybody else. Perhaps arbitrarily, I will also assume that there is a fairness rule under which he cannot ask for something for others without asking for it for himself, so that in practice no one will choose to ask for higher taxes.
Since asking is still costless to the individual, I will take it that a "mixed strategy" of asking for more goods and for lower taxes dominates the "pure" strategy of merely asking for more goods. On the other hand, asking only for lower taxes would also be admissible as a pure strategy. It would dominate and replace the strategy of asking nothing.
The game of "Ask" can now be redesigned to give us the game of "Deficit," represented in Figure 15. It is played by the same two persons A and B. In the three squares 1, 2, and 3, the outcome is a deficit for three alternative reasons: because there is movement towards the Maximal State, because B gets the sucker payoff, or because B gets a free ride. In square 4, the deficit may or may not be avoided, depending Edition: current; Page: [[250]] on whether tax reductions are balanced or not by an autonomous movement towards fewer public goods; the payoffs in this square are at least not inconsistent with a tendency to a balanced-budget Minimal State—though twentieth-century experience does not encourage expectations of such an outcome, nor does consideration of the incentive structure of the game.
As in the "Ask" game, and for the same reason, A does not expect to be noticeably better off if, as would be the case in square 2, he got the new public good he asked for. Unlike the "Ask" game, however, in the "Deficit" game he does not fear to be worse off if, as in square 3, B gets the new public good he asked for. The reason is that in this game A's contribution does not have to increase to help pay for B's increased benefit. As we will see presently, the free ride B gets is not at A's expense. It looks, therefore, as if disabused A does not much mind what happens and which square turns out to yield the solution of the game; his most likely ranking of the squares is 1 = 2 = 3 = 4, suggesting that he has no dominant strategy. On the other hand, B is still his eager and hopeful old self and ranks the squares as he did in the "Ask" game, meaning that his mixed strategy always seems best to him no matter how he expects A to play. If so, the game solution can only lie in squares 1 or 3, though we cannot say which of the two is more likely.
Square 1 is the familiar image of the uniformly beneficial political process, with "more of everything"; more public goods with prizes for everybody, greater deficits, and progress towards the Maximal State. In square 3, expansion of the state's activities is less even-handed. It is biased towards a class of public goods that are close substitutes (e.g., all defense-related, all order-related, or all welfare-related goods) or that are mostly demanded by a particular class or segment of society Edition: current; Page: [[251]] (represented by the demands of B). Inasmuch as public provision now grows in a particular direction rather than in all directions at once, it could be that the deficit produced by this outcome is smaller. The cumulative problem it eventually creates may, however, be greater if, as may well be the case, society takes more seriously, and attempts to honor, a public debt which still looks manageable, while it would find ways of defaulting in practice if service of the debt were manifestly beyond its means and strength of will.
In going all out towards the Maximal State, society's resources are committed to producing an ever-widening range of public goods. At the same time they are also committed to meeting the claims upon private goods on the part of the owners of the cumulative public debt that is being piled up in the process. There may not be enough resources to honor both commitments. Nobody in particular is responsible for them to be honored. Real-life "maximal states," unable to get a mandate for changing their course—an inability that could be easily predicted by consulting the "Ask" and "Deficit" games, if it were not predicted anyway by plain worldly wisdom—can and often do get this looming inconsistency between resources and commitments resolved for them by inflation. They need not even consciously invite inflation, but can just lie back and submit to it. Without anybody having to break a promise and repudiate a debt, inflation impersonally takes care of the cumulative deficit and the claims arising from it.
The beauty, if one may call it that, of the free riding permitted by the "Deficit" game is that, unlike the ordinary public-goods free riding Edition: current; Page: [[252]] with its inter-personal redistribution from losers to gainers, it produces an inter-temporal redistribution. B gains today without A losing today. It is only by introducing a time dimension that we can locate the losers at all. They are the future selves of A or B or both, in some proportion that is difficult, if not impossible, to forecast intelligently, and of course their children, to an extent which is if anything even more conjectural.
If social choice is some, however contestable, inter-personal summation of strictly point-of-time preferences between no deficit and deficit, the deficit must always be chosen no matter how we do the sum, for no preference speaks against it. Only constraints having to do with public credit and interest rates would keep it within finite bounds.
There is, of course, much evidence that people's preferences are not confined to goods at a single point of time, but have a pronounced time dimension. They save, or run up debts, or do both in some more or less intelligible combination, and what they choose to do is influenced at the margin by the "price of time." This finding, for all its intrinsic interest, achieves no more than to generalize choice among private goods over all relevant dimensions, including time. It puts exchanges between a present and a future good on a par with exchanges between two present goods, making equilibrium in both "spot" and "forward" (i.e., inter-temporal) exchanges a resultant of preference and price. Both kinds of exchange, however, concern private goods in an exchange regime regulated by ordinary contracts. They conform to the strict condition that each person "gets what he pays for," the present value of his benefits being equal at the margin to that of his own contribution.
No such condition holds for public goods, present or future. Contract and exchange are inapplicable categories to free riding. Having labored this point and its implications throughout this book with respect to goods distributed in space among persons, we need do no more than recapitulate it with respect to goods distributed over both space and time among persons today and persons in the future. Adding the time dimension does not bring private and public goods any closer, for it does not narrow down the smallest set of persons for which total benefits are a stable function of total contributions. Edition: current; Page: [[253]] If anything, it widens it, perhaps very considerably. Under the social contract, the smallest set which must, so to speak, "break even" (its free-rider members gaining what its sucker members lose) is the whole society. Prima facie, and failing specific knowledge to the contrary, any one person's incremental free-rider benefit is provided by the probable incremental contribution of every other. When this condition is generalized over time, "every other" person includes all present and future members of society, the "break-even set" stretching through all posterity. Specific knowledge about the incidence of future taxes, and of future interest rates and the evolving maturity distribution of the public debt, would make this conclusion more discriminating, but hardly in a manner to make much of an impression on the "strategy" any rational public-goods "player" would employ today to maximize both his free-rider benefit and the probability that others will not manage to free ride on him.
The admissibility of deficits under the rules of social choice offers the chance of free riding not only inter-personally, but also inter-temporally; benefit and contribution are now allowed to be not only individually but also collectively unequal at any one time, although they must still be collectively equal over time if the period considered is made long enough.
Any individual, however, can reasonably adopt the attitude today that après lui, le déluge. On probabilistic grounds, he has less cause to take account of the adverse repercussions of his free riding on his own (and his children's) contribution in an open-ended inter-personal and inter-temporal context than in the merely inter-personal one, when total benefits and contributions balance at a point of time. (When contributions are mandatory, the cost of enhancing his benefit is "conventionally diluted" over the whole contributing set, which means that dilution increases as the set gets larger, since all in the set will together be made to match his enhanced benefit by their extra contributions. A set including both present and future taxpayer members of society is, of course, larger than that including present taxpayers only.)
Needless to say, resources used up today must be provided today at the very latest. Whatever their accounting treatment, their production cannot be left to posterity. Taxing to spend and borrowing to Edition: current; Page: [[254]] spend are, on a physical view, merely different accounting treatments of one and the same "real" phenomenon. Under certain and fairly exacting conditions, there is indeed "neutrality" or "equivalence" between the two in that it makes no "macro-economic" difference that the resources for a marginal increase of public goods are diverted from the production of private goods in one particular manner or another. There are obvious caveats when the economy is open and the debt is not "owed to ourselves," especially if it is denominated in a currency that our own inflation cannot depreciate—as many hapless Latin American countries have discovered. Nor is it indifferent, even in a closed economy, that a deficit adds to the assets of the private sector and to the liabilities of the state—an asymmetry which brings us back, by another path, to inter-personal and inter-temporal distribution problems.
It has been shown in the present section that when the social-choice rule permits members of society to influence both the public goods they shall get and the contributions they must make, rational interaction among them leads to an endemic deficit. For all its artificial abstractions, the "Deficit" game offers a reasonably general explanation, independent of ideology and notions of social purpose, why states whose governments depend heavily on the consent of the governed tend to run deficits most of the time. (The rare phenomenon of a balanced budget invariably depends on some ad hoc circumstance.) An additional public good benefits above all those who have an intense preference (or "need") for it. The resources that go into its provision are raised by mandatory contributions. Some contributors have a weak preference for the public good or would actually prefer private exchange goods instead. They gain less, or even lose. For reasons subsumed under the image of "walking up the down escalator," social choice is biased towards producing more and more public goods without the least assurance that each successive distribution of benefits and burdens generated in this process would be "socially chosen" in preference to every previous one, if the choice clearly presented itself to the participants as one between distributions. In Edition: current; Page: [[255]] neither the "Ask" nor the "Deficit" game, however, do people choose a distribution as such. The latter is a somewhat indirect and temporally perhaps quite remote compound consequence of public-goods choices; even if it is foreseeable collectively, it is not individually.
The force of this argument is manifest if we suppose that from D-day all publicly required resources are raised by borrowing. The contributors voluntarily save (give up exchange goods) in return for public liabilities promising a future yield that makes the exchange attractive to them. They think they are better off; otherwise they would not have willingly traded private goods for public bonds. The beneficiaries of the public goods are likewise better off by definition. The solution "additional public good by deficit" should therefore be unanimously and strongly preferred to "no additional public good" as well as to "additional public good by taxation."
In the light of this simple choice, it is puzzling to hear deficits being blamed on the irresponsibility and demagoguery of "politicians," and strange that the word has much the same connotation as "lying cynical crook." The intended implication is that if politicians were less crooked things would pass differently and less self-indulgent outcomes would be "socially chosen." However, if more "honesty" were to produce some austere result, it might distress the critics even more than the state of affairs they now deplore. For if "politicians" did not make the laws and shape the budgets that maximized (to put it summarily) their chances of being re-elected, they would in effect be frustrating the intent of the social-choice rules ("constitutions") that were designed to give the fullest effect to the preferences of society's members. Under most conceivable constitutions that had a chance of being respected, the normal and constitutionally intended consequence of their doing that would and indeed ought to be some form of electoral punishment. If, however, for argument's sake politicians both frustrated the preferences of their constituencies and, having done so, managed to stay in power, the social choices made by them (in such matters as spending and taxation) would be dictatorial. For real contractarians, such inherently non-democratic choices could never be legitimate.
For others, less taken with the prospect of democracy pushed to its logical conclusion, austere spending and budget-balancing decisions Edition: current; Page: [[256]] reached under such unlikely circumstances could be legitimate by virtue of their conformity to a norm, a standard incorporated in some manner in the social-choice rule, which had been agreed to override preference. "We must pay our way" could well be such a norm. Its inclusion in the constitution would, as was noted in Chapter 5, violate what the literature of social-choice rules refers to as the Neutrality condition. Not that such violation is particularly disturbing, if it sticks: for what it amounts to is that under some constitutional rule society must sometimes renounce choosing what the "sum of preferences" indicated as its best-liked choice. Renunciation cannot be condemned on general grounds; there is nothing a priori wrong with self-denial.
The problem is rather that the constitutional rule violating Neutrality in favor of a standard is, like any "contract with one's self," un-enforceable and unlikely to stick when it is inconvenient to respect it. In producing prevarication, fudge, and self-deception, it may have effects contrary to the intent of the rule. It is instructive to have, in this context, the authorized editorial voice of American liberalism on budget-making in the aftermath of the post-1985 Gramm-Rudman-Hollings deficit-reducing legislation, which, by making the dominant "more public goods, fewer taxes" strategy of the "Deficit" game illegal, was to have permitted American politicians to act responsibly without being electorally punished for it:
In the end, no procedure can make the members of Congress behave responsibly. They have shown that they can out-maneuver any rules they write to keep themselves honest.
What the liberal critic is castigating, however, is that the elected representatives of the people are functioning as the political system has intended that they should, maximizing their and their friends' chances of re-election and, in so doing, reducing the gap between what is actually being "socially chosen" and what would be socially chosen if the "sum of preferences" prevailed. Why a consent-based, competitive political process should produce laws, budgets, and social choices in general that are morally superior, more virtuous, self-denying, Edition: current; Page: [[257]] and far-seeing than the preferences of the members of society, and why it is blamed for mirroring these preferences with as little distortion as it knows how instead of sublimating them into statesmanship, is explicable only in terms of our evergreen ambition of having it both ways.
Free Riding on Fairness
In the last analysis, all arm's-length social coexistence and cooperation that is not exchange under contract carries within itself an element of potential abuse by free riding. This is so because when benefits are not contractually tied to contributions both contributors and non-contributors have access to the benefit. The free rider can appropriate some part of it by taking advantage of others (the suckers) who would rather produce the benefit and share it with the free rider than go without it altogether. It tells something of the human condition that room for free riding, and the "strategies" that give access to it, turns out to provide the most basic explanation of the general principles of non-contractual social co-ordination. Our organization is what it is because the opportunities for free riding, offered by the provision of public goods, are what they are.
In the state of nature, a person's decision to ride free is essentially a utility-maximizing "gamble" on the probability of everybody else's voluntary decisions to contribute or to ride free, jointly producing the outcome which makes free riding by the person concerned feasible. The outcome, whatever it is, is blatantly "unfair" in the sense of conforming to no rhyme or reason in terms of the relation between contributions and benefits. Yet it has the singularly interesting feature, which is far from devoid of significance in another sense of "fairness," that it is consistent with public-goods provision by wholly voluntary contributions: it relies on no command-obedience brought about by the surrender of individual to social choice.
Edition: current; Page:

[

[258]

]
The social contract, which makes contributions to public provision mandatory, is nothing more exalted than an anti-free-rider device. It is an attempt at putting right the unfairness of a voluntary system where contributions would be made by those who wanted to insure against public provision failing if too few contributed to it, and free rides enjoyed by those who got away with running the risk of failure and exploited the prudence of others. But while the intent of the social contract is to suppress free riding, its actual effect is to open up an altogether new ground on which it thrives with impunity. For the deterrent to state-of-nature free riding is the falling probability of successful public provision of a good as abuse of it by free riding increases. When the necessary contributions for successful public provision are assured by coercion, no such check operates and free riding is never too risky. Risk, in fact, enters people's calculations with the opposite sign: from a check upon free riding it turns into its spur.
All must now try and wrest free-rider benefits through the social-choice process, for if some do not others would presumably get away with securing bigger ones at their expense. Must pull who do not want to be pulled. Free-rider behavior thus becomes preventive and defensive, a matter of prudence. Incremental public-goods provision little by little drives out contractual exchanges and the state tends to become "maximal," without this result being "chosen" in any proper sense of the word, and without anybody in particular being noticeably pleased by it.
One way or another, any human community must, for its peace of mind, end up with an ideology affirming that if something like its present social organization had not come about in history's occult ways, it would have been willed and, as such, it is legitimate. If the argument that without it there could be no public goods will not stand up to critical analysis, there is always the fallback position that without it there can at least be no fairness. We have probed both positions at length and found both precariously dependent on an element of self-delusion. The provision of public goods is in general not contingent on the surrender of free choice in the matter. Nor is there any convincing reason for believing that the associated distributions of benefits and contributions are less unfair when imposed by collective Edition: current; Page: [[259]] decision than when they emerge from individuals assuming or declining alternative social roles, and the attendant burdens and risks, as they see fit.
However, if there were some universally agreed standard of distributive justice, such that a political community could, at least in principle, impose upon its members a distribution under which all reasonable men felt fairly treated, its fairness could only be fleeting, glimpsed for a brief moment. Anyone not using the political process to modify it in his favor would be needlessly accepting the risk of its being modified by others to his detriment. (I am using "risk" colloquially, to stand for a probability distribution with significant negatively valued outcomes.) The mechanics of free riding, giving rise to an expanding sphere of public provision, should normally ensure that distributions are continually undone and superseded by new ones.
The unending pursuit of fairness proves to be an altogether sufficient reason for the shrinking of the domain of contractual exchanges. The norms of commutative justice regulate exchange: that terms have been duly agreed matters more to the practice concerned than that they should be concordant with some consensus of moral opinion. In the nature of the case, distributive justice comes into its own in public provision, where no mutually agreed and contingent promises regulate who gives and who gets what, and where it is irresistibly tempting to impose fair shares in place of ad hoc ones. While it is dubious (and impossible to demonstrate) that the quest for fairness yields greater fairness considered as the measure of equitable distribution, it self-evidently leads to less fairness considered as the measure of immunity of each from the unrestrained will of all, and as the measure of the responsibility of each for the consequences of his own actions.