William Findley, Observations on "The Two Sons of Oil" (LF ed.) [1812]
Purchase now from Liberty Fund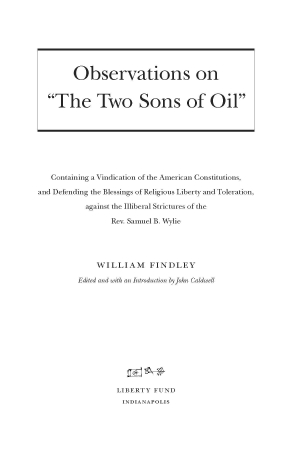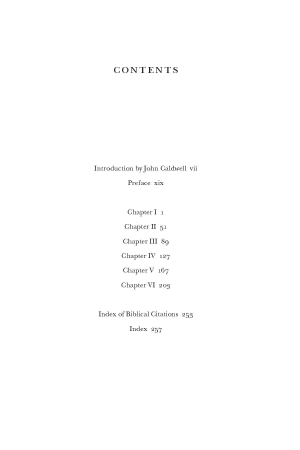 Available in the following formats:
LF Printer PDF
1.63 MB
This text-based PDF was prepared by the typesetters of the LF book.
MARC Record
2.02 KB
MAchine-Readable Cataloging record.
EBook PDF
683 KB
This text-based PDF or EBook was created from the HTML version of this book and is part of the Portable Library of Liberty.
HTML
780 KB
This version has been converted from the original text. Every effort has been taken to translate the unique features of the printed book into the HTML medium.
Simplified HTML
780 KB
This is a simplifed HTML format, intended for screen readers and other limited-function browsers.
About this Title:
Observations on "The Two Sons of Oil" was written in 1811 in response to the Reverend Samuel B. Wylie's work, The Two Sons of Oil, which was published in 1803. In this work of radical Presbyterian theology, Wylie pointed out what he considered to be deficiencies in the constitutions of both Pennsylvania and the United States and declared them to be immoral. Findley's response to Wylie's criticisms in Observations showed that it was neither the purpose nor the design of the United States government to have a federal religion and a federal creed. In a broader sense the book is also a passionate defense of a civil government guided by moral principles that allow for essential freedoms. Findley's defense of religious liberty and the American constitutions affords a grand window through which to view early American understanding about the relationship between politics and faith and why it is essential for both liberty and piety to resist any attempt to unite government and Church.
Copyright information:
The copyright to this edition, in both print and electronic forms, is held by Liberty Fund, Inc.
Fair use statement:
This material is put online to further the educational goals of Liberty Fund, Inc. Unless otherwise stated in the Copyright Information section above, this material may be used freely for educational and academic purposes. It may not be used in any way for profit.
Table of Contents:
Edition: current; Page:

[

i

]
Observations on "The Two Sons of Oil"
Edition: current; Page:

[

xxx

]
Edition: current; Page:

[

1

]
Edition: current; Page:

[

51

]
Edition: current; Page:

[

89

]
Edition: current; Page:

[

127

]
Edition: current; Page:

[

167

]
Edition: current; Page:

[

203

]
Edition: current; Page:

[

253

]
INDEX OF BIBLICAL CITATIONS
Old Testament
| | |
| --- | --- |
| GENESIS | |
| 9:6 | 137 |
| 9:8–17 | 204n1 |
| 15:18–21 | 204n2 |
| 17:4–14 | 204n2 |
| 17:7 | 27 |
| 28:10–16 | 204n3 |
| 32:24–32 | 204n3 |
| 50:7 | 17 |
| EXODUS | |
| 19 | 17 |
| 19:6 | 3 |
| 20:1, 7 | xvi |
| 21 | 100 |
| 21:2 | 165 |
| 21:13, 14 | 138 |
| 21:23 | 17 |
| 22 | 100 |
| 22:21 | 97 |
| 23 | 100 |
| 23:1 | 162 |
| 24 | 3, 17, 100–101 |
| 24:3, 4 | 19 |
| 34:11, 14 | xxivn4 |
| LEVITICUS | |
| 7 | 101 |
| 7:36 | 27 |
| 12:3 | 109 |
| 19:18 | 97 |
| 19:34 | 97 |
| 24:3 | 27 |
| NUMBERS | |
| 34 | 10 |
| 34:1–15 | 20 |
| 35:22–24 | 138 |
| 35:23 | 137 |
| 35:31 | 137 |
| DEUTERONOMY | |
| 4:2 | 252 |
| 4:7 | 200 |
| 4:9 | 96 |
| 4:13 | 17 |
| 4:14 | 20, 27 |
| 5 | 3 |
| 6:1 | 27 |
| 7:5 | 40 |
| 10:18 | 97 |
| 11:31, 32 | 27 |
| 12:34 | 252 |
| 13:16 | 171 |
| 18:15, 19 | 18 |
| 19:5 | 138 |
| 33:4 | 27 |
| JOSHUA | |
| 9:1–27 | 205n4 |
| 1 SAMUEL | |
| 8:10–18 | 129 |
| 8:10–22 | 133 |
| 2 SAMUEL | |
| 7:18 | 3 |
| 12:31 | 134 |
| 2 KINGS | |
| 17:24 | 128 |
| 18:32 | 128 |
| 2 CHRONICLES | |
| 2:17, 18 | 146 |
| 29:25 | 3 |
| 36:13 | 132 |
| EZRA | 127, 128 |
| NEHEMIAH | 127 |
| JOB | |
| 31:11 | 99 |
| PSALMS | 242 |
| 15:4 | 186 |
| 24:1 | 145 |
| PROVERBS | |
| 13:34 | 124 |
| ISAIAH | |
| 9:6 | 55 |
| 35:8 | 191 |
| 39:7 | 129 |
| 45:13 | 6 |
| 49:23 | xv, 122 |
| JEREMIAH | |
| 10:7 | 30 |
| 27 | 136 |
| 27:12 | 136 |
| 29:4–7 | 135 |
| 31:31–34 | 19 |
| 34:17 | 95 |
| EZEKIEL | |
| 7:23 | 99 |
| 16:6, 62 | 18 |
| 17:11–18 | 132 |
| 28:3 | 136 |
| DANIEL | 127, 135–36 |
| 1:34 | 129 |
| 5:19 | 133 |
| HAGGAI | |
| 2:20–23 | xiiin15 |
| 2:69 | 20 |
| ZECHARIAH | |
| 4:1–14 | xii, xiiin15 |
| 4:14 | 1 |
| 14:4, 5 | 19 |
| MALACHI | 106 |
Edition: current; Page:

[

255

]
New Testament
| | |
| --- | --- |
| MATTHEW | |
| 7:12 | 76 |
| 9:34 | 38 |
| 13:41 | 99 |
| 15:9 | 251 |
| 17:24 | 192 |
| 22:11 | 185 |
| 22:15 | 186 |
| 22:17 | 185 |
| 22:19, 20 | 185 |
| 22:21 | 167, 168, 169, 171, 180, 185, 192 |
| 22:22 | 186 |
| 23:35 | 76 |
| 24:16, 21 | 194 |
| 27:13 | 192 |
| 28:18 | 32, 34 |
| MARK | |
| 15:3 | 192 |
| 15:14 | 193 |
| 16:16 | 224, 242 |
| LUKE | |
| 3:12, 14 | 199 |
| 20:21 | 195 |
| 23:2 | 192–93 |
| 23:14 | 193 |
| JOHN | |
| 1:14 | 31 |
| 1:17 | 18, 31 |
| 3:16 | 31 |
| 3:36 | 76 |
| 5:22 | 34 |
| 5:36 | 195 |
| 6:15 | 195 |
| 7 | 103, 104 |
| 7:22 | 109 |
| 8:4 | 194 |
| 12:31 | 195 |
| 12:34 | 38 |
| 14:16, 26 | 31 |
| 15:14 | 76 |
| 18:17 | 242 |
| 18:19–21 | 193 |
| 18:36, 37 | 193 |
| 19:6, 7 | 193 |
| ACTS | |
| 5:3 | 196 |
| 5:37 | 199 |
| 15:1 | 110 |
| 15:19–29 | 109 |
| 16:3 | 110 |
| 20:28 | 32 |
| 20:29 | 250 |
| 25:16 | 99 |
| ROMANS | 200–201 |
| 2:14 | 79 |
| 2:15 | 31, 79 |
| 4:16 | 109 |
| 12 | 33 |
| 12:1 | 86 |
| 12:18 | 115 |
| 13 | 168, 171 |
| 13:1 | 30, 37, 112, 186, 188 |
| 13:1–7 | 167, 180 |
| 13:5 | 186 |
| 13:5–7 | 169 |
| 14 | 77, 78 |
| 14:5, 14, 23 | 252 |
| 14:19 | 252 |
| 16:17 | 99 |
| 1 CORINTHIANS | |
| 1:24 | 224 |
| 3:11 | 40 |
| 6:12 | 252 |
| 7:23 | 251 |
| 12:27 | 120 |
| 14:40 | 245 |
| 2 CORINTHIANS | |
| 1:12 | 80 |
| 1:24 | 46 |
| 3:6 | 46 |
| 5:18 | 30 |
| 5:20 | 35, 168 |
| 6:4 | 46 |
| 8:23 | 35 |
| 10:4 | 117 |
| 10:13 | 252 |
| 13:14 | 31 |
| GALATIANS | |
| 3:6–8 | 109 |
| 3:17 | 18, 109 |
| 3:19 | 180 |
| 4:21 | 180 |
| 5:3 | 181 |
| 5:6 | 76 |
| 5:23 | 110 |
| EPHESIANS | |
| 1:14 | 32 |
| 1:23 | 32 |
| 2:2 | 196 |
| 2:15 | 18 |
| 2:20 | 40, 229 |
| 4 | 33 |
| 6:11 | 196 |
| 6:12 | 38 |
| 6:13–16 | 117 |
| COLOSSIANS | |
| 1:16 | 38 |
| 1:18 | 120 |
| 1:24 | 32 |
| 2:15 | 38 |
| 2:18, 22, 23 | 251 |
| 2 THESSALONIANS | |
| 2:3, 12 | 250 |
| 1 TIMOTHY | |
| 1:9, 16 | 92–93 |
| 2:2 | 43, 115 |
| 4:1, 3 | 250 |
| 6:12 | 154 |
| 9:1–3 | 135 |
| 2 TIMOTHY | |
| 1:3 | 86 |
| 3:9 | 250 |
| 3:15 | 229 |
| HEBREWS | |
| 3:5, 6 | 35 |
| 8 | 18, 19 |
| 8:7 | 98 |
| 8:13 | 28 |
| 9 | 18 |
| 9:15, 22 | 3 |
| 9:18 | 18 |
| 9:18–20 | 26 |
| 10:9 | 18 |
| 13:18 | 80 |
| JAMES | |
| 1:20 | 230 |
| 2:17 | 76 |
| 4:12 | 251 |
| 1 PETER | |
| 2:9 | 32 |
| 2:13 | 37, 112 |
| 2:17 | 187 |
| 5:3 | 46 |
| 5:8 | 196 |
| 2 PETER | |
| 1:2 | 202 |
| 2:1, 3 | 250 |
| 2:10, 12 | 195 |
| 1 JOHN | |
| 2:10 | 99 |
| JUDE | |
| 5:8 | 195 |
| REVELATION | |
| 6:9 | 74 |
| 8:1 | 61 |
| 22:18 | 168 |
Edition: current; Page:

[

257

]
Edition: current; Page:

[

274

]