Gershom Carmichael, Natural Rights on the Threshold of the Scottish Enlightenment: The Writings of Gershom Carmichael [1724]
Purchase now from Liberty Fund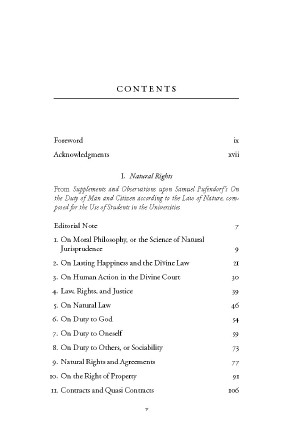 Available in the following formats:
LF Printer PDF
2.22 MB
This text-based PDF was prepared by the typesetters of the LF book.
EBook PDF
998 KB
This text-based PDF or EBook was created from the HTML version of this book and is part of the Portable Library of Liberty.
HTML
1.1 MB
This version has been converted from the original text. Every effort has been taken to translate the unique features of the printed book into the HTML medium.
Simplified HTML
1.1 MB
This is a simplifed HTML format, intended for screen readers and other limited-function browsers.
About this Title:
Carmichael was a Scottish jurist and philosopher who became the first Professor of Moral Philosophy at the University of Glasgow in 1727. His writings on natural rights theory, theology, and logic were very influential.
Copyright information:
The copyright to this edition, in both print and electronic forms, is held by Liberty Fund, Inc.
Fair use statement:
This material is put online to further the educational goals of Liberty Fund, Inc. Unless otherwise stated in the Copyright Information section above, this material may be used freely for educational and academic purposes. It may not be used in any way for profit.
Table of Contents:
Edition: current; Page:

[

i

]
Edition: current; Page:

[

2

]
Edition: current; Page:

[

3

]
Edition: current; Page:

[

6

]
Edition: current; Page:

[

7

]
Edition: current; Page:

[

8

]
Edition: current; Page:

[

9

]
Edition: current; Page:

[

21

]
Edition: current; Page:

[

30

]
Edition: current; Page:

[

39

]
Edition: current; Page:

[

46

]
Edition: current; Page:

[

54

]
Edition: current; Page:

[

59

]
Edition: current; Page:

[

73

]
Edition: current; Page:

[

77

]
Edition: current; Page:

[

81

]
Edition: current; Page:

[

87

]
Edition: current; Page:

[

91

]
Edition: current; Page:

[

106

]
Edition: current; Page:

[

118

]
Edition: current; Page:

[

124

]
Edition: current; Page:

[

128

]
Edition: current; Page:

[

134

]
Edition: current; Page:

[

138

]
Edition: current; Page:

[

146

]
Edition: current; Page:

[

157

]
Edition: current; Page:

[

162

]
Edition: current; Page:

[

175

]
Edition: current; Page:

[

188

]
Edition: current; Page:

[

199

]
Edition: current; Page:

[

211

]
Edition: current; Page:

[

218

]
Edition: current; Page:

[

219

]
Edition: current; Page:

[

222

]
Edition: current; Page:

[

223

]
Edition: current; Page:

[

226

]
Edition: current; Page:

[

227

]
Edition: current; Page:

[

233

]
Edition: current; Page:

[

234

]
Edition: current; Page:

[

248

]
Edition: current; Page:

[

257

]
Edition: current; Page:

[

270

]
Edition: current; Page:

[

282

]
Edition: current; Page:

[

283

]
Edition: current; Page:

[

289

]
Edition: current; Page:

[

292

]
Edition: current; Page:

[

293

]
Edition: current; Page:

[

298

]
Edition: current; Page:

[

304

]
Edition: current; Page:

[

309

]
Edition: current; Page:

[

318

]
Edition: current; Page:

[

319

]
Edition: current; Page:

[

320

]
Edition: current; Page:

[

321

]
Edition: current; Page:

[

323

]
Edition: current; Page:

[

324

]
Edition: current; Page:

[

325

]
Edition: current; Page:

[

353

]
Edition: current; Page:

[

354

]
Edition: current; Page:

[

355

]
Edition: current; Page:

[

356

]
Edition: current; Page:

[

357

]
Edition: current; Page:

[

377

]
Edition: current; Page:

[

388

]
Edition: current; Page:

[

389

]
Edition: current; Page:

[

397

]
Edition: current; Page:

[

406

]