The Independent Whig, 4 vols. (1720, 1743)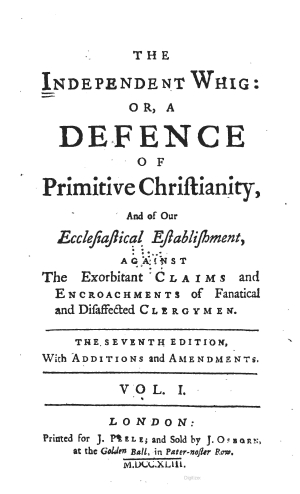 Trenchard and Gordon wrote articles for this weekly journal during the period 1720-21 just before they began work on their better known periodical Cato's Letters which appeared 1720-23. In a total of 53 essays they criticized the power and abuses of the ecclesiastical establishment in Britain. As Trenchard died in 1723, Gordon edited the essays for later publication. The second edition was published in 1741.
The Independent Whig: or, a Defence of Primitive Christianity, And of Our Ecclesiastical Establishment, against The Exorbitant Claims and Encroachments of Fanatical and Disaffected Clergymen. (London: J. Peele, 1743-47). 4 vols.
Copyright:
The text is in the public domain. It was scanned and originally put online by Google for non-commercial, educational purposes. We have retained the Google watermark as requested but have added tables of contents, pagination, and other educational aids where appropriate.
Members of this set: