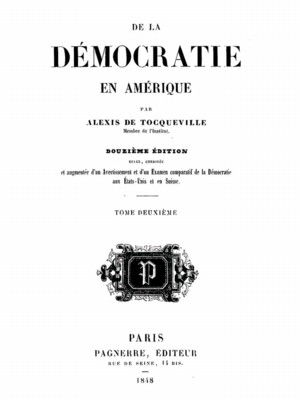 De la Démocratie en Amérique, vol. 2
Vol. 2 of 4 vols. A revised and corrected 12th edition in French of Tocqueville's famous analysis of the nature and consequences of democracy in the American Republic. Tocqueville visited the U.S. in 1831 with Gustave de Beaumont officially to inspect the American prison system, but unofficially to observe the American political system. The result were two volumes by Tocqueville on American democracy in 1835 and 1840 and a volume by Beaumont on slavery in America, Marie. [Source: Gallica/BNF gallica.bnf.fr/ark:/12148/bpt6k370081].
De la Démocratie en Amérique, 4 vols., revue et corrigée, et augmenté d'un Avertissement et d'un Examen comparatif de la Démocratie aux États-Unis et en Suisse (Paris: Pagnerre, 1848). Vol. 2.
Copyright:
This is a public domain text which was first scanned to PDF by Gallica, the digital library of the Bibliothèque national de France [gallica.bnf.fr]. The relevant clause states that "La réutilisation non commerciale de ces contenus est libre et gratuite dans le repect de la législation en vigeur et notamment du maintien de la mention de source."
Formats:

| Format | Description | Size |
| --- | --- | --- |
| Facsimile PDF | This is a facsimile or image-based PDF made from scans of the original book. | 13.1 MB |