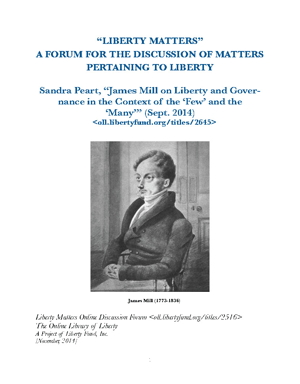 Liberty Matters: James Mill on Liberty and 
Governance (Sept. 2014)
This online discussion is part of the series "Liberty Matters: A Forum for the Discussion of Matters pertaining to Liberty." The political thought of James Mill is not as well known as it should be. This online discussion attempts to reassess his contribution to classical liberal political theory via his dichotomy between the ruling "Few" (or what he also called at times "the sinister interest" and the subject "Many." The lead essay is by Sandra J. Peart at the University of Richmond and the response essays are by Terence Ball at Arizona State University, Andrew Farrant at Dickinson College, and Quentin P. Taylor at Rogers State University.
Sandra Peart, Liberty Matters: James Mill on Liberty and Governance in the Context of the "Few" and the "Many" (Indianapolis: Liberty Fund, 2014).
Copyright:
The copyright to this edition, in both print and electronic forms, is held by Liberty Fund, Inc.
Formats:

| Format | Description | Size |
| --- | --- | --- |
| Kindle | This is an E-book formatted for Amazon Kindle devices. | 474 KB |