The Origin of the Distinction of Ranks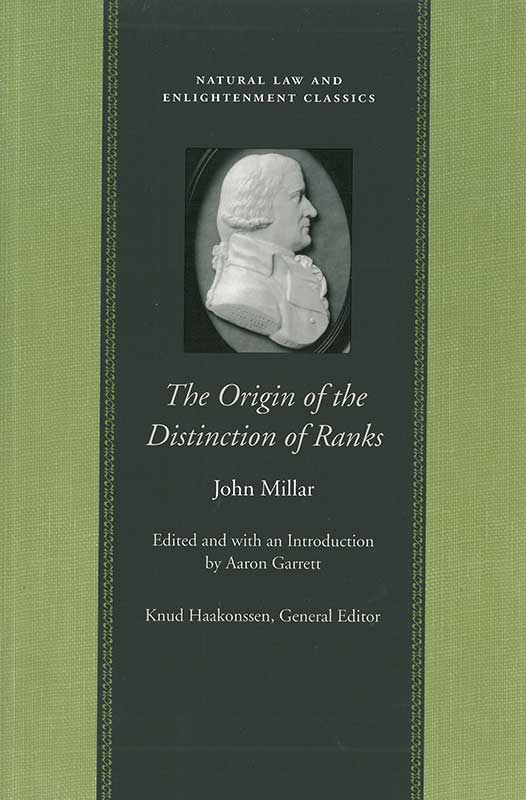 The Origin of the Distinction of Ranks is one of the major products of the Scottish Enlightenment and a masterpiece of jurisprudence and social theory. Millar developed a progressive account of the nature of authority in society by analyzing changes in subsistence, agriculture, arts, and manufacture. The book is perhaps the most precise and compact development of the abiding themes of the liberal wing of the Scottish Enlightenment. Drawing on Smith's four-stages theory of history and the natural law's traditional division of domestic duties into those toward servants, children, and women, Millar provides a rich historical analysis of the ways in which progressive economic change transforms the nature of authority. In particular, he argues that, with the progress of arts and manufacture, authority tends to become less violent and concentrated, and ranks tend to diversify. Millar's analysis of this historical progress is nuanced and sophisticated; for example, his discussion of servants is perhaps the best developed of the "economic" arguments against slavery.
The Origin of the Distinction of Ranks; or, An Inquiry into the Circumstances which give rise to Influence and Authority in the Different Members of Society, edited and with an Introduction by Aaron Garrett (Indianapolis: Liberty Fund, 2006).
Copyright:
The copyright to this edition, in both print and electronic forms, is held by Liberty Fund, Inc.
Formats:
| Format | Description | Size |
| --- | --- | --- |
| HTML | This version has been converted from the original text. Every effort has been taken to translate the unique features of the printed book into the HTML medium. | 946 KB |
| LF Printer PDF | This text-based PDF was prepared by the typesetters of the LF book. | 1.86 MB |
| MARC Record | MAchine-Readable Cataloging record. | 2.71 KB |
Table of Contents