New Individualist Review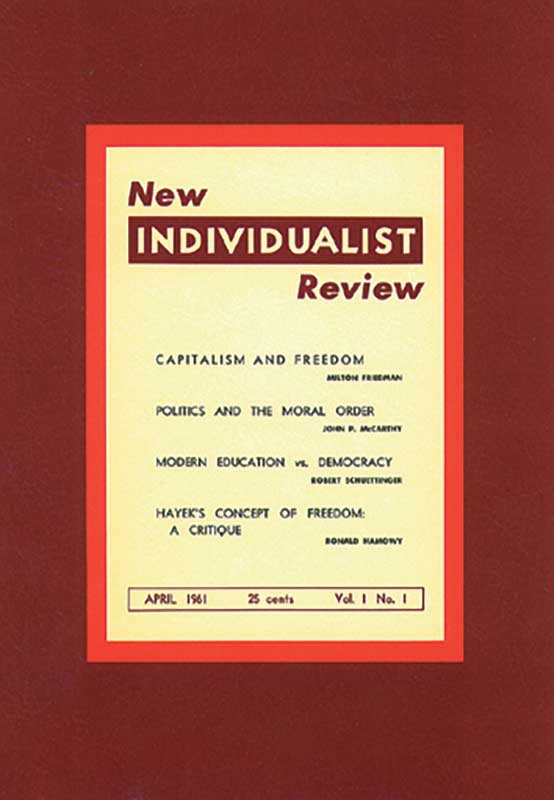 Initially sponsored by the University of Chicago Chapter of the Intercollegiate Society of Individualists, the New Individualist Review was more than the usual "campus magazine." It declared itself "founded in a commitment to human liberty." Between 1961 and 1968, seventeen issues were published which attracted a national audience of readers. Its contributors spanned the libertarian-conservative spectrum, from F. A. Hayek and Ludwig von Mises to Richard M. Weaver and William F. Buckley, Jr. The associate editors were John P. McCarthy, Robert Schuettinger, and John Weicher. The book review editor was Ronald Hamowy. Other authors included Milton Friedman, Murray N. Rothbard, F.A. Hayek, Russell Kirk, Eugene Miller, Wilhelm Roepke, Harry Elmer Barnes, Sam Peltzman, George Stigler, Benjamin Rogge, Ludwig von Mises, Bruno Leoni, Israel Kirzner, Richard Weaver, Yale Brozen, Gordon Tullock, Warren Nutter, W.H. Hutt, E.G. West, Henry Hazlitt, Arthur A. Ekirch, Ljubo Sirc, and Armen Alcjian.
New Individualist Review, editor-in-chief Ralph Raico, introduction by Milton Friedman (Indianapolis: Liberty Fund, 1981).
Copyright:
The copyright to this publication is held by Liberty Fund, Inc. The New Individualist Review is prohibited for use in any publication, journal, or periodical without written consent of J. M. Cobb, J. M. S. Powell, or David Levy.
Formats:
| Format | Description | Size |
| --- | --- | --- |
| Facsimile PDF | This is a facsimile or image-based PDF made from scans of the original book. | 68.2 MB |
| HTML | This version has been converted from the original text. Every effort has been taken to translate the unique features of the printed book into the HTML medium. | 4.14 MB |
| Kindle | This is an E-book formatted for Amazon Kindle devices. | 3.45 MB |
| MARC Record | MAchine-Readable Cataloging record. | 1.85 KB |
Table of Contents