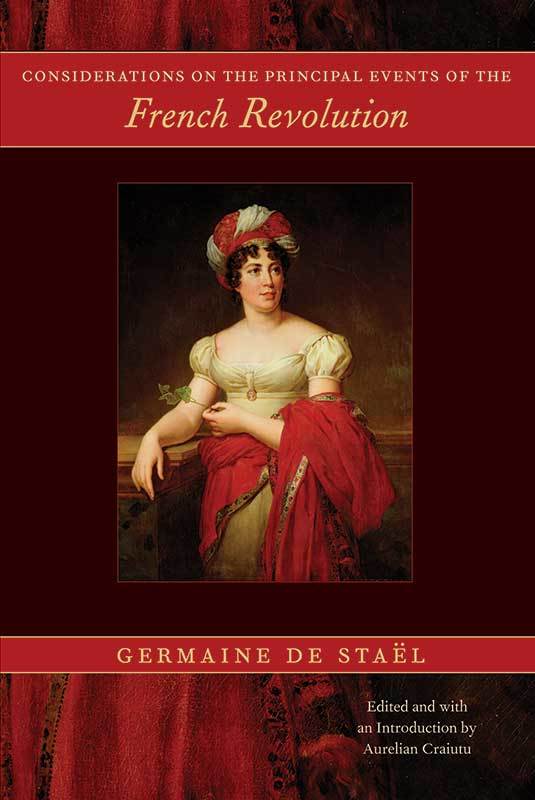 Considerations on the Principal Events of the French Revolution (LF ed.)
Considerations is considered de Staël's magnum opus and sheds renewed light on the familiar figures and events of the Revolution, among them, the financier and statesman Jacques Necker, her father. Editor Aurelian Craiutu states that Considerations explores "the prerequisites of liberty, constitutionalism and rule of law, the necessary limits on power, the relation between social order and political order, the dependence of liberty on morality and religion, and the question of the institutional foundations of a free regime."
Considerations on the Principal Events of the French Revolution, newly revised translation of the 1818 English edition, edited, with an introduction and notes by Aurelian Craiutu (Indianapolis: Liberty Fund, 2008).
Copyright:
The copyright to this edition, in both print and electronic forms, is held by Liberty Fund, Inc.
Formats:
| Format | Description | Size |
| --- | --- | --- |
| HTML | This version has been converted from the original text. Every effort has been taken to translate the unique features of the printed book into the HTML medium. | 2.04 MB |
| LF Printer PDF | This text-based PDF was prepared by the typesetters of the LF book. | 2.72 MB |
Considerations on the Principal Events of the French Revolution
Edition: current; Page:

[

xxx

]
Edition: current; Page:

[

1

]
CONSIDERATIONS
ON THE
PRINCIPAL EVENTS
OF
THE FRENCH REVOLUTION
POSTHUMOUS WORK OF
THE BARONESS DE STAËL.
edited by
the duke de broglie, and the baron de staël.
Les Révolutions qui arrivent dans les grands
états ne sont point un effet du hazard, ni du
caprice de peuples.
TRANSLATED FROM THE ORIGINAL MANUSCRIPT.
london:
printed for baldwin, cradock, and joy,
paternoster-row.
1818.
Edition: current; Page:

[

2

]
Edition: current; Page:

[

3

]
Notice by the Editors1
In executing the task which Madame de Staël has condescended to confide to us, it is our particular duty to make known the exact condition in which we found the manuscript entrusted to our care.
Madame de Staël had traced out for all her compositions a system of labor from which she never deviated. She sketched off at once the complete outline of the work of which she had previously conceived the plan, without referring back, without interrupting the course of her thoughts, unless it were to make researches which her subject rendered necessary. This first composition completed, Madame de Staël transcribed it entire with her own hand; and then, not concerning herself with the correction of the style, she modified the expression of her ideas, classing them frequently in a new order. This second performance was then fairly copied out by a secretary, and it was only on this second copy, often even on the proofs of the printed sheets, that Madame de Staël completed the niceties of her diction; being more anxious to convey to her readers all the shades of her thoughts, all the emotions of her soul, than to attain that minute correctness, which may be acquired by mere mechanical labor.
Madame de Staël had completed, early in 1816, the composition of the work we now present to the public. She had devoted a whole year to the revisal of the first two volumes, and a part of the third. She returned to Paris to complete those passages relating to recent events of which she had not been personally a witness, and upon which more precise inquiries might have the effect of modifying some of her opinions. In short, the Considerations on the Principal Events of the French Revolution (for such is the title chosen by Madame de Staël herself) would have appeared at the Edition: current; Page: [4] conclusion of last year if she, who constituted our glory and our happiness, had been preserved to us.
The first two volumes and several chapters of the third were found in the state in which they were intended for the press. Some other chapters were transcribed but not revised by the Author; but others were only composed in the outline, with marginal notes written or dictated by Madame de Staël, indicating the points on which she proposed to dilate.
The first feeling, as the first duty of her children, has been to evince the most sacred respect for the slightest indications of her thoughts; and it is almost superfluous to say that we have permitted ourselves to make not only no addition, but no change, and that the work about to be read is perfectly conformable to the corrected manuscript of Madame de Staël.
The labor of the Editors has been therefore confined entirely to the revisal of the proofs, and to the correction of those slight inaccuracies of style which escape observation even in manuscripts the most carefully revised. This has been performed under the eye of M. A. W. de Schlegel, whose rare superiority of parts and knowledge justifies the confidence with which Madame de Staël consulted him in all her literary labors, as his most honorable character merits the esteem and friendship which she constantly entertained for him during an intimacy of thirteen years.
Mr. de Staël hereafter proposes to fulfill intentions most sacred to him in publishing a complete edition of the works of his mother, and of those of Mr. Necker. The works of Madame de Staël will comprise some inedited compositions; amongst others, the fragments of a work begun under the title Ten Years of Exile. A Biographical Notice will precede each collection; but a feeling, which those who knew Madame de Staël will appreciate with indulgence, has not yet permitted her children to commence an undertaking which comes so home to their dearest as to their most sorrowful recollections.
Edition: current; Page:

[

5

]
Advertisement of the Author
I began this work with an intention of confining it to an examination of the political actions and writings of my father. But, as I advanced in my labor, I was led by the subject itself to trace, on one hand, the principal events of the French Revolution and to present, on the other, a picture of England, as a justification of the opinion of M. Necker relative to the political institutions of that country. My plan being therefore enlarged, I judged it proper to alter the title, although I had not changed the object. Nevertheless, there will remain in this work more details relative to my father, and even to myself, than I should have inserted if I had originally conceived it in a general point of view; but, perhaps, circumstances of a private nature are conducive to a clearer knowledge of the spirit and character of the times we are about to describe.
Edition: current; Page:

[

6

]
Edition: current; Page:

[

7

]
Edition: current; Page:

[

16

]
Edition: current; Page:

[

17

]
PART I
Edition: current; Page:

[

26

]
Edition: current; Page:

[

45

]
Edition: current; Page:

[

53

]
Edition: current; Page:

[

58

]
Edition: current; Page:

[

65

]
Edition: current; Page:

[

72

]
Edition: current; Page:

[

74

]
Edition: current; Page:

[

83

]
Edition: current; Page:

[

91

]
Edition: current; Page:

[

96

]
Edition: current; Page:

[

112

]
Edition: current; Page:

[

115

]
Edition: current; Page:

[

118

]
Edition: current; Page:

[

128

]
Edition: current; Page:

[

129

]
Edition: current; Page:

[

134

]
Edition: current; Page:

[

140

]
Edition: current; Page:

[

144

]
Edition: current; Page:

[

147

]
Edition: current; Page:

[

155

]
Edition: current; Page:

[

162

]
Edition: current; Page:

[

165

]
Edition: current; Page:

[

173

]
PART II
Edition: current; Page:

[

178

]
Edition: current; Page:

[

182

]
Edition: current; Page:

[

186

]
Edition: current; Page:

[

194

]
Edition: current; Page:

[

199

]
Edition: current; Page:

[

207

]
Edition: current; Page:

[

211

]
Edition: current; Page:

[

216

]
Edition: current; Page:

[

220

]
Edition: current; Page:

[

222

]
Edition: current; Page:

[

231

]
Edition: current; Page:

[

235

]
Edition: current; Page:

[

242

]
Edition: current; Page:

[

246

]
Edition: current; Page:

[

249

]
Edition: current; Page:

[

252

]
Edition: current; Page:

[

255

]
Edition: current; Page:

[

260

]
Edition: current; Page:

[

265

]
Edition: current; Page:

[

268

]
Edition: current; Page:

[

273

]
Edition: current; Page:

[

281

]
Edition: current; Page:

[

285

]
PART III
Edition: current; Page:

[

291

]
Edition: current; Page:

[

299

]
Edition: current; Page:

[

304

]
Edition: current; Page:

[

306

]
Edition: current; Page:

[

311

]
Edition: current; Page:

[

316

]
Edition: current; Page:

[

319

]
Edition: current; Page:

[

321

]
Edition: current; Page:

[

324

]
Edition: current; Page:

[

333

]
Edition: current; Page:

[

335

]
Edition: current; Page:

[

341

]
Edition: current; Page:

[

346

]
Edition: current; Page:

[

354

]
Edition: current; Page:

[

357

]
Edition: current; Page:

[

363

]
Edition: current; Page:

[

367

]
Edition: current; Page:

[

371

]
Edition: current; Page:

[

375

]
Edition: current; Page:

[

384

]
Edition: current; Page:

[

389

]
Edition: current; Page:

[

393

]
Edition: current; Page:

[

396

]
Edition: current; Page:

[

402

]
Edition: current; Page:

[

407

]
Edition: current; Page:

[

414

]
Edition: current; Page:

[

417

]
Edition: current; Page:

[

422

]
Edition: current; Page:

[

425

]
PART IV
CHAPTER I: News from Egypt: Return of Bonaparte.
Nothing was more likely to produce a striking effect on the mind than the Egyptian war; and though the great naval victory gained by Nelson near Aboukir1 had destroyed all its possible advantages, letters dated from Cairo, orders issuing from Alexandria to penetrate to Thebes, on the confines of Ethiopia, increased the reputation of a man who was not now within sight, but who at a distance seemed an extraordinary phenomenon. He put at the head of his proclamations Bonaparte, Commander-in-chief and Member of the National Institute; whence it was concluded that he was a friend to knowledge and a protector of letters; but the guarantee which he gave for these qualities was not any firmer than his profession of the Mahomedan faith,2 followed by his concordat with the Pope.3 He was already beginning to deceive Europe by a system of juggling tricks, convinced, as he was, that for everyone the science of life consists merely in the maneuvers of egoism. Bonaparte is not a man only but also a system; and if he were right, the human species would no longer be what God has made it. He ought therefore to be examined like a great problem, the solution of which is of importance to meditation throughout all ages.
Bonaparte, in reducing everything to calculation, was sufficiently acquainted with that part of the nature of man which does not obey the will Edition: current; Page: [426] to feel the necessity of acting upon the imagination; and his twofold dexterity consisted in the art of dazzling multitudes and of corrupting individuals.
His conversation with the Mufti in the pyramid of the Cheops could not fail to enchant the Parisians, for it united the two qualities by which they are most easily captivated: a certain kind of grandeur and of mockery together. The French like to be moved and to laugh at being moved: quackery is their delight, and they aid willingly in deceiving themselves, provided they be allowed, while they act as dupes, to show by some witticisms that they are not so.
Bonaparte, in the pyramid, made use of the Oriental style. "Glory to Allah," said he, "there is no true God but God, and Mahomet is his prophet. The bread stolen by the wicked turns into dust in his mouth." "Thou hast spoken," said the Mufti, "like the most learned of the Mullahs."—"I can cause a chariot of fire to descend from Heaven," continued Bonaparte, "and direct it upon the earth."—"Thou art the mightiest Captain," replied the Mufti, "whose hand the power of Mahomet hath armed."4 Mahomet, however, did not prevent Sir Sidney Smith from arresting by his brilliant valor the successes of Bonaparte at St. Jean-d'Acre.5
When Napoléon, in 1805, was named King of Italy, he said to General Berthier in one of those moments when he talked of everything that he might try his ideas upon other people: "This Sidney Smith made fortune fail me at St. Jean-d'Acre; my purpose was to set out from Egypt, proceed to Constantinople, and arrive at Paris by marching back through Europe." This failure, however, made at the time a very decent appearance. Whatever his regrets might be, gigantic like the enterprises which followed them, Bonaparte found means to make his reverses in Egypt pass for successes; and although his expedition had no other result than the ruin of the fleet and the destruction of one of our finest armies, he was called the Conqueror of the East.
Bonaparte, availing himself with ability of the enthusiasm of the French for military glory, associated their self-love with his victories as well as Edition: current; Page: [427] with his defeats. He gradually took possession of the place which the Revolution occupied in every head, and attached to his own name that national feeling which had aggrandized France in the eyes of foreigners.
Two of his brothers, Lucien and Joseph,6 had seats in the Council of Five Hundred, and both in their different lines had enough of intellect and talent to be eminently useful to the General. They watched for him over the state of affairs, and when the moment was come, they advised him to return to France. The armies had been beaten in Italy and were for the most part disorganized through the misconduct of the administration. The Jacobins began to show themselves once more, the Directory was without reputation and without strength: Bonaparte received all this intelligence in Egypt, and after some hours of solitary meditation, he resolved to set out.7 This rapid and certain perception of circumstances is precisely what distinguishes him, and opportunity has never offered itself to him in vain. It has been frequently repeated that on departing then, he deserted his army. Doubtless, there is a species of exalted disinterestedness which would not have allowed a warrior to separate himself thus from the men who had followed him, and whom he left in distress. But General Bonaparte ran such risks in traversing the sea covered with English vessels; the design which summoned him to France was so bold that it is absurd to treat his departure from Egypt as cowardice. Such a being must not be attacked with common declamations: every man who has produced a great effect on other men, to be judged, should be examined thoroughly.
A reproach of a much graver nature is the total want of humanity which Bonaparte manifested in his Egyptian campaign. Whenever he found any advantage in cruelty, he indulged in it, and yet his despotism was not sanguinary. He had no more desire to shed blood than a reasonable man has to spend money without need. But what he called necessity was in fact his ambition; and when this ambition was concerned, he did not for a moment allow himself to hesitate to sacrifice others to himself. What we call conscience was in his eyes only the poetical name of deception.
Edition: current; Page:

[

428

]
CHAPTER II: Revolution of the 18th of Brumaire.
In the time which had elapsed since Bonaparte's brothers wrote to him in Egypt to advise his return, the face of affairs had undergone a singular change. General Bernadotte had been appointed Minister of War and had in a few months restored the organization of the armies. His extreme activity repaired all the mischiefs which negligence had caused. One day, as he was reviewing the young men of Paris who were on the eve of marching to the scene of war, My lads, he said, there are assuredly among you some great captains. These simple words electrified their souls by recalling to their remembrance one of the chief advantages of free institutions, the emulation which they excite in every class.
The English had made a descent into Holland, which had been already pushed back.1 The Prussians had been beaten at Zurich by Massena;2 the French armies had again begun to act on the offensive in Italy. Thus, when Bonaparte returned, Switzerland, Holland, and Piedmont3 were still under the control of France; the barrier of the Rhine, gained by the conquests of the Republic, was not disputed with her, and the force of France was on a balance with that of the other states of Europe. Who could have imagined then that of all the combinations which fortune presented to her choice, that which would lead her to be conquered and subdued was to raise the ablest of her generals to supreme power? Tyranny annihilates even the military force, to which it has sacrificed everything.
It was no longer, therefore, external reverses which, in 1799, made France desire Bonaparte; but the fear which the Jacobins excited was a Edition: current; Page: [429] powerful aid to him. They were now without means, and their appearance was nothing more than that of a specter which comes to stir the ashes: it was, however, enough to rekindle the hatred which they inspired, and the nation, flying from a phantom, precipitated itself into the arms of Bonaparte.
The President of the Directory had said on the 10th of August of the very year in which Bonaparte was made Consul; Royalty will never raise its head again; no longer will those men be seen who pretended to be the delegates of heaven that they might oppress the earth with more security; in whose eyes France was but their patrimony, Frenchmen but their subjects, and the laws the mere expression of their good pleasure. What was to be seen no more was, however, seen very soon; and what France wished in calling Bonaparte to the throne, peace and repose, was exactly what his character rejected as an element in which he could not live.
When Caesar overturned the Roman republic he had to combat Pompey and the most illustrious patricians of the age: Cicero and Cato contended against him; everywhere there was greatness arrayed in opposition to his. Bonaparte met with no adversaries whose names deserve to be mentioned. If the Directory had been in the fullness of its past force, it would have said, like Reubell when hints were given him that there was reason to apprehend that General Bonaparte would offer his resignation: Very well, let us accept it, for the republic will never want a general to command its armies. In fact, the circumstance which had rendered the armies of the French Republic formidable till then, was that they had no need of any particular man to command them. Liberty draws forth in a great nation all the talents which circumstances require.
Exactly on the 18th of Brumaire I arrived at Paris from Switzerland, and as I was changing horses some leagues from the city, I was informed that the Director Barras had just passed, on his way to his estate of Gros-bois, accompanied by gendarmes. The postilions were relating the news of the day, and this popular mode of becoming acquainted with them gave them additional interest. It was the first time since the Revolution that the name of an individual was heard in every mouth. Till then it was said, the Constituent Assembly has done so and so, or the people, or the Convention; now there was no mention of any but this man, who was to be substituted Edition: current; Page: [430] for all and leave the human race anonymous; who was to monopolize fame for himself, and to exclude every existing creature from the possibility of acquiring a share of it.
The very evening of my arrival, I learned that during the five weeks which Bonaparte had spent at Paris since his return, he had been preparing the public mind for the Revolution which had just taken place. Every faction had presented itself to him, and he had given hopes to all. He had told the Jacobins that he would save them from the return of the old dynasty; he had, on the contrary, suffered the royalists to flatter themselves that he would re-establish the Bourbons; he had insinuated to Sieyès that he would give him an opportunity of bringing forth into light the constitution which he had been keeping in darkness for ten years; he had, above all, captivated the public, which belongs to no faction, by general proclamations of love of order and tranquillity. Mention was made to him of a woman whose papers the Directory had caused to be seized; he exclaimed on the absurd atrocity of tormenting women, he who, according to his caprice, has condemned so many of them to unlimited exile; he spoke only of peace, he who has introduced eternal war into the world. Finally, there was in his manner an affectation of gentleness, which formed an odious contrast with what was known of his violence. But, after ten years of suffering, enthusiastic attachment to ideas had given way in revolutionary characters to personal hopes and fears. After a certain time old notions return; but the generation which has had a share in great civil troubles is scarcely ever capable of establishing freedom: it is too soiled for the accomplishment of so pure a work.
The French Revolution, after the 18th of Fructidor, had been nothing but a continued succession of men who caused their own ruin by preferring their interest to their duty; thus, at least they gave an important lesson to their successors.
Bonaparte met no obstacles in his way to power. Moreau was not enterprising in civil affairs; Bernadotte eagerly requested the Directors to re-appoint him Minister of War. His appointment was written out, but they had not courage to sign it. Nearly all the military men, therefore, rallied round Bonaparte; for now that they interfered once more in the internal revolutions, they were resolved to place one of their own body Edition: current; Page: [431] at the head of the state, that they might thus secure to themselves the rewards which they wished to obtain.
An article of the constitution which allowed the Council of Ancients to transfer the legislative body to another city than Paris was the means employed to effect the overthrow of the Directory.
The Council of Ancients ordained on the 18th of Brumaire that the legislative body and Council of Five Hundred should, on the following day, remove to Saint Cloud, where the troops might be made to act more easily. On the evening of the 18th the whole city was agitated by the expectation of the great day that was to follow; and without doubt, apprehension of the return of the Jacobins made the majority of people of respectability wish at the time that Bonaparte might have the advantage. My own feelings, I acknowledge, were of a very mixed nature. Once the struggle began, a momentary victory of the Jacobins might occasion fresh scenes of blood; yet I experienced, at the idea of Bonaparte's triumph, a grief which might be called prophetic.
A friend of mine who was present at the meeting in St. Cloud dispatched messengers to me every hour: at one time he informed me that the Jacobins were on the point of prevailing, and I prepared to quit France anew; the instant afterward I learned that the soldiers had dispersed the national representatives and that Bonaparte had triumphed. I wept, not over liberty, for it never existed in France, but over the hope of that liberty, without which this country can only have disgrace and misery.4 I felt within me at this instant a difficulty of breathing which, I believe, has since become the malady of all those who lived under the authority of Bonaparte.
Different accounts have been given of the manner in which the revolution of the 18th of Brumaire was accomplished. The point of chief importance Edition: current; Page: [432] is to observe on this occasion the characteristic traits of the man who has been for nearly fifteen years the master of the continent of Europe. He went to the bar of the Council of Ancients and wished to draw them into his views by addressing them with warmth and nobility; but he cannot express himself in connected discourse; it is only in conversation that his keen and decisive spirit shows itself to advantage. Besides, as he has no true enthusiasm on any subject, he is never eloquent but in abuse, and nothing was more difficult for him than to confine himself in his address to that kind of respect which is due to an assembly whom we wish to convince. He attempted to say to the Council of Ancients, "I am the God of War and of Fortune, follow me." But he used these pompous words from mere embarrassment, and in their place would rather have said, "You are all a pack of wretches, and I will have you shot if you do not obey me."
On the 19th of Brumaire he came to the Council of the Five Hundred, his arms crossed with a very gloomy air, and followed by two tall grenadiers who protected the shortness of his stature. The deputies, who were named Jacobins, uttered violent exclamations when they saw him enter the hall: fortunately for him his brother Lucien was president at the time; it was in vain that he rang the bell to re-establish order; cries of traitor and usurper resounded from every quarter; and one of the members, a countryman of Bonaparte, the Corsican Aréna, approached the general and shook him violently by the collar of his coat. It has been supposed, but without reason, that he had a poignard to kill him.5 His action, however, terrified Bonaparte, who said to the grenadiers by his side, as he let his head drop over the shoulder of one of them, "Get me out of here." The grenadiers carried him away from among the deputies who surrounded him, and took him from the hall into the open air. He was no sooner out than his presence of mind returned. He instantly mounted on horseback, and passing along the ranks of his grenadiers, soon determined them to what he wished should be done.
In this situation, as in many others, it has been observed that Bonaparte could be thrown into confusion when another danger than that of war was Edition: current; Page: [433] set before him; and from here some persons have ridiculously inferred that he lacked courage. Certainly, his boldness cannot be denied; but as he is nothing, not even brave, in a generous manner, it follows that he never exposes himself but when it may be advantageous. He would be much vexed at the prospect of being killed, for that would be a reverse, and he wishes to be successful in everything; he would likewise be vexed at it because death is disagreeable to the imagination; but he does not hesitate to hazard his life when, according to his views, the game, if I may be allowed the expression, is worth the risk of the stake.
After General Bonaparte left the hall of the Five Hundred, the deputies opposed to him were vehement in demanding that he should be put out of the protection of the law; and it was then that his brother Lucien, president of the Assembly, did him an eminent service by refusing, in spite of all the solicitations with which he was urged, to put that proposition to the vote. If he had consented, the decree would have passed, and no one can tell what impression it might yet have produced on the soldiers. For ten years they had uniformly abandoned those generals whom the legislative power had proscribed; and although the national representation had lost its character of legality by the 18th of Fructidor, the similarity of words often prevails over the diversity of things. General Bonaparte hastened to send an armed force to bring Lucien in safety out of the hall; as soon as he was gone, the grenadiers entered the orangery, where the deputies were assembled, and drove them away by marching from one extremity of the hall to the other, as if there had been nobody present. The deputies, driven against the wall, were forced to escape by the window into the gardens of St. Cloud with their senatorial robes. The representatives of the people had been already proscribed in France; but it was the first time since the Revolution that the civil power had been rendered ridiculous in the presence of the military; and Bonaparte, who wished to establish his dominion on the degradation of bodies as well as on that of individuals, enjoyed his success in destroying at the very outset the dignity of the deputies. From the moment that the moral force of the national representation was annihilated, a legislative body, whatever it might be, was in the eyes of the military a mere assemblage of five hundred men, much less strong and active than a battalion of the same number; and they Edition: current; Page: [434] have since been always ready at the command of their chief to correct diversities of opinion like faults in discipline.
In the Committees of the Five Hundred, Bonaparte, in the presence of the officers of his suite and some friends of the Directory, made a speech which was printed in the journals of the day. It contains a remarkable comparison, which history ought to store up. What have they done, said he, speaking of the Directors, with that France which I left to them so brilliant? I left them peace, and I find war at my return: I left them victories, and I find defeats. What, in short, have they done with the hundred thousand Frenchmen, all of them my acquaintances and my companions in arms, who are now no more? Then all at once concluding his harangue in a calm tone, he added, This state of things cannot last; it would lead us in three years to despotism. He took upon himself the charge of hastening the accomplishment of his prediction.
But would it not be an important lesson for the human species if these Directors, unwarlike as they were, were to rise from their ashes and were to demand of Napoléon to account for the barrier of the Rhine and the Alps conquered by the republic; for the two entries of foreign troops into Paris;6 for the three million Frenchmen who have perished from Cádiz to Moscow;7 and above all, for that sympathy which nations once felt with the cause of liberty in France, and which is now changed into inveterate aversion? The Directors assuredly would not be the more praiseworthy for this; but the conclusion would be that in our days an enlightened nation can do nothing worse than put itself into the hands of a single man. The public has now more sagacity than any individual; and institutions rally opinions more wisely than can be done by circumstances. If the French nation, instead of choosing that baneful foreigner,8 who has exploited it Edition: current; Page: [435] for his own advantage, and exploited it badly even in that regard—if the French nation, at that time so imposing in spite of all her faults, had formed a constitution for herself with a respectful attention to the lessons which ten years of experience had given her, she would still have been the light of the world.
Edition: current; Page:

[

436

]
CHAPTER III: Of the Establishment of the Consular Constitution.
The most potent charm which Bonaparte employed for the establishment of his power was, as we have said, the terror which the very name of Jacobinism inspired, although every person capable of reflection was aware that this scourge could not revive in France. We willingly assume the air of fearing vanquished factions to justify general measures of rigor. All those who wish to favor the establishment of despotism are constantly endeavoring to keep the crimes of demagogues strongly in our recollection. It is an easy strategy which has little difficulty. Accordingly, Bonaparte paralyzed every kind of resistance to his will by these words: Would you have me deliver you up to the Jacobins? France bent before him; nor was there a man bold enough to reply, We will combat both the Jacobins and you. In fine, he was not loved, even at that time, but he was preferred: he has almost always presented himself simultaneously with some other source of alarm, which might cause his power to be accepted as the lesser evil of the two.
The task of discussing with Bonaparte the constitution which was to be proclaimed was entrusted to a commission of fifty members selected from the Five Hundred and from the Ancients.1 Some of those members, who the evening before had leaped from a window to escape from the bayonets, treated seriously the abstract question of new laws, as if it had been possible to suppose that their authority was still respected. This coolness Edition: current; Page: [437] would have been noble had it been joined to energy; but abstract questions were discussed only that tyranny might be established; as in Cromwell's days, passages of the Bible were sought out to justify absolute power.
Bonaparte allowed these men, accustomed to the tribune, to dissipate in words what remained to them of character; but when their theory approached too near to practice, he cut short every difficulty by a threat of interfering no more in their affairs; that is to say, of bringing them to a conclusion by force. He took considerable pleasure in these tedious discussions, because he is himself very fond of speaking. His species of dissimulation in politics is not silence: he chooses rather to mislead by a perplexed discourse which favors alternately the most opposite opinions. In truth, deceit is often practiced more effectually by spe