Moll Flanders and the Pursuit of Happiness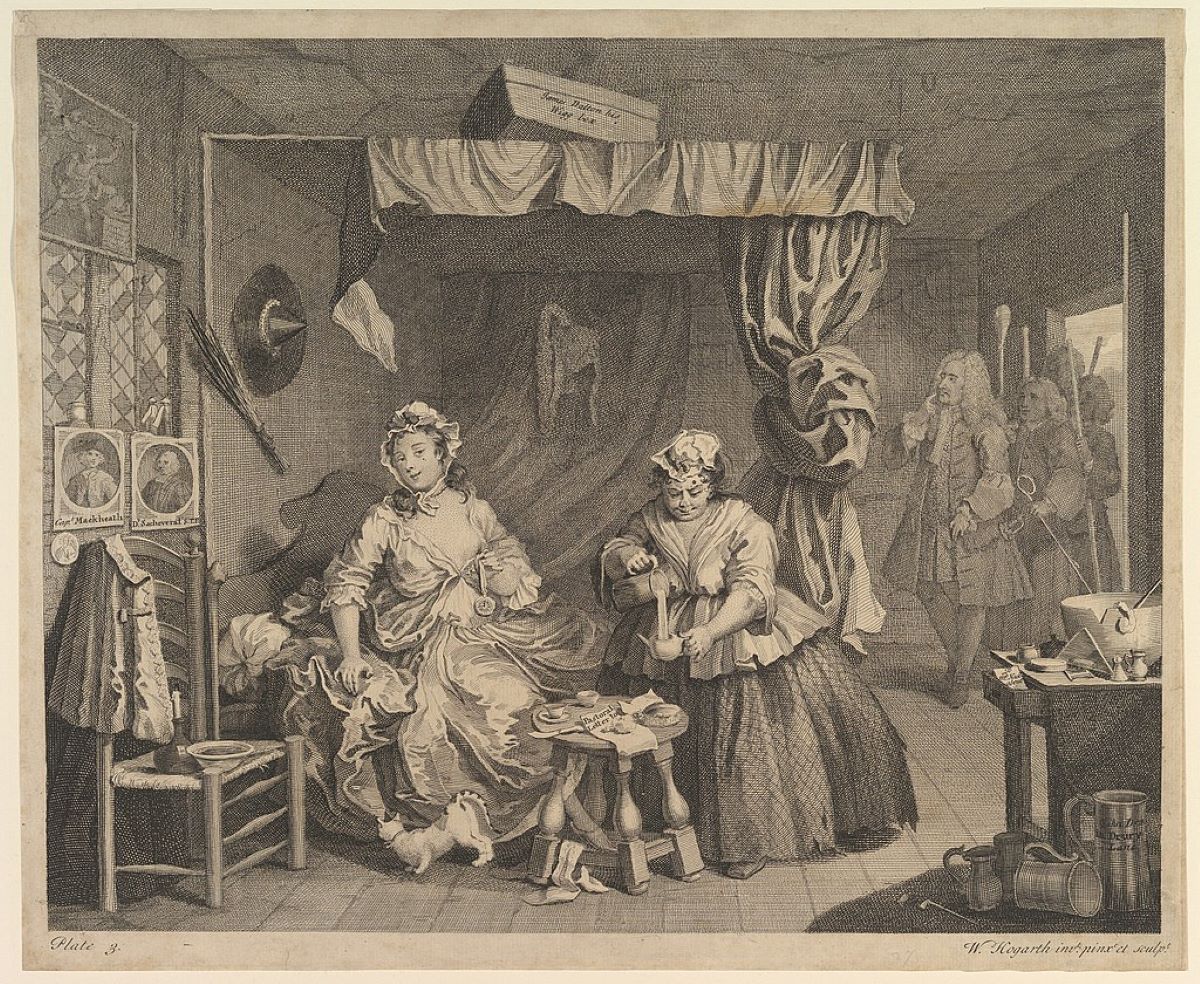 Among
Daniel Defoe
's masterpieces is
Moll Flanders
, published in 1722 with a long eighteenth-century title that seems to reveal everything but the protagonist's petticoat: 
The Fortunes and Misfortunes of the Famous Moll Flanders, &c. Who was Born in Newgate, and during a life of continu'd Variety of Threescore Years, besides her Childhood, was Twelve Year a Whore, five times a Wife (whereof once to her own Brother) Twelve Year a Thief, Eight Year a Transported Felon in Virginia, at last grew Rich, liv'd Honest, and died a Penitent.
Despite the title, Defoe's subject is not so much crime as the pursuit of happiness. Moll rivets us with her struggle to achieve that end, starting with her resolution at the age of eight to be "a Gentlewoman," by which she means "to be able to Work for myself, and get enough to keep me without that terrible Bug-bear of going to Service." For the young Moll, the goal is not freedom from work but freedom to choose her work.
Moll's goal signals Defoe's engagement in a larger conversation about the relation between industry and happiness. In depicting Moll's early impulse, he anticipates David Hume's argument in
Essays Moral, Political, and Literary
that nature implants this urge to industry. Hume observes, "The great end of all human industry, is the attainment of happiness. For this were arts invented, sciences cultivated, laws ordained, and societies modelled, by the most profound wisdom of patriots and legislators." Defoe agrees, linking happiness with virtue and industry.  
Yet in the genteel family Moll visits and later joins as a companion, she acquires "quite other Notions of a Gentlewoman" based on leisure and wealth. Moll's vanity and greed render her easy prey for the older brother in the family. When he gives her five Guineas along with abundant kisses, she confesses, "I was more confounded with the Money than I was before with the Love."   
After becoming the mistress of the older brother, she is persuaded to marry his younger brother, who then dies, leading her to marry a spendthrift who absconds. Several (bigamous) marriages and one affair later, she finally secures a husband with whom she lives "in the utmost Tranquility; he was a Quiet, Sensible, Sober Man, virtuous, Modest, and Sincere, and in his Business Diligent and Just." They keep within their income, and she is a devoted wife and mother: "this kind of Life became a Pleasure to me."  
Here are the virtues of a polite and commercial society lauded from Defoe to Adam Smith. The latter,
Erik W. Matson
observes, conceives of happiness as having "three nested components: material provision, social engagement, and the tranquility that comes from acting virtuously."  Moll temporarily has all three.  
When Moll's husband suffers a financial reversal, however, he dies under the strain. Desperate, Moll eventually turns to relieving citizens of their pocket watches with the same zest with which she previously entrapped husbands, only to land in the ultimate cage herself: Newgate Prison. 
Here, Moll says, "I began to think, and to think is one Advance from Hell to Heaven." Repenting of her crimes, she has the good fortune to reconnect with her favorite husband, Jemy, who is imprisoned due to his career as a highwayman. Moll proposes being transported together to America (a common sentence for criminals), a plan he resists, because a "Gentleman" would never stoop to "Labour," much less servitude. 
This, of course, is precisely the point that Defoe wishes to challenge. Industry is not degrading but liberating as well as enriching. David Hume even suggests in his Essays that "labour itself is the chief ingredient of the felicity" to which we aspire. 
Moll carries her point, and they arrive in the New World near where she had lived with an earlier husband (also her brother). Purchasing their liberty and some land, Moll starts a plantation and teaches her husband the value of work. 
Defoe writes eloquently about such work in another novel published the same year: Colonel Jack. He insists that for convicts, "Virginia, and a State of Transportation, may be the happiest Place and Condition they were ever in." In fact, after the term of servitude expires, if a man "will but apply himself with Diligence and Industry to the Business of the Country," he is sure "both of living Well and growing Rich."   
Moll Flanders concludes with the protagonist in just that state. Her flourishing plantation yields 300 pounds a year, and she retires to England with her beloved husband. She has, finally, achieved her childhood dream to work for herself and be a "gentlewoman."