Johnson's Dictionary: From the Liberty Fund Rare Book Room
One of the real pleasures of working at Liberty Fund is having the chance to bring office visitors into our rare book room to explore its hidden treasures. One of the books I get particularly excited about is our beautiful two volume set of Johnson's Dictionary--the first real dictionary of the English language.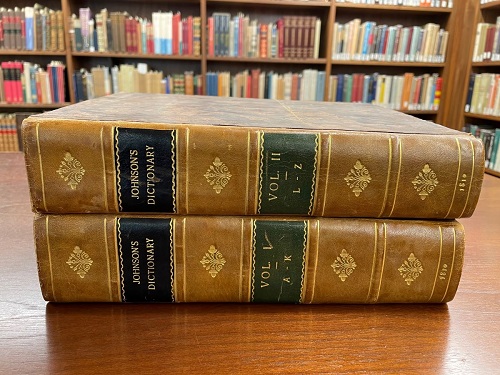 Liberty Fund's copy of Johnson's dictionary is the tenth edition, dating from 1810. As you can see from the photograph at the head of this post, it is a beautifully bound folio edition, with raised and gilded details on the spine. It has obviously been well cared for over the years.
The interior of the book is in beautiful condition as well, with a clear title page, and very little age damage to the paper.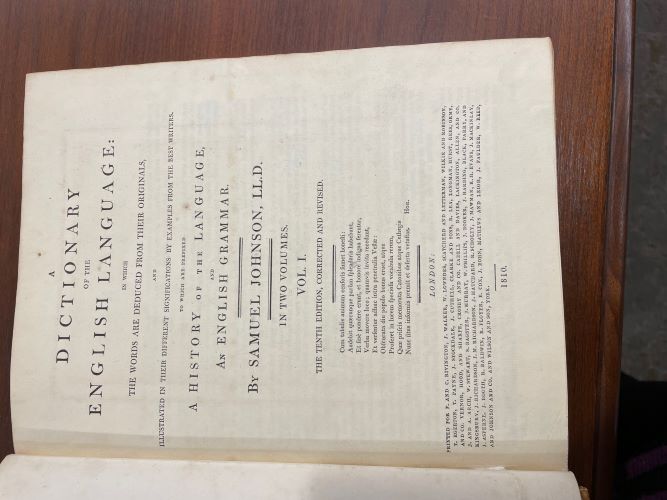 But why is Johnson's Dictionary so important? And why was it so exciting when it was published?
Prior to Johnson's Dictionary, most books that were called "dictionaries" were primarily just word lists. Johnson expanded on the features of his dictionary, and its usefulness expanded as well. Notice, for example, that the title page calls out aspects of Johnson's dictionary that were particularly special at the time. The dictionary includes the etymology of words, or as Johnson says "They are deduced from their originals." And words are accompanied by examples of how they are used, taken from "the best writers." Thorough definitions and advice about usage combined with these aspects to make Johnson's dictionary a more practical aid for the use of the English language than previous dictionaries. (You can see all these features at work in the definition of "Liberty" shown below.
That readers also received a history of the English language and a grammar for its use, written by the greatest prose stylist of the day? It's no wonder the dictionary was a hit, and it is no wonder that it remains one of the treasures of our collection.