May 2022: THE BILL OF RIGHTS: SELECT CASES IN CONSTITUTIONAL LAW
Please join us in May 2022 for The Bill of Rights: Select Cases in Constitutional Law, with Steve Ealy.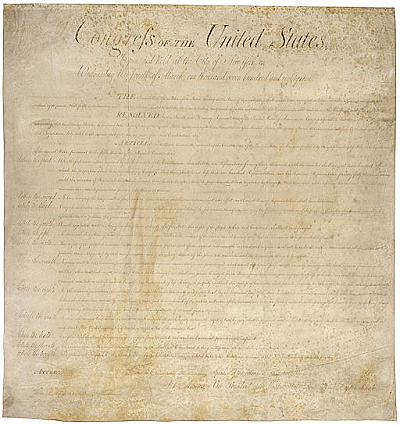 Pre-registration is required. Participants will need to acquire the Scalia and Breyer readings; other readings are available online. Participants who successfully complete ALL sessions will be eligible to receive an Amazon e-gift certificate.
This reading group will begin with a consideration of the proper way for judges/justices to approach their responsibilities through an examination of Federalist 78 and lectures by Justices Antonin Scalia and Stephen Breyer. In following sessions we will examine cases dealing with the Second Amendment (the right to keep and bear arms), Fourth Amendment (unreasonable search and seizure), and Eighth Amendment (is the death penalty cruel and unusual punishment?). All of the readings relating to specific rights and provisions of the Bill of Rights are taken from U. S. Supreme Court opinions, concurring opinions, and dissents.
Session One, Bill of Rights Basics: Thursday, May 5, 2-3pm EDT
US Constitution, Amendments I-X and Amendment XIV
Incorporation Doctrine, Cornell Law School
Antonin Scalia, A Matter of Interpretation (Princeton, 1997), 14-18, 23-47
Stephen Breyer, Active Liberty (Vintage Books, 2005, 3-34, 115-132
Session Two, The Second Amendment: Thursday, May 12, 2-3pm EDT
United States v Miller (1939)
McDonald v CIty of Chicago (McDonald; Opinion of the Court, 767-791; Breyer Dissent, 912-941)
Jaime Caetano v Massachusetts (2016)
Session Three, The Fourth Amendment: Thursday, May 19, 2-3pm EDT
Katz v United States (1967)
Terry v Ohio (1968)
Michigan Department of State Police v Sitz (1990)
City of Indianapolis v Edmond (2000)
Session Four, The Eighth Amendment: Thursday, May 26, 2-3pm EDT
Francis v Resweber (1947)
Furman v. Georgia (1971) Brennan Concurring, 269-306; Rehnquist Dissent, 465-470)
Roper v. Simmons (2005) (Opinion of the Court, 555-579; O'Connor Dissent, 587-607)