PART I
THE ECONOMICS OF IMPERIALISM
Part I, Chapter I: The Measure of Imperialism
Quibbles about the modern meaning of the term Imperialism are best resolved by reference to concrete facts in the history of the last thirty years. During that period a number of European nations, Great Britain being first and foremost, have annexed or otherwise asserted political sway over vast portions of Africa and Asia, and over numerous islands in the Pacific and elsewhere. The extent to which this policy of expansion has been carried on, and in particular the enormous size and the peculiar character of the British acquisitions, are not adequately realised even by those who pay some attention to Imperial politics.
The following lists, giving the area and, where possible, the population of the new acquisitions, are designed to give definiteness to the term Imperialism. Though derived from official sources, they do not, however, profess strict accuracy. The sliding scale of political terminology along which no-man's land, or hinterland, passes into some kind of definite protectorate is often applied so as to conceal the process; "rectification" of a fluid frontier is continually taking place; paper "partitions" of spheres of influence or protection in Africa and Asia are often obscure, and in some cases the area and the population are highly speculative.
In a few instances it is possible that portions of territory put down as acquired since 1870 may have been ear-marked by a European Power at some earlier date. But care is taken to include only such territories as have come within this period under the definite political control of the Power to which they are assigned. The figures in the case of Great Britain are so startling as to call for a little further interpretation. I have thought it right to add to the recognised list of colonies and protectorates the "veiled Protectorate" of Egypt, with its vast Soudanese claim, the entire territories assigned to Chartered Companies, and the native or feudatory States in India which acknowledge our paramountcy by the admission of a British Agent or other official endowed with real political control.
All these lands are rightly accredited to the British Empire, and if our past policy is still pursued, the intensive as distinct from the extensive Imperialism will draw them under an ever-tightening grasp.
In a few other instances, as, for example, in West Africa, countries are included in this list where some small dominion had obtained before 1870, but where the vast majority of the present area of the colony is of recent acquisition. Any older colonial possession thus included in Lagos or Gambia is, however, far more than counterbalanced by the increased area of the Gold Coast Colony, which is not included in this list, and which grew from 29,000 square miles in 1873 to 39,000 square miles in 1893.
 
Date of Acquisition.
Area. Square Miles.
Population.
EUROPE—
Cyprus
1878
3,584
227,900
AFRICA—
Zanzibar and Pemba
1888
100,000
200,000
East Africa Protectorate
1895
2,500,000
Uganda Protectorate
1894-1896
140,000
3,800,000
Somali Coast Protectorate
1884-1885
68,000
(?)
British Central Africa Protectorate
1889
42,217
688,049
Lagos
to 1899
21,000
3,000,000
Gambia
to 1888
3,550
215,000
Ashantee
1896-1901
70,000
2,000,000
Niger Coast Protectorate
1885-1898
400,000 to 500,000
25,000,000 to 40,000,000
Egypt
1882
400,000
9,734,405
Egyptian Soudan
1882
950,000
10,000,000
Griqualand West
1871-1880
15,197
83,373
Zululand
1879-1897
10,521
240,000
British Bechuanaland
1885
51,424
72,736
Bechuanaland Protectorate
1891
213,000
200,000
Transkei
1879-1885
2,535
153,582
Tembuland
1885
4,155
180,130
Pondoland
1894
4,040
188,000
Griqualand East
1879-1885
7,511
152,609
British South Africa Charter
1889
750,000
321,000
Transvaal
1900
119,139
870,000
Orange River Colony
1900
48,826
207,503
ASIA—
Hong Kong (littoral)
1898
376
100,000
Wei-hai-wei
...
270
118,000
Socotra
1886
1,382
10,000
Upper Burma
1887
83,473
2,046,933
Baluchistan
1876-1889
130,000
500,000
Sikkim
1890
2,818
30,000
Rajputana (States)
since 1881
128,022
12,186,352
Burma (States)
62,661
785,800
Jammu and Kashmir
80,000
2,543,952
Malay Protected States
1883-1895
24,849
620,000
North Borneo Company
1881
31,106
175,000
North Borneo Protectorate
1888
...
...
Sarawak
1888
50,000
500,000
British New Guinea
1888
90,540
350,000
Fiji Islands
1874
7,740
122,676
The list is by no means complete. It takes no account of several large regions which have passed under the control of our Indian Government as native or feudatory States, but of which no statistics of area or population, even approximate, are available. Such are the Shan States, the Burma Frontier, and the Upper Burma Frontier, the districts of Chitral, Bajam, Swat, Waziristan, which came under our "sphere of influence" in 1893, and have been since taken under a closer protectorate. The increase of British India itself between 1871 and 1891 amounted to an area of 104,993 square miles, with a population of 25,330,000, while no reliable measurement of the formation of new native States within that period and since is available. Many of the measurements here given are in round numbers, indicative of their uncertainty, but they are taken, wherever available, from official publications of the Colonial Office, corroborated or supplemented from the "Statesman's Year-book." They will by no means comprise the full tale of our expansion during the thirty years, for many enlargements made by the several colonies themselves are omitted. But taken as they stand they make a formidable addition to the growth of an Empire whose nucleus is only 120,000 square miles, with 40,000,000 population.
For so small a nation to add to its domains in the course of a single generation an area of 4,754,000 square miles, with an estimated population of 88,000,000, is a historical fact of great significance.
Accepting Sir Robert Giffen's estimate of the size of our Empire (including Egypt and the Soudan) at about 13,000,000 square miles, with a population of some 400 to 420 millions (of whom about 50,000,000 are of British race and speech), we find that one-third of this Empire, containing quite one-fourth of the total population of the Empire, has been acquired within the last generation. This is in tolerably close agreement with other independent estimates.
The character of this Imperial expansion is clearly exhibited in the list of new territories.
Though, for convenience, the year 1870 has been taken as indicative of the beginning of a conscious policy of Imperialism, it will be evident that the movement did not attain its full impetus until the middle of the eighties. The vast increase of territory, and the method of wholesale partition which assigned to us great tracts of African land, may be dated from about 1884. Within fifteen years some three and three-quarter millions of square miles have been added to the British Empire.
Nor does Great Britain stand alone in this enterprise. The leading characteristic of modern Imperialism, the competition of rival Empires, is the product of this same period. The close of the Franco-German war marks the beginning of a new colonial policy in France and Germany, destined to take effect in the next decade. It was not unnatural that the newly-founded German Empire, surrounded by powerful enemies and doubtful allies, and perceiving its more adventurous youth drawn into the United States and other foreign lands, should form the idea of a colonial empire. During the seventies a vigorous literature sprang up in advocacy of the policy which took shape a little later in the powerful hands of Bismarck. The earliest instance of official aid for the promotion of German commerce abroad occurred in 1880 in the Government aid granted to the "German Commercial and Plantation Association of the Southern Seas." German connection with Samoa dates from the same year, but the definite advance of Germany upon its Imperialist career began in 1884, with a policy of African protectorates and annexations of Oceanic islands. During the next fifteen years she brought under her colonial sway about 1,000,000 square miles, with an estimated population of 14,000,000. Almost the whole of this territory is tropical, and the white population forms a total of a few thousands.
Similarly in France a great revival of the old colonial spirit took place in the early eighties, the most influential of the revivalists being the eminent economist, M. Paul Leroy-Beaulieu. The extension of empire in Senegal and Sahara in 1880 was followed next year by the annexation of Tunis, and France was soon actively engaged in the scramble for Africa in 1884, while at the same time she was fastening her rule on Tonking and Laos in Asia. Her acquisitions since 1880 (exclusive of the extension of New Caledonia and its dependencies) amount to an area of over three and a half million square miles, with a native population of some 37,000,000, almost the whole tropical or sub-tropical, inhabited by lower races and incapable of genuine French colonisation.
Italian aspirations took similar shape from 1880 onwards, though the disastrous experience of the Abyssinian expeditions has given a check to Italian Imperialism. Her possessions in East Africa are confined to the northern colony of Eritrea and the protectorate of Somaliland.
Of the other European States, two only, Portugal and Belgium, enter directly into the competition of the new Imperialism. The African arrangements of 1884-6 assigned to Portugal the large district of Angola on the Congo Coast, while a large strip of East Africa passed definitely under her political control in 1891. The anomalous position of the great Congo Free State, ceded to the King of Belgium in 1883, and growing since then by vast accretions, must be regarded as involving Belgium in the competition for African empire.
Spain may be said to have definitely retired from imperial competition. The large and important possessions of Holland in the East and West Indies, though involving her in imperial politics to some degree, belong to older colonialism: she takes no part in the new imperial expansion.
Russia, the only active expansionist country of the North, stands alone in the character of her imperial growth, which differs from other Imperialism in that it has been principally Asiatic in its achievements and has proceeded by direct extension of imperial boundaries, partaking to a larger extent than in the other cases of a regular colonial policy of settlement for purposes of agriculture and industry. It is, however, evident that Russian expansion, though of a more normal and natural order than that which characterises the new Imperialism, comes definitely into contact and into competition with the claims and aspirations of the latter in Asia, and has been advancing rapidly during the period which is the object of our study.
The recent entrance of the powerful and progressive nation of the United States of America upon Imperialism by the annexation of Hawaii and the taking over of the relics of ancient Spanish empire not only adds a new formidable competitor for trade and territory, but changes and complicates the issues. As the focus of political attention and activity shifts more to the Pacific States, and the commercial aspirations of America are more and more set upon trade with the Pacific islands and the Asiatic coast, the same forces which are driving European States along the path of territorial expansion seem likely to act upon the United States, leading her to a virtual abandonment of the principle of American isolation which has hitherto dominated her policy.
The following comparative table of colonisation, compiled from the "Statesman's Year-book" for 1900 by Mr. H. C. Morris, marks the present expansion of the political control of Western nations:—
 
Number of Colonies
Area. Square Miles.
Population.
Mother Country.
Colonies, &c.
Mother Country.
Colonies, &c.
United Kingdom
50
120,979
11,605,238
40,559,954
345,222,239
France
33
204,092
3,740,756
38,517,975
56,401,860
Germany
13
208,830
1,027,120
52,279,901
14,687,000
Netherlands
3
12,648
782,862
5,074,632
35,115,711
Portugal
9
36,038
801,100
5,049,729
9,148,707
Spain
3
197,670
243,877
17,565,632
136,000
Italy
2
110,646
188,500
31,856,675
850,000
Austria-Hungary
2
241,032
23,570
41,244,811
1,568,092
Denmark
3
15,289
86,634
2,185,335
114,229
Russia
3
8,660,395
255,550
128,932,173
15,684,000
Turkey
4
1,111,741
465,000
23,834,500
14,956,236
China
5
1,336,841
2,881,560
386,000,000
16,680,000
U.S.A.
6
3,557,000
172,091
77,000,000
10,544,617
Total
136
15,813,201
22,273,858
850,103,317
521,108,791
The political nature of the new British Imperialism may be authoritatively ascertained by considering the governmental relations which the newly annexed territories hold with the Crown.
Officially, British "colonial possessions" fall into three classes—(1) "Crown colonies, in which the Crown has the entire control of legislation, while the administration is carried on by public officers under the control of the Home Government; (2) colonies possessing representative institutions, but not responsible government, in which the Crown has no more than a veto on legislation, but the Home Government retains the control of public affairs; (3) colonies possessing representative institutions and responsible government, in which the Crown has only a veto on legislation, and the Home Government has no control over any officer except the Governor."
Now, of the thirty-nine separate areas which have been annexed by Great Britain since 1870 as colonies or protectorates, not a single one ranks in class 2 or 3. The new Imperialism has established no single British colony endowed with responsible government or representative institutions. Nor, with the exception of the three new States in South Africa, where white settlers live in some numbers, is it seriously pretended that any of these annexed territories is being prepared and educated for representative, responsible self-government; and even in these South African States there is no serious intention, either on the part of the Home Government or of the colonists, that the majority of the inhabitants shall have any real voice in the government.
It is true that some of these areas enjoy a measure of self-government, as protectorates or as feudatory States, under their own native princes. But all these in major matters of policy are subject to the absolute rule of the British Government, or of some British official, while the general tendency is towards drawing the reins of arbitrary control more tightly over protectorates, converting them into States which are in substance, though not always in name, Crown colonies. With the exception of a couple of experiments in India, the tendency everywhere has been towards a closer and more drastic imperial control over the territories that have been annexed, transforming protectorates, company rule, and spheres of influence into definite British States of the Crown colony order.
This is attributable, not to any greed of tyranny on the part of the Imperial Government, but to the conditions imposed upon our rule by considerations of climate and native population. Almost the whole of this new territory is tropical, or so near to the tropics as to preclude genuine colonisation of British settlers, while in those few districts where Europeans can work and breed, as in parts of South Africa and Egypt, the preoccupation of the country by large native populations of "lower races" precludes any considerable settlement of British workers and the safe bestowal of the full self-government which prevails in Australasia and Canada.
The same is true to an even more complete extent of the Imperialism of other continental countries. The new Imperialism has nowhere extended the political and civil liberties of the mother country to any part of the vast territories which, since 1870, have fallen under the government of Western civilised Powers. Politically, the new Imperialism is an expansion of autocracy.
Taking the growth of Imperialism as illustrated in the recent expansion of Great Britain and of the chief continental Powers, we find the distinction between Imperialism and colonisation, set forth in the opening chapter, closely borne out by facts and figures, and warranting the following general judgments:—
First—Almost the whole of recent imperial expansion is occupied with the political absorption of tropical or sub-tropical lands in which white men will not settle with their families.
Second—Nearly all the lands are thickly peopled by "lower races."
Thus this recent imperial expansion stands entirely distinct from the colonisation of sparsely peopled lands in temperate zones, where white colonists carry with them the modes of government, the industrial and other arts of the civilisation of the mother country. The "occupation" of these new territories is comprised in the presence of a small minority of white men, officials, traders, and industrial organisers, exercising political and economic sway over great hordes of population regarded as inferior and as incapable of exercising any considerable rights of self-government, in politics or industry.
APPENDIX.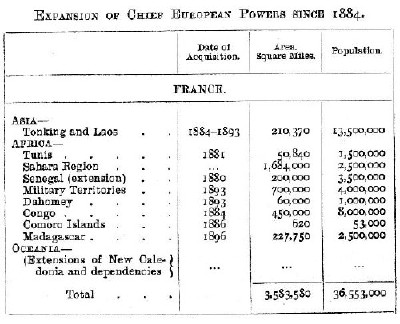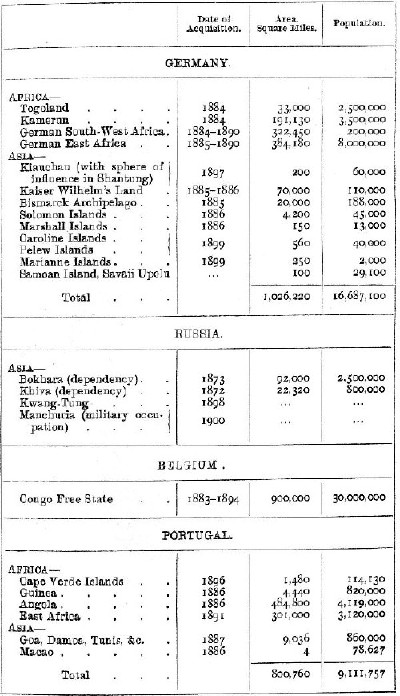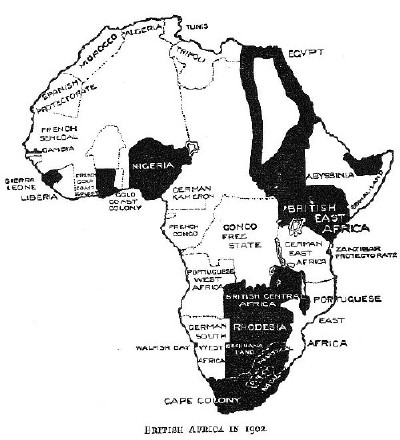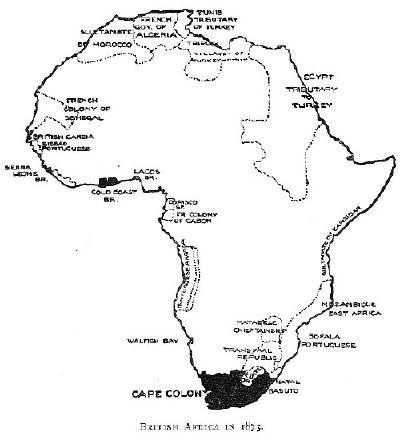 Part I, Chapter II: The Commercial Value of Imperialism
The absorption of so large a proportion of public interest, energy, blood and money in seeking to procure colonial possessions and foreign markets would seem to indicate that Great Britain obtains her chief livelihood by external trade. Now this is not the case. Large as is our foreign and colonial trade in volume and in value, essential as is much of it to our national well-being, nevertheless it furnishes a small proportion of the real income of the nation.
Although the volume and value of home industries are not directly calculable, the total income of the nation, comprising profits, wages, rents, and other gains from all sources, is approximately estimated at £1,700,000,000 per annum. This sum, of course, covers all payments, not only for productive services of land, capital and labour in the making and distributing of material wealth, but for professional and personal services as well. Real income in the shape of goods or services to this amount is consumed or saved within the year.
Now the total value of the import and export trade of Great Britain in 1898 (we take this year as the latest normal one for the purpose, later years being disturbed by the war factor) amounted to £765,000,000. If we were to take the very liberal allowance of 5 per cent. as profit upon this turnover of trade, the annual income directly derived from our external trade would amount to a little over £38,000,000, or about one forty-fifth part of our total income.
If one is estimating the total income directly derived from taking part in processes of external trade, it would be necessary to add the salaries of commercial clerks, rents of offices, &c., paid by British mercantile firms engaged in this trade. Even then the total income derived from external trade would only play a small part in the total income of Great Britain.
"But surely," it will be said, "you do not restrict the worth of our foreign trade to gains derived from the trading processes. The whole of the value of the exports of home produce, amounting in 1898 to £233,000,000 should be reckoned as income derived from or dependent on external trade for the purpose of this comparison, for it represents payments in the shape of profits, wages, rents, &c., made to persons in Great Britain who have produced the goods that are exported: destroy this export trade and you annihilate all this income." This plausible presentation of the matter rests, however, upon shallow economic analysis. It is an excellent thing to have a wide and various foreign market, but we cannot admit that the capital and labour which made the export goods must have remained without employment if this foreign outlet for the goods they made had not existed. It is an advantage to our manufacturers that foreigners are willing to compete with home consumers for the purchase of their manufactures, and particular industries have grown and thriven by this enlargement of their market. The particular direction in which large quantities of capital and labour have been employed has been determined by these external markets. But we are not entitled to conclude that if this export trade had not grown up this capital and labour would have been without productive employment, though some of it must have been differently employed. The assumption that home demand is a fixed amount, and that any commodities produced in excess of this amount must find a foreign market or remain unsold, is quite unwarranted. On the contrary, there is no necessary limit to the quantity of capital and labour which can be employed in producing goods for the home market, if the productive power is disposed in industries which meet the rising demands of the consumer. Whatever quantity of wealth is produced in this country can be bought and consumed in this country, because with everything that is produced a corresponding power to purchase and consume is created. The pressure to find external markets, though urgent enough in many trades, is not based on any natural economic necessity. There is no natural limit to the quantity of wealth which can be produced, exchanged, and consumed within Great Britain except the limits imposed by restricted natural resources and the actual condition of the arts of industry. Without, then, disputing the great utility of foreign trade to us, I would insist that the money income regarded as derived from foreign trade ought to be confined to the sum of the superior prices obtained for the goods sold abroad over those which could have been obtained for them (or for the goods which could have been produced in their place by the same factors of production) in the home market.
Whatever value such considerations justify us in setting upon the external trade of Great Britain, they do not justify the weight this trade exercises as a determinant of our commercial policy.
Moreover, it should be borne in mind that whereas during the first seven decades of the century, before any strong, definite, or continuous imperialistic policy was maintained, England's foreign trade was advancing faster than her home trade, the three decades during which our public policy has been consciously dominated by a struggle for external markets show no increase in the value of our external trade comparable with the increase of our home trade. Between 1870 and 1898 the total income of the nation from all sources has grown from about £1,200,000,000 to £1,700,000,000. The following table gives the yearly figures of our import and export trade during that same period, the quinquennial average, and the value per head of the population:—
Year.
Trade (in millions).
Value per Head of Population.
Year.
Trade (in millions).
Value per Head of Population.
 
 
£
s.
d.
 
 
£
s.
d.
1870
547
 
 
 
1885
642
1871
615
 
 
 
1886
619
1872
669
 
 
 
1887
643
1873
682
 
 
 
1888
686
1874
668
 
 
 
1889
743
 
 
 
 
 
 
 
Average
636
19
19
3
Average
666
18
4
5
 
 
 
 
 
 
 
1875
655
 
 
 
1890
749
1876
632
 
 
 
1891
744
1877
647
 
 
 
1892
715
1878
616
 
 
 
1893
682
1879
612
 
 
 
1894
682
 
 
 
 
 
 
 
Average
632
18
16
6
Average
715
18
14
10
 
 
 
 
 
 
 
1880
697
 
 
 
1895
703
1881
694
 
 
 
1896
738
1882
720
 
 
 
1897
745
1883
732
 
 
 
1898
765
1884
686
 
 
 
 
 
 
 
Average
706
20
1
3
Average
737
19
7
10
Although the real increase in volume of external trade is considerable when the fall of general prices since 1870 is taken into account, it is quite evident that neither the volume nor the value of external trade has kept pace during this period with the volume and the value of internal trade. While the total income per head of the population has certainly increased by as much as 20 per cent., the value of external trade per head has actually shrunk.
Next, let us inquire whether the vast outlay of energy and money upon imperial expansion is attended by a growing trade within the Empire as compared with foreign trade. In other words, does the policy tend to make us more and more an economically self-sufficing Empire? Does trade follow the flag?
The following figures represent the proportion which our trade with our colonies and possessions bears to our foreign trade during the latter half of the nineteenth century:—
Percentages of Total Values.
Annual Averages.
Imports into Great Britain from
Exports from Great Britain to
Foreign Countries.
British Possessions.
Foreign Countries.
British Possessions.
This table, as distinguished from those following, is based on figures which include in the export trade only British and Irish produce, and do not include export of "foreign and colonial produce."
1855-1859
76.5
23.5
68.5
31.5
1860-1864
71.2
28.8
66.6
33.4
1865-1869
76.0
24.0
72.4
27.6
1870-1874
78.0
22.0
74.4
25.6
1875-1879
77.9
22.0
66.9
33.1
1880-1884
76.5
23.5
65.5
34.5
1885-1889
77.1
22.9
65.0
35.0
1890-1894
77.1
22.9
67.6
34.4
1895-1898
78.6
21.4
66.0
34.0
A longer period has here been taken as a basis of comparison in order to bring out clearly the central truth, viz.that our modern imperialist policy has had no appreciable influence whatever upon the determination of our external trade. The proportion of our exports and our imports, as between foreign countries and our own possessions, is virtually the same in the first period, 1855-59, and the last period, 1895-98, nor, with one exception, has it varied widely during the entire half-century. That exception consists in a notable drop in the proportion of exports to our possessions in the period 1865-74; after the recovery from that depression, in 1875-79, there is no considerable change. Although since 1870 such vast additions have been made to British possessions, involving a corresponding reduction in the number or size of "foreign countries," this imperial expansion is attended by no increase in the proportion of intra-imperial trade as represented in the imports and exports of Great Britain.
A somewhat closer study of the trade statistics of the last decade of the nineteenth century emphasises the recent tendency.
Trade with Foreign Countries and British Possessions
(in Million £)
Imports
Year.
From Foreign Countries.
From British Possessions.
Percentage from British Possessions.
1891
336
99
23
1892
326
98
23
1893
313
92
23
1894
314
94
23
1895
321
96
23
1896
349
93
21
1897
357
94
21
1898
371
100
22
1899
378
107
22
1900
414
109
21
Trade with Foreign Countries and British Possessions
(in Million £)
Exports
Year.
To Foreign Countries.
To British Possessions.
Percentage to British Possessions.
1,891
216
93
30
1892
211
81
28
1893
198
79
29
1894
195
79
29
1895
210
76
26
1896
206
90
30
1897
207
87
30
1898
204
90
30
1899
235
94
29
1900
252
102
29
Value of new ships sold to foreigners first entered in export returns in 1899—1899, £9,196,000; 1900, £8,588.000.
The elaborate statistical investigation of Professor Alleyne Ireland into the trade of our colonial possessions strikes a still heavier blow at the notion that trade follows the flag. Taking the same period, he establishes the following two facts:—
"The total import trade of all the British colonies and possessions has increased at a much greater rate than the imports from the United Kingdom." "The total exports of all the British colonies and possessions have increased at a much greater rate than the exports to the United Kingdom."
The following table shows the gradual decline in the importance to the colonies of the commercial connection with Great Britain since 1872-75, as illustrated in the proportion borne in the value of their exports from and their imports to Great Britain as compared with the value of the total imports and exports of the British colonies and possessions:—
| Four-Yearly Averages. | Percentages of Imports into Colonies, &c., from Great Britain | Percentages of Exports from Colonies, &c., from Great Britain |
| --- | --- | --- |
| 1856-1859 | 46.5 | 57.1 |
| 1860-1863 | 41.0 | 65.4 |
| 1864-1867 | 38.9 | 57.6 |
| 1868-1871 | 39.8 | 53.5 |
| 1872-1875 | 43.6 | 54.0 |
| 1876-1879 | 41.7 | 50.3 |
| 1880-1883 | 42.8 | 48.1 |
| 1884-1887 | 38.5 | 43.0 |
| 1888-1891 | 36.3 | 39.7 |
| 1892-1895 | 32.4 | 36.6 |
| 1896-1899 | 32.5 | 34.9 |
In other words, while Great Britain's dependence on her Empire for trade is stationary, the dependence of her Empire upon her for trade is rapidly diminishing.
Closer attention to the special period when imperial expansion has been in full activity—1894 to the end of the century—enforces the lesson still more powerfully.
| Year. | Exports and Imports of Great Britain (in Million £) | Import and Export Trade of Great Britain with Possessions (in Million £) |
| --- | --- | --- |
| 1884 | 686 | 184 |
| 1885 | 642 | 170 |
| 1886 | 619 | 164 |
| 1887 | 643 | 166 |
| 1888 | 686 | 179 |
| 1889 | 743 | 188 |
| 1890 | 749 | 191 |
| 1891 | 744 | 193 |
| 1892 | 715 | 179 |
| 1893 | 682 | 170 |
| 1894 | 682 | 172 |
| 1895 | 703 | 172 |
| 1896 | 738 | 184 |
| 1897 | 745 | 183 |
| 1898 | 765 | 190 |
The actual condition of British trade with foreign countries and with the chief groups of the colonies respectively may be indicated by the following statement for the year ending December 1901:—
 
Imports from
Exports to
 
Value.
Percentage.
Value.
Percentage.
 
£
 
£
 
Foreign Countries
417,615,000
80
178,450,000
63½
British India
38,001,000
7
39,753,000
14
Australasia
34,682,000
7
26,932,000
9½
Canada
19,775,000
4
7,797,000
3
British South Africa
5,155,000
1
17,006,000
6
Other British Possessions
7,082,000
1
10,561,000
4
Total
522,310,000
100
280,499,000
100
It is thus clearly seen that while imperial expansion is attended by no increase in the value of our trade with our colonies and dependencies, a considerable increase in the value of our trade with foreign nations has taken place. Did space permit, it could be shown that the greatest increase of our foreign trade is with that group of industrial nations whom we regard as our industrial enemies, and whose political enmity we are in danger of arousing by our policy of expansion—France, Germany, Russia, and the United States.
Our import trade with the United States alone is greater than with the whole of our colonies. In 1898, the last normal year, the aggregate trade with foreign countries in British produce was £520,877,107, with our possessions £182,660,716. In 1898 the imports from the United States were £126,062,155, and from our possessions £99,433,995. The total imports were £470,544,702, so that the imports from our possessions constituted about one-fifth of the whole.
One more point of supreme significance in its bearing on the new Imperialism remains. We have already drawn attention to the radical distinction between genuine colonialism and Imperialism. This distinction is strongly marked in the statistics of the progress of our commerce with our foreign possessions.
The following table indicates the movement of our commerce during the last three decades of the nineteenth century with India, the technically self-governing colonies, and the other colonies respectively:—
 
Trade of the Empire with Great Britain. (000 omitted in amount columns.)
Annual Average of 1867-71.
 
Total Imports.
Imports from Britain.
Percentage of British Imports.
Total Exports.
Exports to Britain.
Percentage of Exports to Britain.
 
£
£
 
£
£
 
India
45,818
31,707
69.2
56,532
29, 738
52.6
Self-governing Colonies
42,612
24,502
57.5
42,386
23,476
55.4
Other Colonies
23,161
7,955
34.3
23,051
10,698
46.4
Annual Average of 1892-96.
India
52,577
37,811
71.9
68,250
22,656
33.2
Self-governing Colonies
74,572
44,133
59.2
83, 528
58,714
70.3
Other Colonies
39,835
10,443
26.2
36,626
10,987
29.3
(Professor Flux, "The Flag and Trade," Journal of Statistical Society, Sept. 1899, vol. lxii. pp. 496-98.)
Professor Flux thus summarises the chief result of this comparison: "The great source of growth of Britain's colonial trade is very clearly shown to be the growth of trade with the colonies to which self-government has been granted. Their foreign trade has nearly doubled, and the proportion of it which is carried on with the mother country has increased from about 56½ per cent. to 65 per cent. " This testimony of trade to the virtues of self-government cannot, however, be pressed very far, as is proved by classifying the same set of facts upon another fundamentum divisionis.
The distinction of self-governing and other colonies is almost identical with that between tropical and non-tropical colonies. The latter distinction, however, does not admit so much exactitude, though it is even more important in the instructive light it throws upon the economic character of Imperialism.
Regarded in a specifically political manner, Imperialism would seem confined to those colonies and possessions to which responsible self-government is denied, and which are governed by the will of Great Britain. But if due weight is assigned to economic as well as to formally political conditions, all possessions where the mass of the inhabitants enjoy no real share in such self-government as is accorded must be included. This extends the imperialist area so as to make it cover the important cases of Cape Colony and Natal, where the conditions are essentially lacking in popular self-government.
Value of Exports of Produce and Manufactures of the United Kingdom to British Colonies and Possessions. (Cape Colony and Natal included under Tropics.)
 
1884
1885
1886
1887
Tropics
46,006,946
43,420,915
43,565,649
45,649,905
Other Colonies
34,869,842
34,574,005
32,105,752
29,720,351
 
1888
1889
1890
1891
Tropics.
49,044,638
49,956,824
54,542.324
50,853,312
Other Colonies
35,196,875
33,322,166
32,828,059
35,102,776
 
1892
1893
1894
1895
Tropics
45,943,912
47,736,754
48,242,074
45,236,549
Other Colonies
28,804,605
24,413,409
24,546,471
24,960,745
 
1896
1897
1898
Tropics
54,539,233
51,437,539
53,579,233
...
Other Colonies
29,597,704
29,237,524
29,847,538
...
In this table the "other colonies" consist of Australasia, Canada, Newfoundland, the Channel Islands, Gibraltar, and Malta.
While the export trade to the whole number of colonies and possessions shows a slight absolute growth of value, having risen from £80,875,946 in 1884 to £83,426,761 in 1898, that between the mother country and the non-tropical possessions shows a considerable decline, more than compensated by the growth of trade with the tropical colonies. But further investigation makes it quite evident that this result and various others depend entirely upon the classification of Cape Colony and Natal, which rank for statistical purposes as pivotal colonies, carrying with them the balance of advantage to tropical and non-tropical, self-governing and imperialist States, according as we place them.
For during this period the exports to these South African colonies show an increase from £4,102,281 to £12,199,810. Hence, if these colonies, with their quite abnormal conditions, are excluded, the small rise of colonial exports as a whole becomes a considerable decline. If, having regard to the semi-tropical character of Natal, destined in all probability to be exploited chiefly by Coolie and Kaffir labour, and the great tropical hinterland fed by the trade of Cape Colony, we reckon these colonies in the tropical class, that entire class presents a favourable appearance as compared with the non-tropical colonies.
A strict interpretation of self-government will, by including Cape Colony and Natal (though the latter only obtained full self-government in 1893), throw the advantage on the side of the self-governing colonies, as against the imperially governed colonies. If, however, having regard to the virtual exclusion from all political power of the great majority of the population of these South African colonies, we refuse to rank them with Canada and Australasia, this argument for self-government on economic grounds disappears.
The real distinction which the facts and figures serve to emphasise is that between the tropical and the nontropical colonies; and their political bearing rests upon the fact that the new Imperialism is perforce driven more and more into the annexation and administration of tropical countries. Taking under survey our whole Empire, we reach the conclusion that, excluding our commerce with India, the smallest, least valuable, and most uncertain trade is that done with our tropical possessions, and in particular with those which have come under imperial control since 1870. The only considerable increase of our import trade since 1884 is from our genuine colonies in Australasia, North America, and Cape Colony; the trade with India has been stagnant, while that with our tropical colonies in Africa and the West Indies has been in most cases irregular and dwindling. Our export trade exhibits the same general character, save that Australia and Canada show a growing resolution to release themselves from dependence upon British manufactures; the trade with the tropical colonies, though exhibiting some increase, is very small and very fluctuating.
As for the territories acquired under the new Imperialism, except in one instance, no serious attempt to regard them as satisfactory business assets is possible. Egypt alone yields a trade of some magnitude; of the other possessions, three only—Lagos, Niger Coast Protectorate, and North Borneo—are proved to do a trade with Great Britain exceeding one million pounds in value. In fact, excluding Egypt, the whole volume of this trade, so far as it is officially recorded, does not amount to ten million pounds; and though the actual trade is doubtless in excess of this sum, it forms an infinitesimal addition to the commercial resources of our nation. Apart from its quantity, the quality of the new tropical export trade is of the lowest, consisting for the most part, as the analysis of the Colonial Office shows, of the cheapest textile goods of Lancashire, the cheapest metal goods of Birmingham and Sheffield, and large quantities of gunpowder, spirits, and tobacco.
Such evidence leads to the following conclusions bearing upon the economics of the new Imperialism. First, the external trade of Great Britain bears a small and diminishing proportion to its internal industry and trade. Secondly, of the external trade, that with British possessions bears a diminishing proportion to that with foreign countries. Thirdly, of the trade with British possessions, the tropical trade, and in particular the trade with the new tropical possessions, is the smallest, least progressive, and most fluctuating in quantity, while it is lowest in the character of the goods which it embraces.
APPENDIX.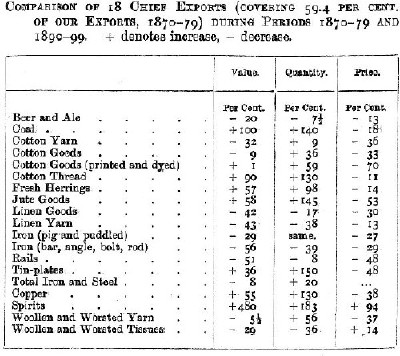 Part I, Chapter III: Imperialism as an Outlet for Population
There is a widely prevalent belief that imperial expansion is desirable, or even necessary, in order to absorb and utilise the surplus of our ever-growing population. "The reproductive powers of nature," runs the argument, "brook no restraint: the most dominant force in history is the tendency of population to overflow its ancient banks, seeking fuller and easier subsistence. Great Britain is one of the most congested areas in the world; her growing population cannot find enough remunerative occupation within these islands; professional and working-classes alike find it more and more difficult to earn a decent and secure living, every labour market is overstocked, emigration is a prime economic necessity. Now; those who under such pressure leave our shores consist largely of the strongest and most energetic stuff the nation contains. Many of these people, whose permanent alienation would be a heavy loss, have been saved to the Empire by the policy of imperial expansion: they have settled either in vacant places of the earth which they have seized and kept under British rule, or in places where they have set up a definitely British supremacy over lower races of existing inhabitants. It is our most urgent national interest that this surplus emigrant population shall settle in lands which are under the British flag, and we must therefore maintain a constant policy of extending the political control of Great Britain so as to cover the new homes to which these people betake themselves in pursuit of employment." This motive is closely linked with other economic motives relating to trade and investments. The establishment of British trade, and especially of British capital, in foreign lands naturally attracts a certain British population; traders, engineers, overseers, and mechanics are needed as entrepreneurs and managers. So wherever a new area is opened up to our trade and capital the nucleus of an outlander population is formed. Hence, of necessity, springs up a crop of political issues, an outlander problem: the British outlanders not satisfied with the foreign rule demand the intervention of their home Government. Thus the duty of protecting British subjects in a foreign country is identified with the duty of protecting British property, not merely the personal property of the outlanders, often a trivial matter, but the far larger stakes of the home investors. But apart from these cases of special interest, wherever any considerable number of British subjects settles in a savage or semi-civilised country they have a "right" to British protection, and since that protection can seldom be made effective without the exercise of direct British authority, the imperial ægis of Great Britain must be spread over all such areas, when a convenient occasion for such expansion presents itself.
Such is the accepted theory and practice. What validity does it possess as an argument for recent imperial expansion? Let me first ask: Is England over-populated now, and is the prospect of further increase such as to compel us to "peg out claims for posterity" in other parts of the world? The facts are these. Great Britain is not so thickly populated as certain prosperous industrial areas in Germany, the Netherlands, and China: along with every recent growth of population has come a far greater growth of wealth and of the power to purchase food and other subsistence. The modern specialisation of industry has caused a congestion of population upon certain spots which may be injurious in some ways to the well-being of the nation, but it cannot be regarded as over-population in the sense of a people outgrowing the means of subsistence. Nor have we reason to fear such over-population in the future. It is true that our manufactures and commerce may not continue to grow as rapidly as in the past, though we have no clear warrant from industrial statistics for this judgment: but if this be so, neither is our population likely to increase so fast. Of this we have clear statistical evidence: the diminution of the rate of growth of our population, as disclosed by the two latest censuses, is such as to justify the conclusion that, if the same forces continue to operate, the population of Great Britain will be stationary by the middle of the century.
There exists, then, no general necessity for a policy of expansion in order to provide for over-population, present or prospective. But supposing it were necessary for an increasing surplus of our population to emigrate, is it necessary for us to spend so large a part of our national resources, and to incur such heavy risks, in seizing new territory for them to settle upon?
The total emigration of Britons represents no large proportion of the population; that proportion during the recent years of imperial expansion has perceptibly diminished: of the emigrants a small proportion settles in British possessions, and an infinitesimally small fraction settles in the countries acquired under the new Imperialism. These most instructive facts are established by the following official table, giving the statistics of emigration from 1884, the year from which the full tide of imperial expansion is to be dated:—
Number of Outward-Bound Passengers of British and Irish Origin, from the United Kingdom to Countries of Europe
Year.
Passengers to
Total.
United States.
British North America.
Australia and New Zealand.
Cape of Good Hope and Natal.
Other Places
1884
155,280
31,134
44,255
...
11,510
242,179
1885
137,687
19,828
39,395
...
10,724
207,644
1886
152,710
24,745
43,076
3,897
8,472
232,900
1887
201,526
32,025
34,183
4,909
8,844
281,487
1888
195,986
34,853
31,127
6,466
11,496
279,928
1889
168,771
28,269
28,294
13,884
14,577
253,795
1890
152,413
22,520
21,179
10,321
11,683
218,116
1891
156,395
21,578
19,547
9,090
11,897
218,507
1892
150,039
23,254
15,950
9,891
10,908
210,042
1893
148,949
24,732
11,203
13,097
10,833
208,814
1894
104,001
17,459
10,917
13,177
10,476
156,030
1895
126,502
16,622
10,567
20,234
11,256
185,181
1896
98,921
15,267
10,354
24,594
12,789
161,925
1897
85,324
15,571
12,061
21,109
12,395
146,460
1898
80,494
17,640
10,693
19,756
12,061
140,644
1899
92,482
16,410
11,467
14,432
11,571
146,362
1900
102,797
18,443
14,922
20,815
11,848
168,825
Regarded as a measure of the outflow of "surplus" population, even these figures are excessive in two ways. In the first place, they include considerable numbers of travellers and casual visitors who are not real emigrants. Secondly, to measure aright the net emigration, we must set against these figures the immigration figures. The net reduction of our population by emigration is thus reduced to an average, during the last five years, of 87,224 per annum.
Considering that the term "other places" includes the entire non-European world, outside Canada, Australasia, and South Africa, it is clear that the rest of our Empire absorbs at most a very few thousands, while the number of industrial settlers in our new tropical dominions must be a mere handful. A certain quantity of military and official employment is afforded by the new Imperialism to the influential upper classes, a few engineers, missionaries, prospectors, and overseers of trading and industrial undertakings get temporary posts, but as a contribution towards the general field of employment the new Imperialism is an utterly insignificant factor.
No substantial settlement of Britons is taking place upon any of the areas of the Empire acquired since 1870, excepting the Transvaal and the Orange River Colony, nor is it likely that any such settlement will take place. The tropical character of most lands acquired under the new Imperialism renders genuine colonisation impossible: there is no true British settlement in these places; a small number of men spend a short broken period in precarious occupations as traders, engineers, missionaries, overseers. The new Empire is even more barren for settlement than for profitable trade.
Part I, Chapter IV: Economic Parasites of Imperialism
I
Seeing that the Imperialism of the last three decades is clearly condemned as a business policy, in that at enormous expense it has procured a small, bad, unsafe increase of markets, and has jeopardised the entire wealth of the nation in rousing the strong resentment of other nations, we may ask, "How is the British nation induced to embark upon such unsound business?" The only possible answer is that the business interests of the nation as a whole are subordinated to those of certain sectional interests that usurp control of the national resources and use them for their private gain. This is no strange or monstrous charge to bring; it is the commonest disease of all forms of government. The famous words of Sir Thomas More are as true now as when he wrote them: "Everywhere do I perceive a certain conspiracy of rich men seeking their own advantage under the name and pretext of the commonwealth."
Although the new Imperialism has been bad business for the nation, it has been good business for certain classes and certain trades within the nation. The vast expenditure on armaments, the costly wars, the grave risks and embarrassments of foreign policy, the stoppage of political and social reforms within Great Britain, though fraught with great injury to the nation, have served well the present business interests of certain industries and professions.
It is idle to meddle with politics unless we clearly recognise this central fact and understand what these sectional interests are which are the enemies of national safety and the commonwealth. We must put aside the merely sentimental diagnosis which explains wars or other national blunders by outbursts of patriotic animosity or errors of statecraft. Doubtless at every outbreak of war not only the man in the street but the man at the helm is often duped by the cunning with which aggressive motives and greedy purposes dress themselves in defensive clothing. There is, it may be safely asserted, no war within memory, however nakedly aggressive it may seem to the dispassionate historian, which has not been presented to the people who were called upon to fight as a necessary defensive policy, in which the honour, perhaps the very existence, of the State was involved.
The disastrous folly of these wars, the material and moral damage inflicted even on the victor, appear so plain to the disinterested spectator that he is apt to despair of any State attaining years of discretion, and inclines to regard these natural cataclysms as implying some ultimate irrationalism in politics. But careful analysis of the existing relations between business and politics shows that the aggressive Imperialism which we seek to understand is not in the main the product of blind passions of races or of the mixed folly and ambition of politicians. It is far more rational than at first sight appears. Irrational from the standpoint of the whole nation, it is rational enough from the standpoint of certain classes in the nation. A completely socialist State which kept good books and presented regular balance-sheets of expenditure and assets would soon discard Imperialism; an intelligent laissez-faire democracy which gave duly proportionate weight in its policy to all economic interests alike would do the same. But a State in which certain well-organised business interests are able to outweigh the weak, diffused interest of the community is bound to pursue a policy which accords with the pressure of the former interests.
In order to explain Imperialism on this hypothesis we have to answer two questions. Do we find in Great Britain to-day any well-organised group of special commercial and social interests which stand to gain by aggressive Imperialism and the militarism it involves? If such a combination of interests exists, has it the power to work its will in the arena of politics?
What is the direct economic outcome of Imperialism? A great expenditure of public money upon ships, guns, military and naval equipment and stores, growing and productive of enormous profits when a war, or an alarm of war, occurs; new public loans and important fluctuations in the home and foreign Bourses; more posts for soldiers and sailors and in the diplomatic and consular services; improvement of foreign investments by the substitution of the British flag for a foreign flag; acquisition of markets for certain classes of exports, and some protection and assistance for trades representing British houses in these manufactures; employment for engineers, missionaries, speculative miners, ranchers and other emigrants.
Certain definite business and professional interests feeding upon imperialistic expenditure, or upon the results of that expenditure, are thus set up in opposition to the common good, and, instinctively feeling their way to one another, are found united in strong sympathy to support every new imperialist exploit.
If the £60,000,000 which may now be taken as a minimum expenditure on armaments in time of peace were subjected to a close analysis, most of it would be traced directly to the tills of certain big firms engaged in building warships and transports, equipping and coaling them, manufacturing guns, rifles, and ammunition, supplying horses, waggons, saddlery, food, clothing for the services, contracting for barracks, and for other large irregular needs. Through these main channels the millions flow to feed many subsidiary trades, most of which are quite aware that they are engaged in executing contracts for the services. Here we have an important nucleus of commercial Imperialism. Some of these trades, especially the shipbuilding, boiler-making, and gun and ammunition making trades, are conducted by large firms with immense capital, whose heads are well aware of the uses of political influence for trade purposes.
These men are Imperialists by conviction; a pitiful policy is good for them.
With them stand the great manufacturers for export trade, who gain a living by supplying the real or artificial wants of the new countries we annex or open up. Manchester, Sheffield, Birmingham, to name three representative cases, are full of firms which compete in pushing textiles and hardware, engines, tools, machinery, spirits, guns, upon new markets. The public debts which ripen in our colonies, and in foreign countries that come under our protectorate or influence, are largely loaned in the shape of rails, engines, guns, and other materials of civilisation made and sent out by British firms. The making of railways, canals, and other public works, the establishment of factories, the development of mines, the improvement of agriculture in new countries, stimulate a definite interest in important manufacturing industries which feeds a very firm imperialist faith in their owners.
The proportion which such trade bears to the total industry of Great Britain is very small, but some of it is extremely influential and able to make a definite impression upon politics, through chambers of commerce, Parliamentary representatives, and semi-political, semi-commercial bodies like the Imperial South African Association or the China League.
The shipping trade has a very definite interest which makes for Imperialism. This is well illustrated by the policy of State subsidies now claimed by shipping firms as a retainer, and in order to encourage British shipping for purposes of imperial safety and defence.
The services are, of course, imperialist by conviction and by professional interest, and every increase of the army and navy enhances their numerical strength and the political power they exert. The abolition of purchase in the army, by opening the profession to the upper middle classes, greatly enlarged this most direct feeder of imperial sentiment. The potency of this factor is, of course, largely due to the itch for glory and adventure among military officers upon disturbed or uncertain frontiers of the Empire. This has been a most prolific source of expansion in India. The direct professional influence of the services carries with it a less organised but powerful sympathetic support on the part of the aristocracy and the wealthy classes, who seek in the services careers for their sons.
To the military services we may add the Indian Civil Service and the numerous official and semi-official posts in our colonies and protectorates. Every expansion of the Empire is also regarded by these same classes as affording new openings for their sons as ranchers, planters, engineers, or missionaries. This point of view is aptly summarised by a high Indian official, Sir Charles Crossthwaite, in discussing British relations with Siam. "The real question was who was to get the trade with them, and how we could make the most of them, so as to find fresh markets for our goods and also employment for those superfluous articles of the present day, our boys."
From this standpoint our colonies still remain what James Mill cynically described them as being, "a vast system of outdoor relief for the upper classes."
In all the professions, military and civil, the army, diplomacy, the church, the bar, teaching and engineering, Greater Britain serves for an overflow, relieving the congestion of the home market and offering chances to more reckless or adventurous members, while it furnishes a convenient limbo for damaged characters and careers. The actual amount of profitable employment thus furnished by our recent acquisitions is inconsiderable, but it arouses that disproportionate interest which always attaches to the margin of employment. To extend this margin is a powerful motive in Imperialism.
These influences, primarily economic, though not unmixed with other sentimental motives, are particularly operative in military, clerical, academic, and Civil Service circles, and furnish an interested bias towards Imperialism throughout the educated classes.
II
By far the most important economic factor in Imperialism is the influence relating to investments. The growing cosmopolitanism of capital is the greatest economic change of this generation. Every advanced industrial nation is tending to place a larger share of its capital outside the limits of its own political area, in foreign countries, or in colonies, and to draw a growing income from this source.
No exact or even approximate estimate of the total amount of the income of the British nation derived from foreign investments is possible. We possess, however, in the income-tax assessments an indirect measurement of certain large sections of investments, from which we can form some judgment as to the total size of the income from foreign and colonial sources, and the rate of its growth.
Income from Foreign Investments Assured to Income-Tax.
 
1884.
1888.
1892.
1896.
1900.
 
£
£
£
£
£
From Indian public revenue
2,607,942
3,130,959
3,203,573
3,475,751
3,587,919
Indian rails
4,544,466
4,841,647
4,580,797
4,543,969
4,693,795
Colonial and foreign public securities, &c.
13,233,271
16,757,736
14,949,017
16,419,933
18,394,380
Railways out of United Kingdom
3,777,592
4,178,456
8,013,838
13,032,556
14,043,107
Foreign and colonial investments
9,665,853
18,069,573
23,981,5451
17,428,870
19,547,685
33,829,124
146,978,371
54,728,770
54,901,079
60,266,886
From this table it appears that the period of energetic Imperialism has been coincident with a remarkable growth in the income from external investments. The income from these sources has nearly doubled in the period 1884-1900, while the portion derived from foreign railways and foreign and colonial investments has increased at a still more rapid rate.
These figures only give the foreign income which can be identified as such. To them must be added a large amount of income which escapes these income-tax returns, including considerable sums which would appear as profits of businesses carried on in the United Kingdom, such as insurance companies, investment trusts, and land mortgage companies, many of which derive a large part of their income from foreign investments. How rapid is the growth of this order of investment is seen from the published returns of investments of life insurance companies, which show that their investments in mortgages outside the United Kingdom had grown from about £6,000,000 in 1890 to £13,000,000 in 1898.
Sir R. Giffen estimated the income derived from foreign sources as profit, interest and pensions in 1882 at £70,000,000, and in a paper read before the Statistical Society in March 1899 he estimated the income from these same sources for the current year at £90,000,000. It is probable that this last figure is an underestimate, for if the items of foreign income not included as such under the income-tax returns bear the same proportion to those included as in 1882, the present total of income from foreign and colonial investments should be £120,000,000 rather than £90,000,000. Sir R. Giffen hazards the calculation that the new public investments abroad in the sixteen years 1882-1898 amounted to over £800,000,000, "and though part of the sum may have been nominal only, the real investment must have been enormous."
Mr. Mulhall gives the following estimate of the size and growth of our foreign and colonial investments since 1862:
| Year. | Amount. | Annual Increase. |
| --- | --- | --- |
|   | £ | Per Cent. |
| 1862 | 144,000,000 | ... |
| 1872 | 600,000,000 | 45.6 |
| 1882 | 875,000,000 | 27.5 |
| 1893 | 1,698,000,000 | 74.8 |
This last amount is of especial interest, because it represents the most thorough investigation made by a most competent economist for the "Dictionary of Political Economy." The investments included under this figure may be classified under the following general heads:
| Loans. | Million £. | Railways. | Million £. | Sundries. | Million £. |
| --- | --- | --- | --- | --- | --- |
| Foreign | 525 | U.S.A. | 120 | Banks | 50 |
| Colonial | 225 | Colonial | 140 | Lands | 100 |
| Municipal | 20 | Various | 128 | Mines, &c. | 390 |
|   | 770 |   | 388 |   | 540 |
In other words, in 1893 the British capital invested abroad represented about 15 per cent. of the total wealth of the United Kingdom: nearly one-half of this capital was in the form of loans to foreign and colonial Governments; of the rest a large proportion was invested in railways, banks, telegraphs, and other public services, owned, controlled, or vitally affected by Governments, while most of the remainder was placed in lands and mines, or in industries directly dependent on land values.
Income-tax returns and other statistics descriptive of the growth of these investments indicate that the total amount of British investments abroad at the end of the nineteenth century cannot be set down at a lower figure than £2,000,000,000. Considering that Sir R. Giffen regarded as "moderate'" the estimate of £1,700,000,000 in 1892, the figure here named is probably below the truth.
Now, without placing any undue reliance upon these estimates, we cannot fail to recognise that in dealing with these foreign investments we are facing by far the most important factor in the economics of Imperialism. Whatever figures we take, two facts are evident. First, that the income derived as interest upon foreign investments enormously exceeds that derived as profits upon ordinary export and import trade. Secondly, that while our foreign and colonial trade, and presumably the income from it, are growing but slowly, the share of our import values representing income from foreign investments is growing very rapidly.
In a former chapter I pointed out how small a proportion of our national income appeared to be derived as profits from external trade. It seemed unintelligible that the enormous costs and risks of the new Imperialism should be undertaken for such small results in the shape of increase to external trade, especially when the size and character of the new markets acquired were taken into consideration. The statistics of foreign investments, however, shed clear light upon the economic forces which are dominating our policy. While the manufacturing and trading classes make little out of their new markets, paying, if they knew it, much more in taxation than they get out of them in trade, it is quite otherwise with the investor.
It is not too much to say that the modern foreign policy of Great Britain is primarily a struggle for profitable markets of investment. To a larger extent every year Great Britain is becoming a nation living upon tribute from abroad, and the classes who enjoy this tribute have an ever-increasing incentive to employ the public policy, the public purse, and the public force to extend the field of their private investments, and to safeguard and improve their existing investments. This is, perhaps, the most important fact in modern politics, and the obscurity in which it is wrapped constitutes the gravest danger to our State.
What is true of Great Britain is true likewise of France, Germany, the United States, and of all countries in which modern capitalism has placed large surplus savings in the hands of a plutocracy or of a thrifty middle class. A well-recognised distinction is drawn between creditor and debtor countries. Great Britain has been for some time by far the largest creditor country, and the policy by which the investing classes use the instrument of the State for private business purposes is most richly illustrated in the recent history of her wars and annexations. But France, Germany, and the United States are advancing fast along the same path. The nature of these imperialist operations is thus set forth by the Italian economist Loria:—
"When a country which has contracted a debt is unable, on account of the slenderness of its income, to offer sufficient guarantee for the punctual payment of interest, what happens? Sometimes an out-and-out conquest of the debtor country follows. Thus France's attempted conquest of Mexico during the second empire was undertaken solely with the view of guaranteeing the interest of French citizens holding Mexican securities. But more frequently the insufficient guarantee of an international loan gives rise to the appointment of a financial commission by the creditor countries in order to protect their rights and guard the fate of their invested capital. The appointment of such a commission literally amounts in the end, however, to a veritable conquest. We have examples of this in Egypt, which has to all practical purposes become a British province, and in Tunis, which has in like manner become a dependency of France, who supplied the greater part of the loan. The Egyptian revolt against the foreign domination issuing from the debt came to nothing, as it met with invariable opposition from capitalistic combinations, and Tel-el-Kebir's success, bought with money, was the most brilliant victory wealth has ever obtained on the field of battle."
But, though useful to explain certain economic facts, the terms "creditor" and "debtor," as applied to countries, obscure the most significant feature of this Imperialism. For though, as appears from the analysis given above, much, if not most, of the debts are "public," the credit is nearly always private, though sometimes, as in the case of Egypt, its owners succeed in getting their Government to enter a most unprofitable partnership, guaranteeing the payment of the interest, but not sharing in it.
Aggressive Imperialism, which costs the tax-payer so dear, which is of so little value to the manufacturer and trader, which is fraught with such grave incalculable peril to the citizen, is a source of great gain to the investor who cannot find at home the profitable use he seeks for his capital, and insists that his Government should help him to profitable and secure investments abroad.
If, contemplating the enormous expenditure on armaments, the ruinous wars, the diplomatic audacity of knavery by which modern Governments seek to extend their territorial power, we put the plain, practical question, Cui bono? the first and most obvious answer is, The investor.
The annual income Great Britain derives from commissions on her whole foreign and colonial trade, import and export, is estimated by Sir R. Giffen at £18,000,000 for 1899, taken at 2½ per cent., upon a turnover of £800,000,000. This is the whole that we are entitled to regard as profits on external trade. Considerable as this sum is, it cannot serve to yield an economic motive-power adequate to explain the dominance which business considerations exercise over our imperial policy. Only when we set beside it some £90,000,000 or £100,000,000 representing pure profit upon investments, do we understand whence the economic impulse to Imperialism is derived.
Investors who have put their money in foreign lands, upon terms which take full account of risks connected with the political conditions of the country, desire to use the resources of their Government to minimise these risks, and so to enhance the capital value and the interest of their private investments. The investing and speculative classes in general also desire that Great Britain should take other foreign areas under her flag in order to secure new areas for profitable investment and speculation.
III
If the special interest of the investor is liable to clash with the public interest and to induce a wrecking policy, still more dangerous is the special interest of the financier, the general dealer in investments. In large measure the rank and the of the investors are, both for business and for politics, the cat's-paws of the great financial houses, who use stocks and shares not so much as investments to yield them interest, but as material for speculation in the money market. In handling large masses of stocks and shares, in floating companies, in manipulating fluctuations of values, the magnates of the Bourse find their gain. These great businesses—banking, broking, bill discounting, loan floating, company promoting—form the central ganglion of international capitalism. United by the strongest bonds of organisation, always in closest and quickest touch with one another, situated in the very heart of the business capital of every State, controlled, so far as Europe is concerned, chiefly by men of a single and peculiar race, who have behind them many centuries of financial experience, they are in a unique position to control the policy of nations. No great quick direction of capital is possible save by their consent and through their agency. Does any one seriously suppose that a great war could be undertaken by any European State, or a great State loan subscribed, if the house of Rothschild and its connections set their face against it?
Every great political act involving a new flow of capital, or a large fluctuation in the values of existing investments, must receive the sanction and the practical aid of this little group of financial kings. These men, holding their realised wealth and their business capital, as they must, chiefly in stocks and bonds, have a double stake, first as investors, but secondly and chiefly as financial dealers. As investors, their political influence does not differ essentially from that of the smaller investors, except that they usually possess a practical control of the businesses in which they invest. As speculators or financial dealers they constitute, however, the gravest single factor in the economics of Imperialism.
To create new public debts, to float new companies, and to cause constant considerable fluctuations of values are three conditions of their profitable business. Each condition carries them into politics, and throws them on the side of Imperialism.
The public financial arrangements for the Philippine war put several millions of dollars into the pockets of Mr. Pierpont Morgan and his friends; the China-Japan war, which saddled the Celestial Empire for the first time with a public debt, and the indemnity which she will pay to her European invaders in connection with the recent conflict, bring grist to the financial mills in Europe; every railway or mining concession wrung from some reluctant foreign potentate means profitable business in raising capital and floating companies. A policy which rouses fears of aggression in Asiatic states, and which fans the rivalry of commercial nations in Europe, evokes vast expenditure on armaments, and ever-accumulating public debts, while the doubts and risks accruing from this policy promote that constant oscillation of values of securities which is so profitable to the skilled financier. There is not a war, a revolution, an anarchist assassination, or any other public shock, which is not gainful to these men; they are harpies who suck their gains from every new forced expenditure and every sudden disturbance of public credit. To the financiers "in the know" the Jameson raid was a most advantageous coup, as may be ascertained by a comparison of the "holdings" of these men before and after that event; the terrible sufferings of England and South Africa in the war, which is a sequel of the raid, is a source of immense profit to the big financiers who have best held out against the uncalculated waste, and have recouped themselves by profitable war contracts and by "freezing out" the smaller interests in the Transvaal. These men are the only certain gainers from the war, and most of their gains are made out of the public losses of their adopted country or the private losses of their fellow-countrymen.
The policy of these men, it is true, does not necessarily make for war; where war would bring about too great and too permanent a damage to the substantial fabric of industry, which is the ultimate and essential basis of speculation, their influence is cast for peace, as in the dangerous quarrel between Great Britain and the United States regarding Venezuela. But every increase of public expenditure, every oscillation of public credit short of this collapse, every risky enterprise in which public resources can be made the pledge of private speculations, is profitable to the big money-lender and speculator.
The wealth of these houses, the scale of their operations, and their cosmopolitan organisation make them the prime determinants of imperial policy. They have the largest definite stake in the business of Imperialism, and the amplest means of forcing their will upon the policy of nations.
In view of the part which the non-economic factors of patriotism, adventure, military enterprise, political ambition, and philanthropy play in imperial expansion, it may appear that to impute to financiers so much power is to take a too narrowly economic view of history. And it is true that the motor-power of Imperialism is not chiefly financial: finance is rather the governor of the imperial engine, directing the energy and determining its work: it does not constitute the fuel of the engine, nor does it directly generate the power. Finance manipulates the patriotic forces which politicians, soldiers, philanthropists, and traders generate; the enthusiasm for expansion which issues from these sources, though strong and genuine, is irregular and blind; the financial interest has those qualities of concentration and clear-sighted calculation which are needed to set Imperialism to work. An ambitious statesman, a frontier soldier, an overzealous missionary, a pushing trader, may suggest or even initiate a step of imperial expansion, may assist in educating patriotic public opinion to the urgent need of some fresh advance, but the final determination rests with the financial power. The direct influence exercised by great financial houses in "high politics" is supported by the control which they exercise over the body of public opinion through the Press, which, in every "civilised" country, is becoming more and more their obedient instrument. While the specifically financial newspaper imposes "facts" and "opinions" on the business classes, the general body of the Press comes more and more under the conscious or unconscious domination of financiers. The case of the South African Press, whose agents and correspondents fanned the martial flames in this country, was one of open ownership on the part of South African financiers, and this policy of owning newspapers for the sake of manufacturing public opinion is common in the great European cities. In Berlin, Vienna, and Paris many of the influential newspapers are held by financial houses, which use them, not primarily to make direct profits out of them, but in order to put into the public mind beliefs and sentiments which will influence public policy and thus affect the money market. In Great Britain this policy has not gone so far, but the alliance with finance grows closer every year, either by financiers purchasing a controlling share of newspapers, or by newspaper proprietors being tempted into finance. Apart from the financial Press, and financial ownership of the general Press, the City notoriously exercises a subtle and abiding influence upon leading London newspapers, and through them upon the body of the provincial Press, while the entire dependence of the Press for its business profits upon its advertising columns involves a peculiar reluctance to oppose the organised financial classes with whom rests the control of so much advertising business. Add to this the natural sympathy with a sensational policy which a cheap Press always manifests, and it becomes evident that the Press is strongly biassed towards Imperialism, and lends itself with great facility to the suggestion of financial or political Imperialists who desire to work up patriotism for some new piece of expansion.
Such is the array of distinctively economic forces making for Imperialism, a large loose group of trades and professions seeking profitable business and lucrative employment from the expansion of military and civil services, from the expenditure on military operations, the opening up of new tracts of territory and trade with the same, and the provision of new capital which these operations require, all these finding their central guiding and directing force in the power of the general financier.
The play of these forces does not openly appear. They are essentially parasites upon patriotism, and they adapt themselves to its protecting colours. In the mouths of their representatives are noble phrase, expressive of their desire to extend the area of civilisation, to establish good government, promote Christianity, extirpate slavery, and elevate the lower races. Some of the business men who hold such language may entertain a genuine, though usually a vague, desire to accomplish these ends, but they are primarily engaged in business, and they are not unaware of the utility of the more unselfish forces in furthering their ends. Their true attitude of mind is expressed by Mr. Rhodes in his famous description of "Her Majesty's Flag" as "the greatest commercial asset in the world."
Part I, Chapter V: Imperialism Based on Protection
A business man estimating the value of an extension of his business will set the increased costs against the increased takings. Is it unreasonable that a business nation should adopt the same course? From this standpoint our increased military and naval expenditure during recent years may be regarded primarily as insurance premiums for protection of existing colonial markets and current outlay on new markets.
In order to test the finance of the new Imperialism, let us compare the growth of expenditure on armaments and wars since 1884 with the increased value of colonial trade:—
| Year. | Armaments and War. | Colonial Trade. Import and Export Trade with Possessions. |
| --- | --- | --- |
|   | £ | £ |
| 1884 | 27,864,000 | 184,000,000 |
| 1885 | 30,577,000 | 170,000,000 |
| 1886 | 39,538,000 | 164,000,000 |
| 1887 | 31,768,000 | 166,000,000 |
| 1888 | 30,609,000 | 179,000,000 |
| 1889 | 30,536,000 | 188,000,000 |
| 1890 | 32,772,000 | 197,000,000 |
| 1891 | 33,488,000 | 193,000,000 |
| 1892 | 33,312,000 | 179,000,000 |
| 1893 | 33,423,000 | 170,000,000 |
| 1894 | 33,566,000 | 172,000,000 |
| 1895 | 35,593,000 | 172,000,000 |
| 1896 | 38,334,000 | 184,000,000 |
| 1897 | 41,453,000 | 183,000,000 |
| 1898 | 40,395,000 | 190,000,000 |
Now, though there are no means of ear-marking the expenditure which might rank as insurance upon old markets or that which is spent upon acquiring new markets, it is not unreasonable to saddle the new Imperialism with the whole of the increase and to set against it the value of the trade of the new acquisitions. For though it might be claimed that the aggressive commercialism of rival European States has raised the insurance rate upon the old markets, it cannot be contended that Great Britain's expenditure on armaments need have increased had she adopted firmly and consistently the full practice of Cobdenism, a purely defensive attitude regarding her existing Empire and a total abstinence from acquisition of new territory. The increased hostility of foreign nations towards us may be regarded as entirely due to the aggressive Imperialism of the last thirty years, and the increased expenditure on armaments may, therefore, reasonably rank in a business balance-sheet as a cost of that policy.
So taken, this new expenditure is nothing else than a huge business blunder. An individual doing business in this fashion could not avoid bankruptcy, and a nation, however rich, pursuing such a policy is loaded with a millstone which must eventually drag her down.
In total contravention of our theory that trade rests upon a basis of mutual gain to the nations that engage in it, we have undertaken enormous expenses with the object of "forcing" new markets, and the markets we have forced are small, precarious, and unprofitable. The only certain and palpable result of the expenditure has been to keep us continually embroiled with the very nations that are our best customers, and with whom, in spite of everything, our trade makes the most satisfactory advance.
Not only are these markets not worth what they cost us, but the assumption that our trade would have been proportionately less had they fallen into the hands of rival and Protectionist nations is quite groundless. If, instead of squandering money upon these recent territorial acquisitions, we had let any or all of them pass into the possession of France, Germany, or Russia, in order that these countries might spend their money, instead of us spending our money, in acquiring and developing them, is it certain that our foreign trade would not have grown by at least as much as our colonial trade might have shrunk? The assumption that there is only a given quantity of trade, and that if one nation gets any portion of it another nation loses just so much, shows a blind ignorance of the elements of international trade. It arises from a curiously perverse form of separatism which insists upon a nation keeping a separate account with every other nation, and ignoring altogether the roundabout trade which is by far the most important business of an advanced industrial nation.
France seizing Madagascar practically extirpates direct British trade with the Malagasy; Germany, by her occupation of Shan-tung, deprives us of all possibility of trade with this Chinese province. But it by no means follows that France and Germany can or will keep to themselves the whole advantage of these new markets. To make any such supposition implies a complete abandonment of the principles of Free Trade. Even were the whole of China portioned out among the other industrial nations, each imposing tariffs which virtually prohibited direct trade between Great Britain and China—the most extreme assumption of a hostile attitude—it by no means follows that England would not reap enormous benefits from the expansion of her foreign trade, attributable in the last resort to the opening up of China. Even the feeblest recognition of the intricacies of foreign trade should make us aware that an increased trade with France, Germany, or Russia, either directly or through other nations trading with them, might give us our full share of the wealth of Chinese trade, and prove as beneficial as any direct share of trade with China which at great expense and peril we might secure. The assignment of spheres of influence in China or in Africa to France, Germany, or Russia, which they may seek to monopolise for purposes of trade, does not imply, as seems to be believed, a corresponding loss of markets to England. The intricate and ever-growing industrial co-operation of the civilised nations through trade does not permit any nation to keep to herself the gain of any market she may hold. It is not difficult to conceive cases where another nation might enjoy a larger share of the results of a trade than the nation which owned the private markets of this trade.
These are or were the commonplaces of the economics of Free Trade, the plainest lessons of enlightened common sense. Why are they forgotten?
The answer is that Imperialism repudiates Free Trade, and rests upon an economic basis of Protection. Just in so far as an Imperialist is logical does he become an open and avowed Protectionist.
If the fact of France or Germany seizing for its exclusive use a market which we might have seized necessarily reduces our aggregate external trade by the amount of this market, it is only reasonable that when we seize a territory we should take the same means to keep its market for ourselves. Imperialism, when it has shaken off the "old gang" of politicians who had swallowed Free Trade doctrine when they were young, will openly adopt the Protectionism required to round out this policy.
Imperialism naturally strives to fasten to the mother country the markets of each new territorial acquisition, convinced that only by such separate increments can the aggregate of our trade grow; and by the success of this policy it must justify the enormous national outlay which Imperialism involves. Free Trade trusts for the increase of our foreign trade to the operation of the self-interest of other trading nations. Her doctrine is that, though it were better for us and for them that they should give us free admission to their colonial and home markets, their protective tariff, even though it prohibits us from trading directly with their colonies, does not shut us out from all the benefits of their colonial development. Through the ordinary operation of competition in European markets the rubber trade which France does in East Africa helps to increase the supply and to keep down the price of "rubber" for English consumers, just as the bounties which continental countries pay to sugar producers enable British boys and girls to enjoy cheap sweets.
There is, then, nothing vaguely hypothetical about these indirect gains. Every business man can trace certain concrete advantages of goods and prices which come to us from the development of colonies by Protectionist countries. The "open door" is an advantage to our trade, but not a necessity. If we have to spend vast sums and incur vast risks in keeping "doors open" against the wishes of our best customers, it is more profitable to let them close these doors and take our gain by the more indirect but equally certain processes of roundabout trade. At present Great Britain is in a stronger position than any other nation to practise this policy of abstinence, because she possesses in her carrying trade by sea a most effective guarantee that she will obtain an adequate share of the net gains from new markets opened up by foreign nations. Though no complete statistics are available, it is known that a very large proportion of the trade, not only between England and foreign countries, but between foreign countries trading among themselves and with their possessions, is carried by British ships. So long as this continues, England, apart from her share obtained in roundabout trade, must participate directly and in a most important manner in the trade advantages of foreign markets belonging to our European trade competitors.
These considerations ought to make us willing that other nations should do their share of expansion and development, well contented to await the profit which must accrue to us from every increase of world-wealth through ordinary processes of exchange. We have done our share, and more, of the costly, laborious, and dangerous work of opening up new countries to the general trade of Western industrial nations; our recent ventures have been more expensive and less profitable to us than the earlier ones, and any further labours of expansion seem to conform to a law of diminishing returns, yielding smaller and more precarious increments of trade to a larger outlay of material and intellectual capital. Have we not reached, or even passed, the limit of the most profitable outlay of our national energy and resources? Will not enlightened self-interest impel us to leave to other active and ambitious nations—France, Russia, Germany, America—the work of developing new tropical or sub-tropical countries? If it is necessary that Western industrial civilisation shall undertake the political and commercial management of the whole world, let these nations take their share. Why should we do all the work and get so little from it? On the assumption that backward countries must be developed by foreign countries for the general good, a reasonable economy of power will apportion the work which remains to the "Imperialism" of other nations. Even if these other nations were disposed to shirk their share, it would pay us better to persuade them to undertake it rather than further to load our overladen shoulders. Since these other nations are not only eager to do their share, but by their jealousy at our undertaking their work continually threaten to wreck the peace of Europe, it seems sheer madness for Great Britain to weaken herself politically and financially by any further process of expansion.
APPENDIX.
National Expenditure and Armaments.
For the Year ending 31st March.
Expenditure on Armaments, Exclusive of War Charges.
Extra-ordinary War Expenditure.
Total Expenditure on War and Armaments.
Total National Expenditure.
 
Army.
Navy.
Total.
As given in the various "Statements of Revenue and Expenditure as laid before the House by the Chancellor of the Exchequer when opening the Budget," but omitting the "Interest on the year Debt." In his Budget Speech on 14th April 1902, Sir Michael Hicks-Beach estimated the total cost of the wars in South Africa and China during the three years ending 31st March 1902 as £65,034,000. Of this sum £45,420,000 had been defrayed out of revenue and by the suspension of the Sinking Fund (£4,640,000 a year), while £119,64,000 had been added to the Debt.
 
£
£
£
£
£
£
1895
17,900,000
17,545,000
35,445,000
...
35,445,000
93,918,421
1896
18,460,000
19,724,000
38,184,000
...
38,184,000
97,764,357
1897
18,270,000
22,170,000
40,440,000
...
40,440,000
101,476,669
1898
19,330,000
20,850,000
40,180,000
...
40,180,000
102,935,994
1899
20,000,000
24,068,000
44,068,000
...
44, 068,000
108,150,236
1900
20,600,000
26,000,000
46,600,000
23,000,000
69,600,000
133,722,407
1901
24,473,000
29,520,000
53,993,000
67,237,000
121,230,000
183,592,264
1902
29,312,000
31,255,000
60,920,000
59,050,000
119,970,000
188,469,000
1903
29,665,000
31,255,000
60,920,000
59,050,000
119,970,000
188,469,000
"Estimates"
 
 
 
 
 
 
Part I, Chapter VI: The Economic Taproot of Imperialism
No mere array of facts and figures adduced to illustrate the economic nature of the new Imperialism will suffice to dispel the popular delusion that the use of national force to secure new markets by annexing fresh tracts of territory is a sound and a necessary policy for an advanced industrial country like Great Britain. It has indeed been proved that recent annexations of tropical countries, procured at great expense, have furnished poor and precarious markets, that our aggregate trade with our colonial possessions is virtually stationary, and that our most profitable and progressive trade is with rival industrial nations, whose territories we have no desire to annex, whose markets we cannot force, and whose active antagonism we are provoking by our expansive policy.
But these arguments are not conclusive. It is open to Imperialists to argue thus: "We must have markets for our growing manufactures, we must have new outlets for the investment of our surplus capital and for the energies of the adventurous surplus of our population: such expansion is a necessity of life to a nation with our great and growing powers of production. An ever larger share of our population is devoted to the manufactures and commerce of towns, and is thus dependent for life and work upon food and raw materials from foreign lands. In order to buy and pay for these things we must sell our goods abroad. During the first three-quarters of the century we could do so without difficulty by a natural expansion of commerce with continental nations and our colonies, all of which were far behind us in the main arts of manufacture and the carrying trades. So long as England held a virtual monopoly of the world markets for certain important classes of manufactured goods, Imperialism was unnecessary. During the last thirty years this manufacturing and trading supremacy has been greatly impaired: other nations, especially Germany, the United States, and Belgium, have advanced with great rapidity, and while they have not crushed or even stayed the increase of our external trade, their competition is making it more and more difficult to dispose of the full surplus of our manufactures at a profit. The encroachments made by these nations upon our old markets, even in our own possessions, make it most urgent that we should take energetic means to secure new markets. These new markets must lie in hitherto undeveloped countries, chiefly in the tropics, where vast populations live capable of growing economic needs which our manufacturers and merchants can supply. Our rivals are seizing and annexing territories for similar purposes, and when they have annexed them close them to our trade. The diplomacy and the arms of Great Britain must be used in order to compel the owners of the new markets to deal with us: and experience shows that the safest means of securing and developing such markets is by establishing 'protectorates' or by annexation. The present value of these markets must not be taken as a final test of the economy of such a policy; the process of educating civilised needs which we can supply is of necessity a gradual one, and the cost of such Imperialism must be regarded as a capital outlay, the fruits of which posterity will reap. The new markets may not be large, but they form serviceable outlets for the overflow of our great textile and metal industries, and, when the vast Asiatic and African populations of the interior are reached, a rapid expansion of trade may be expected to result.
"Far larger and more important is the pressure of capital for external fields of investment. Moreover, while the manufacturer and trader are well content to trade with foreign nations, the tendency for investors to work towards the political annexation of countries which contain their more speculative investments is very powerful. Of the fact of this pressure of capital there can be no question. Large savings are made which cannot find any profitable investment in this country; they must find employment elsewhere, and it is to the advantage of the nation that they should be employed as largely as possible in lands where they can be utilised in opening up markets for British trade and employment for British enterprise.
"However costly, however perilous, this process of imperial expansion may be, it is necessary to the continued existence and progress of our nation; if we abandoned it we must be content to leave the development of the world to other nations, who will everywhere cut into our trade, and even impair our means of securing the food and raw materials we require to support our population. Imperialism is thus seen to be, not a choice, but a necessity."
The practical force of this economic argument in politics is strikingly illustrated by the recent history of the United States. Here is a country which suddenly breaks through a conservative policy, strongly held by both political parties, bound up with every popular instinct and tradition, and flings itself into a rapid imperial career for which it possesses neither the material nor the moral equipment, risking the principles and practices of liberty and equality by the establishment of militarism and the forcible subjugation of peoples which it cannot safely admit to the condition of American citizenship.
Is this a mere wild freak of spread-eaglism, a burst of political ambition on the part of a nation coming to a sudden realisation of its destiny? Not at all. The spirit of adventure, the American "mission of civilisation," are, as forces making for Imperialism, clearly subordinate to the driving force of the economic factor. The dramatic character of the change is due to the unprecedented rapidity of the industrial revolution in the United States during the last two decades. During that period the United States, with her unrivalled natural resources, her immense resources of skilled and unskilled labour, and her genius for invention and organisation, has developed the best equipped and most productive manufacturing economy the world has yet seen. Fostered by rigid protective tariffs, her metal, textile, tool, clothing, furniture, and other manufactures have shot up in a single generation from infancy to full maturity, and, having passed through a period of intense competition, are attaining, under the able control of great trust-makers, a power of production greater than has been attained in the most advanced industrial countries of Europe.
An era of cut-throat competition, followed by a rapid process of amalgamation, has thrown an enormous quantity of wealth into the hands of a small number of captains of industry. No luxury of living to which this class could attain kept pace with its rise of income, and a process of automatic saving set in upon an unprecedented scale. The investment of these savings in other industries helped to bring these under the same concentrative forces. Thus a great increase of savings seeking profitable investment is synchronous with a stricter economy of the use of existing capital. No doubt the rapid growth of a population, accustomed to a high and an always ascending standard of comfort, absorbs in the satisfaction of its wants a large quantity of new capital. But the actual rate of saving, conjoined with a more economical application of forms of existing capital, has exceeded considerably the rise of the national consumption of manufactures. The power of production has far outstripped the actual rate of consumption, and, contrary to the older economic theory, has been unable to force a corresponding increase of consumption by lowering prices.
This is no mere theory. The history of any of the numerous trusts or combinations in the United States sets out the facts with complete distinctness. In the free competition of manufactures preceding combination the chronic condition is one of "over-production," in the sense that all the mills or factories can only be kept at work by cutting prices down towards a point where the weaker competitors are forced to close down, because they cannot sell their goods at a price which covers the true cost of production. The first result of the successful formation of a trust or combine is to close down the worse equipped or worse placed mills, and supply the entire market from the better equipped and better placed ones. This course may or may not be attended by a rise of price and some restriction of consumption: in some cases trusts take most of their profits by raising prices, in other cases by reducing the costs of production through employing only the best mills and stopping the waste of competition.
For the present argument it matters not which course is taken; the point is that this concentration of industry in "trusts," "combines," &c., at once limits the quantity of capital which can be effectively employed and increases the share of profits out of which fresh savings and fresh capital will spring. It is quite evident that a trust which is motived by cut-throat competition, due to an excess of capital, cannot normally find inside the "trusted" industry employment for that portion of the profits which the trust-makers desire to save and to invest. New inventions and other economies of production or distribution within the trade may absorb some of the new capital, but there are rigid limits to this absorption. The trust-maker in oil or sugar must find other investments for his savings: if he is early in the application of the combination principles to his trade, he will naturally apply his surplus capital to establish similar combinations in other industries, economising capital still further, and rendering it ever harder for ordinary saving men to find investments for their savings.
Indeed, the conditions alike of cut-throat competition and of combination attest the congestion of capital in the manufacturing industries which have entered the machine economy. We are not here concerned with any theoretic question as to the possibility of producing by modern machine methods more goods than can find a market. It is sufficient to point out that the manufacturing power of a country like the United States may grow so fast as to exceed the demands of the home market. No one acquainted with trade will deny a fact which all American economists assert, that this is the condition which the United States has reached within the last few years, so far as the more developed industries are concerned. Her manufactures are saturated with capital and can absorb no more. One after another they are seeking refuge from the waste of competition in "combines" which secure a measure of profitable peace by restricting the quantity of operative capital. Industrial and financial princes in oil, steel, sugar, railroads, banking, &c., are faced with the dilemma of either spending more than they know how to spend, or forcing markets outside the home area. Two economic courses are open to them, both leading towards an abandonment of the political isolation of the past and the adoption of imperialist methods in the future. Instead of shutting down inferior mills and rigidly restricting output to correspond with profitable sales in the home markets, they may employ their full productive power, applying their savings to increase their business capital, and, while still regulating output and prices for the home market, may "hustle" for foreign markets, dumping down their surplus goods at prices which would not be possible save for the profitable nature of their home market. So likewise they may employ their savings in seeking investments outside their country, first repaying the capital borrowed from Great Britain and other countries for the early development of their railroads, mines and manufactures, and afterwards becoming themselves a creditor class to foreign countries.
It is this sudden demand for foreign markets for manufactures and for investments which is avowedly responsible for the adoption of Imperialism as a political policy and practice by the Republican party to which the great industrial and financial chiefs belong, and which belongs to them. The adventurous enthusiasm of President Roosevelt and his "manifest destiny" and "mission of civilisation" party must not deceive us. It is Messrs. Rockefeller, Pierpont Morgan, Hanna, Schwab, and their associates who need Imperialism and who are fastening it upon the shoulders of the great Republic of the West. They need Imperialism because they desire to use the public resources of their country to find profitable employment for the capital which otherwise would be superfluous.
It is not indeed necessary to own a country in order to do trade with it or to invest capital in it, and doubtless the United States can find some vent for their surplus goods and capital in European countries. But these countries are for the most part able to make provision for themselves: most of them have erected tariffs against manufacturing imports, and even Great Britain is being urged to defend herself by reverting to Protection. The big American manufacturers and financiers will be compelled to look to China and the Pacific and to South America for their most profitable chances; Protectionists by principle and practice, they will insist upon getting as close a monopoly of these markets as they can secure, and the competition of Germany, England, and other trading nations will drive them to the establishment of special political relations with the markets they most prize. Cuba, the Philippines, and Hawaii are but the hors d'œuvre to whet an appetite for an ampler banquet. Moreover, the powerful hold upon politics which these industrial and financial magnates possess forms a separate stimulus, which; as we have shown, is operative in Great Britain and elsewhere; the public expenditure in pursuit of an imperial career will be a separate immense source of profit to these men, as financiers negotiating loans, shipbuilders and owners handling subsidies, contractors and manufacturers of armaments and other imperialist appliances.
The suddenness of this political revolution is due to the rapid manifestation of the need. During a period of ten years the United States has nearly trebled the value of its manufacturing export trade, and, if the rate of progress of the last few years continues, within this decade it will overtake our more slowly advancing export trade, and stand first in the list of manufacture-exporting nations.
This is the avowed ambition, and no idle one, of the keenest business men of America; and with the natural resources, the labour and the administrative talents at their disposal, it is quite likely they will achieve their object. The stronger and more direct control over politics exercised in America by business men enables them to drive more quickly and more straightly along the line of their economic interests than in Great Britain. American Imperialism is the natural product of the economic pressure of a sudden advance of capitalism which cannot find occupation at home and needs foreign markets for goods and for investments.
The same needs exist in European countries, and, as is admitted, drive Governments along the same path. Over-production in the sense of an excessive manufacturing plant, and surplus capital which cannot find sound investments within the country, force Great Britain, Germany, Holland, France to place larger and larger portions of their economic resources outside the area of their present political domain, and then stimulate a policy of political expansion so as to take in the new areas. The economic sources of this movement are laid bare by periodic trade-depressions due to an inability of producers to find adequate and profitable markets for what they can produce. The Majority Report of the Commission upon the Depression of Trade in 1885 put the matter in a nut-shell. "That, owing to the nature of the times, the demand for our commodities does not increase at the same rate as formerly; that our capacity for production is consequently in excess of our requirements, and could be considerably increased at short notice; that this is due partly to the competition of the capital which is being steadily accumulated in the country." The Minority Report straightly imputes the condition of affairs to "over-production." Germany is at the present time suffering severely from what is called a glut of capital and of manufacturing power: she must have new markets; her Consuls all over the world are "hustling" for trade; trading settlements are forced upon Asia Minor; in East and West Africa, in China and elsewhere the German Empire is impelled to a policy of colonisation and protectorates as outlets for German commercial energy.
Every improvement of methods of production, every concentration of ownership and control, seems to accentuate the tendency. As one nation after another enters the machine economy and adopts advanced industrial methods, it becomes more difficult for its manufacturers, merchants, and financiers to dispose profitably of their economic resources, and they are tempted more and more to use their Governments in order to secure for their particular use some distant undeveloped country by annexation and protection.
The process we may be told is inevitable, and so it seems upon a superficial inspection. Everywhere appear excessive powers of production, excessive capital in search of investment. It is admitted by all business men that the growth of the powers of production in their country exceeds the growth in consumption, that more goods can be produced than can be sold at a profit, and that more capital exists than can find remunerative investment.
It is this economic condition of affairs that forms the taproot of Imperialism. If the consuming public in this country raised its standard of consumption to keep pace with every rise of productive powers, there could be no excess of goods or capital clamorous to use Imperialism in order to find markets: foreign trade would indeed exist, but there would be no difficulty in exchanging a small surplus of our manufactures for the food and raw material we annually absorbed, and all the savings that we made could find employment, if we chose, in home industries.
There is nothing inherently irrational in such a supposition. Whatever is, or can be, produced, can be consumed, for a claim upon it, as rent, profit, or wages, forms part of the real income of some member of the community, and he can consume it, or else exchange it for some other consumable with some one else who will consume it. With everything that is produced a consuming power is born. If then there are goods which cannot get consumed, or which cannot even get produced because it is evident they cannot get consumed, and if there is a quantity of capital and labour which cannot get full employment because its products cannot get consumed, the only possible explanation of this paradox is the refusal of owners of consuming power to apply that power in effective demand for commodities.
It is, of course, possible that an excess of producing power might exist in particular industries by misdirection, being engaged in certain manufactures, whereas it ought to have been engaged in agriculture or some other use. But no one can seriously contend that such misdirection explains the recurrent gluts and consequent depressions of modern industry, or that, when over-production is manifest in the leading manufactures, ample avenues are open for the surplus capital and labour in other industries. The general character of the excess of producing power is proved by the existence at such times of large bank stocks of idle money seeking any sort of profitable investment and finding none.
The root questions underlying the phenomena are clearly these: "Why is it that consumption fails to keep pace automatically in a community with power of production?" "Why does under-consumption or over-saving occur?" For it is evident that the consuming power, which, if exercised, would keep tense the reins of production, is in part withheld, or in other words is "saved" and stored up for investment. All saving for investment does not imply slackness of production; quite the contrary. Saving is economically justified, from the social standpoint, when the capital in which it takes material shape finds full employment in helping to produce commodities which, when produced, will be consumed. It is saving in excess of this amount that causes mischief, taking shape in surplus capital which is not needed to assist current consumption, and which either lies idle, or tries to oust existing capital from its employment, or else seeks speculative use abroad under the protection of the Government.
But it may be asked, "Why should there be any tendency to over-saving? why should the owners of consuming power withhold a larger quantity for savings than can be serviceably employed?" Another way of putting the same question is this, "Why should not the pressure of present wants keep pace with every possibility of satisfying them?" The answer to these pertinent questions carries us to the broadest issue of the distribution of wealth. If a tendency to distribute income or consuming power according to needs were operative, it is evident that consumption would rise with every rise of producing power, for human needs are illimitable, and there could be no excess of saving. But it is quite otherwise in a state of economic society where distribution has no fixed relation to needs, but is determined by other conditions which assign to some people a consuming power vastly in excess of needs or possible uses, while others are destitute of consuming power enough to satisfy even the full demands of physical efficiency. The following illustration may serve to make the issue clear. "The volume of production has been constantly rising owing to the development of modern machinery. There are two main channels to carry off these products—one channel carrying off the product destined to be consumed by the workers, and the other channel carrying off the remainder to the rich. The workers' channel is in rock-bound banks that cannot enlarge, owing to the competitive wage system preventing wages rising pro rata with increased efficiency. Wages are based upon cost of living, and not upon efficiency of labour. The miner in the poor mine gets the same wages per day as the miner in the adjoining rich mine. The owner of the rich mine gets the advantage—not his labourer. The channel which conveys the goods destined to supply the rich is itself divided into two streams. One stream carries off what the rich 'spend' on themselves for the necessities and luxuries of life. The other is simply an 'overflow' stream carrying off their 'savings.' The channel for spending, i.e. the amount wasted by the rich in luxuries, may broaden somewhat, but owing to the small number of those rich enough to indulge in whims it can never be greatly enlarged, and at any rate it bears such a small proportion to the other channel that in no event can much hope of avoiding a flood of capital be hoped for from this division. The rich will never be so ingenious as to spend enough to prevent over-production. The great safety overflow channel which has been continuously more and more widened and deepened to carry off the ever-increasing flood of new capital is that division of the stream which carried the savings of the rich, and this is not only suddenly found to be incapable of further enlargement, but actually seems to be in the process of being dammed up."
Though this presentation over-accentuates the cleavage between rich and poor and over-states the weakness of the workers, it gives forcible and sound expression to a most important and ill-recognised economic truth. The "overflow" stream of savings is of course fed not exclusively from the surplus income of "the rich"; the professional and industrial middle classes, and to some slight extent the workers, contribute. But the "flooding" is distinctly due to the automatic saving of the surplus income of rich men. This is of course particularly true of America, where multi-millionaires rise quickly and find themselves in possession of incomes far exceeding the demands of any craving that is known to them. To make the metaphor complete, the overflow stream must be represented as re-entering the stream of production and seeking to empty there all the "savings" that it carries. Where competition remains free, the result is a chronic congestion of productive power and of production, forcing down home prices, wasting large sums in advertising and in pushing for orders, and periodically causing a crisis followed by a collapse, during which quantities of capital and labour lie unemployed and unremunerated. The prime object of the trust or other combine is to remedy this waste and loss by substituting regulation of output for reckless over-production. In achieving this it actually narrows or even dams up the old channels of investment, limiting the overflow stream to the exact amount required to maintain the normal current of output. But this rigid limitation of trade, though required for the separate economy of each trust, does not suit the trust-maker, who is driven to compensate for strictly regulated industry at home by cutting new foreign channels as outlets for his productive power and his excessive savings. Thus we reach the conclusion that Imperialism is the endeavour of the great controllers of industry to broaden the channel for the flow of their surplus wealth by seeking foreign markets and foreign investments to take off the goods and capital they cannot sell or use at home.
The fallacy of the supposed inevitability of imperial expansion as a necessary outlet for progressive industry is now manifest. It is not industrial progress that demands the opening up of new markets and areas of investment, but mal-distribution of consuming power which prevents the absorption of commodities and capital within the country. The over-saving which is the economic root of Imperialism is found by analysis to consist of rents, monopoly profits, and other unearned or excessive elements of income, which, not being earned by labour of head or hand, have no legitimate raison d'être. Having no natural relation to effort of production, they impel their recipients to no corresponding satisfaction of consumption: they form a surplus wealth, which, having no proper place in the normal economy of production and consumption, tends to accumulate as excessive savings. Let any turn in the tide of politico-economic forces divert from these owners their excess of income and make it flow, either to the workers in higher wages, or to the community in taxes, so that it will be spent instead of being saved, serving in either of these ways to swell the tide of consumption—there will be no need to fight for foreign markets or foreign areas of investment.
Many have carried their analysis so far as to realise the absurdity of spending half our financial resources in fighting to secure foreign markets at times when hungry mouths, ill-clad backs, ill-furnished houses indicate countless unsatisfied material wants among our own population. If we may take the careful statistics of Mr. Rowntree for our guide, we shall be aware that more than one-fourth of the population of our towns is living at a standard which is below bare physical efficiency. If, by some economic readjustment, the products which flow from the surplus saving of the rich to swell the overflow streams could be diverted so as to raise the incomes and the standard of consumption of this inefficient fourth, there would be no need for pushful Imperialism, and the cause of social reform would have won its greatest victory.
It is not inherent in the nature of things that we should spend our natural resources on militarism, war, and risky, unscrupulous diplomacy, in order to find markets for our goods and surplus capital. An intelligent progressive community, based upon substantial equality of economic and educational opportunities, will raise its standard of consumption to correspond with every increased power of production, and can find full employment for an unlimited quantity of capital and labour within the limits of the country which it occupies. Where the distribution of incomes is such as to enable all classes of the nation to convert their felt wants into an effective demand for commodities, there can be no over-production, no under-employment of capital and labour, and no necessity to fight for foreign markets.
The most convincing condemnation of the current economy is conveyed in the difficulty which producers everywhere experience in finding consumers for their products: a fact attested by the prodigious growth of classes of agents and middlemen, the multiplication of every sort of advertising, and the general increase of the distributive classes. Under a sound economy the pressure would be reversed: the growing wants of progressive societies would be a constant stimulus to the inventive and operative energies of producers, and would form a constant strain upon the powers of production. The simultaneous excess of all the factors of production, attested by frequently recurring periods of trade depression, is a most dramatic exhibition of the false economy of distribution. It does not imply a mere miscalculation in the application of productive power, or a brief temporary excess of that power; it manifests in an acute form an economic waste which is chronic and general throughout the advanced industrial nations, a waste contained in the divorcement of the desire to consume and the power to consume.
If the apportionment of income were such as to evoke no excessive saving, full constant employment for capital and labour would be furnished at home. This, of course, does not imply that there would be no foreign trade. Goods that could not be produced at home, or produced as well or as cheaply, would still be purchased by ordinary process of international exchange, but here again the pressure would be the wholesome pressure of the consumer anxious to buy abroad what he could not buy at home, not the blind eagerness of the producer to use every force or trick of trade or politics to find markets for his "surplus" goods.
The struggle for markets, the greater eagerness of producers to sell than of consumers to buy, is the crowning proof of a false economy of distribution. Imperialism is the fruit of this false economy; "social reform" is its remedy. The primary purpose of "social reform," using the term in its economic signification, is to raise the wholesome standard of private and public consumption for a nation, so as to enable the nation to live up to its highest standard of production. Even those social reformers who aim directly at abolishing or reducing some bad form of consumption, as in the Temperance movement, generally recognise the necessity of substituting some better form of current consumption which is more educative and stimulative of other tastes, and will assist to raise the general standard of consumption.
There is no necessity to open up new foreign markets; the home markets are capable of indefinite expansion. Whatever is produced in England can be consumed in England, provided that the "income," or power to demand commodities, is properly distributed. This only appears untrue because of the unnatural and unwholesome specialisation to which this country has been subjected, based upon a bad distribution of economic resources, which has induced an overgrowth of certain manufacturing trades for the express purpose of effecting foreign sales. If the industrial revolution had taken place in an England founded upon equal access by all classes to land, education and legislation, specialisation in manufactures would not have gone so far (though more intelligent progress would have been made, by reason of a widening of the area of selection of inventive and organising talents); foreign trade would have been less important, though more steady; the standard of life for all portions of the population would have been high, and the present rate of national consumption would probably have given full, constant, remunerative employment to a far larger quantity of private and public capital than is now employed. For the over-saving or wider consumption that is traced to excessive incomes of the rich is a suicidal economy, even from the exclusive standpoint of capital; for consumption alone vitalises capital and makes it capable of yielding profits. An economy that assigns to the "possessing" classes an excess of consuming power which they cannot use, and cannot convert into really serviceable capital, is a dog-in-the-manger policy. The social reforms which deprive the possessing classes of their surplus will not, therefore, inflict upon them the real injury they dread; they can only use this surplus by forcing on their country a wrecking policy of Imperialism. The only safety of nations lies in removing the unearned increments of income from the possessing classes, and adding them to the wage-income of the working classes or to the public income, in order that they may be spent in raising the standard of consumption.
Social reform bifurcates, according as reformers seek to achieve this end by raising wages or by increasing public taxation and expenditure. These courses are, not essentially contradictory, but are rather complementary. Working-class movements aim, either by private co-operation or by political pressure on legislative and administrative government, at increasing the proportion of the national income which accrues to labour in the form of wages, pensions, compensation for injuries, &c. State Socialism aims at getting for the direct use of the whole society an increased share of the "social values" which arise from the closely and essentially co-operative work of an industrial society, taxing property and incomes so as to draw into the public exchequer for public expenditure the "unearned elements" of income, leaving to individual producers those incomes which are necessary to induce them to apply in the best way their economic energies, and to private enterprises those businesses which do not breed monopoly, and which the public need not or cannot undertake. These are not, indeed, the sole or perhaps the best avowed objects of social reform movements. But for the purposes of this analysis they form the kernel.
Trade Unionism and Socialism are thus the natural enemies of Imperialism, for they take away from the "imperialist" classes the surplus incomes which form the economic stimulus of Imperialism.
This does not pretend to be a final statement of the full relations of these forces. When we come to political analysis we shall perceive that the tendency of Imperialism is to crush Trade Unionism and to "nibble" at or parasitically exploit State Socialism. But, confining ourselves for the present to the narrowly economic setting, Trade Unionism and State Socialism may be regarded as complementary forces arrayed against Imperialism, in as far as, by diverting to working-class or public expenditure elements of income which would otherwise be surplus savings, they raise the general standard of home consumption and abate the pressure for foreign markets. Of course, if the increase of working-class income were wholly or chiefly "saved," not spent, or if the taxation of unearned incomes were utilised for the relief of other taxes borne by the possessing classes, no such result as we have described would follow. There is, however, no reason to anticipate this result from trade-union or socialistic measures. Though no sufficient natural stimulus exists to force the well-to-do classes to spend in further luxuries the surplus incomes which they save, every working-class family is subject to powerful stimuli of economic needs, and a reasonably governed State would regard as its prime duty the relief of the present poverty of public life by new forms of socially useful expenditure.
But we are not here concerned with what belongs to the practical issues of political and economic policy. It is the economic theory for which we claim acceptance—a theory which, if accurate, dispels the delusion that expansion of foreign trade, and therefore of empire, is a necessity of national life.
Regarded from the standpoint of economy of energy, the same "choice of life," confronts the nation as the individual. An individual may expend all his energy in acquiring external possessions, adding field to field, barn to barn; factory to factory—may "spread himself" over the widest area of property, amassing material wealth which is in some sense "himself" as containing the impress of his power and interest. He does this by specialising upon the lower acquisitive plane of interest at the cost of neglecting the cultivation of the higher qualities and interests of his nature. The antagonism is not indeed absolute. Aristotle has said, "We must first secure a livelihood and then practise virtue." Hence the pursuit of material property as a reasonable basis of physical comfort would be held true economy by the wisest men; but the absorption of time, energy, and interest upon such quantitative expansion at the necessary cost of starving the higher tastes and faculties is condemned as false economy. The same issue comes up in the business life of the individual: it is the question of intensive versus extensive cultivation. A rude or ignorant farmer, where land is plentiful, is apt to spread his capital and labour over a large area, taking in new tracts and cultivating them poorly. A skilled, scientific farmer will study a smaller patch of land, cultivate it thoroughly, and utilise its diverse properties, adapting it to the special needs of his most remunerative markets. The same is true of other businesses; even where the economy of large-scale production is greatest there exists some limit beyond which the wise business man will not go, aware that in doing so he will risk by enfeebled management what he seems to gain by mechanical economies of production and market.
Everywhere the issue of quantitative versus qualitative growth comes up. This is the entire issue of empire. A people limited in number and energy and in the land they occupy have the choice of improving to the utmost the political and economic management of their own land, confining themselves to such accessions of territory as are justified by the most economical disposition of a growing population; or they may proceed, like the slovenly farmer, to spread their power and energy over the whole earth, tempted by the speculative value or the quick profits of some new market, or else by mere greed of territorial acquisition, and ignoring the political and economic wastes and risks involved by this imperial career. It must be clearly understood that this is essentially a choice of alternatives; a full simultaneous application of intensive and extensive cultivation is impossible. A nation may either, following the example of Denmark or Switzerland, put brains into agriculture, develop a finely varied system of public education, general and technical, apply the ripest science to its special manufacturing industries, and so support in progressive comfort and character a considerable population upon a strictly limited area; or it may, like Great Britain, neglect its agriculture, allowing its lands to go out of cultivation and its population to grow up in towns, fall behind other nations in its methods of education and in the capacity of adapting to its uses the latest scientific knowledge, in order that it may squander its pecuniary and military resources in forcing bad markets and finding speculative fields of investment in distant corners of the earth, adding millions of square miles and of unassimilable population to the area of the Empire.
The driving forces of class interest which stimulate and support this false economy we have explained. No remedy will serve which permits the future operation of these forces. It is idle to attack Imperialism or Militarism as political expedients or policies unless the axe is laid at the economic root of the tree, and the classes for whose interest Imperialism works are shorn of the surplus revenues which seek this outlet.
Part I, Chapter VII: Imperialist Finance
The analysis of economic forces in the foregoing chapter explains the character which public finance assumes in States committed to an imperialist policy. Imperialism, as we see, implies the use of the machinery of government by private interests, mainly capitalist, to secure for them economic gains outside their country. The dominance of this factor in public policy imposes a special character alike upon expenditure and taxation.
The accompanying diagram brings into clear light the main features of the national expenditure of Great Britain during the last three decades of the nineteenth century.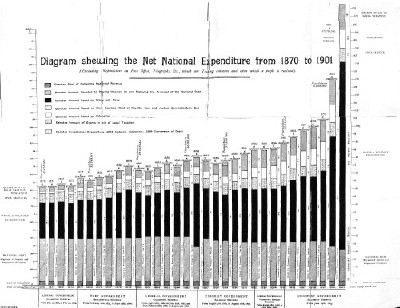 The first feature is the rate of growth of national expenditure taken as a whole. This growth has been far faster than the growth of foreign trade. For whereas the average yearly value of our foreign trade for 1870-75 amounting to £636,000,000 increased in the period 1895-98 to £737,000,000, the average public expenditure advanced over the same period from £63,160,000 to £94,450,000. It is faster than the growth of the aggregate national income, which, according to the rough estimates of statisticians, advanced during the same period from about £1,200,000,000 to £1,700,000,000. The rate of growth has greatly quickened during the later half of the period in question, for, leaving out of consideration war expenditure, the rise of ordinary imperial expenditure has been from £87,423,000 in 1888 to £128,600,000 in 1900.
The most salient feature of the diagram is the small proportion of the national revenue expended for what may be regarded as directly productive purposes of government. Roughly speaking, three-quarters of the money goes for naval and military expenditure, and for the payment of military debts, about five shillings in the pound being available for education, civil government, and the dubious policy of grants in aid of local taxation.
The only satisfactory incident disclosed by the table is the growing amount and proportion of public money spent on education. A substantial part of the sum expended as aid to local taxation has simply gone as a dole to landowners.
The direct military and naval expenditure during the period has increased faster than the total expenditure, the growth of trade, of national income, or any other general indication of national resources. In 1875 the army and navy cost less than a 24½ millions out of a total expenditure of 65 millions; in 1898 they cost nearly 43 millions out of a total of 99 millions.
The enormous expenditure upon the South African war will admittedly be followed by a demand for a large permanent increase in these branches of expenditure, amounting to an addition of not less than £15,000,000 per annum.
This growth of naval and military expenditure from about a 5 to 60 millions in a little over a quarter of a century is the most significant fact of imperialist finance. The financial, industrial, and professional classes, who, we have shown, form the economic core of Imperialism, have used their political power to extract these sums from the nation in order to improve their investments and open up new fields for capital, and to find profitable markets for their surplus goods, while out of the public sums expended on these objects they reap other great private gains in the shape of profitable contracts, and lucrative or honourable employment.
The financial and industrial capitalists who have mainly engineered this policy, employing their own genuine convictions to conceal their ill-recognised business ends, have also made important bribes or concessions to other less directly benefited interests in order to keep their sympathy and ensure their support.
This explains the large and growing grants in aid of local taxation, almost the whole of which, interpreted by a scientific regard to incidence of taxation, must be considered as a subsidy to landowners. The support of the Church and of the liquor trade has been more cheaply purchased; the former by relief of rates on tithes and increased grants for Church schools, the latter by a policy of masterly inaction in the matter of temperance reforms and special consideration in regard to taxation.
In making the capitalist-imperialist forces the pivot of financial policy, I do not mean that other forces, industrial and political, have no independent aims and influences, but simply that the former group must be regarded as the true determinant in the interpretation of actual policy.
We have identified almost all the organised interests, commonly summed under the head of Capitalism, including land capital, with Imperialism. Most of them participate directly in one or other of the two sorts of gain which attend this policy: the interest, trade profits, or employment furnished by the imperialist policy; or the interest, profit, or employment connected with military and civil expenditure itself.
It cannot be too clearly recognised that increasing public expenditure, apart from all political justification, is a direct source of gain to certain well-organised and influential interests, and to all such Imperialism is the chief instrument of such increasing expenditure.
While the directors of this definitely parasitic policy are capitalists, the same motives appeal to special classes of the workers. In many towns most important trades are dependent upon Government employment or contracts; the Imperialism of the metal and shipbuilding centres is attributable in no small degree to this fact. Members of Parliament freely employ their influence to secure contracts and direct trade to their constituents; and every growth of public expenditure enhances this dangerous bias.
The clearest significance of imperialist finance, however, appears on the side, not of expenditure, but of taxation. The object of those economic interests which use the public purse for purposes of private gain is in large measure defeated if they have first to find the money to fill that purse. To avert the direct incidence of taxation from their own shoulders on to those of other classes or of posterity is a natural policy of self-defence.
A sane policy of taxation would derive the whole or the main part of the national revenue from unearned increments of land values and from profits in trades which, by virtue of some legal or economic protection screening them from close competition, are able to earn high rates of interest or profit. Such taxation would be borne most easily, falling upon unearned elements of incomes, and would cause no disturbance of industry. This, however, would imply the taxation of precisely those elements which constitute the economic taproot of Imperialism. For it is precisely the unearned elements of income which tend towards an automatic process of accumulation, and which, by swelling the stream of surplus capital seeking markets of investment or markets for the surplus goods it helps to make, direct political forces into Imperialism. A sound system of taxation would, therefore, strike at the very root of the malady.
On the other hand, were the capitalist-imperialist forces openly to shift the burden of taxation on to the shoulders of the people, it would be difficult under popular forms of government to operate such an expensive policy. The people must pay, but they must not know they are paying, or how much they are paying, and the payment must be spread over as long a period as possible.
To take a concrete example from recent history. The medley of financial and political interests which inveigled Great Britain into spending some two hundred millions of public money, in order to obtain for them control of the land and mineral resources of the South African Republics, could not possibly have achieved their object if they had been compelled to raise the money by sending round a tax-gatherer to take from every citizen in hard cash the several pounds which constituted his share of the taxes—the share which by more crooked ways was to be got out of him.
To support Imperialism by direct taxation of incomes or property would be impossible. Where any real forms of popular control existed, militarism and wars would be impossible if every citizen was made to realise their cost by payments of hard cash. Imperialism, therefore, makes everywhere for indirect taxation; not chiefly on grounds of convenience, but for purposes of concealment. Or perhaps it would be more just to say that Imperialism takes advantage of the cowardly and foolish preference which the average man everywhere exhibits for being tricked out of his contribution to the public funds, using this common folly for its own purposes. It is seldom possible for any Government, even in the stress of some grave emergency, to impose an income-tax; even a property-tax is commonly evaded in all cases of personal property, and is always unpopular. The case of England is an exception which really proves the rule.
The repeal of import duties and the establishment of Free Trade marked the political triumph of the new manufacturing and commercial plutocracy over the landowning aristocracy. Free Trade was so profitable to the former classes in securing cheap importation of raw materials and in cheapening the subsistence of labour at a time when England's priority in new industrial methods offered an indefinitely rapid expansion of trade that they were willing to support the reimposition of the income-tax which Peel proposed in 1842 in order to enable him to repeal or reduce the import duties. When the sudden financial stress of the Crimean war came on the country the Free Trade policy was in the prime of its popularity and success, and a Liberal ministry, in preference to a reversion to Protection which would otherwise have been inevitable, gave permanency to the tax, extending the area of its application and making its removal more difficult by further repeals of import duties. No Government could now remove it, for the new unpopularity caused by finding adequate substitutes would have outweighed the credit gained by its removal, while its productivity and calculability are advantages shared in an equal degree by no other mode of taxation.
Some allowance may also be made for the principles and personal convictions of political financiers trained in the English science of political economy, and still more for the temptation of competing parties to seek the favour of the newly enfranchised populace by a well-paraded policy of class taxation. The seething revolutionism of the mid-century throughout Europe, the rapid growth of huge industrial centres throughout England, with their masses of ill-explored poverty and their known aptitude for ignorant agitation, made the establishment of formal democracy seem a most hazardous experiment, and both parties were in a mood to conciliate the new monster by doles or bribery. When the break-up of the old Liberal party in 1885-86 had for the first time thrown the vast preponderance of personal property on to the same side as real property, a genuinely democratic budget with a progressive income-tax and a substantial death duty became possible and seemed expedient. It is not necessary to deny that Sir William Harcourt and his colleagues were sincerely convinced of the justice as well as the expediency of this policy; but it must be remembered that no alternative was open, in face of the need of increased funds for Imperialism and education, except a volte face upon the Free Trade principles they had most stoutly championed, and a dangerous attack upon trade interests which might recoil upon the working classes, whose cause they were anxious to espouse. The financial attack on "property," embodied in the progressive income-tax and death duties, must be regarded, then, as an exceptional policy, due mainly to a combination of two causes—the difficulty of reverting suddenly to the abandoned practice of Protection, and the desire to conciliate the favour of the new unknown democracy.
Hence the anomaly of Imperialism attended by direct taxation. In no other country have the political conditions operated so. Upon the Continent Militarism and Imperialism have thriven upon indirect taxation, and have enabled the agricultural and manufacturing interests to defeat easily any movement towards Free Trade by urging the needs of revenue through tariffs. In Great Britain it seems unlikely that the policy of direct taxation upon property and income for imperial purposes will be carried any further. The Government of the propertied classes has almost shaken itself free from the traditions of Free Trade; many of the leaders and the overwhelming majority of the rank and file are avowed Protectionists so far as agriculture and certain staple industries are concerned. They are no longer seriously frightened by the power of the people as implied by a popular franchise, nor are they prepared to conciliate it by further taxes upon property; they have experimented with the temper of "the monster," and they think that by the assistance of "the trade" and the Church he is quite manageable, and can be cajoled into paying for Imperialism through protective duties. "Panem et circenses" interpreted into English means cheap booze and Mafficking. Popular education, instead of serving as a defence, is an incitement towards Imperialism; it has opened up a panorama of vulgar pride and crude sensationalism to a great inert mass who see current history and the tangled maze of world movements with dim, bewildered eyes, and are the inevitable dupes of the able organised interests who can lure, or scare, or drive them into any convenient course.
Had the Liberal party stood by the principles of peace, retrenchment, and reform, refusing to go beyond the true "colonialism" of such men as Molesworth, and rejecting the temptations to a "spirited foreign policy" dictated by bond-holders, they might now be able to resist the attack upon Free Trade which seems inevitable. But a Liberal party committed to a militant Imperialism whose rapidly growing expense is determined chiefly by the conduct of foreign Powers and the new arts of scientific warfare is in a hopeless dilemma. Its position as a buffer party between the propertied classes organised as Conservatism and the unorganised pressure of a loose set of forces striving to become a socialist Labour party dictates moderation, and the personnel of its leaders still drawn from the propertied classes prevents it from making any bold attempt to work Imperialism upon a basis of direct taxation upon property, raising the income and property taxes to cover every increasing need of imperialist finance. It has neither the pluck nor the principle to renounce Imperialism or to insist that the classes who seek to benefit by it shall pay for it.
There is then no reason to impute to Liberalism either the desire or the power to defray the expenses of militant Imperialism by a further pursuance of progressive taxation of incomes and property. While the conveniences of finance may prevent the repeal of taxation which is so productive, it will not be carried further; when expenditure is placed again upon à normal footing the income-tax will be reduced and all increase of normal expenditure (estimated recently by a statistical authority at £20,000,000 for military services alone) will be defrayed by indirect taxation.
Now any considerable calculable increase of revenue by indirect taxation means the abandonment of Free Trade. A large steady income of such a kind can only be raised by duties upon imports of necessaries and prime conveniences of life and trade. It is of course quite immaterial to urge that taxation for revenue is not Protection. If import duties are raised on sugar and tea, if they are imposed upon wheat and flour, foreign meat and raw materials of our staple manufactures, or upon finished manufactured goods competing in our market, it matters not that the object be revenue, the economic effect is Protection.
It is probable that imperialist finance is not yet prepared to admit the name or the full economic policy of Protection. The preparatory steps can find other names. A countervailing duty upon beet-sugar poses as an instrument of Free Trade: once admitted, it introduces a whole train of countervailing duties by parity of reasoning. A tax on prison-made goods, on the ground that they are subsidised and so produced under "cost" price, is logically followed by similar protection against all products of "sweated" foreign industry. An export duty upon coal may well be followed by similar duties on the export of engines and machinery, which similarly aid the growth of our manufacturing rivals. But the most formidable mask of Protection will take the shape of military necessity. A military nation surrounded by hostile empires must have within her boundaries adequate supplies of the sinews of war, efficient recruits, and a large food supply. We cannot safely rely upon the fighting capacities of a town-bred population, or upon food supplies from foreign lands. Both needs demand that checks be set upon the excessive concentration of our population in towns, and that a serious attempt be made to revive agriculture and restore the people to the soil.
There are two methods which seem possible. The one is a large radical scheme of land reform interfering with the rights of landowners by compulsory purchase or leasing on the part of public bodies, with powers to establish large numbers of small farmers on the soil with loans of capital sufficient to enable them to live and work upon the soil. The other method is Protection, the re-imposition of taxes on imported grain, cattle, fruit; and dairy produce, with the object of stimulating agriculture and keeping the population on the soil.
Given the political sway of the possessing classes, it is certain that the latter course will be preferred. The landowning and the industrial interests are now sufficiently blended to render it impossible for the town industrialist to refuse assistance to the rural landowner. The recent dole in relief of rates is a convincing testimony to this truth. Political economists may prove that the chief result of "Protection," in as far as it protects, is to raise the rent of land, that a corn tax will raise the price of bread, and by raising real wages injure profits, and that if the tax really succeeded in stimulating intensive cultivation and self-sufficiency for food supply it would not assist the revenue. The Protectionist will not be dismayed by the contradictory positions he is required to hold, for he will be aware that the people whose votes he craves cannot hold two arguments in their heads at the same time for purposes of comparison.
The demand for agricultural protection in order to keep upon the soil a peasantry with sound physique and military aptitudes is likely to outweigh all economic objections in the near future, and it is quite possible that Protection may here be tempered by such carefully devised land reforms as shall place a new "yeoman" class upon British soil, and a substantial sum as purchase money plus compensation for disturbance in the pockets of British landlords.
One other secret avenue to Protection is through the shipbuilding trade. Here is a case not for taxation but for bounties. If England is to be strong for contest in war and trade, she must keep open for herself the highways of commerce, and must own ships and men adaptable for purposes of defence. England's great foreign trade was undoubtedly built up in the first instance by the aid of the navigation laws, and the same combination of political exigencies and commercial interests will make towards a revival of this policy. Such are the main streams of tendency towards Protection. But there is no reason to suppose that the policy will be confined to agriculture, sugar and other subsidised imports, export duties upon coal, and bounties on shipbuilding. The leading branches of the textile, metal, and other staple manufactures whose monopoly even in the home market is threatened by the progressive industries of Germany, Holland, and the United States have long lost that confident reliance on Free Trade which they entertained when England's paramountcy in the manufacturing arts was unquestioned. The local specialisation of industries places a most formidable weapon in the hands of the protectionist politician. In spite of the financial and intellectual aid given to the Free Trade movement by certain manufacturing interests, Protection stands as the producer's policy, Free Trade as the consumer's. The specialisation of localities enables a politician to appeal to the separate trade interests of a single town or neighbourhood, and to convince not only its capitalists but its workers of the gain that would accrue to them if their trade was protected against what is termed unfair competition of foreigners: nothing is said about what they will lose as consumers in the diminished purchasing power of their profits and wages, the result of Protection to the trades of other localities. This appeal made to the separate interests of producers is almost certain to be successful in a people of low education and intelligence. Any attempt to put the other side by representing the result of Protection to be a general rise of prices is commonly met by a confident denial that this result will follow, though it is commonly admitted that wages and profits will rise in the particular local trade to whose self-interest the protectionist appeal is addressed.
It is, however, probable that an attempt will be made to conceal the whole character of the protectionist policy by a misty atmosphere of Imperialism. Protection will not be Protection, but Free Trade within the Empire; a protectionist tariff will hide its exclusive side and masquerade as an Imperial Zollverein. Great economic changes, requiring the use of political machinery, invent that machinery. The Imperialism of England, essentially though not exclusively an economic thing, will strive to cover the protective system of finance it favours, by a great political achievement, entitled Federation of the Empire. This avenue to Protection would in any case have been essayed by Imperialism, as indeed the curious attempt of Mr. Chamberlain in 1897 testifies. The abnormally rapid swelling of financial needs due to the disastrous policy in South Africa merely precipitates this policy and gives it political occasion. It will be sought to exploit the enthusiastic loyalty of the colonists exhibited in their rally round the mother country in the South African war for purposes of formal federation on a basis which shall bind them to contribute money and men to the protection and expansion of the Empire. The probability of success in this attempt to secure imperial federation is a matter for separate consideration. It is here named as one of the avenues to Protection.
In many ways it thus appears that Protection is the natural ally of Imperialism.
The economic root of Imperialism is the desire of strong organised industrial and financial interests to secure and develop at the public expense and by the public force private markets for their surplus goods and their surplus capital. War, militarism, and a "spirited foreign policy" are the necessary means to this end. This policy involves large increase of public expenditure. If they had to pay the cost of this policy out of their own pockets in taxation upon incomes and property, the game would not be worth the candle, at any rate so far as markets for commodities are concerned. They must find means of putting the expense upon the general public. But in countries where a popular franchise and representative government exist this cannot be successfully done in an open manner. Taxation must be indirect and must fall upon such articles of consumption or general use as are part of the general standard of consumption and will not shrink in demand or give way to substitutes under the process of taxation. This protection not only serves the purposes of imperial finance, taxing the impotent and ignorant consumer for the imperial gains of the influential economic interests, but it seems to furnish them a second gain by securing to them as producers their home market which is threatened by outside competition, and enabling them to raise their prices to the home consumers and so reap a rise of profits. To those who regard foreign trade in its normal condition as a fair interchange of goods and services, it may seem difficult to understand how these economic interests expect to exclude foreign goods from their market, while at the same time pushing their goods in foreign markets. But we must remind such economists that the prime motive force here is not trade but investment: a surplus of exports over imports is sought as the most profitable mode of investment, and when a nation, or more strictly its investing classes, is bent on becoming a creditor or parasitic nation to an indefinite extent, there is no reason why its imports and exports should balance even over a long term of years. The whole struggle of so-called Imperialism upon its economic side is towards a growing parasitism, and the classes engaged in this struggle require Protection as their most serviceable instrument.
The nature and object of Protection as a branch of imperialist finance is best illustrated in the case of Great Britain, because the necessity of subverting an accepted Free Trade policy lays bare the different methods of Protection and the forces upon which it relies. In other nations committed to or entering upon an imperialist career with the same ganglia of economic interests masquerading as patriotism, civilisation, and the like, Protection has been the traditional finance, and it has only been necessary to extend it and direct it into the necessary channels.
Protection, however, is not the only appropriate financial method of Imperialism. There is at any given time some limit to the quantity of current expenditure which can be met by taxing consumers. The policy of Imperialism to be effective requires at times the outlay of large unforeseen sums on wars and military equipment. These cannot be met by current taxation. They must be treated as capital expenditure, the payment of which maybe indefinitely deferred or provided by a slow and suspensible sinking fund.
The creation of public debts is a normal and a most imposing feature of Imperialism. Like Protection, it also serves a double purpose, not only furnishing a second means of escaping taxation upon income and property otherwise inevitable, but providing a most useful form of investment for idle savings waiting for more profitable employment. The creation of large growing public debts is thus not only a necessary consequence of an imperialist expenditure too great for its current revenue, or of some sudden forced extortion of a war indemnity or other public penalty. It is a direct object of imperialist finance to create further debts, just as it is an object of the private money-lender to goad his clients into pecuniary difficulties in order that they may have recourse to him. Analysis of foreign investments shows that public or State-guaranteed debts are largely held by investors and financiers of other nations; and recent history shows, in the cases of Egypt, Turkey, China, the hand of the bond-holder, and of the potential bond-holder, in politics. This method of finance is not only profitable in the case of foreign nations, where it is a chief instrument or pretext for encroachment. It is of service to the financial classes to have a large national debt of their own. The floating of and the dealing in such public loans are a profitable business, and are means of exercising important political influences at critical junctures. Where floating capital constantly tends to excess, further debts are serviceable as a financial drainage scheme.
Imperialism with its wars and its armaments is undeniably responsible for the growing debts of the continental nations, and while the unparalleled industrial prosperity of Great Britain and the isolation of the United States have enabled these great nations to escape this ruinous competition during recent decades, the period of their immunity is over; both, committed as they seem to an Imperialism without limit, will succumb more and more to the money-lending classes dressed as Imperialists and patriots.