David M. Hart, Tracts on Liberty by the Levellers and their Critics Vol. 8 Addendum (1638-1643) (forthcoming) [2015]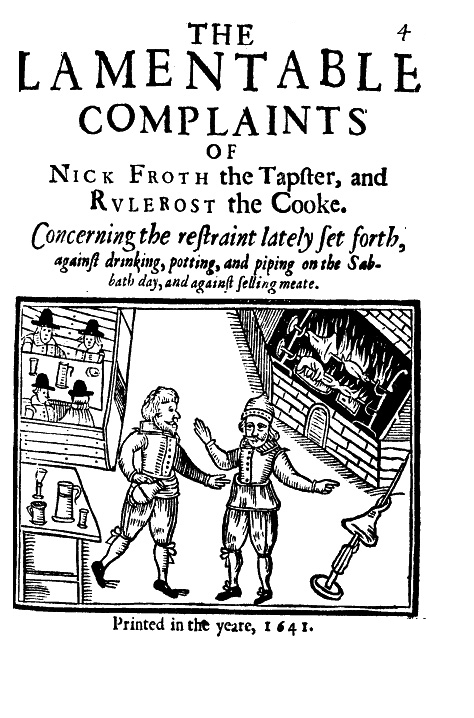 Available in the following formats:
About this Title:
A collection of 35 additional pamphlets from 1638-1643 including works by John Seldon, John Davies, Katherine Chidley, John Hare, John Marsh, Richard Ward, William Prynne, John Norton, Philip Hunton, Thomas Johnson, John Lilburne, Richard Overton, James Frieze, John Cotton, and others.
This volume is currently in production. The uncorrected HTML will be available here initially before the files will be merged into their correct chronological place in the revised second edition of volume 1 (1638-43) of the Leveller Tracts collection:
Table of Contents:
8.1. John Selden, A Brief Discourse concerning the Power of the Peeres (1640)
8.2. John Davies, An Answer to those Printed Papers by the late Patentees of Salt (1641)
8.3. Anon., The Lamentable Complaints of Nick Froth the Tapster (May 1641)
8.4. Katherine Chidley, The Justification of the Independant Churches of Christ (October, 1641)
8.5. John Hare, The Marine Mercury (6 January, 1642)
8.6. Anon., A Question Answered (21 April, 1642)
8.7. John Marsh, The Great Question concerning the Militia (30 September, 1642)
8.8. Richard Ward, The Vindication of the Parliament (15 October, 1642)
8.9. Richard Ward, The Anatomy of Warre (26 November, 1642)
8.10. William Prynne, A Vindication of Psalme 105.15 (6 December, 1642)
8.11. Anon., The Privileges of the House of Commons (31 December, 1642)
8.12. John Norton, The Miseries of War (17 January, 1643)
8.13. Anon., The Actors Remonstrance (24 January, 1643)
8.14. Anon., Touching the Fundamentall Lawes of this Kingdome (24 February, 1643)
8.15. Henry Robinson, Liberty of Conscience (24 March, 1643)
8.16. Anon., Briefe Collections out of Magna Charta (19 May, 1643)
8.17. Philip Hunton, A Treatise of Monarchy (24 May, 1643)
8.18. Anon., The Subject of Supremacie (14 June, 1643)
8.19. Richard Ward, The Character of Warre (11 August, 1643) (duplicate of - 8.9 War Anatomy of Warre - delete)
8.20. Anon., A Dialogue betwixt a Horse of Warre and a Mill-Horse (2 January, 1644)
8.21. Philip Hunton, A Vindication of the Treatise of Monarchy (26 March, 1644)
8.22. Anon., The Arch-Cheate, or the Cheate of Cheats (4 October, 1644)
8.23. Katherine Chidley, A New Years Gift (2 January, 1645)
8.24. Thomas Johnson, A Discourse on Freedome of Trade (11 April, 1645)
8.25. John Lilburne, Respecting the Power of Disposing of the Militia (30 August, 1645)
8.26. John Lilburne, Englands Miserie and Remedie (14 September, 1645)
8.27. Katherine Chidley, Good Council to the Petitioners for Presbyterian Government (1 November, 1645)
8.28. Richard Overton, Divine Observations upon the London Ministers Letter against Toleration (24 January, 1646)
8.29. Thomas Johnson, A Plea for Free-Mens Liberties (26 January, 1646)
8.30. John Selden, Tyth-gatherers, no Gospel Officers (27 January, 1646)
8.31. Anon., The World is turned Upside Down (8 April, 1646)
8.32. James Freize, Every mans Right (18 April, 1646)
8.33. John Cotton, The Controversie concerning Liberty of Conscience (9 October, 1646)
8.34. Richard Overton, An Arrow against all Tyrants and Tyranny (12 October, 1646)
8.35. John Lilburne, The Charters of London: or, The second Part of Londons Liberty in Chaines Discovered (18 December, 1646)
For more information about the titles and authors in this collection, see:
Copyright information:
The text is in the public domain.
Fair use statement:
This material is put online to further the educational goals of Liberty Fund, Inc. Unless otherwise stated in the Copyright Information section above, this material may be used freely for educational and academic purposes. It may not be used in any way for profit.