INTRODUCTION.
I.
THE writings of St. Francis may, as is obvious, be considered from more than one point of view. Premising this, we are afforded a clue to the difficulty which has led students of Franciscan sources to divide themselves into two camps as to the objective value of these writings. Indeed, one writer goes so far as to compare the attitude of modern scholars toward them to that of the "Spiritual" and Conventual Friars respectively in the first century of Franciscan history. For while one party, led by M. Paul Sabatier, attaches what some regard as almost undue weight to the writings of St. Francis as a source of our knowledge of him, the other party, following Mgr. Faloci Pulignani, displays, we are told, a tendency to belittle their importance. The truth is, as Professor Muller long ago pointed out, that these writings afford Edition: current; Page: [x] us little if any information as to the life of their author, a fact which may perhaps account for their comparative neglect by so many of the Saint's biographers, but it is not less true that they bear the stamp of his personality and reflect his spirit even more faithfully than the Legends written down on the very morrow of his death by those who had known him the best of all. For this reason they are well worth all the serious study that scholars outside the Franciscan Order are now beginning to give to them.
To say that the writings of St. Francis reflect his personality and his spirit is but another way of saying that they are at once formidably mystic and exquisitely human; that they combine great elevation of thought with much picturesqueness of expression. This twofold element, which found its development later on in the prose of mystics like St Bonaventure and in the verse of poets like Jacopone da Todi, and which has ever been a marked characteristic of Franciscan ascetic literature, leads back to the writings of the Founder as to the humble upper waters of a mighty stream. St. Francis had the soul of an ascetic and the heart of a poet. His unbounded faith had an almost lyric sweetness about it; his deep sense of the spiritual is often clothed with the character of romance. This intimate union of the supernatural and the natural is nowhere more strikingly manifested than in the writings of St. Francis, which, after Edition: current; Page: [xi] the vicissitudes of well nigh seven hundred winters, are still fragrant with the fragrance of the Seraphic springtide
Important as the doctrinal aspect of St. Francis' writings must of necessity be to all who would understand his life—since "the springs of action are to be found in belief, and conduct ultimately rests upon conviction"—it is foreign to the object of the present volume. I am here concerned with the literary and historical aspect of these writings. Suffice it to say that St. Francis' doctrine, which received, so to speak, the Divine Imprimatur upon the heights of La Verna two years before his death, is nothing more or less than a paraphrase of the Sermon on the Mount. Nowhere can there be found a simpler literalness in the following of the "poverty, humility, and holy Gospel of the Lord Jesus" than in the writings of St. Francis, and any attempt to read into them the peculiar doctrines of the Abbot Joachim of Flora, the Humiliati, the Poor Men Edition: current; Page: [xii] of Lyons, or any of their nameless followers, is as unjust as it is unjustifiable. Needless to add that St. Francis' writings contain no new message. Indeed, the frequency with which certain very old and familiar aspects of the eternal truths are insisted upon by St. Francis in season and out of season, is not unlikely to weary the average reader who does not pause to look between the lines. This tendency to repeat himself, which is habitual with St. Francis, does not necessarily bespeak any dearth of ideas. On the contrary. His simple, childlike nature fastened upon three or four leading thoughts "taken from the words of the Lord," which seemed to him all-sufficing, and these he works into his writings over and over, tempering them to the needs of the different classes he addresses as he understood them. If then we recall the circumstances under which St. Francis wrote and the condition of those for whom his writings were intended in the first instance, far from being bored, we may gain something from each new repetition.
Because St. Francis loved Jesus and His Eucharistic Passion, ardently, enthusiastically, almost desperately—to borrow Bossuet's adjectives—his sympathy extended to every creature that suffered or rejoiced. His writings are eloquent witnesses to this far-reaching, all-embracing solicitude. They may be said to run over the whole gamut. Witness the soft note touched in the letter to Brother Leo and the Edition: current; Page: [xiii] deep masculine tone in which the Testament is pitched. On the whole, however, his writings fall naturally under three heads: those, like the Rules, which represent St. Francis as legislator; those, like the Letter to a Minister, which show us St. Francis as a spiritual father; and those, like the Praises and Salutations, in which we see St Francis as his earliest biographer saw him—"not so much a man praying as prayer itself."
It was Matthew Arnold, I believe, who first held St. Francis up to English readers as a literary type—a type withal as distinct and formal as the author of the Divine Comedy. But however true a poet—and without St. Francis no Dante—it is certain that the Poverello was in no sense a man of letters. He was too little acquainted with the laws of composition to advance very far in that direction. His early years had been a bad preparation for study, and he ever remained a comparative stranger to the ecclesiastical and classical learning of his time, though probably his culture was larger than we might be led to conclude from his repeated professions of ignorance and the disparaging remarks of some of his early biographers. Through his mother he seems to have got some acquaintance Edition: current; Page: [xiv] with French; he received elementary instruction in reading and writing from the priests at San Giorgio, who also taught him enough Latin to enable him to write it in later years after a fashion, and to understand the ritual of the Church and its hymns, which he was wont to sing by the wayside. But in considering St. Francis' literary formation, we must reckon largely with the education he picked up in the school of the Troubadours, who at the close of the twelfth century were making for refinement in Italy The imagery of the chansons de gestes seems to have exercised an abiding influence upon St. Francis' life and writings, as is evident from his own tale of the Lady Poverty, which later inspired the pen of Dante and the brush of Giotto. Witness, too, his frequent allusions to the Knights of the Round Table; his desire that his Friars should become "the Lord's Jongleurs," and his habit of courtesy extended even to Sister Death. On the other hand St. Francis was nothing if not original. His writings abound not only in allegory and personification, but also in quaint concepts and Edition: current; Page: [xv] naive deductions. His final argument is often a text of Holy Scripture, which he uses with a familiarity and freedom altogether remarkable. Indeed there are parts of his writings in which the interweaving of Scriptural phrases is so intricate as almost to defy any attempt to indicate them by references, the more so since the Biblical language adopted by St. Francis is not always taken from the Bible, but often from the Liturgy, Missal, and Breviary. For the rest, as Celano puts it, "he left empty ornaments and roundabout methods of speech and everything belonging to pomp and to display to those who are ready to perish; for his part he cared not for the bark, but for the pith; not for the shell, but for the nut; not for the multiple, but for the one only sovereign good."
If we may judge from the two solitary autographic fragments of his that have come down to us, St. Francis was not by any means a skilful penman. Be this as it may, St. Bonaventure clearly implies that he had a secretary, to whom Edition: current; Page: [xvi] he dictated notes, and affirms with Celano that the Saint signed such documents as called for his signature with the "sign thau," or capital T. Whether or not St. Francis' practice of signing his name thus has any connection with Brother Pacifico's vision of the large T, is a matter of conjecture and of small import. What is certain is that St. Francis wrote little The most characteristic of his extant writings are very short, extremely simple in style, and without any trace of pedantry. If some of the longer pieces seem to show the touch of a more skilful hand than that of St. Francis, idiota et simplex, we need not on this account feel any misgivings as to their authenticity. Whatever assistance he may have received in pruning and embellishing certain of his later compositions from Cæsar of Spires or another, no one who examines these writings carefully can doubt but that they are the work of the great Saint himself.
From a literary standpoint perhaps the most carefully composed bit of St. Francis' writing that has come down to us is the realistic picture of the miser's death in the letter "To all the Faithful." More interesting, however, to the student is the "Canticle of the Sun," not only as an example of the simple, spontaneous Umbrian dialect rhyme which St. Francis taught his poet followers to substitute for the artificial versification Edition: current; Page: [xvii] of courtly Latin and Provençal poets, but also because of the light it throws on St. Francis' literary method,—if method it may be called. His piecemeal fashion of composing as the spirit moved him, is also manifest in a very different work, the First Rule, as is evident from the modification and additions this strange piece of legislation suffered during the fourteen years it was in force. St. Francis' practice of returning to his old writings, retouching and remoulding them, working them over and inserting parts of them in his new ones, goes far toward explaining difficulties which would otherwise arise from the resemblance between his different compositions.
For the rest, even though St. Francis' literary culture was incomplete, his constant contemplation of the "things that are above" and the perfect purity of his life whetted alike his understanding of supernatural truth and of the human heart, and so it comes to pass that his simple words, written down in the far-off thirteenth century and with a fashion of speech different from ours, yet work wonders to this day, while the tomes of many a learned doctor "leave all things as they were before."
It remains to say a few words concerning the history of St. Francis' writings before coming to the writings themselves.
Edition: current; Page:

[

xviii

]
II.
The history of the writings of St. Francis, from the time of their composition in the far-off thirteenth century down to our own day, opens up a most interesting field for speculation. Who, it may be asked, first gathered these writings together? In answer to this question nothing definite can be said, for the early Legends and Chronicles of the Order are silent on the subject, and we must rest content to begin our inquiry with the oldest MS. collections containing the writings of St. Francis. Many such collections exist in mediæval codices, but any attempt to classify these MSS. is, in the present state of our documentation, beset by peculiar difficulties. Not the least of these difficulties arises from the fact that even as in the Legends or Lives of St. Francis we can distinguish a double current; so, too, in the early MS. collections two distinct families or categories are found representing or rather illustrating the twofold tradition and observance which date from the very beginnings of Franciscan history.
The first place among these collections belongs to the MS. numbered 338, formerly in Edition: current; Page: [none] Edition: current; Page: [none] Edition: current; Page: [xix] the Sacro Convento, but now in the municipal library at Assisi. Critics who have studied this early codex are not in accord as to its age. But it dates at least from the beginning of the fourteenth century. It includes eleven of the nineteen works here translated. They are contained in three parchment books in the following order: fol 12-16, The Second Rule of the Friars Minor; fol. 16-18, The Testament; fol. 18-23, Admonitions; fol. 23-28, The Letter to All the Faithful; fol. 28-31, The Letter to the General Chapter; fol. 31-32, Instruction to Clerics on the Holy Eucharist; fol. 32, Salutation of the Virtues; fol. 33, The Canticle of the Sun; fol. 34, Paraphrase of the Lord's Prayer; fol. 34-43, The Office of the Passion; and fol. 43, The Regulation for Hermitages.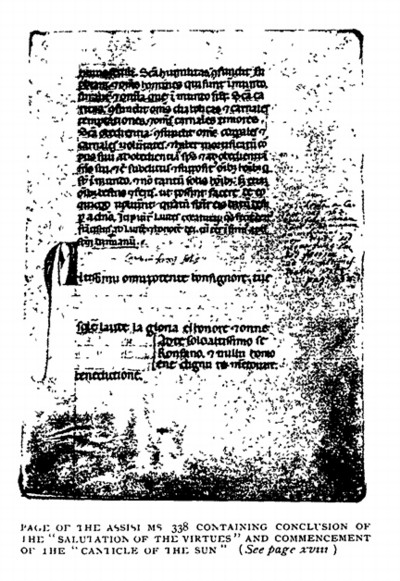 The same collection either wholly or in part is given in the well-known fourteenth century compilation of materia seraphica known as Fac secundum exemplar from the opening words of its prologue, and which may be found in the Edition: current; Page: [xx] Vatican MS. 4354, the Berlin MS. 196, the Lemberg MS. 131, and the Liegnitz MS. 12 The Mazarin MSS. 989 and 1743, as well as the Dusseldorf MS 132, may also be said to belong to this family of codices which present the writings of St. Francis in practically the same number and order as Mariano of Florence adopts in his Chronicle, composed about 1500
We now come to the second collection of St Francis' writings, which is often found along with the traditional Legenda Trium Sociorum, and the Speculum Perfectionis. It is represented by the celebrated Florentine codex at Ognissanti, the codex 1/25 at St. Isidore's, Rome, the Vatican MS. 7650, and the codex of the Capuchin Edition: current; Page: [xxi] convent at Foligno, all of which contain St. Francis' works in almost the same order as that given by Bartholomew of Pisa, in his Liber Conformitatum.
This second collection of the writings of St. Francis differs from the first one in several details. In the first place it omits the Instruction to Clerics on the Holy Eucharist and adds the letter To a Certain Minister Again, the Assisi and Liegnitz MSS., which are typical examples of the first collection, place the prayer, "O Almighty Eternal God," etc., at the end of the letter to the General Chapter, whereas in the Ognissanti MS. and others of the same family this prayer is found elsewhere. So, too, in the Assisi and Liegnitz MSS. the Salutation of the Virtues is inscribed "Salutation of the Virtues which adorned the Soul of the Blessed Virgin Mary and which ought to adorn the holy soul," while in the Ognissanti and kindred MSS. the title of this piece reads: "Salutation of the Virtues and of their efficacy in confounding Vices." These examples suffice to indicate that this twofold family of MSS. includes also a twofold Edition: current; Page: [xxii] reading, as becomes more evident from the variants noted elsewhere in the course of this work. Meanwhile, let us pass on from the MS. collections of St. Francis' writings to the
Printed Editions
Two diverse compilations, each containing part of the Opuscula, were published at the beginning of the sixteenth century. The first of these, known as the Speculum Vitae B. Francisci et Sociorum ejus, and quarried largely from the Actus Beati Francisci, contains (fol. 126-127) among various legends and other narrations some of St. Francis' prayers, and (fol. 189) also the First Rule The second compilation, which is of a much more polemic character, and which contains a larger number of the Opuscula, appeared successively with some variations in form at Rouen in 1509 as the Speculum Minorum, at Salamanca in 1511 as the Monumenta Ordinis Minorum, and at Paris in 1512 as the Firmamenta Edition: current; Page: [xxiii] trium Ordinum B. Francisci. The seventeenth century saw the appearance of
Wadding's Edition.
The honor of making the first serious attempt to collect all the writings of St. Francis belongs to the renowned Annalist of the Order, Father Luke Wadding. His celebrated edition of the Opuscula is distributed in three parts: Part I contains the Letters, Prayers, and the Testament; Part II, the Rules; and Part III, the Monastic Conferences, the Office of the Passion and Canticles, followed by Apophthegms, Colloquies, Prophecies, Parables, Examples, Benedictions, etc.
Wadding's edition of the Opuscula differs mainly from all preceding collections in this, that whereas the latter contained only those pieces which as regards both matter and form were the handiwork of St. Francis, Wadding felt justified in including among St. Francis' writings many dicta of the Saint found in the early Legends. For example, St. Bonaventure relates of St. Francis "Non enim securum esse putabat earum formarum introrsus haurire imagines." Edition: current; Page: [xxiv] Wadding, in his sixth Conference, by changing putabat into puto, gives this passage as the ipsissima verba of St. Francis Again, in the seventeenth Conference, he entirely changes the form of what St. Bonaventure elsewhere relates of St. Francis when he substitutes "Officium praedicationis Patri misericordiarum omni sacrificio est acceptius" for "Istius Miserationis officium Patri misericordiarum omni sacrificio firmabat acceptius."
Thus it comes to pass that in Wadding's edition, side by side with the undisputed writings of St. Francis, we find doubtful, even spurious, extracts from different sources attributed to the Seraphic Father. It must ever remain a matter of regret that Wadding, instead of following the oldest MSS. that he had at hand, was content to transcribe the incomplete and often interpolated parts of them he found in second-hand compilations, like that of Mark of Lisbon. His work from our standpoint is vitiated by imperfect research and unreliable criticism. But if Wadding was more profuse than prudent in his attribution of Franciscan fragments to the Founder, it must be remembered that he wrote at a time when even the highest minds troubled themselves little enough about literary exactness. For what we now glorify as "scientific criticism" had not yet become the fashion. The faults therefore of Wadding's edition of the Opuscula are largely the faults of Edition: current; Page: [xxv] his time; and considering the difficulties to be overcome, the result of his labors was very creditable. And if he had never undertaken the task of collecting St. Francis' writings, any attempt of ours to that end would be surely more arduous, and perhaps not so fruitful.
Several editions of St. Francis' writings have appeared since Wadding's day, notably those published by de la Haye, Von der Burg, and Horoy. But these editions are very imperfect. Their authors, in spite of the advance made in historical criticism since Wadding's day, have merely reproduced and rejuvenated the edition of the great annalist. The same is true of the various translations of the Opuscula,—they are simply Wadding in Italian, English, French, German, or Spanish, as the case may be.
On the other hand, M. Sabatier's strictures on the "numerous ecclesiastics" who have edited Edition: current; Page: [xxvi] the writings of St. Francis, for not reprinting Wadding's comments on them, are a trifle wide of the mark, seeing that their editions were prepared mainly for a class of readers whose point of view is practical and devotional, rather than theoretical and speculative, who read the writings of the saints not merely as historical or literary documents, but as words of spirit and of life. For such a clientele critical notes would be caviare indeed.
The remarkable upgrowth of interest in the sources of early Franciscan history that has characterized the literature of the past decade accentuated the need of a more perfect edition of St. Francis' writings. The matter was soon taken in hand by the Friars Minor at Quaracchi—already famous in the literary history of the Order—and in 1904 they issued the
First Critical Edition
of the Opuscula. Without overlooking the internal character of each document, the Quaracchi editors based their edition upon the early MS. tradition, weighing by this standard all the various writings contained in the stereotyped editions of St. Francis' works, with the result that many a familiar page that had come down to us on the good faith of Wadding was Edition: current; Page: [xxvii] found wanting. Thus the seventeen letters commonly ascribed to St. Francis have been reduced to six, the Rules of the Second and Third Orders have been eliminated, only one of the twenty-eight monastic conferences, and one of the seven blessings, are left; most of the prayers have gone, and all the colloquies, prophecies, parables, etc, have likewise disappeared. Most likely the doubtful and suppositious works thus excluded often embody the doctrine and ideas of St. Francis; to a greater or lesser extent some of them may even be his in substance, but as there is no good reason to believe they are his own composition they are not entitled to a place among his writings.
The authentic works of St Francis left to us then, according to the Quaracchi edition, are the Admonitions, Salutation of the Virtues, Instruction on the Blessed Sacrament, the First and Second Rules of the Friars Minor, the Testament and Regulation for Hermitages, some fragments from the Rule of the Clares, Six Letters, the Praises of God, the Salutation of the Blessed Virgin, the Chartula containing the Laudes and Benediction for Brother Leo, the prayer Absorbeat, and the Office of the Passion.
The Quaracchi edition does not therefore embody any new matter, but it contains for the first time in any edition of St. Francis' works the letter "To a Minister" in its entirety. For the rest, while purging the text of St. Francis' writings of the many doubtful and apocryphal Edition: current; Page: [xxviii] pieces with which they had come to be burdened in the course of time, the Quaracchi editors have perfected the text of the authentic writings by their emendations and collations, notes and comments, thus conferring the freedom of no small city upon the students of Franciscan sources.
The year 1904 also saw the publication, almost simultaneously, of two other works dealing with the Opuscula of St. Francis, written by well known professors at Bonn and Munich, and both of real value. It would be foreign to our present purpose to examine either of these works in detail. Suffice it to say that they accord in substance almost completely with the conclusions of the Quaracchi editors. If anything, they lean more on the side of kindliness toward certain doubtful writings. Thanks to this trilogy of works, and to certain learned criticisms which they have called forth from Fr. Van Edition: current; Page: [xxix] Ortroy, M. Sabatier, and Mr. Carmichael among others, we are now in a position to form a fairly accurate estimate of what St. Francis really wrote.
It is obvious, however, that in dealing with writings like those of St. Francis we are left largely to the probabilities of criticism; and criticism has by no means said the last word as to the authenticity of certain pieces. It may yet take away from St. Francis some writings now commonly ascribed to him; it may even give back to him others at present with seemingly greater likelihood made over to one or another of his immediate followers. But in the long run, to whatever criticism St. Francis' writings may be subjected, the main lines will always remain the same. It may well be true as a recent writer has remarked, that it is not yet the time to essay a complete English edition of St. Francis' writings, yet withal the lack of any translation of these writings in English which aims at fulfilling the requirements of modern criticism has led me to think that English students of Franciscan literature might be glad to have some such translation of them, however imperfect. To this end I have ventured Edition: current; Page: [xxx] to prepare this humble volume, which may perhaps be suffered tentatively, at least, to stand in the gap which it is not worthy permanently to fill.
My first object, then, is to give a literal and, I hope, accurate translation of the Latin text of the authentic writings of St. Francis as it stands in the critical Quaracchi edition. The present volume, however, represents something more than a mere translation of the Quaracchi text. In the first place it is not restricted to the Latin works of St. Francis, and as a consequence the "Canticle of the Sun," which does not figure in the Quaracchi edition, finds a place here. I have often deviated from the order of the Quaracchi edition and have distributed the critical notes throughout the book instead of relegating them to the end. I have added an Introduction, Appendix, Bibliography and Index, besides much original matter collected at Quaracchi and elsewhere in Italy, when I was afforded an opportunity of consulting the original MS. authorities. I should state that I have not translated all the variants in the Latin text, but only such as change the sense. A table I had made for the purpose of indicating the probable date of each piece, I have omitted, since it remains a matter of pure conjecture when many were written.
I am glad of this opportunity to record my sincere thanks to all those who have assisted me in any way in the preparation of this volume. Not only have I profited by the labors of the Edition: current; Page: [xxxi] Fathers at Quaracchi, but I have enjoyed the rare advantage of Fr. Leonard Lemmens' personal interest in the work. To him, therefore, my grateful recognition is first due. I wish further to acknowledge my indebtedness to Mr. Montgomery Carmichael, who, amid his own literary labors, made time to assist me with many helpful suggestions. Moreover, by placing at my disposal all the references to Holy Scripture which occur in the Office of the Passion, which he had looked up and translated, he has afforded me very substantial aid. My thanks are also due to Father Stephen Donovan, O.F.M., for his kind cooperation in collating the text of the "Canticle of the Sun," in the Assisi MS., with other versions, and for contributing the translation of it. For the generous loan of books of reference I am under obligation to Mgr. O'Hare, Father John J. Wynne, S.J., Fathers Ludger Beck, and Bede Oldegeering, O.F.M., and Mr. John A. Tennant; for the gift of their own writings to Father Cuthbert, O.S.F.C., Luigi Suttina, and Prof. A. G. Little; and for the photographs here reproduced to Mgr. Faloci Pulignani, M. Paul Sabatier and Signor Lunghi. I may perhaps be permitted to take this occasion to thank the Guardians at the Portiuncula, La Verna, St. Damian's, and the Carceri, as well as the Friars at St. Antony's and St. Isidore's at Rome, at Ognissanti, Florence, and the Mother Abbess at Santa Chiara, for their courtesy and hospitality.
Edition: current; Page:

[

xxxii

]
For the rest, it is with a clear sense of its many shortcomings and not without some diffidence that I offer this volume to the public. I shall be more than repaid for any labor its preparation may have entailed if its publication conduces ever so little toward making St. Francis better known and better loved. To this end I ask the reader to forget all that may be mine within these pages, and to remember only the words of him who, "saintlier than any among the saints, among sinners was as one of themselves."
Fr. Paschal Robinson, o.f.m.,
Franciscan Convent, Paterson, N.J.
Feast of St. Agnes of Asissi,
1905.
APPENDIX

Edition: current; Page:

[

178

]

Edition: current; Page:

[

179

]
SOME LOST, DOUBTFUL, AND SPURIOUS WRITINGS
DOUBTLESS we should have expected every fragment of St. Francis' writings to have been preserved with loving care throughout the ages. But when we consider the conditions under which some of them were composed and the vicissitudes they afterwards passed through, we need not be surprised if all of them have not come down to us. On the contrary. For if we may believe such writers as Ubertino da Casale, serious attempts were made in certain quarters toward the close of the thirteenth century to suppress altogether part of the Saint's writings. Be this as it may, it is certain that several of these precious documents disappeared in the course of time. Among such lost treasures we must reckon the primitive Rule of the Friars in the form approved by Innocent III in 1209. Again only two fragments seem to have survived of the "many writings" which, as has been already mentioned, St. Francis addressed to the Poor Ladies at St. Edition: current; Page: [180] Damian's. Whether or not either of these fragments is to be identified with a letter written by St. Francis to console the Clares, of which we read in the Speculum and the Conformities, it is well nigh impossible to determine. Celano speaks of a letter to St. Antony of Padua, different apparently from the one known to us, and of others to Cardinal Ugolino. So, too, Eccleston tells of letters written to the brothers in France and at Bologna.
As to the famous letter of St. Francis to St. Antony commissioning the latter to teach theology, there is no small diversity of opinion. It is given for the first time in the Liber Miraculorum, and also in the Chron XXIV Generalium. M Sabatier, who was, I believe, the first to call the authenticity of this letter into question, Edition: current; Page: [181] now seems less inclined to reject it. Professor Goetz has decided for, and Professor Boehmer against it. The Quaracchi editors, in excluding this letter from their edition of the Opuscula, by no means intended to deny that St. Francis wrote to fratri Antonio, but they were unable to determine which if any of the three different forms of this letter now in circulation might be the genuine one. Since the matter is sub judice, so to say, I think, with Mr. Carmichael, this letter might find a place among the "Doubtful Works" of St. Francis.
Apropos of the Saint's doubtful works it seems proper to say a word as to the Rule of the Brothers and Sisters of Penance. Although this Rule—like that of the Clares—is wanting in all the early MS. collections of St. Francis' writings, we know from Bernard of Besse that St. Edition: current; Page: [182] Francis, with the cooperation of Cardinal Ugolino, wrote a Rule for these Tertiaries. What became of this document? It is generally conceded that the Rule of this Third Order as it stands in the Bull Supra montem of Nicholas IV in 1289 is not the handiwork of St. Francis; and for the rest the early history of the Third Order is uncertain, as all Franciscan students are aware But what are we to think of the much older text of this Rule published by M. Sabatier in 1901, after MS. XX of the convent at Capistran in the Abruzzi? Father Mandonnet, O.P., has tried to prove that the first twelve of the thirteen chapters comprising this document discovered by M. Sabatier, represent the Rule of 1221 in its primitive state. I would fain share the opinion of the learned Dominican on this head, but the objection raised against it by the Quaracchi editors seems to me insuperable. It amounts to this: In Chapter VI, § 4, of this Regula Antiqua there is a clear allusion to a Edition: current; Page: [183] Bull of March 30, 1228, which it is difficult to regard as an interpolation. Moreover, as Fr. Ubald d'Alençon points out, the mention of coin in circulation at Ravenna is also hard to explain in an Umbrian writer. Perhaps this document may prove to be St Francis' Rule for Tertiaries put into legislative form, with the addition of a few minor regulations. Meanwhile, following the example of the Quaracchi editors, I have abstained from including it among the authentic writings of St. Francis.
Coming next to St Francis' poems, although he doubtless wrote some few canticles besides the Canticle of the Sun, the two others given by Wadding can hardly be accepted as his, at least in their present form. I refer to the Amor de caritade and In foco l'amor mi misc. True, they are both attributed to St. Francis by St. Bernardine of Siena, but they are also found among the works of Jacopone da Todi, although Ozanam thinks that at most they were only retouched by the latter. The tendency nowadays is to ascribe Edition: current; Page: [184] all the early Franciscan poetry to Jacopone. When the critical edition of this extraordinary man's works is published at Quaracchi, some needed light will no doubt be thrown on this delicate question; then too, perhaps, Pacifico, the "King of Verses," and "most courtly doctor of singers," may at length come into his own. Meanwhile a number of poems found in a fifteenth century manuscript at the National Library at Naples, once at the convent of Aquila in the Abruzzi, and lately ascribed to St. Francis, are clearly apocryphal, as Professor Ildebrando della Giovanna has sufficiently demonstrated
Wadding himself regarded the seven sermons of St Francis he gives as of doubtful authenticity. And rightly, for they are from the work of Fr. Louis Rebolledo, already mentioned The twenty-eight Collationes are, pace Fr. Mandonnet, who regards them as genuine, rightly rejected by Professor Goetz, who points out how Wadding compiled them from various sources. Many are translated from an Italian MS. at Fano in the Marches of which we know neither the age nor the parentage. But they seem to be mere transcripts from the early legends. Thus Collatio I is an adaptation of Celano (1, 2) Edition: current; Page: [185] and Collatio XIV is taken almost verbatim from St. Bonaventure, while Collatio V is an accommodation of Celano and St. Bonaventure, XXVI and XXVIII are abridged from the Speculum, XXIV is found in the Chron. XXIV Gen, and so on. It is therefore to the authors of these works and not to St. Francis that these conferences are to be ascribed.
At the end of his edition of the Opuscula Wadding has collected several "Prayers of St Francis" of which the text is more than doubtful. Let us see why. Take for example the prayers said to have been used by St. Francis "at the beginning of his conversion" or "in time of sickness" or "at the elevation" One searches in vain among the early MS. collections for any trace of these prayers, nor is mention of them to be found elsewhere. As regards the prayer "to obtain Poverty," it has long been known that it was not written by St. Francis himself. Wadding found it in the Arbor Vitae (l. v., cap. iii), but Ubertino da Casale is there quoting from the Sacrum Commercium B. Francisci cum Domina Paupertate. The latter work is not an historical narrative, but an exquisite allegory in which St Francis' own tale of his mystic espousals with the Lady Poverty is most poetically expanded by one of his followers, Edition: current; Page: [186] and consequently Ubertino did not pretend in citing such a work to give this prayer as the actual composition of Francis.
In some MS. collections and library catalogues certain works may be found ascribed to St. Francis which are obviously spurious. For example, the Epistola B. Francisci ad Fr. Bernardum, found in at least two fifteenth century codices, is nothing else but the letter of St. Bonaventure continens XXV memoralia.
Sbaralea mentions copies of a book of the "Sayings" of St Francis as existing at Assisi and Ferrara, but a careful search has failed to reveal any trace of them. He also refers to a MS. (B. 31) in the Vallicellian Library at Rome in which "the sayings of St. Francis are found with the Rule," but this codex is also missing. In this library, however, there is a codex (B. 82, fol. 141 r) which contains a "Sermon delivered by St. Francis at the end of his life." The Edition: current; Page: [187] number of patristic citations this work contains is alone sufficient to demonstrate its spuriousness.
The Francisci Collationes cum fratribus, catalogued among the Latin MSS of the Royal Library at Munich as being contained in a fifteenth century MS. at that library (cod. 11354), are a selection from the Dicta of the Blessed Brother Giles, as is evident from the Incipit of the prologue and the text of the first collation. Their attribution to St. Francis is therefore an error of the catalogue. The Verba S. Francisci de Paupertate, mentioned in the same catalogue as contained in Cod. 5998, fol. 189, are an excerpt from Chap. VI of the Second Rule of the Friars Minor.
This attribution of writings to St. Francis which clearly do not belong to him is rarely intentional; it is often the result of error. For the rest, it was easiest for compilers and librarians unacquainted with the authorship of certain Franciscan works, and not eager to undertake deep researches as to their origin, to ascribe them to the common father of all Franciscan literature and the source of its inspiration.
Since every new revelation of St. Francis must be a priceless gain, it is devoutly to be wished that the present energetic research work among Edition: current; Page: [188] the sources of Franciscan history may happily bring to light some of St. Francis' writings not known to us save through the formal attestation of the early legends and chronicles, or at least put us in possession of complete copies of such as have come down to us only in frag mentary form
Meanwhile I conclude this volume by wishing its readers their full share in the blessing which St. Francis himself has promised to those who receive his words kindly: Omnes illi et illac, qui ea benigne recipient, benedicat eis Pater et Filius et Spiritus Sanctus. Amen.
BIBLIOGRAPHY
The following list of works is intentionally limited. Its aim is to give collectively and in alphabetical order a fuller reference to the principal and most accessible sources of information cited in the course of the present volume.
Acta Sanctorum quotquot toto orbe coluntur, collegit Joannes Bollandus, etc. (ed. 3).
Actus B. Francisci et Sociorum ejus. Ed Sabatier, Paris, 1902.
Prof. Alessandri: Inventario dei Manoscritti della biblioteca del conv. di S. Francesco di Assisi. Forli, 1894.
Analecta Bollandiana. Brussels.
Analecta Franciscana. Quaracchi.
Matthew Arnold: Essays in Criticism. Macmillan, 1875.
Reginald Balfour: The Seraphic Keepsake. Burns & Oates, 1905.
Fr. Francisci Bartholi, O.F.M.: Tractatus de Indulgentia S. Mariae de Portiuncula. Ed. Sabatier, Paris, 1900.
Fr. Bartholomaeus Pisanus, O.F.M.: De Conformitate Vitae B. Francisci ad vitam D. N. Jesu Christi. Milan, 1510.
Edition: current; Page:

[

190

]
Fr Bernardus de Bessa, O.F.M.: Liber de Laudibus B. Francisci. In Anal. Franc., t. III.
Fr. Bernardo da Fivizzano, O.M.Cap.: Oposcoli di S. Francesco. Florence, 1880.
Bibliotheca Hagiographica Latina antiquae et mediae aetatis. Ed. Socii Bollandiani. Brussels.
Prof. H. Boehmer: Analekten zur Geschichte des Franciscus von Assisi. Tubingen and Leipzig (Mohr), 1904
Bullettino Critico di Cose Francescane. Florence
S. Bonaventura. Legendae duae de Vita S. Francisci. Quaracchi, 1898. (English translation by Miss Lockhart. Washbourne, 1898.)
Bullarium Franciscanum. Ed. F. F. Hyacinth Sbaralea and Conrad Eubel, O.M.Conv. 1759 and 1898.
Montgomery Carmichael: La Benedizione di San Francesco. Livorno, 1900. "The Origin of the Rule of St. Francis," in Dublin Review, Vol CXXXIV, 1904, pp. 357-385. "The Writings of St. Francis," in the Month, January, 1904, t. CIII, pp. 156-164. See also under Sacrum Commercium.
Fr. Thomas de Celano, O.F.M.: Vita Prima S. Francisci. Ed. Suyskens, S.J., in Acta S.S., Oct., II.
Vita Secunda S. Francisci. Ed. Amoni. Rome, 1880.
Tractatus de Miraculis. Ed. Van Ortroy, S.J., in Anal. Boll., t. XVIII, 1899.
Edition: current; Page:

[

191

]
Vita S. Clarae. Ed. Sedulius, O.F.M. Antwerp, 1613.
Fr. Leopold de Chérancé: S. François d'Assise. Paris, 1892. (English translation by R. F. O'Connor: Burns & Oates, 1901.)
Fr. Bernard Christen, O M Cap.: Leben des hl. Franciscus von Assisi. Innsbruck, 1899.
Chronica XXIV Generalium in Anal. Francis., t. III.
Fr. Cuthbert, O.S.F.C. See under Eccleston.
G. Cozza-Luzi: Chiara di Assisi ed Innocenzo IV. Rome, 1887.
Lina Duff Gordon: The Story of Assisi. Dent, 1901.
Fr. Thomas Eccleston, O.F.M.: De Adventu Fratrum Minorum in Angliam in Anal. Franc., t. I; see Monumenta Franc. Ed. Brewer. Rolls series. (English translation by Fr. Cuthbert, O.S.F.C.: The Friars and how they came to England. Sands, 1903.)
Fr. Edouard d'Alençon, O.M.Cap: Epistola S. Francisci ad Ministrum Generalem in sua forma authentica. Rome, 1899. La Benediction de S. François. Paris, 1896. See also Sacrum Commercium.
Fr. Ehrle, S.J.: "Die Historischen Handschriften von S. Francesco in Assisi" in the Archiv fur Edition: current; Page: [192] Litteratur und Kirchengeschichte des Mittelalters, t. I, pp 484 seq. "Controversen uber die Anfange des Minoritenordens" in Zeitschrift fur Katholische Theologie, t. XI, pp 725 seq.
Mgr. Faloci-Pulignani: "Tre Autografi di S. Francesco" in Misc. Francescana, t. VI, pp 33 seq., and "La Calligrafia di S. Francesco," l. c., t. VII, pp 67 seq.
Floretum S. Francisci Assisiensis. Ed. Sabatier. Paris, 1902. A satisfactory Italian version of the Fioretti is that of Barbere, Florence, 1902. An excellent English translation, The Little Flowers of St. Francis, is published by Kegan Paul, 1905.
Etudes Franciscaines. Namur.
Joseph Gorres: Der hl. Franciscus von Assisi, ein Troubadour. Ratisbon, 1879.
Prof. Walter Goetz: Die Quellen zur Geschichte des hl. Franz von Assisi. Gotha, 1904.
Prof. John Herkless: Francis and Dominic and the Mendicant Orders. Scribner, 1901.
Fr. Jordani a Jano, O.F.M.: Chronica, in Anal. Franc., t. I.
Leon de Kerval: Sancti Antonii de Padua Vitae duae. Paris, 1904.
Fr. Leonard Lemmens, O.F.M.: "Die Anfänge des Clarissenordens" in Romische Quartalschrift, t. XVI, pp. 93 seq. Scripta Fratris Leonis, Quaracchi, 1901. See also under Speculum Perfectionis.
Abbé Leon Le Monnier: Histoire de S. François Edition: current; Page: [193] d'Assise. (English translation by a Franciscan Tertiary. Kegan Paul, 1894.)
Prof. A. G. Little: Description de MS. Can. Misc. 525, de la Bibliothèque Bodleienne. Paris, 1903.
Canon Knox Little: St. Francis of Assisi: His Times, Life, and Work Isbister, 1904.
Anne Macdonnell: The Words of St. Francis. Dent, 1905.
Fr P. Mandonnet, O.P.: Les Origines de l'Ordo de Poenitentia (Freiburg, 1898). Les Regles et le Gouvernement de l'Ordo de Poenitentia au XIIIe Siècle (Paris, 1902).
Miscellanea Francescana di Storia di Lettere, di Arti. Foligno.
Monumenta Germaniae Historica. Berlin.
Prof. Karl Muller: Anfange des Minoritenordens und der Bussbruderschaften. Freiburg, 1885.
A. F. Ozanam: Les Poètes Franciscains en Italie au Treizième Siècle. Paris, 1882, 6th ed.
Opuscula S. P. Francisci Assisiensis. Edita a PP. Collegii S. Bonaventurae, Quaracchi, 1904.
Fr. Panfilo da Magliano, O.F.M.: Storia Compendiosa di San Francesco. Rome, 1874-1876.
Paul Sabatier: Vie de S. François d'Assise. Paris, 1894. (English translation by L. S. Houghton.) Regula antiqua Fratrum et Sororum de Poenitentia. Paris. (English translation in Adderley and Marsons' Third Orders. Mowbray, 1902) Description du MS. Franciscain de Liegnitz. Paris, 1901. Examen de quelques Edition: current; Page: [194] Travaux recents sur les Opuscules de Saint François. Paris, 1904 See also under Actus, Bartholi, and Speculum.
Fr. Hyacinth. Sbaralea, O M.Conv.: Supplementum et Castigatio ad Scriptores Trium Ordinum S. Francisci. Rome, 1806
Sacrum Commercium Beati Francisci cum Domina Paupertate. Ed. Fr. Ed. d'Alençon, O.M.Cap Rome, 1900. (English translation by Montgomery Carmichael, The Lady Poverty; Murray, 1901)
Emma Gurney Salter: Franciscan Legends in Italian Art. Dent, 1905.
Seraphicae Legislationis Textus Originales. Quaracchi, 1897.
Speculum Perfectionis. Ed. Lemmens: Quaracchi, 1901.
Speculum Perfectionis. Ed. Sabatier. Paris, 1898. (English translation of the text only, by the Countess de la Warr: The Mirror of Perfection. Burns & Oates, 1902.)
Luigi Suttina: Appunti Bibliografici di Studi Francescani. Padua, 1904.
H. Thode: Franz von Assisi und die Anfänge der Kunst der Renaissance in Italien. Berlin, 1885 and 1904.
Trium Sociorum, Legenda S. Francisci Assis. Ed. Faloci. Foligno, 1898. (English translation by E. Gurney Salter: The Legend of the Three Companions. Dent, 1902.)
Fr. Ubald d'Alençon, O.M.Cap.: Les Opuscules de S. François d'Assise. Paris, 1905.
Edition: current; Page:

[

195

]
Fr. Van Ortroy, S.J. For his article on the Opuscula of St. Francis, see Analecta Bollandiana, t xxiv, fasc. iii (1905), p. 411 seq.
Fr. Luke Wadding, O.F.M.: Annales Minorum. B. P. Francisci Assisiatis Opuscula. Antwerp, 1623. Scriptores Ordinis Minorum. Rome, 1650.