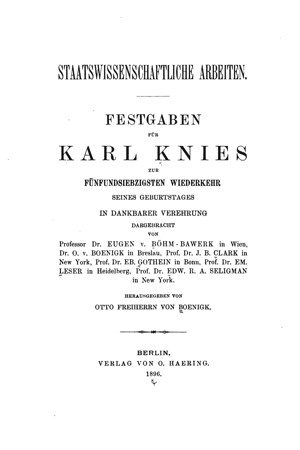 Zum Abschluss des Marxschen Systems
The German original of Böhm-Bawerk's devastating review of Karl Marx's Das Kapital volume 3 which had appeared posthumously in 1894.
An HTML version of his essay can found here. An English translation of this can be found here in PDF and HTML.
Staatswissenschaftliche Arbeiten. Festgaben für Karl Knies zur fünfundsiebzigsten Wiederkehr seines Geburtstages in dankbaren Vehehring. Otto v. Boenigk (Hrsg.) (Berlin: O. Haering, 1896).
Copyright:
The text is in the public domain.