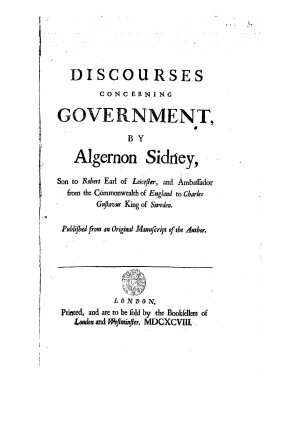 Discourses Concerning Government (1698 ed.)
A facsimile version of the 1698 edition. Written in response to Sir Robert Filmer's Patriarcha (1680), the Discourses Concerning Government is a classic defense of republicanism and popular government. Sidney rejected Filmer's theories of royal absolutism and divine right of kings, insisting that title to rule should be based on merit rather than birth; and republics, he thought, were more likely to honor merit than were monarchies.
Discourses Concerning Government by Algernon Sidney, Son to Robert Earl of Leicester, and Ambassador from the Commonwealth of England to Charles Gustavus Kiing of Sweden (London: 1698). Ed. John Toland.
Copyright:
The text is in the public domain.
Formats:

| Format | Description | Size |
| --- | --- | --- |
| Facsimile PDF | This is a facsimile or image-based PDF made from scans of the original book. | 36.4 MB |