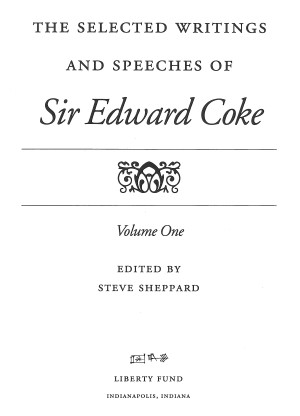 Selected Writings of Sir Edward Coke, 3 vols.
A 3 vol. set of The Selected Writings. Vol. 1 contains a long introduction by the editor and 13 parts of the Reports. Vol. 2 contains Coke's Speech at Norwich, exerpts from the small treatises, and exerpts from the 4 parts of the Institutes. Vol. 3 contains Coke's speech in Parliament (inlcuding the Petiton of Right), a number of official acts related to Coke's career, and other matters.
The Selected Writings and Speeches of Sir Edward Coke, ed. Steve Sheppard (Indianapolis: Liberty Fund, 2003). 3 vols.
Copyright:
The copyright to this edition, in both print and electronic forms, is held by Liberty Fund, Inc.