Micah (KJV)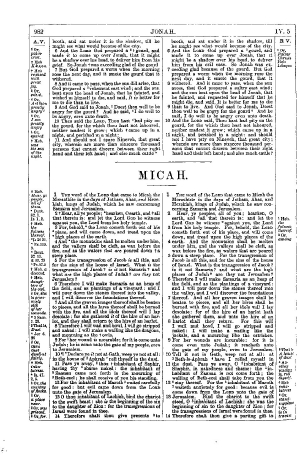 Micah's book warns that God will punish idolaters, those who are unjust to men of lesser station, and religious men who use their profession for financial gain. The latter half of the work, also called the "Promises," seems to date from a much later period than Micah's and foresees the ultimate restoration of the state of Israel, in which Yahweh will rule directly over a peaceful kingdom.
The Parallel Bible. The Holy Bible containing the Old and New Testaments translated out of the Original Tongues: being the Authorised Version arranged in parallel columns with the Revised Version (Oxford University Press, 1885). Micah.
Copyright:
The text is in the public domain.
Formats:
| Format | Description | Size |
| --- | --- | --- |
| HTML | This version has been converted from the original text. Every effort has been taken to translate the unique features of the printed book into the HTML medium. | 56.2 KB |
Table of Contents